This is my favorite brownie recipe! Chewy, fudgy, oh-so-chocolatey brownies made from scratch – with zero hassle or fuss. This outrageously amazing recipe only requires one-bowl, 5-ingredients, and 30 minutes in the oven. Cue the happy dance!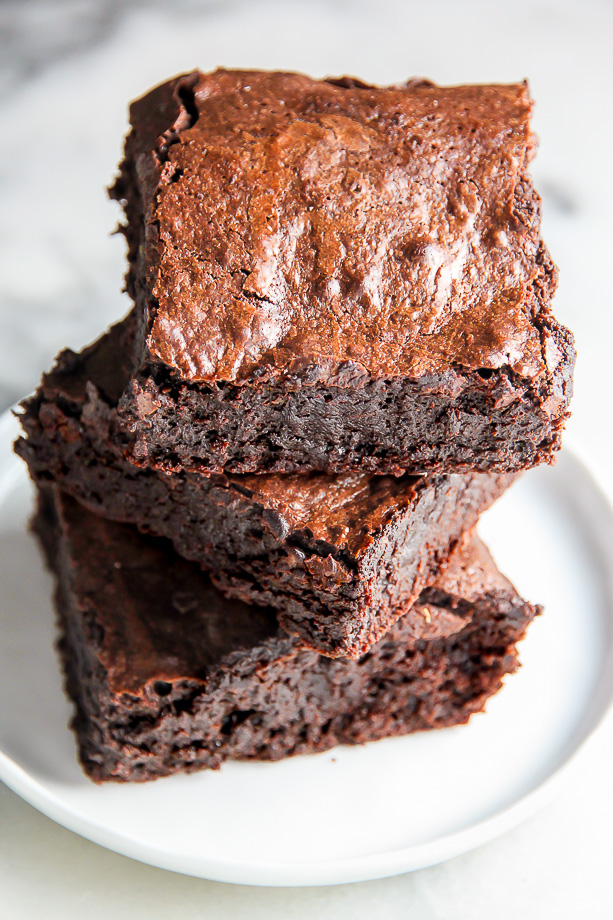 Happy Wednesday, friends! How's your week going so far? I know I always say this, but I cannot BELIEVE we're already in the first week of August. Bonkers!!! Do you feel like time is flying by, too? I'm thinking it's a Summer thing!
To get this humpday off to a great start, I made us a batch of the easiest, tastiest, watch-out-because-you'll-want-to-eat-them-ALL-yourself brownies ever! Actually I made them for you over the weekend, but somehow that batch never made it to the photo shoot (…can you say ice cream sandwiches?), so I made us another batch yesterday. The things I do 😉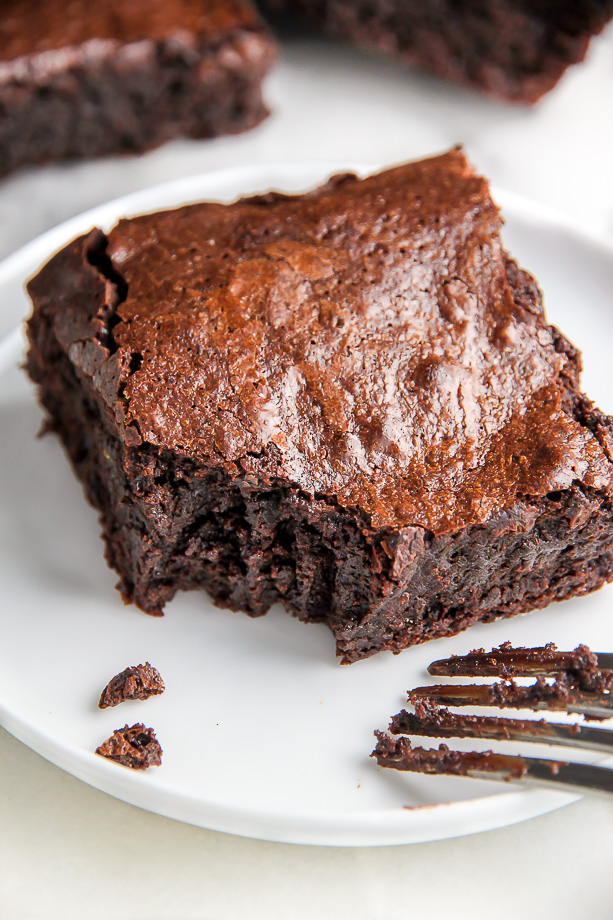 If you're crazy about brownies, there are a few things you should know before getting your one-bowl-brownie dance on:
1) These brownies are insanely easy to make, BUT… they gotta cool completely before being cut. This means just a wee bit of patience is required in the final stage. That being said, you can totally pop them in the freezer (like I do) if you want to speed this stage up. Cheating? Maybe. But hey – sometimes you just need your brownie!
2) You can use dark or semi-sweet chocolate for these brownies, but I would highly suggest staying away from the milk variety. It's too sweet and won't give the brownies the same dark, rich, fudgy punch. And trust me, that's a punch you want 😉
3) What goes best with hot (or cold) chocolate brownies? Ice cream, of course! My favorite way to eat these gorgeous, crackly chocolate treats is with a giant scoop of vanilla on top. Ya know, just in case you were wondering… 🙂
Are you ready to DIG IN yet?!
Chocolate brownies are my love language and I would do almost anything for them, but the fact that this recipe only dirties ONE bowl and calls for 5 ingredients sure is sweet! The other great thing is that the said ingredients couldn't be more basic. In fact, I bet you have most of them, if not all of them, in your pantry right now! All you need is flour, sugar, butter, eggs, and chocolate!  Do you have all of them? I bet you totally do. That's exciting!!!
There's so much good and tasty going on in every bite of these simple, easy-to-make brownies, I just know these will become a recipe you make over and over and OVER again. Not that anyone will be complaining about that 😉 xoxo
Outrageously Amazing One-Bowl 5-Ingredient Brownies
Ingredients
9 ounces dark or bitter-sweet chocolate chips/ baking chocolate
1 stick (4 ounces) SALTED butter
3/4 cup sugar
2 large eggs + 1 egg yolk, at room temperature
3/4 cup all purpose flour (be sure not to pack your flour!)
Instructions
Preheat oven to 350 degrees (F).
In a large, microwave safe bowl, melt the butter and chocolate in microwave for 30 seconds.
Stir; return to microwave and heat for 30 seconds more, continue this process until chocolate is melted.
Add sugar and beat well. Then add eggs, yolk, and finally flour, stir until just combined! Be sure not to over mix the batter or your final product will be cake like brownies, not chewy ones.
Pour batter into a lightly greased 8×8 glass baking dish and bake for 25-30 minutes.
Remove from oven; let cool for at least 30 minutes, then cut into squares and serve!