Fluffy and flavorful Pumpkin Cupcakes with Cream Cheese Frosting! These cupcakes are richly spices and exploding with real pumpkin flavor! A must bake during pumpkin season!
Best Pumpkin Cupcakes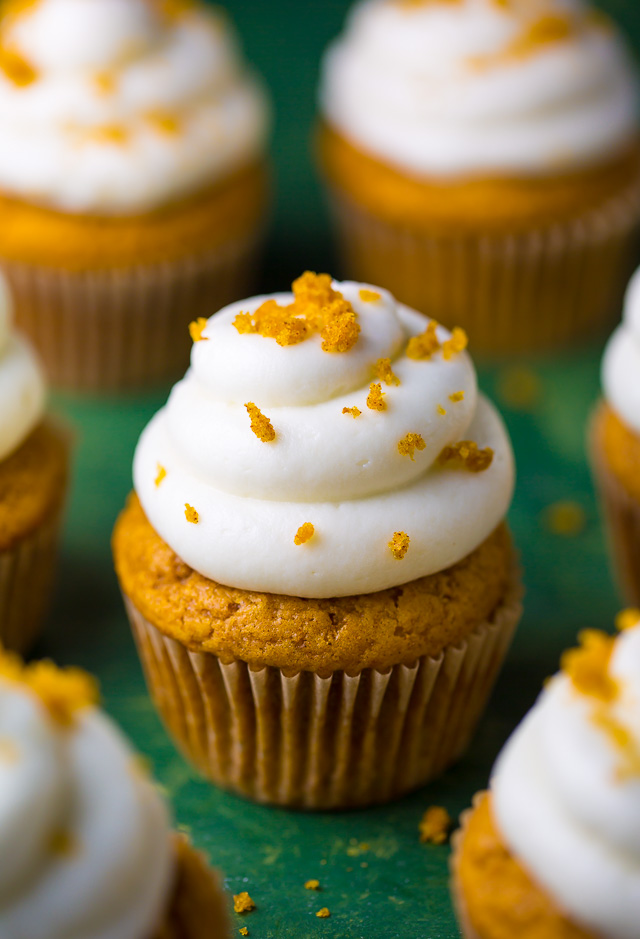 Best Pumpkin Cupcake Recipe
Happy Friday! If you're looking for the perfect "taste of Fall" recipe to bake this weekend, you've come to the right place. Meet my pumpkin cupcakes with cream cheese frosting. They're richly spiced, full of real pumpkin flavor, and topped with silky smooth vanilla frosting.
They're literally bursting with cozy Fall flavors in every bite!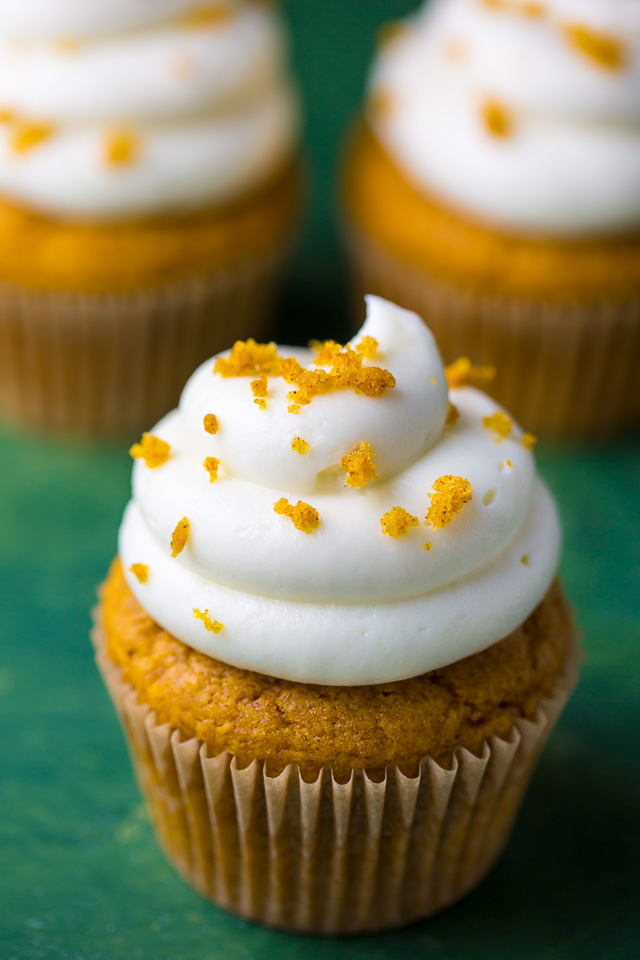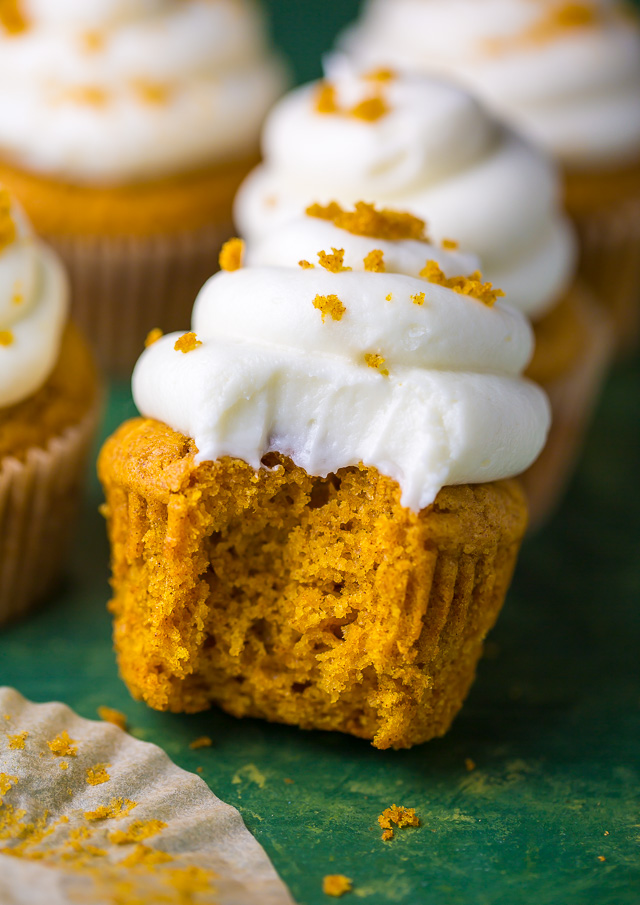 Question for my food photographer friends out there: Why the heck is pumpkin so darn hard to photograph?! It was a battle capturing the rustic beauty of these pumpkin cupcakes with cream cheese frosting, but I think (hope!) I nailed it on the 6th try. Yes, 6!!! Truth is, most pumpkin desserts – at least naturally colored ones – are more brown than orange, and these cupcakes are no exception. But don't let that scare you off; these cupcakes are packed with an entire cup of pumpkin puree! So what they lack in color they definitely make up for in taste. This recipe also has warming spices like cinnamon, nutmeg, ginger and cloves, which all help enhance the pumpkin flavor.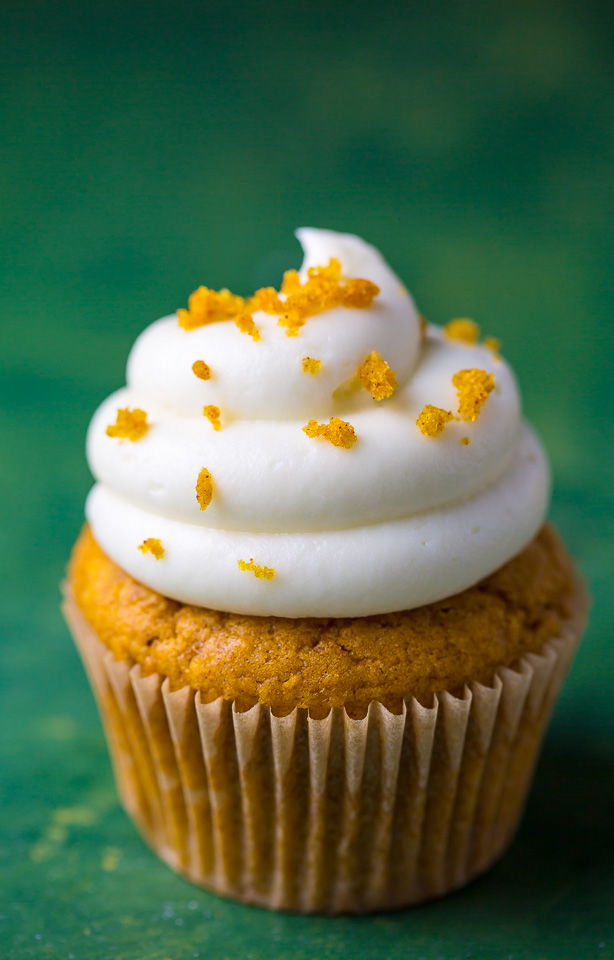 Tips and Tricks for Recipe Success:
For best results, this pumpkin cupcake recipe should followed exactly as written. Due to its texture, baking with pumpkin can be tricky, so adding more or less with definitely change the outcome of your cupcakes.
This recipe calls for pure pumpkin puree – NOT pumpkin pie mix, which contains ingredients other than pumpkin.
Your egg, egg yolk, and sour cream should all be at room temperature. Cold ingredients don't incorporate evenly or bond, which can result in dense cupcakes.
Here's a trick for the eggs: to bring cold eggs to  room temperature, simply place them in a bowl of warm water for 15 minutes. Just be sure you don't use hot water!
To ensure you reach the proper frosting consistency, you'll want to make sure your butter and cream cheese are very soft before beginning. I suggest setting them out on the counter for at least an hour before unwrapping them and getting busy; they may soften faster or slower depending on the temperature of your house. You'll know your they're soft enough when you can press your finger into the top and a deep indentation is effortlessly made. Cold butter and cream cheese, as well as melted butter and cream cheese, should never be used when making this frosting. It will not work.
You'll need an electric handheld mixer or a standmixer to make the frosting.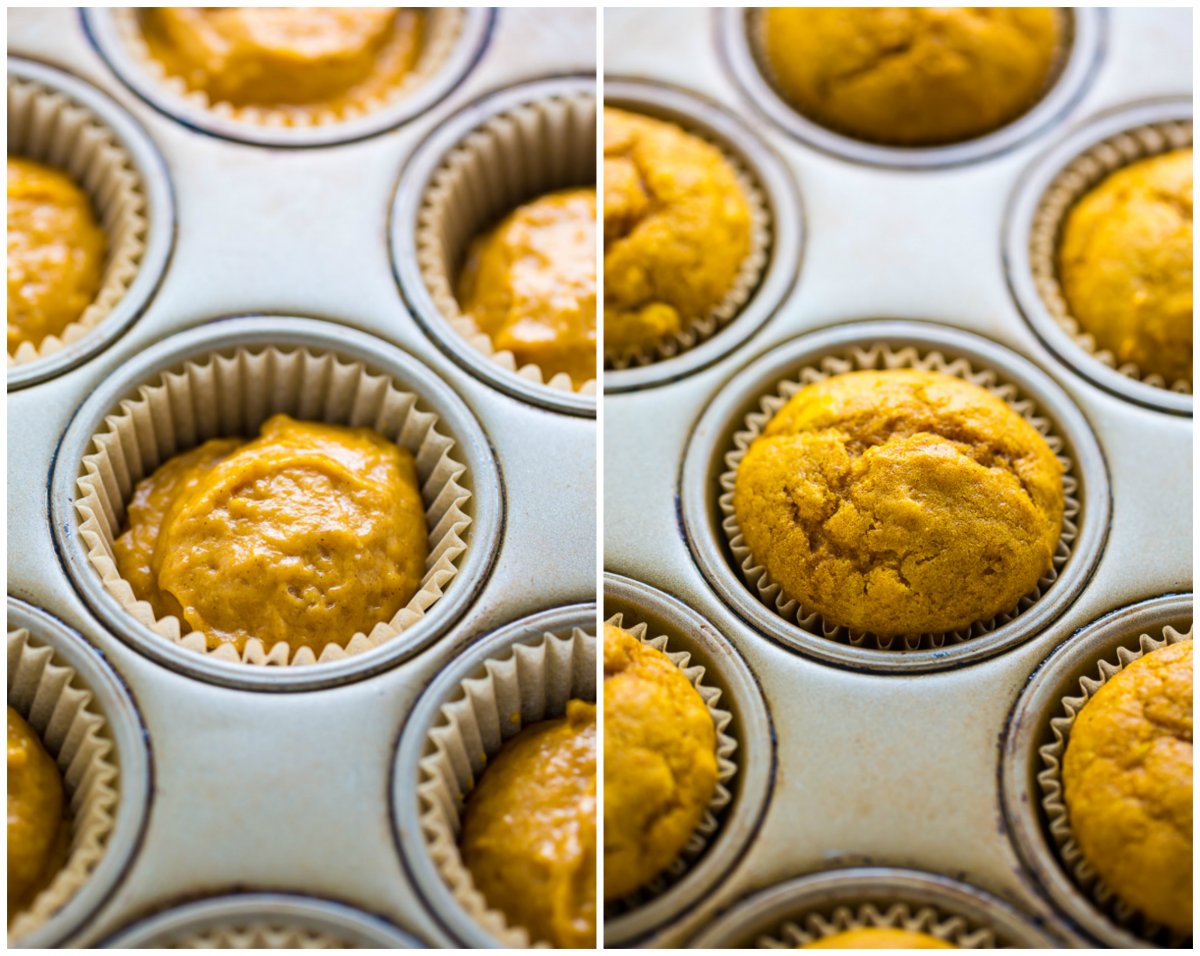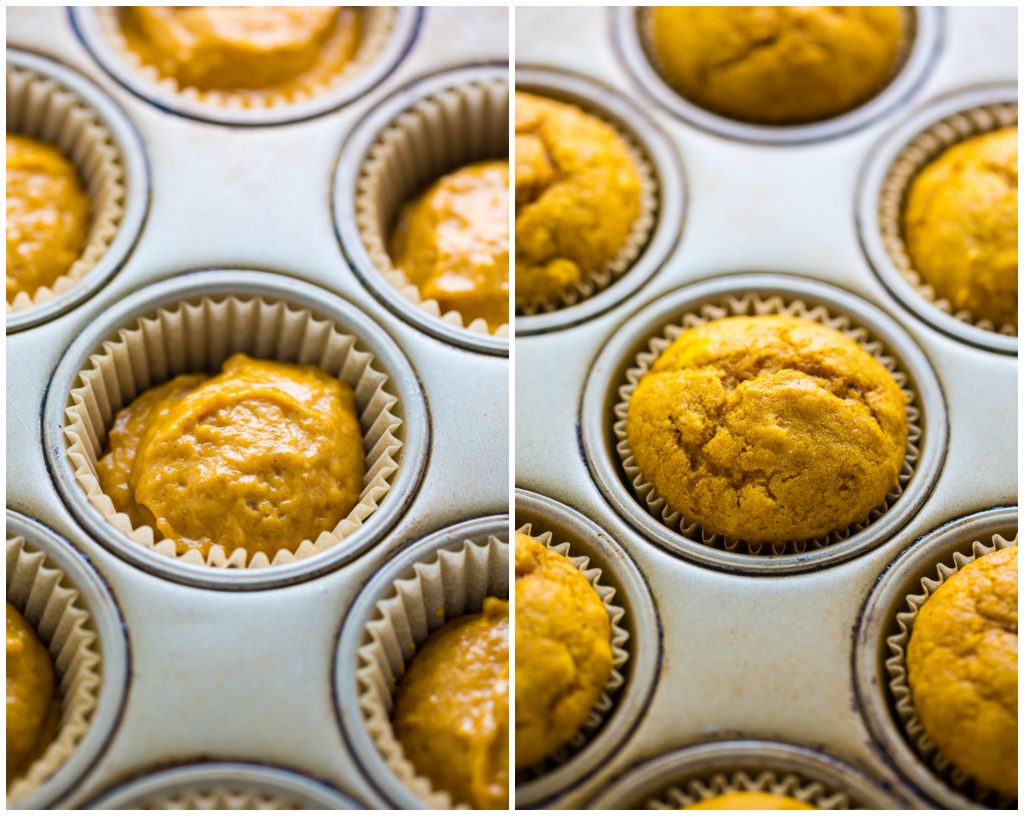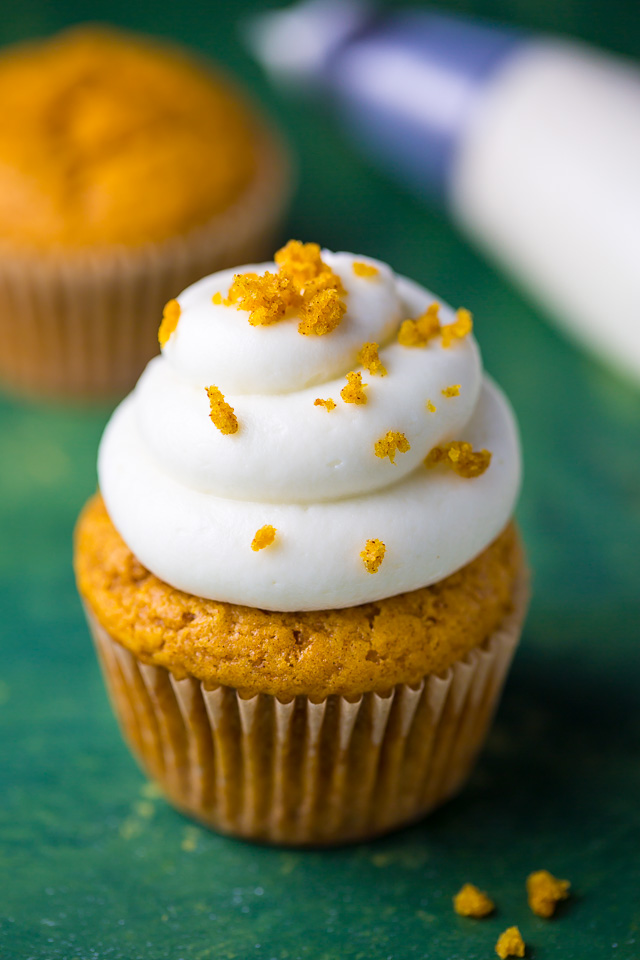 Welcome this weekend with a batch of pumpkin cupcakes with cream cheese frosting! I just know they're going to become a Fall favorite!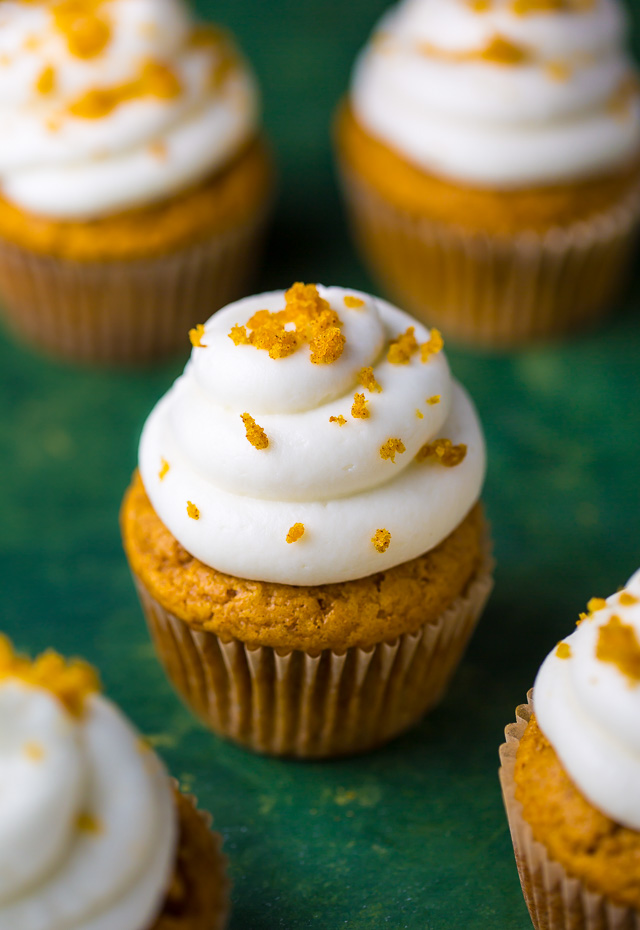 If you try this recipe, let me know what you think! Leave a comment below, and don't forget to snap a pic and tag it #bakerbynature on instagram! Seeing your creations makes my day ♥
More Pumpkin Recipes: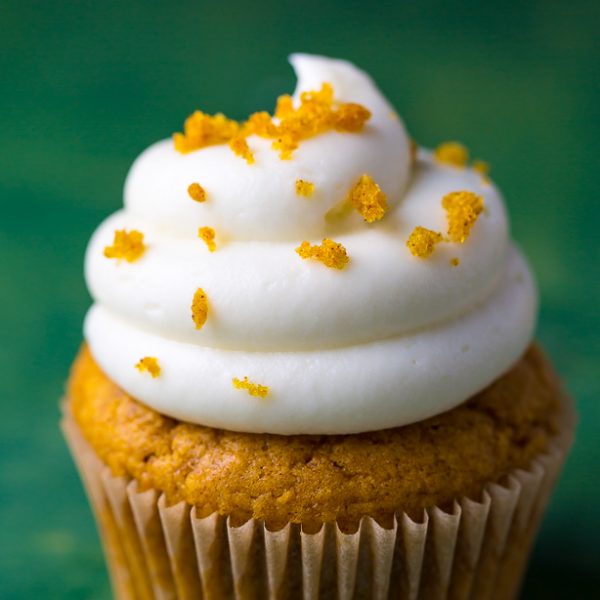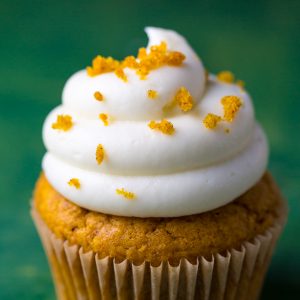 Pumpkin Cupcakes with Cream Cheese Frosting
Moist and flavorful Pumpkin Cupcakes topped with Cream Cheese Frosting!
Ingredients
For the pumpkin cupcakes:
1 and 3/4 cups all-purpose flour
1 teaspoon baking powder
1/2 teaspoon baking soda
1/4 teaspoon salt
2 teaspoons ground cinnamon
1/2 teaspoon ground ginger
1/2 teaspoon ground nutmeg
1/4 teaspoon cloves
1/2 cup granulated sugar
1/2 cup light brown sugar, packed
1 large egg plus 1 egg yolk, at room temperature
1 cup pumpkin puree (NOT pumpkin pie mix)
1/2 cup vegetable oil OR melted coconut oil
1/2 cup sour cream
For the cream cheese frosting:
12 ounces cream cheese, VERY soft
1/2 cup unsalted butter, VERY soft
2 teaspoons vanilla pure extract
4 and 1/2 cups confectioners' sugar, sifted
2 tablespoons heavy cream
Instructions
For the pumpkin cupcakes:
Preheat oven to 350 degrees (F). Line a 12-mold cupcake tin with paper liners; set aside.

In a large bowl add the flour, baking powder, baking soda, salt, and spices; whisk well to combine then set aside. In a separate bowl add both sugars, egg and egg yolk, pumpkin puree, oil, and the sour cream, whisk well to combine. Slowly whisk the dry ingredients into the wet ones, stirring just until combined. Divide the batter evenly among the prepared muffin cups, filling them 3/4 of the way full. Bake for 18 minutes, or until a toothpick inserted in the center comes out clean. Allow cupcakes to cool in the pan for 5 minutes before transferring them to a wire rack to cool completely. Once cupcakes are cool, frost and decorate. The cupcakes may also be frozen, unfrosted, and stored in a freezer safe bag, for up to 2 months. If you have leftover cupcake batter, bake a second batch (I typically have enough for 3 or 4 extra cupcakes).
For the cream cheese frosting:
In the bowl of a stand-mixer fitted with the paddle attachment, or in a large bowl using an electric handheld mixer, beat the cream cheese, butter, and vanilla on medium-high speed until completely smooth; about 2 minutes. Reduce the speed to low and gradually add the sifted confectioners' sugar. Add in cream. Once the cream has been incorporated, increase speed to medium-high and beat for 1-2 minutes. Once the cupcakes have completely cooled, spread or pipe the frosting on top of the cupcakes. Store cupcakes in the fridge, covered, for up to 3 days.