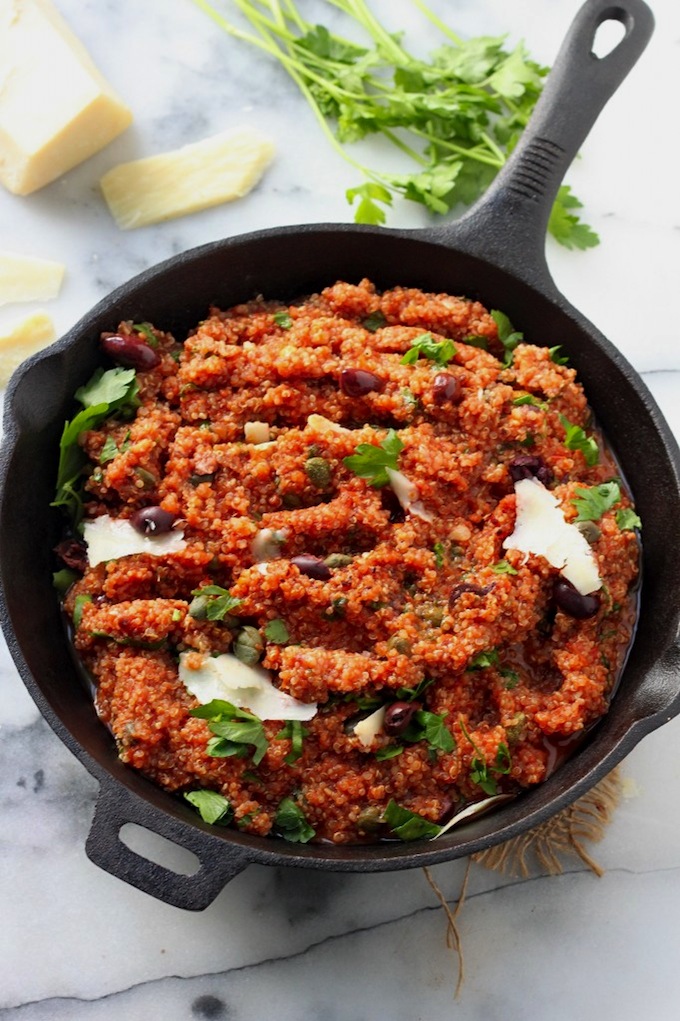 Happy Friday, everyone! Are you excited to get this weekend started or what? I know we are! We plan on nestling in with some good movies, eating lots of yummy food, and sleeping off the final bits of this jet lag. I'm sure I'll manage to make a mess in the kitchen, too. It seems inevitable these days. Do you guys have fun plans? Any requests on what you'd like to see here in the coming weeks? I'm always open for ideas/ demands 😉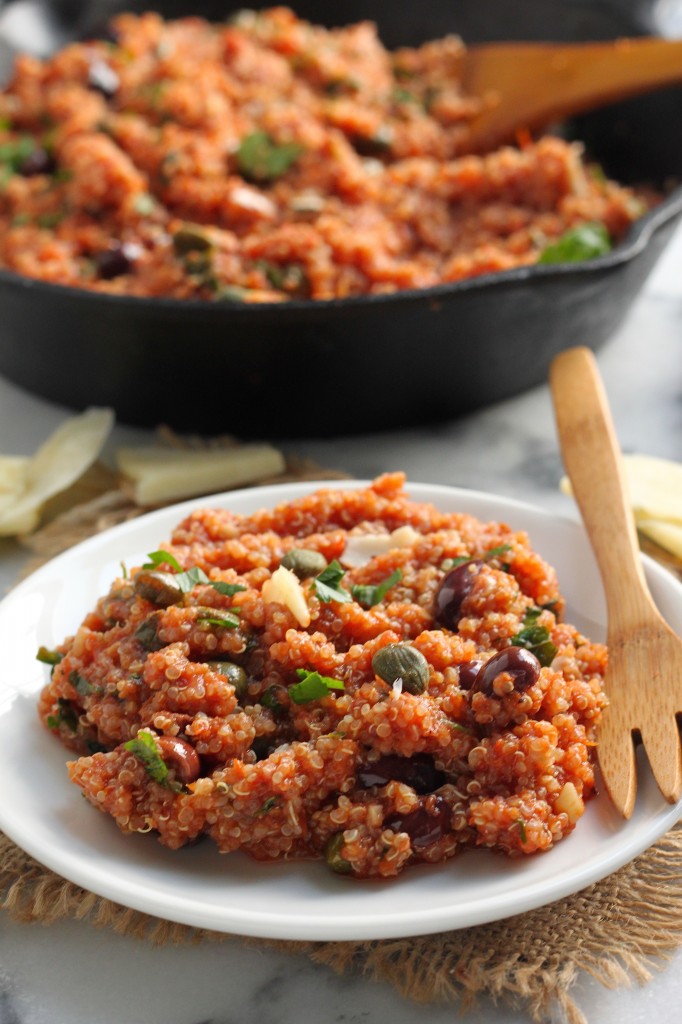 As many of you know we just got back from Italy this week, and let me tell you… we're going through major food withdrawal! I tried to be good the first day or so and ween myself off of the pasta and on to the smoothies… but my body just wasn't buying it. Uh uh. No way.
This quick, flavorful, and oh-so-delcious quinoa puttanesca is the perfect compromise of health and comfort. I also love that it takes 20 minutes start to finish. I mean, is that a dream or what?
The flavors are bold and beautiful, featuring the strong briny punch that olives, capers, and anchovies bring to the table. There's also a most wonderful kick from a hearty dash of crushed red chili pepper. You can cut back on the pepper if you're not a fire lover. You can also leave out the anchovies if you'd like a vegan/ vegetarian meal. It's a very adaptable dish!
Alright. So I'm off to finish this glass of vino and the verrrrry last bit of photo editing from our trip. I'll be sharing it all over the weekend, and there will be pie too! So pop by and say hello 🙂 xoxo
Quinoa Puttanesca
Ingredients
1 cup quinoa, cooked according to package instructions
2 tablespoons olive oil
6 cloves garlic, minced
3 tablespoons fresh parsley, chopped
1/2 teaspoon crushed red pepper flakes
2 anchovy fillets, from a can
2 tablespoons capers, drained and rinsed
15 kalamata olives, pitted and roughly chopped
(1) 28 ounce can crushed tomatoes
Salt and pepper to taste
Grated cheese, optional
Instructions
Cook quinoa according to package; set aside.

In a large skillet or saute pan heat oil over medium flame. Add garlic and cook for 30 seconds, or until fragrant. Add parsley, pepper, anchovies, capers, and olives and cook for another minute, breaking up the anchovies with a wooden spoon as you stir. Add crushed tomatoes, stir well, and bring to a boil. Reduce heat to low once boiling and simmer for 10 minutes.

When ready to serve stir quinoa into sauce, stir until completely coated, and serve. Top with cheese if you'd like! It's super delicious, but also great without it.