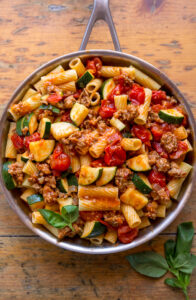 Rigatoni with Sausage, Tomatoes, and Zucchini
Yield 6 servings
Calling all pasta lovers! This hearty Rigatoni with Sausage, Tomatoes, and Zucchini is for you! It's so flavorful and easy enough to make on a weeknight!
Ingredients
3/4 lb rigatoni 
3 tablespoons olive oil
1 large yellow onion, chopped
1/4 teaspoon crushed red pepper flakes (optional) 
1 lb Italian sausage (mild, sweet, or spicy will work)
5 cloves garlic, minced
3 Tablespoons tomato paste
2 cups grape tomatoes
1 cup white wine or chicken broth 
2 small zucchini, diced 
1 teaspoon salt 
1/2 teaspoon black pepper
Handful fresh basil, chopped 
freshly grated Parmesan cheese
Instructions
Bring a large pot of salted water to a boil over medium-high heat.
Add oil to a large, wide pot and bring to a simmer over medium heat. Add in the onion and crushed red pepper and cook until the onion is very soft, about 10 minutes. Add in the sausage and, using a wooden spoon, break it into small pieces. Cook until sausage is brown and no pink color remains. 
Add in the garlic and cook for 1 minute, or until fragrant. Stir in the tomato paste. 
Add in the tomatoes and wine (or stock) and season with salt and pepper. Cook, stirring occasionally, until the tomatoes begin to burst and give off their juices, about 10 minutes. Use a wooden spoon to gently press the tomatoes if they're not bursting on their own. Stir in the zucchini and cook for 5 minutes. 
In the meantime, add the rigatoni into the boiling water and cook for 9 to 10 minutes, or until al dente.
Drain the pasta, reserving a 1/2 cup of the pasta water. Toss the pasta immediately into the pot with the sauce and stir well to combine. Add in some of the reserved cooking water, if needed. Finally, stir in the basil.
Remove from heat and divide among serving bowls. Top with cheese and serve at once! 
Courses Dinner
Cuisine Italian
Recipe by Baker by Nature at https://bakerbynature.com/rigatoni-with-sausage-tomatoes-and-zucchini/