Grab a large pot and some crusty bread, because today we're making steamed mussels with white wine garlic sauce! Fresh mussels are easy to make, the hardest part is removing the beard and scrubbing them. After that, it's super simple and totally worth the effort.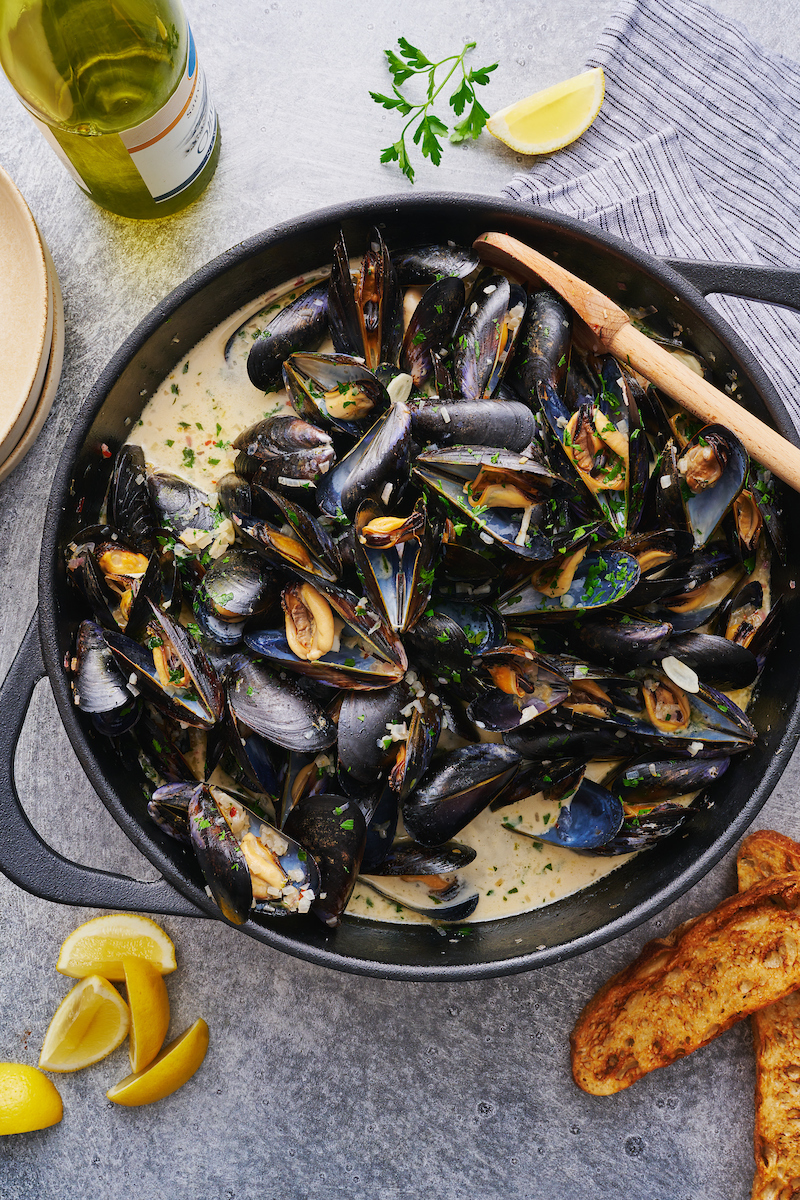 Mussels in White Wine Sauce
Fresh seafood is a summer staple in our house, but also a huge part of our holiday traditions… making today's new recipe for white wine mussels perfect for our Christmas in July celebration!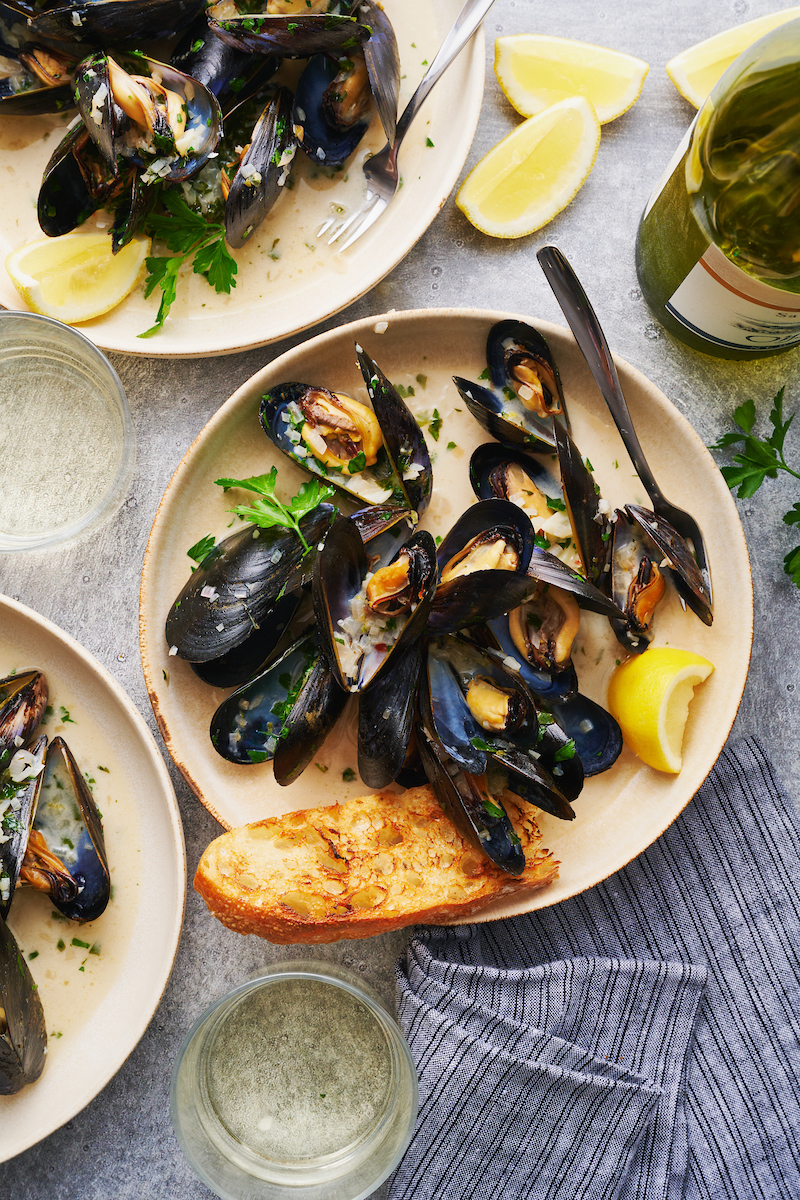 Have you cooked mussels before? I feel like a lot of folks order them out, but clam up when it comes to cooking them at home. I'm here to change that! Because not only is cooking them at home easy AND fun. But it's way more delicious! Once you get a taste of this wine sauce (loaded with shallots and garlic… it's to die for flavorful), you won't want to try any other recipe for mussels.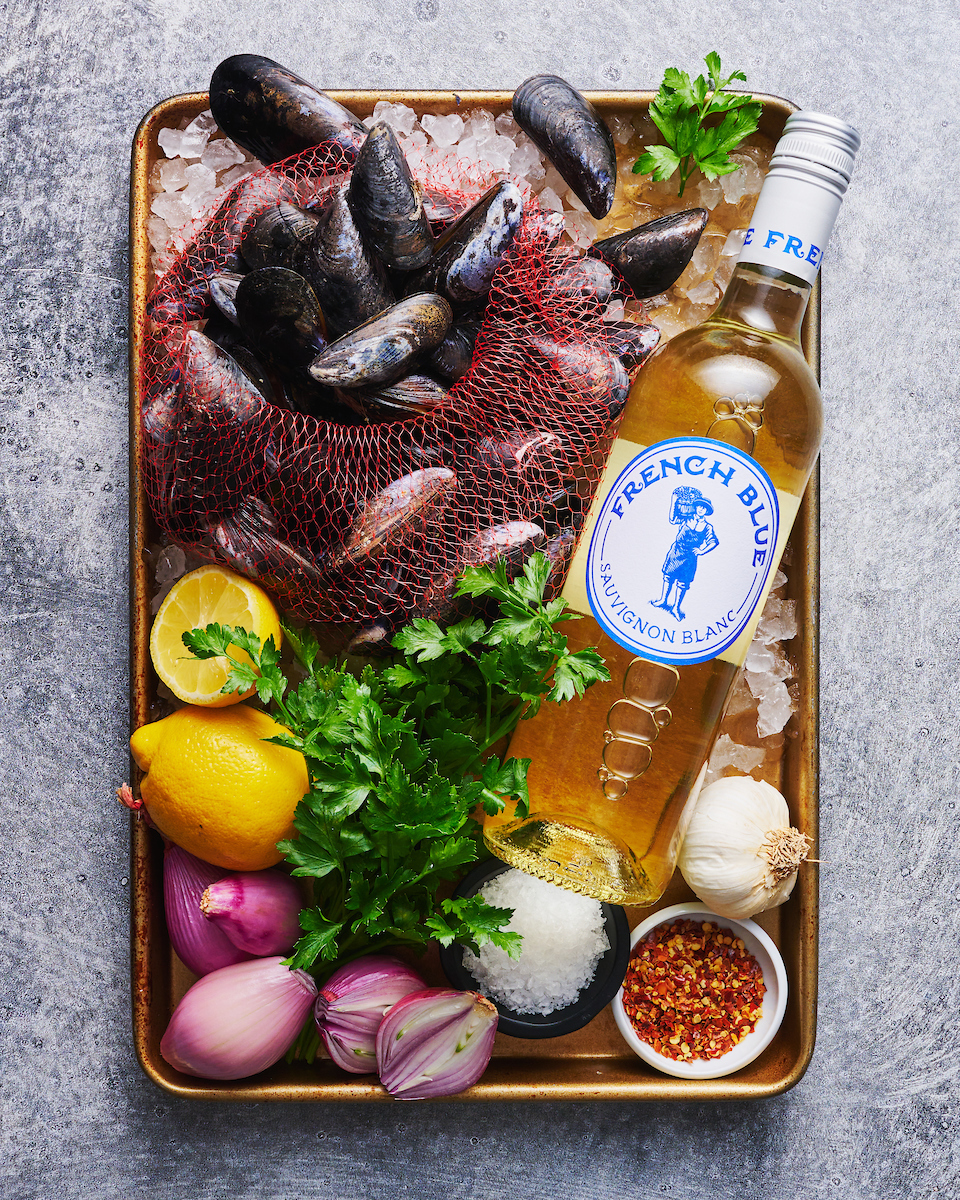 What you'll Need:
Butter: Unsalted is best, but if you have salted on hand, that'll work too. Just eliminate the salt called for. At least until after you've taste-tested. You can also add more salt and pepper… but you can't take it away.
Olive oil: No need to get fancy here, just use whatever you have on hand. But please don't sub canola oil or vegetable oil.
Shallots: These add the most incredible flavor! A white onion will work as a sub if absolutely necessary, but the flavor won't be as delicate and sweet.
Garlic: Use the best FRESH garlic you can get your hands on. Garlic powder is not an option here!
Crushed Red Pepper Flakes: Add just a tiny splash of heat. You can omit if you're absolutely adverse to spice, but I promise, it's not going to make this dish spicy.
Lemon: You'll use the lemon juice and the lemon zest! So choose a nice plump lemon with firm skin. I like to grab an extra lemon or two, so I can cut them into wedges and serve them on the side as a garnish.
Mussels: You'll want to buy fresh mussels, scrub them clean, and debeard them.
White Wine: I suggest something dry, like Sauvignon Blanc. It doesn't need to be fancy wine, but as always, I suggest using something you'd drink.
Chicken Stock: Adds depth of flavor and richness to the sauce. Chicken bone broth can be used for an even deeper flavor.
Heavy Cream: A very small amount makes the sauce rich and just a little bit creamy… but not so much that'll leave you feeling heavy or sick in the stomach.
Parsley: FRESH parsley! You stir it into the sauce for a pop of brightness, but I also like to sprinkle parsley and serve it as a garnish.
Salt: By nature, mussels are salty, so add a small amount, then add more if needed.
Crusty Bread: Because you're going to need something to sop up all of that DELICIOUS white wine and garlic sauce. I like a crust sourdough loaf or a baguette.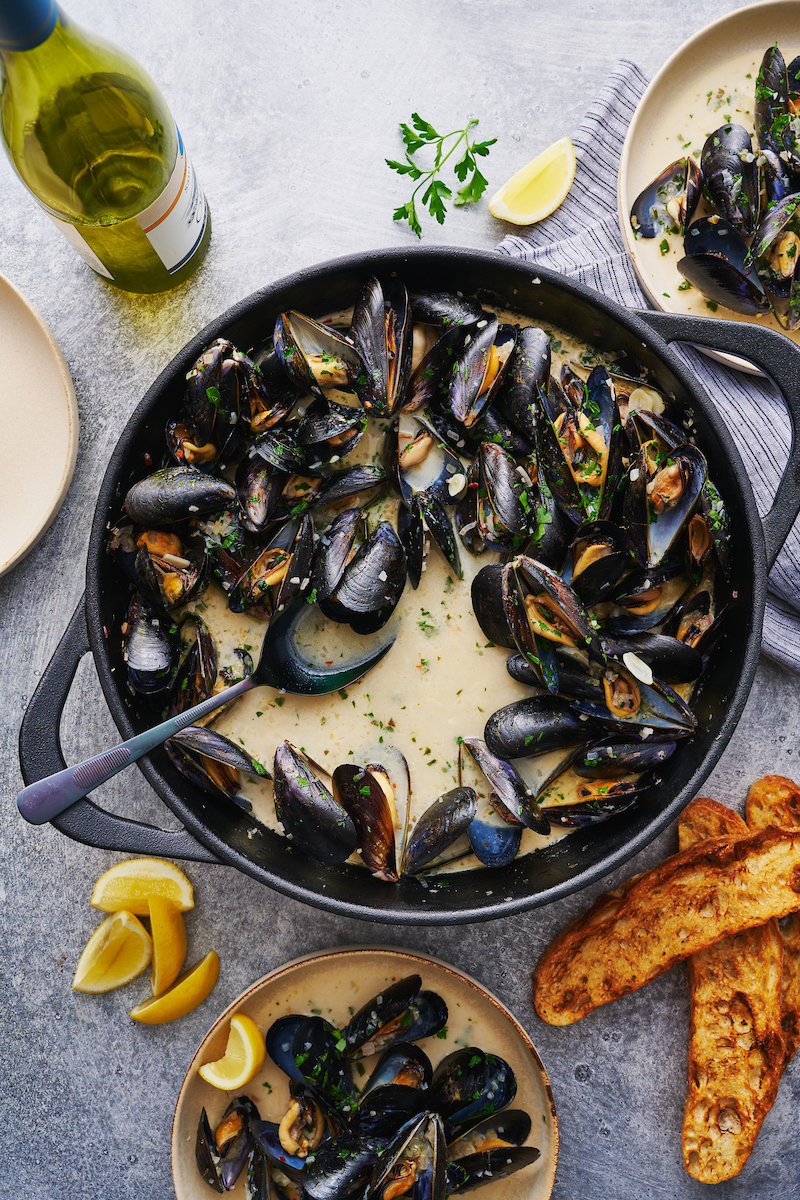 How to Clean Mussels:
Your first job is to clean the mussels! There are different methods of doing this, but I suggest filling a very large bowl with cold water, adding the mussels and about 1/4 cup of flour, giving them a good swoosh with your hands, and setting them aside to soak for 30 minutes.
Then you can drain the mussels and remove the "beard" from each one with your fingers. If they still look dirty, scrub the mussels with a small culinary brush under running water until clean. If any mussels are open, discard them before cooking. Only add the mussels that have a firmly shut shell.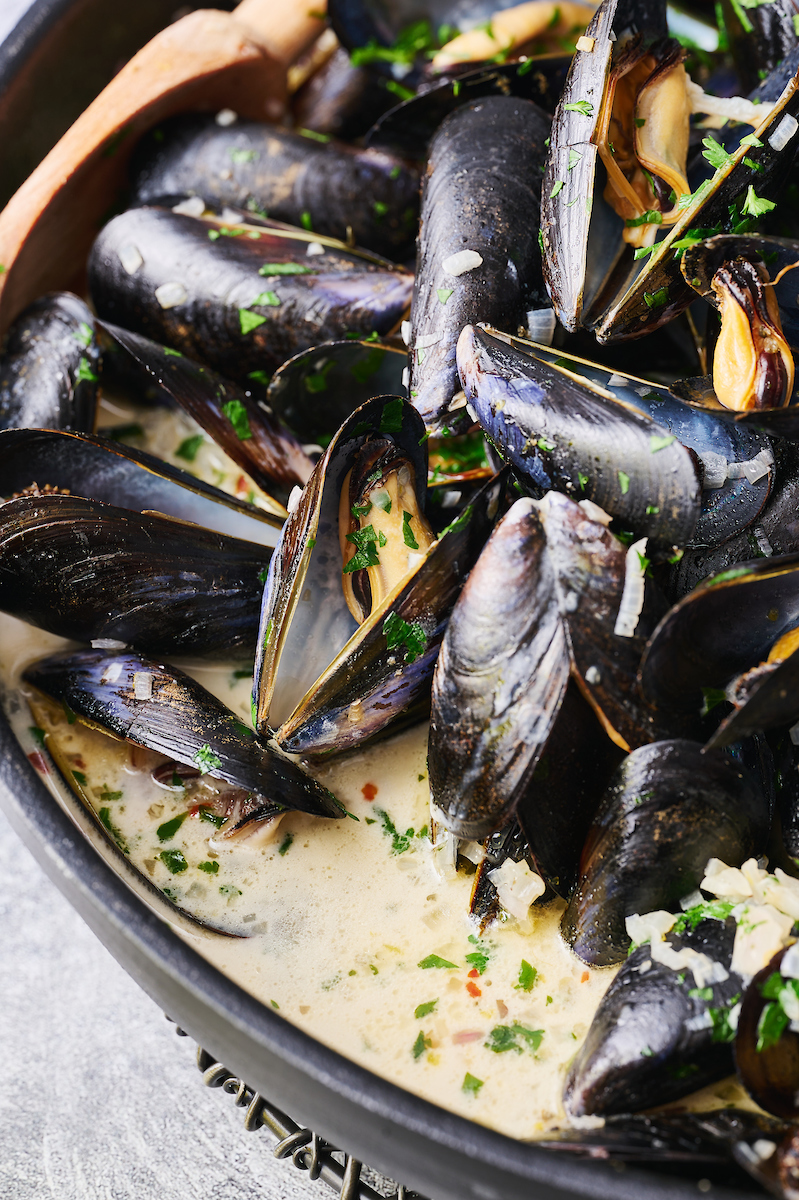 Tips On Cooking Mussels:
Choose a large pot! It should be big enough to hold the mussels AND all of the liquid.
Don't skimp on cooking the shallots. This is where flavor develops! As long as you're cooking over medium heat, they shouldn't burn or get hard. Instead, they'll soften and slightly caramelize.
Once you add the mussels, increase the heat to medium-high and BE SURE to place a fitted lid on the pot. Then cook but check often, as you don't want to over cook the mussels. You'll know they're done with most of the mussel shells have opened. This usually takes 3 to 4 minutes. In any mussels aren't open, discard them before serving!
I suggest using wide shallow bowls for serving! Which leaves ample room for adding lemon wedges and crusty bread!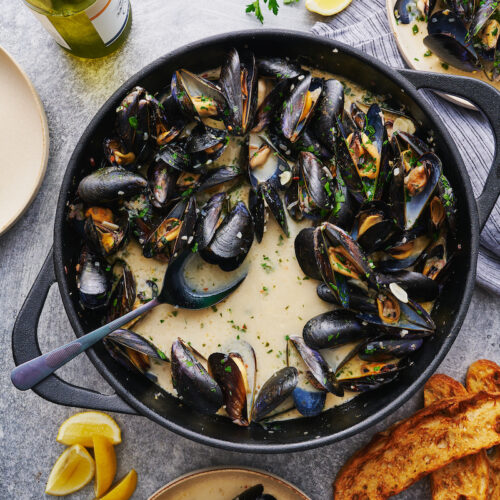 Mussels with White Wine Garlic Sauce
Grab a large pot and some crusty bread, because today we're making steamed mussels with white wine garlic sauce! Fresh mussels are easy to make, the hardest part is removing the beard and scrubbing them. After that, it's super simple and totally worth the effort.
Ingredients
4 Tablespoons (57 g) unsalted butter cut into 1/2-inch pieces
1 and 1/2 Tablespoons (21 ml) olive oil
4 large shallots finely chopped
8 cloves garlic thinly sliced
1/2 teaspoon crushed red pepper flakes
1 teaspoon lemon zest finely grated
2 Tablespoons (28 ml) lemon juice freshly squeezed
4 and 1/2 pounds live mussels cleaned and beards removed
1 cup (227 ml) dry white wine
3/4 cup (170 ml) chicken stock
1/3 cup (76 ml) heavy cream aka whipping cream
1/4 cup fresh parley chopped, plus more for garnish
1/4 teaspoon salt more to taste, if needed
1/4 teaspoon black pepper
lemon wedges for serving
crusty bread for serving
Instructions
In a pot large enough to hold the mussels, heat the butter and oil over medium heat.

Once the butter is completely melted, add in the shallots and cook for 6 to 8 minutes, stirring occasionally ,or until slightly softened. Add in the garlic and cook for a minute. Then add in the crushed red pepper flakes and cook for one more minute. 

Add in lemon zest and lemon juice and mix well to combine.

Add in the mussels, wine, and chicken stock. Stir well to coat, then increase the heat to medium-high and place a lid on the pot.

Cook, checking often, until the mussel shells have opened, about 3 minutes. Discard any mussels that don't open. 

Reduce the heat to low and slowly pour in the heavy cream, mixing constantly as you pour. 

Stir in the salt, pepper, and parsley. Remove from heat and divide among bowls. Serve with lemon wedges, crusty bread, and a good white wine!