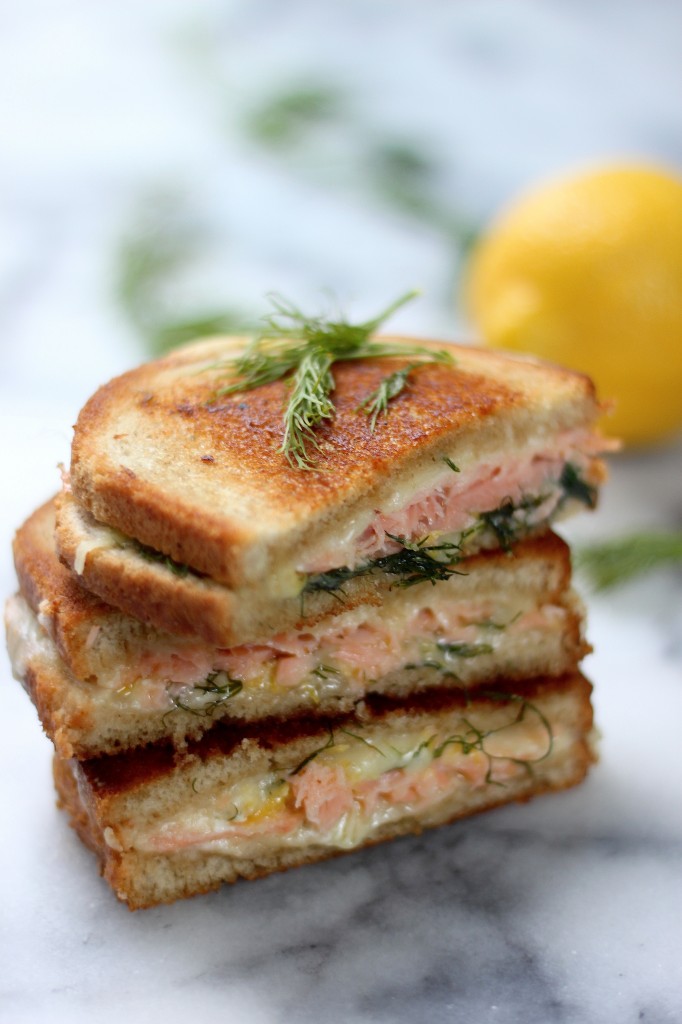 Smoked Salmon Grilled Cheese
This was our lunch last weekend and guess what? We're still dreaming about it! It was that good. But really – how could melted gruyere and luxuriously smooth smoked salmon sandwiched between buttery grilled bread not be?
The two things that really elevate this sandwich from great to holy-crap-this-is-so-amazing status are fresh dill and lemon zest. Herbs and citrus are a great way to add a little zing and pop to meals in general, and do wonders in this grilled cheese. I highly suggest not skipping them. If you really don't like dill – I know it is intense – I think a little chopped parsley in its place could work. Let me know if you try it.
This sandwich is perfect for a quick and easy lunch, but fancy enough for Easter brunch, or even Mother's Day. I'm thinking a little mesclun salad on the side and boom – you've got the fanciest yet oh-so-simple meal in town.
More Smoked Salmon Recipes: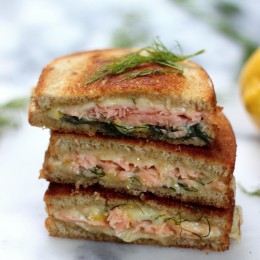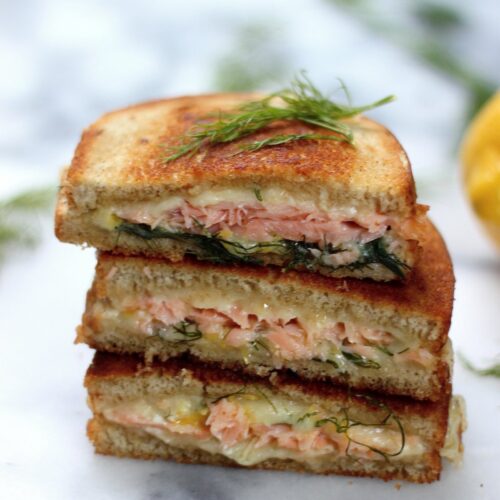 Smoked Salmon & Gruyere Grilled Cheese
Ingredients
Serves 4
8 slices of bread (I used Rye, but you're free to play with this)
8 ounces smoked salmon
1 cup gruyere cheese, grated
1 tablespoon lemon zest
2 tablespoons fresh dill, chopped
4 tablespoons butter, for the pan
Instructions
Place 4 slices of the bread on a large clean work surface.

Layer 1/8 cup of cheese, 1/4 of the salmon, a pinch of the lemon zest and dill, and then another 1/8 of cheese on each slice of bread (basically dividing everything in 4 among the slices of bread), then top each with another slice of bread.

Melt two tablespoons of the butter in a large skillet over medium heat. Add the sandwiches, two at a time, and cook until the cheese has melted and the bread is golden brown, about 3 minutes per side.

Repeat for all of the sandwiches, adding more butter to the pan as needed.

Cut in half and serve at once.