This restaurant-quality Smoked Salmon and Avocado Eggs Benedict Recipe is so delicious! This impressive dish is perfect for special occasions like Easter or Mother's Day Brunch!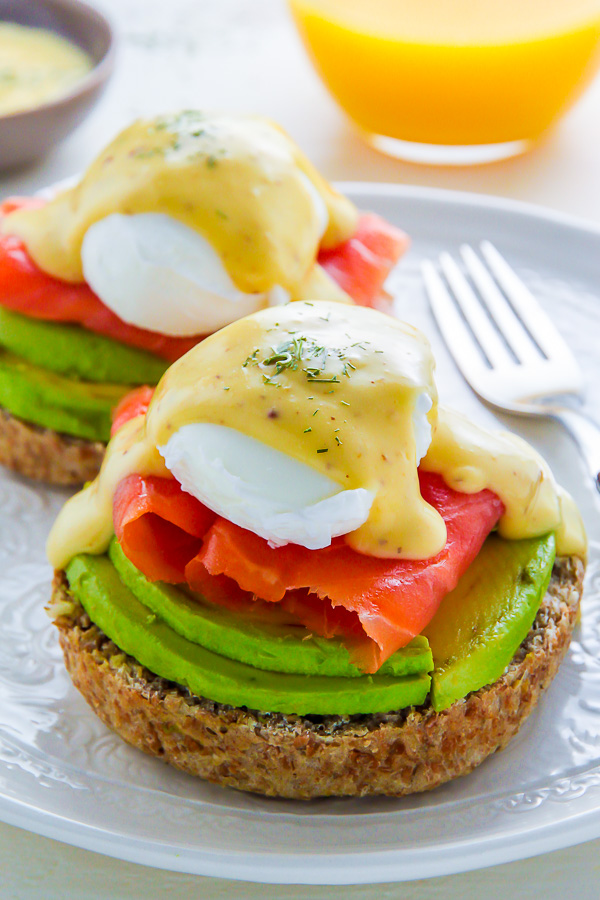 Avocado Smoked Salmon Benedict
Hello friends, hello Friday! Who's ready for the weekend? Who's ready for brunch?!
It's no secret I'm a mega fan girl when it comes to brunch food.  So naturally I'm super excited to be adding this smoked salmon and avocado eggs benedict to your virtual recipe menu! Creamy avocado, silky smoked salmon, homemade hollandaise sauce, and fresh poached eggs, all on top of toasted English muffins.
Really… can you think of anything more tempting and delish?! ↓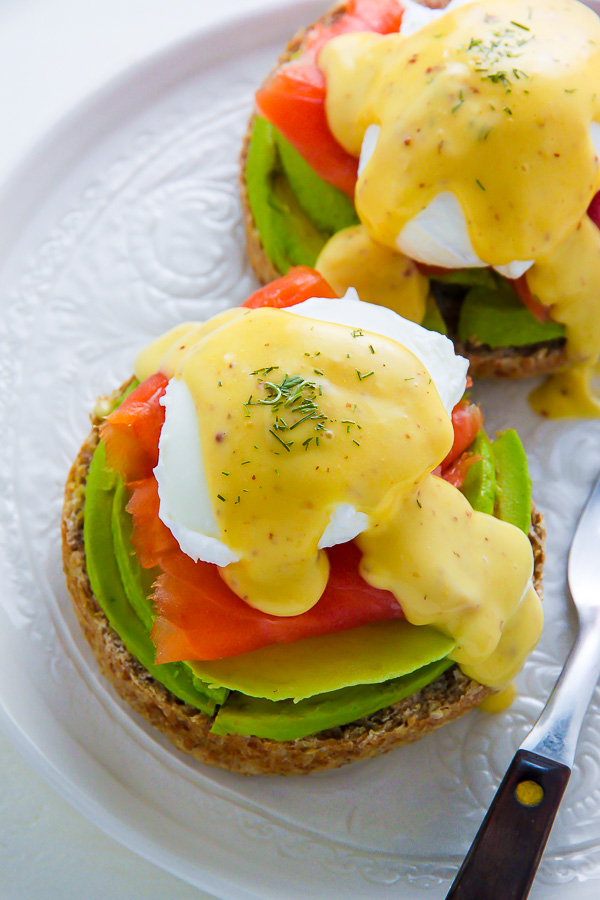 There are 3 parts to this recipe:
The first step is making your hollandaise sauce. Making hollandaise is not hard, but it does require your full attention for the few minutes your making it. I suggest reading through the recipe fully at least once to make sure you have the steps down right. Once your hollandaise is made, you can set it aside and move onto the poached eggs.
The second step is poaching your eggs. But if you've never poached an egg before – don't fret! It's seriously simple and anyone can do it. The most important thing is to make sure your pot of water is just simmering but not boiling. The fewer bubbles the better! Once you have your water at the right temperature, you'll simply crack an egg into a small cup, and slide it into the barely simmering water. You can add all of the eggs you are poaching into the same pan, but make sure you keep a little space in between each. I find my poached eggs are perfectly cooked at 3 minutes, but yours may take anywhere from 3-5 minutes. You want the egg white to be fully cooked, but the yolk to still be runny. You can always cook one egg as a test run, so you know exactly how long it takes to perfectly poach them on your stove top. To remove the eggs from the pan, you'll use a slotted spoon to gently lift them out of the water and onto a plate.
The final step is assembly. This is the easy part! You'll slice each English muffin in half and toast them to your liking. Then simply top each half with a few slivers of fresh avocado, a slice of smoked salmon, a poached egg, a dollop of hollandaise sauce, and pinch of fresh dill. YUM.
Due to the nature of this dish, I suggest serving this meal at once!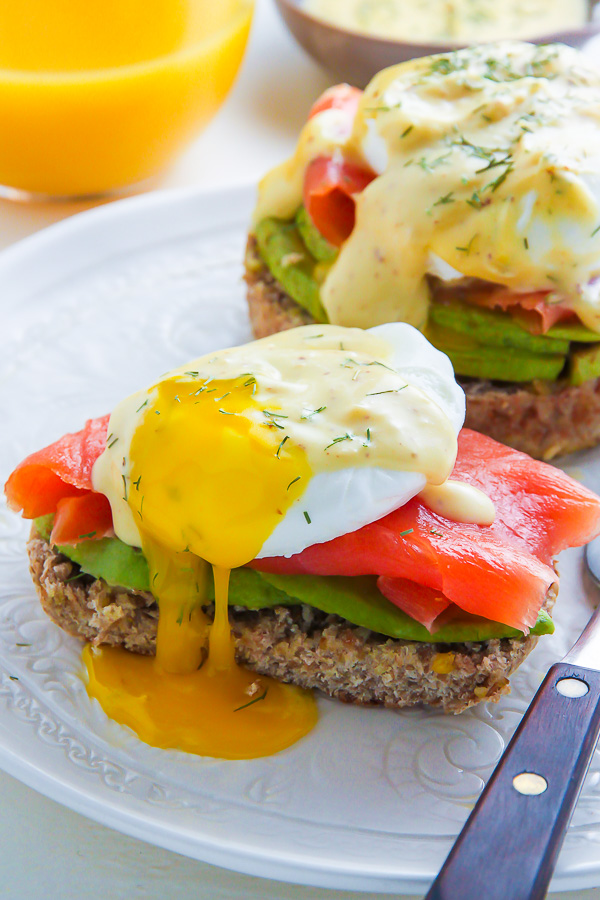 This indulgent breakfast is sure to make any morning a little more special. I love to serve this meal with fresh squeezed orange juice and simple breakfast potatoes. What will you serve it with?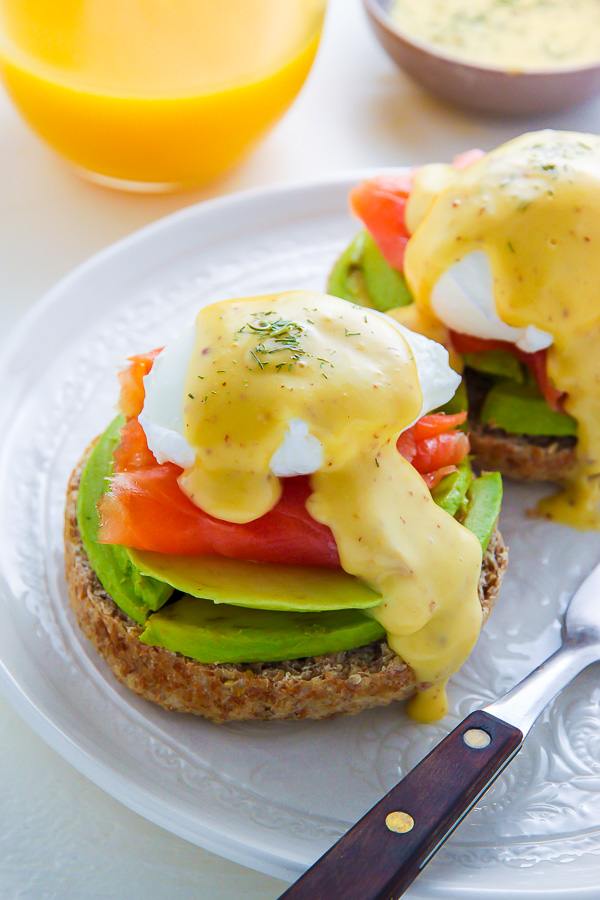 More Smoked Salmon Recipes:
If you try this Smoked Salmon Eggs Benedict Recipe, let me know! Leave a comment below and don't forget to snap a pic and tag it #bakerbynature on Instagram! Seeing your kitchen creations makes my day. ♥
Smoked Salmon and Avocado Eggs Benedict
Yield 2 servings
Homemade Smoked Salmon and Avocado Eggs Benedict! A restaurant quality meal easily made at home.
Ingredients
For the hollandaise sauce:
7 tablespoons unsalted butter
2 large egg yolks
3/4 teaspoon Dijon mustard
1 tablespoon lemon juice
1 teaspoon white wine vinegar
For the poached eggs:
4 large eggs
1/2 teaspoon white wine vinegar
For the smoked salmon and avocado eggs benedict:
2 English muffins, sliced in half
1 large ripe avocado, cut in half, pitted, and sliced
8 ounces smoked salmon, thinly sliced
1 tablespoon fresh dill, chopped
Instructions
For the hollandaise sauce:
Melt the butter in a small pan. Meanwhile place the egg yolks into a heatproof bowl over a small pan of gently simmering water; whisk with the lemon juice and Dijon mustard. Whisking constantly, very slowly add the melted butter into the egg mixture, stirring until well combined. Feel free to add a splash of water to loosen the sauce, if needed. Whisk in a splash of vinegar and season to taste. Turn the heat off and keep warm over the pan of water, stirring occasionally, and loosening with an extra splash of water, if needed. Next step, make your eggs.
For the poached eggs:
Fill a small saucepan with a 3-4 inches of cold water. Heat the water on high until it reaches a light simmer and small bubbles begin to appear at the bottom of the pan, stir in the vinegar.
Crack the eggs, one at a time, into a small bowl or cup, preferably one with a spout. Place the bowl close to the surface of the simmering water and gently slip the egg into the pan. If you'd like, you may use a spoon to gently push some of the egg whites closer around the yolk, but I find this optional as they typically float around the yolk well enough on their own. At this time add all of the eggs you are poaching into the pan, repeating the steps listed above, leaving a little space in between each one. Cook the eggs for 4 minutes, or until the egg whites are completely cooked, but the egg yolks are still runny. Using a slotted spoon gently lift the poached eggs out of the pan and place them on a plate. Next step, assembly.
For the smoked salmon and avocado eggs benedict:
Toast your English muffins until each side is nice and crispy. Place two English muffin halves on a plate. Top each half with a few slices of avocado, a slice or two of smoked salmon, a poached egg, a dollop of hollandaise sauce, and a sprinkle of fresh dill, if using. Repeat for all muffins, and serve at once.
Notes
Recipe may be double as needed. Due to the nature of avocados, I do recommend serving this dish right away. Left over hollandaise sauce may be stored in the fridge for up to one week; it makes a delicious spread for sandwiches and more.
Courses Breakfast
Cuisine French
Nutrition Facts
Serving Size 1 serving
Amount Per Serving
% Daily Value
* Percent Daily Values are based on a 2,000 calorie diet. Your daily values may be higher or lower depending on your calorie needs.