This Smoked Salmon Frittata is light, fluffy, and perfect for brunch! Made with eggs, dill, capers, smoked salmon, cream cheese, red onion, and tomatoes, this flavorful egg dish is always a crowd-pleaser! Delicious warm or cold.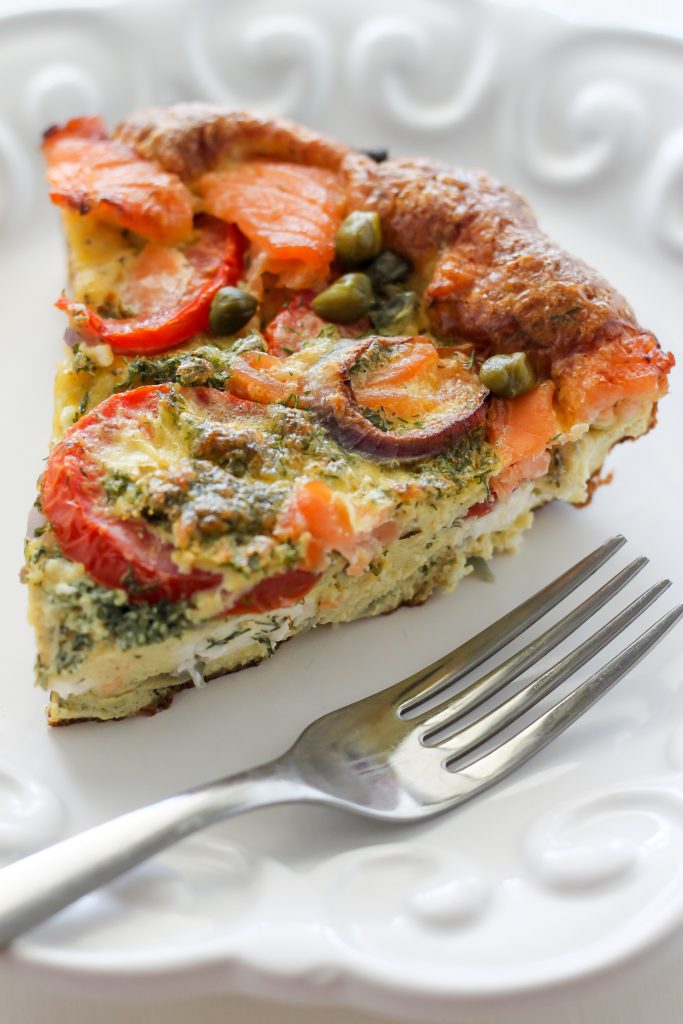 Smoked Salmon Frittata
Mother's day is right around the corner, and if your family is anything like mine, that means taking the time to honor the (AMAZING) woman who gave you life. For my family this means gathering under one roof, making a ton of food (and noise), and just spending time together. AKA All of the things mama loves.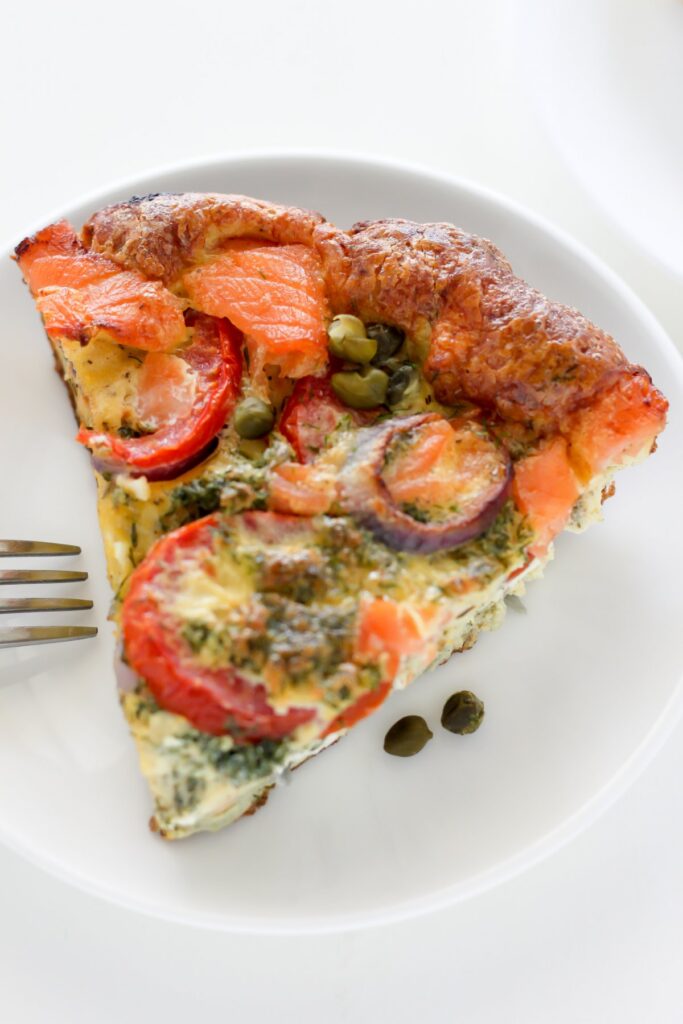 This year I'm on brunch duty and I'm prepared! The tulips are ordered (pink, yellow, and orange), my apron is pressed (kinda), and my menu is S-E-T. I'll be making a batch of these strawberry rolls with vanilla glaze, a few pitchers of my tangerine mimosas, this spinach and potato breakfast hash, and lastly but certainly not least, this smoked salmon frittata. Not a bad spread, right?

salmon frittata recipe

A few of my favorite things about this easy brunch dish:
1) TASTE. You guys, there is so much flavor packed into this recipe. I'm talking dill, smoked salmon, red onion, fresh tomato, scallions, and a silky swirl of cream cheese. If you love loaded lox bagels, you'll LOVE this frittata. It's a smoked salmon lovers dream.
2) Easy breezy assembly and serving. This dish gets whisked together in one bowl, poured into a skillet, baked in the skillet, and served in the skillet. This means very few dirty dishes. AMEN!
3) If, for some reason, you have leftovers – they're delicious cold (or warm) the next day. In fact I made S one of these frittatas right before I left for this trip so he wouldn't have to worry about lunch this week (can you say spoiled food blogger boyfriend?).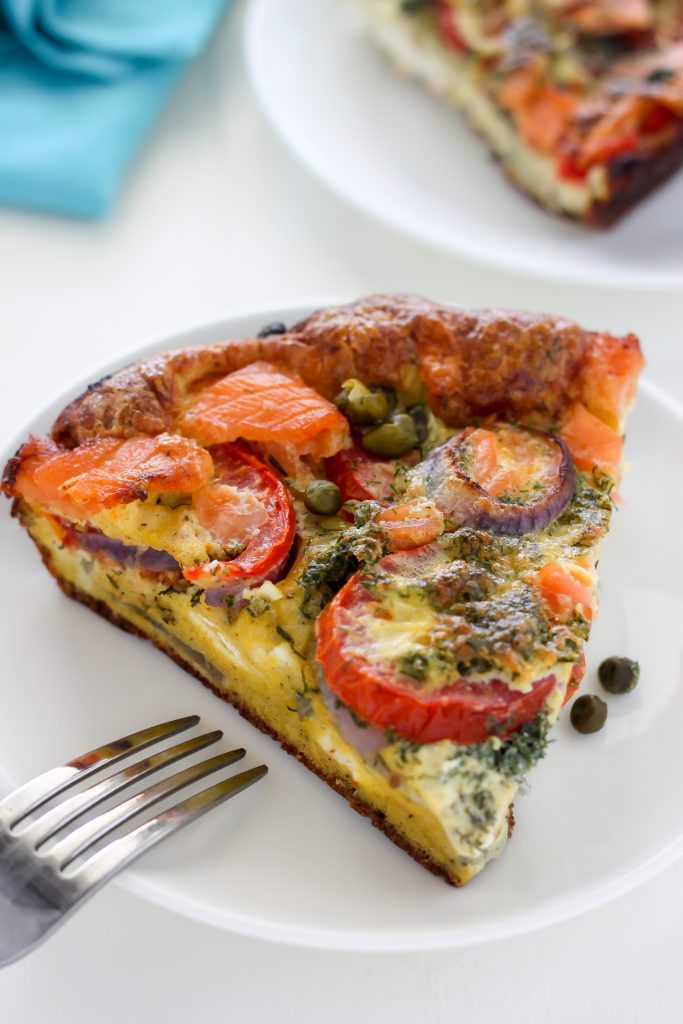 Alright my friends, grab your eggs and get cracking! xoxo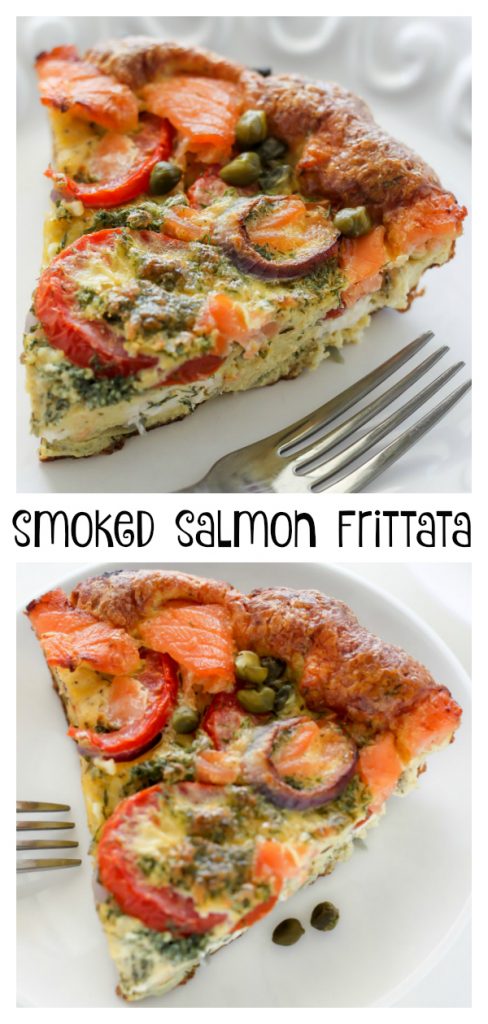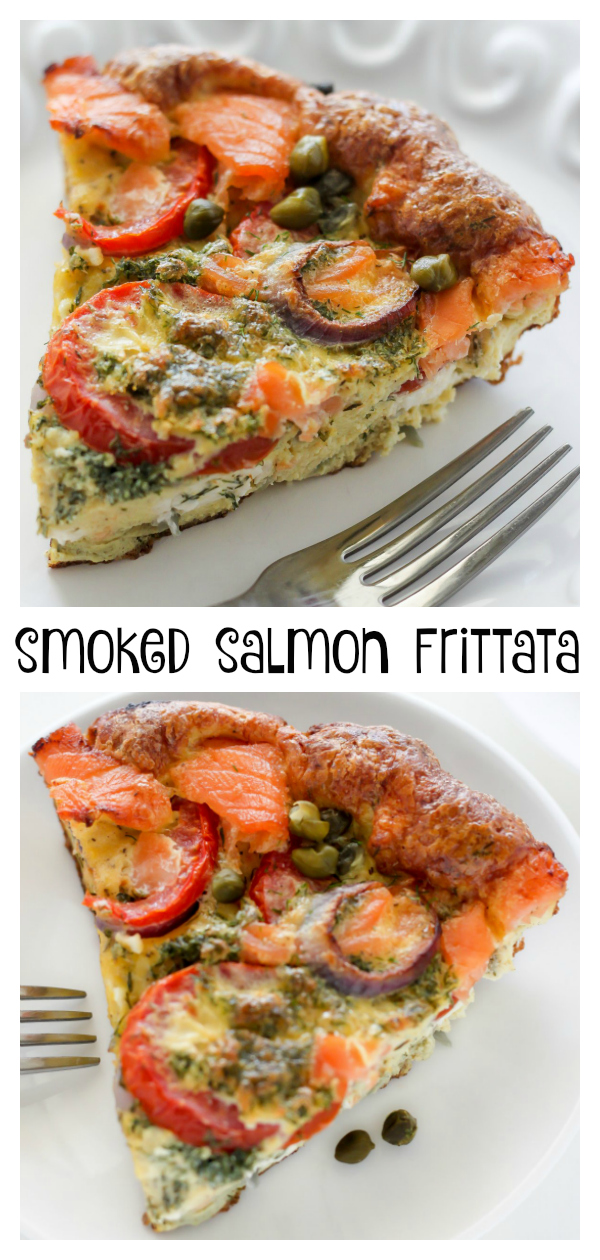 More Smoked Salmon Recipes:
More Frittata Recipes: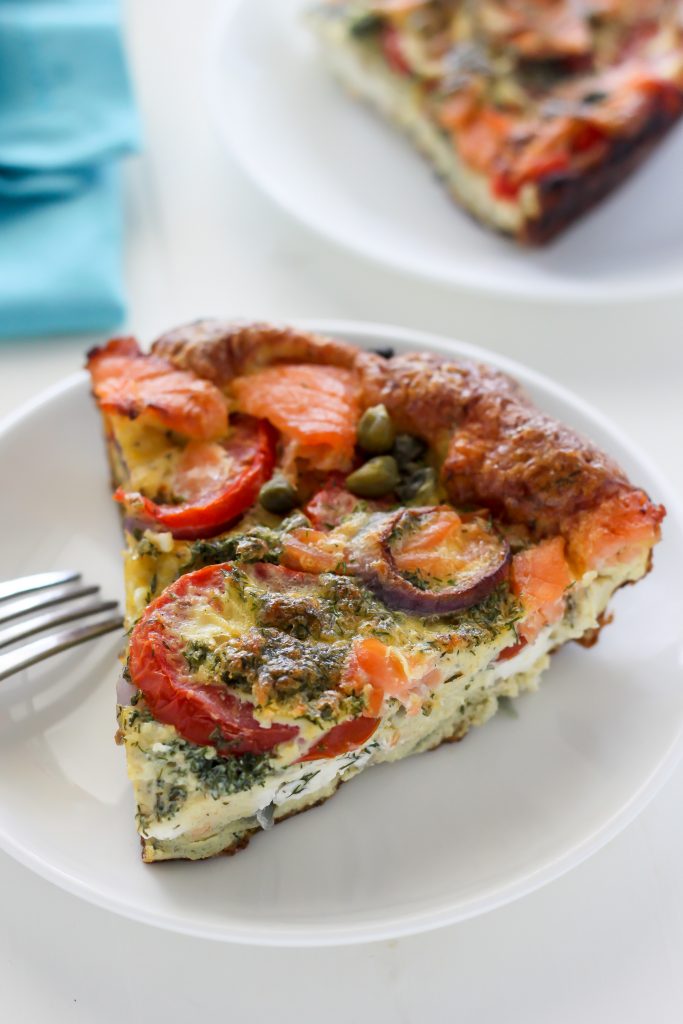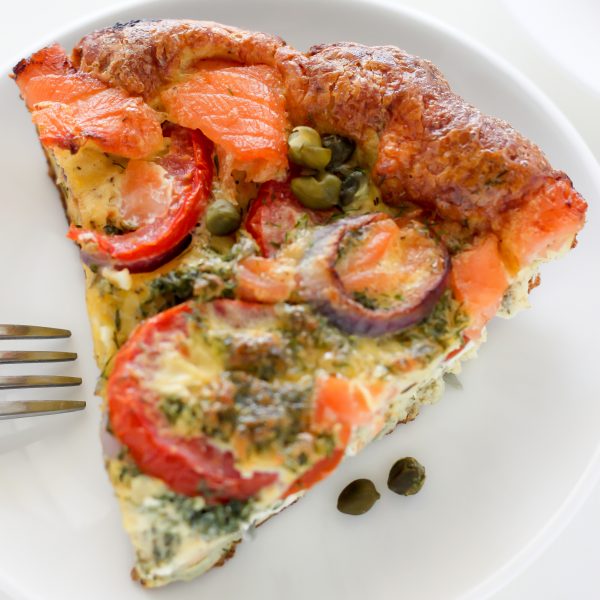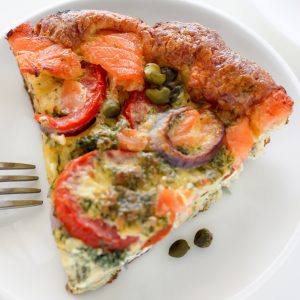 Smoked Salmon Frittata
An easy and impressive Smoked Salmon Frittata that's studded with cream cheese, capers, tomatoes, and red onion. A lovely addition to any breakfast, brunch, or brinner (breakfast for dinner)!
Ingredients
10 large eggs
1/2 cup heavy cream
1/3 cup whole milk
2 tablespoons scallions, finely chopped
2 tablespoons fresh dill, finely chopped
1 teaspoon fresh ground black pepper
1/4 teaspoon salt
2 tablespoons butter
3/4 cup red onion (about 1 large red onion), thinly sliced
4 ounces cream cheese, cut into small cubes
4 ounces smoked salmon, cut into large strips
2 Roma tomatoes, cut into thin slices
1 tablespoon capers
Instructions
Preheat the oven to 400 degrees (F). Carefully crack eggs into a medium-large bowl; whisk eggs until well beaten and frothy; about 2 minutes by hand. Whisk in heavy cream, milk, scallions, dill, black pepper, and salt; mix well to combine; set aside. In a large ovenproof skillet, melt the butter over medium heat. Once it's completely melted add egg mixture to skillet. Quickly layer the red onion, cream cheese, smoked salmon, tomatoes, and capers on top of the eggs. Cook for 4 minutes over medium-heat without stirring or moving the eggs in any way. At this point carefully transfer the skillet to the oven.

Bake until the top is golden brown and the frittata is set; about 35 minutes. Cool for 5 minutes, then cut and serve warm.