S'mores Chocolate Chip Cookies are thick, chewy, and loaded with gooey mini marshmallows! If you love cookies and s'mores, you have to try this great recipe!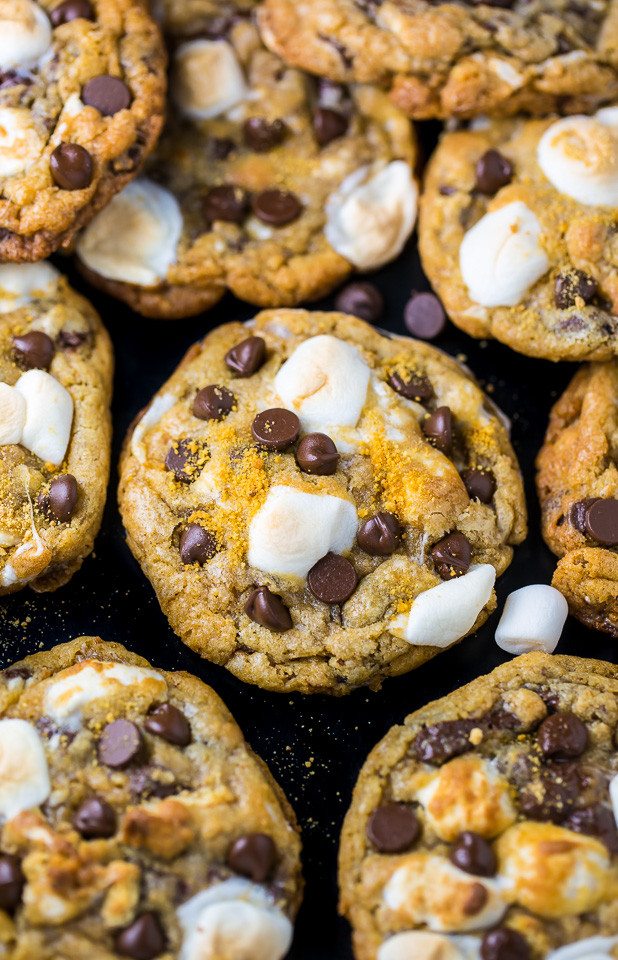 S'mores Cookies
Happy (belated) New Year, my friend! Here we are… 5 days into 2017. How's it going? Are you showing those resolutions who's boss? Struggling a little? Feeling glad you didn't make any to begin with?
I for one am feeling incredibly thankful this morning. After 8 days of tissues, TV, and maybe a few tears, I've finally kicked the flu to the curb!!! I'm one of those people who rarely gets sick, so this down time really rocked my world. But the silver lining? It also gave me time to rest, reevaluate, and think deep on my resolutions for 2017. While I won't go into detail on my personal and professional goals for this year, I will say that there's a lot of exciting and delicious projects (including a website redesign) coming your way. I'm not only excited, but honored, to share this year with you! To grow with you, as human beings and as bakers. From the bottom of my heart, thank you for being here and making this dream job of mine possible.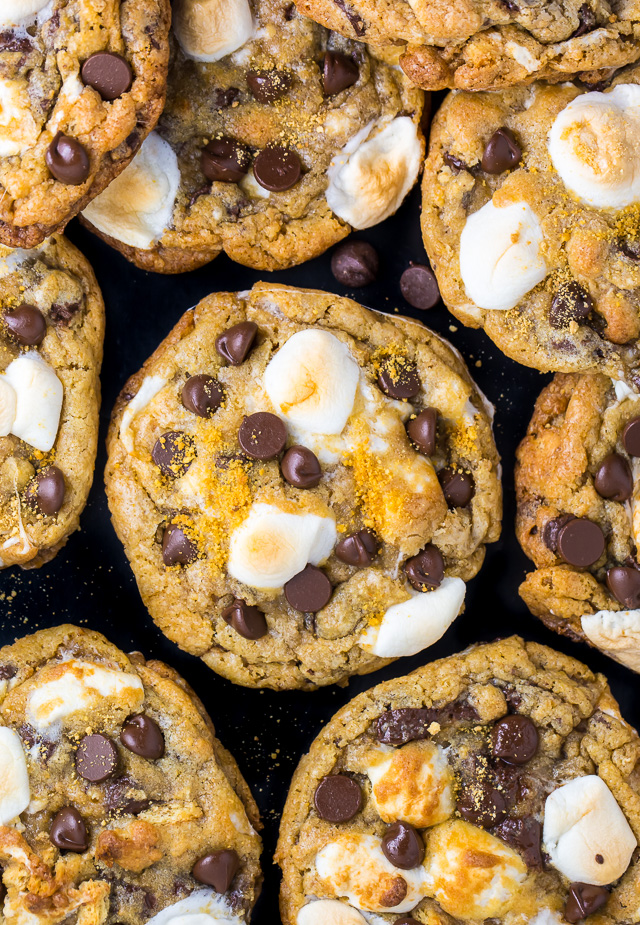 S'mores Chocolate Chip Cookies
These EPIC cookies are loaded with gooey marshmallow, rich chocolate, and crunchy graham crackers. But the best part? The cookie dough doesn't require chilling any dilling so you can just roll and bake! So you can have these on your table in less than 30 minutes. Bliss!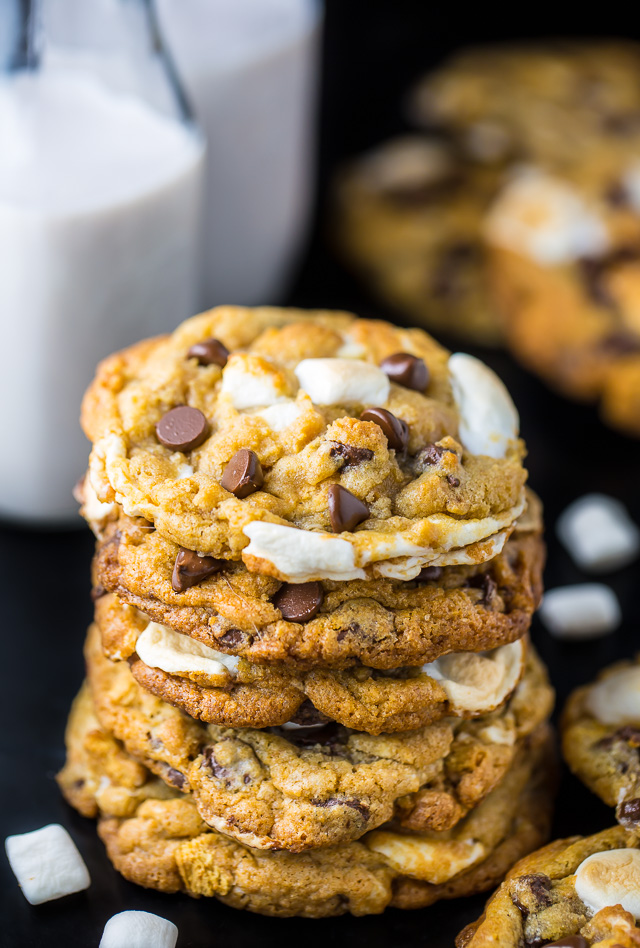 Tips and Tricks for Recipe Success:
Bring your eggs and butter to room temperature! You'll know the butter is soft enough when you can press your finger into the top and an indentation is effortlessly made. Cold butter as well as melted butter should never be used when making these cookies; it will not work.
For this recipe you'll need graham cracker crumbs. You can buy them from the store, or make your own by pulverizing a few sheets of graham crackers in a food processor or blender. Just make sure they're in very fine crumbs.
Don't over bake! The cookies should still be slightly soft in the center; they'll firm up as they cool.
Be sure to allow the cookies to cool on the baking sheet for a full 10 minutes before transferring them to a cooling rack. They need the 10 minutes to firm up so they don't fall apart as your transfer them.
If you'd like your cookies to look like the ones you see in my photos, press a few marshmallows on top of each ball of cookie dough before baking, then press a few chocolate chips on top of the baked cookies right after they come out of the oven.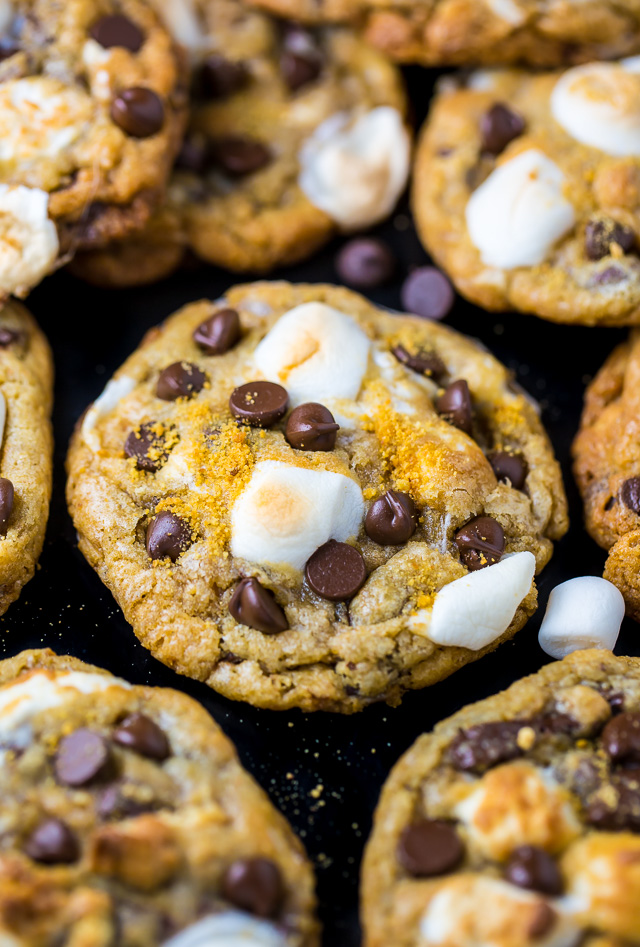 When it comes to cookies, there's always room for s'more…
↑ Couldn't resist 😉 Enjoy! xoxo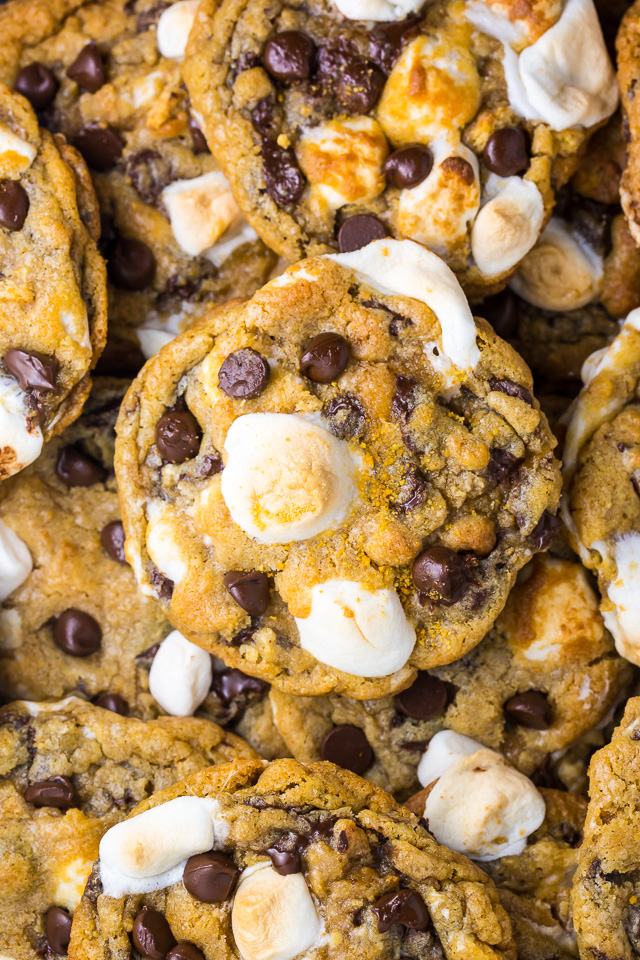 More S'mores Recipes:
If you try these Chocolate Chip S'mores Cookies, let me know what you think! Leave a comment below, and don't forget to snap a pic and tag it #bakerbynature on instagram! Seeing your creations makes my day.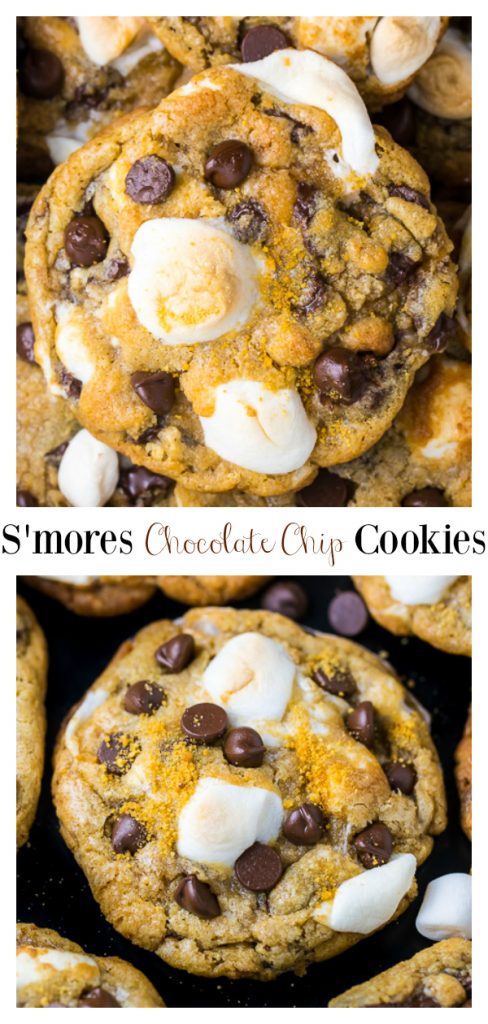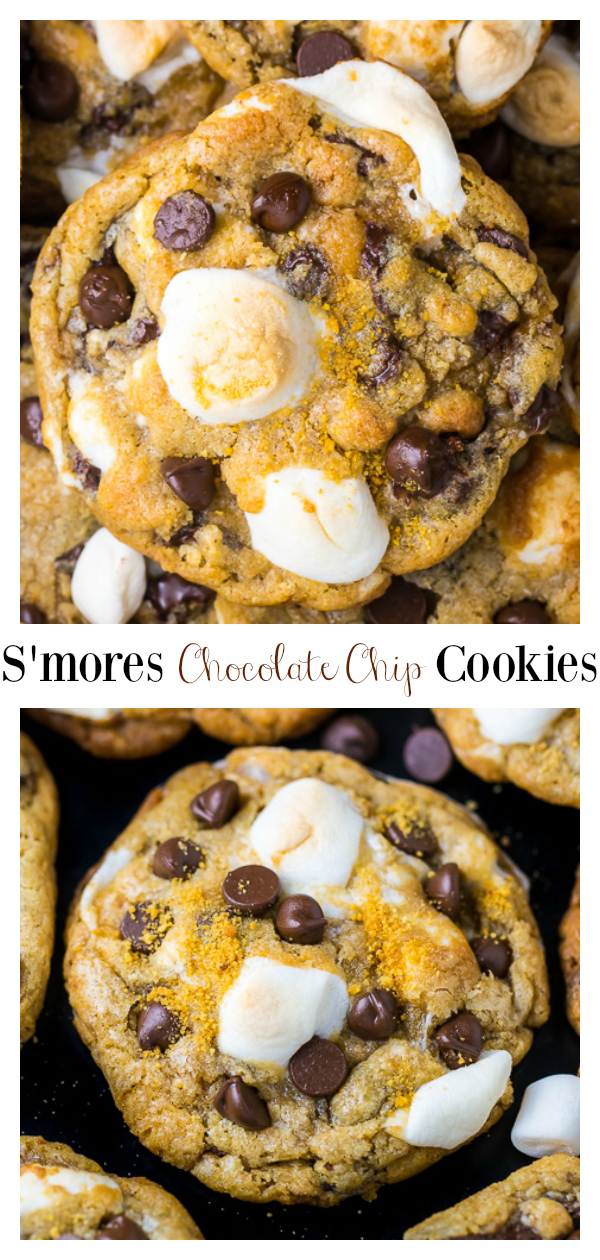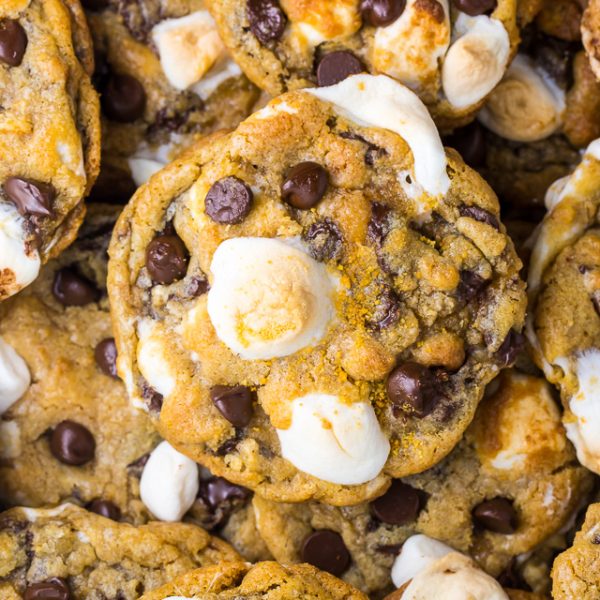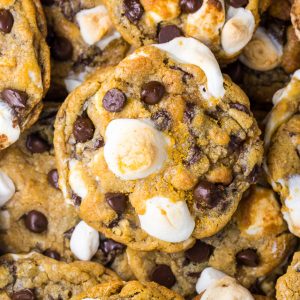 S'mores Chocolate Chip Cookies
S'mores Chocolate Chip Cookies are thick, chewy, and loaded with so much gooey goodness. Easy to make and no chilling required!
Ingredients
2 and 1/3 cups all-purpose flour
1/2 cup graham cracker crumbs, very finely crushed (see post for more on this)
1 teaspoon baking soda
1/2 teaspoon salt
2 sticks (8 ounces) unsalted butter, at room temperature
1 cup light brown sugar, packed
1/2 cup granulated sugar
2 teaspoons vanilla
2 large eggs, at room temperature
2 cups semi-sweet chocolate chips
1 cup mini marshmallows
2 sheets graham crackers, roughly chopped (about 1/2 cup)
Instructions
Preheat oven to 375 degrees (F). Line 2 large baking sheets with parchment paper and set aside. In a medium-sized bowl whisk together the flour, graham cracker crumbs, baking soda, and salt; set aside.

In the bowl of a stand mixer fitted with the paddle attachment, add the butter and both sugars; beat on medium-speed for 2 to 3 minutes, or until light and fluffy. Add the vanilla and beat smooth. Beat in the eggs, one at a time, beating well after each addition. Reduce mixer speed to low and gradually add in the flour mixture. Be sure not to over beat here! Turn mixer off. Using a sturdy spatula or wooden spoon, fold in chocolate chips, marshmallows, and graham crackers.

Roll 3 tablespoon sized portions of dough between your palms to form a ball (they should be big; almost a 1/4 cup), then place on prepared sheet (make sure to leave 2" between each cookie for inevitable spreading). Continue this process until all the dough has been rolled. Place baking sheets in preheated oven, one at a time, and bake for 11 to 12 minutes, or until golden at the edges but still soft in the middle. Let cookies cool for 10 minutes on the sheet before transferring to a wire wrack to cool completely.