Soft Batch Salted Caramel Chocolate Fudge Cookies are pure decadence! They're more brownie than cookie, and stuffed with a gooey pocket of caramel! Perfect for holiday Christmas cookie trays!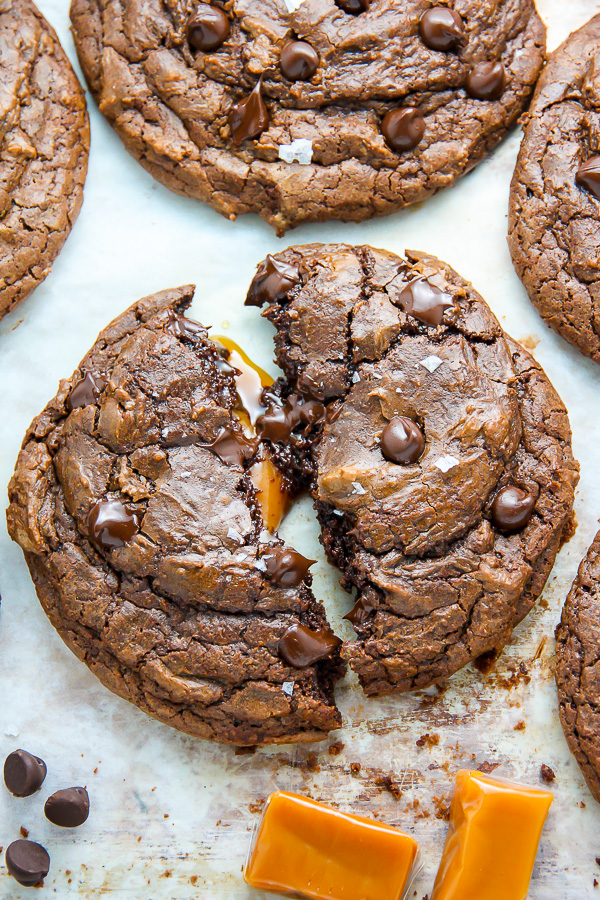 Salted Caramel Chocolate Cookies
We're heading to Paris on Wednesday! The trip was originally just for a quick two-day conference, but after much debate, we've decided to stretch it out and stay for a week. I've never been to the city of light before, so I'm beyond excited to eat, explore, and eat some more.
Coffee, chocolate, croissants, and cozy sweaters! I cannot wait.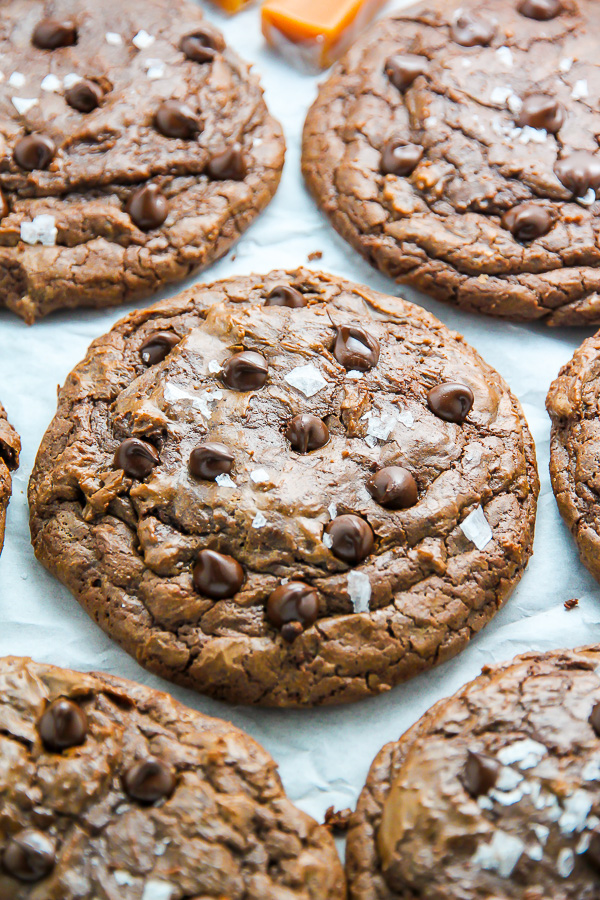 Today's cookie recipe is my go-to cure when I have a chocolate craving that just-won't-quit.
These Soft Batch Salted Caramel Chocolate Fudge Cookies are:
Super soft
Tender
Warm
Gooey
Chocolatey
Caramel-y
Salty
Sweet
And simply amazing
The recipe I used to make them is almost the same as my famous soft batch double chocolate fudge cookies. These cookies are made with simple ingredients like flour, cocoa powder, butter, chocolate, baking powder, salt, sugar, milk, and vanilla. ← Proof basic ingredients,when combined properly, can create epic recipes!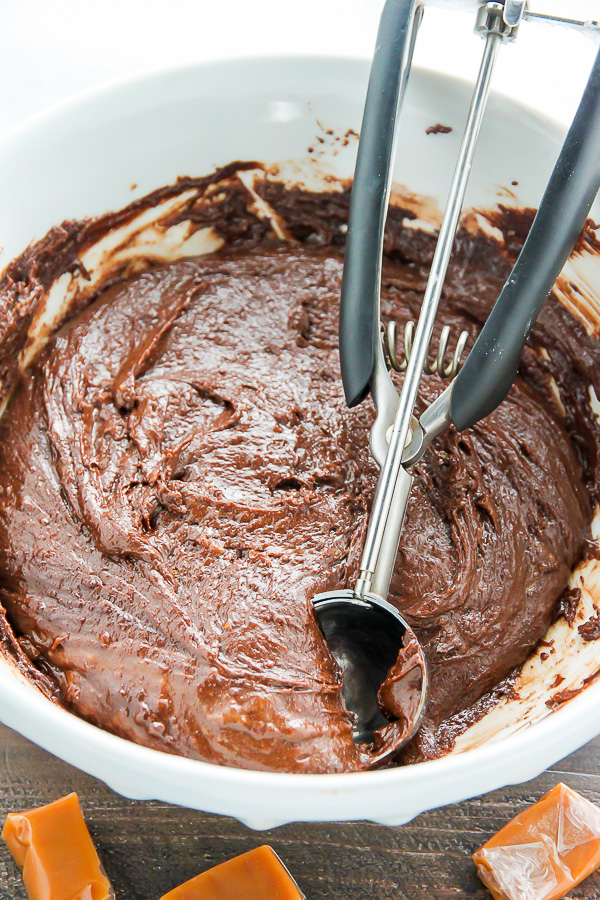 The one fancy(ish) ingredient called for? Salted Caramels. I use these extremely affordable ($2.99!!!) Fleur De Sel Caramels from Trader Joe's (<<< Not getting paid to say that; just the truth) and they work perfectly. If you don't live near a T Joe's, I recommend using a softer salted caramel that will melt nicely and keep a plush texture even after the cookies have completely cooled. You'll want to roll the soft caramel into a small ball and pop them in the freezer for 10 minutes. This helps ensure no caramel escapes the cookies during the baking process.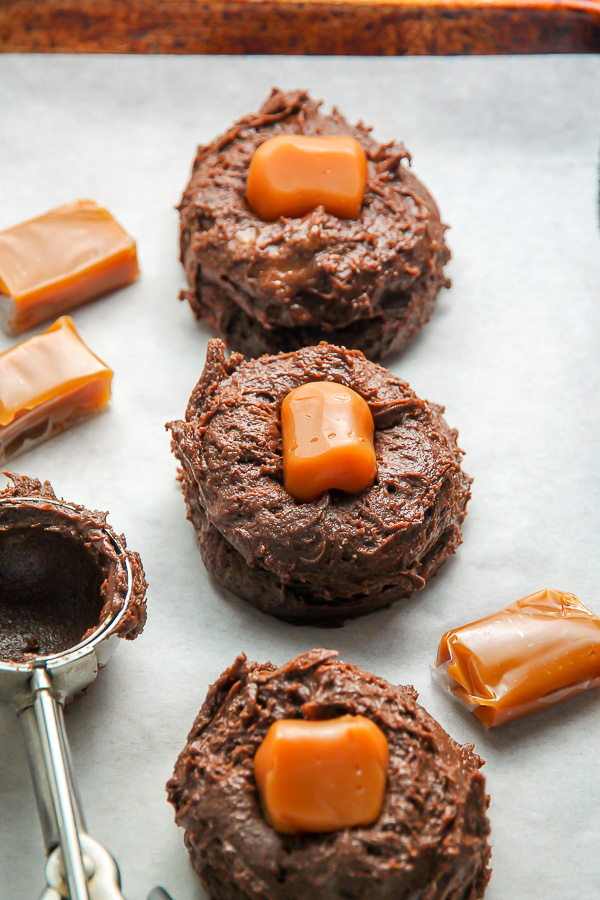 When it comes to baking these cookies, you'll preheat your oven to 325 degrees (F), but once you pop the cookies in the oven, you're going to immediately crank that dial down to 300 degrees (F). The low, longer baking time gives these cookies their crackly shell and gooey fudge interior. ♥♥♥
FYI: These cookies must – I repeat MUST – cool completely on the tray. I usually leave the room for a good 45 minutes before I even think about sneaking one (or 3…) off the tray.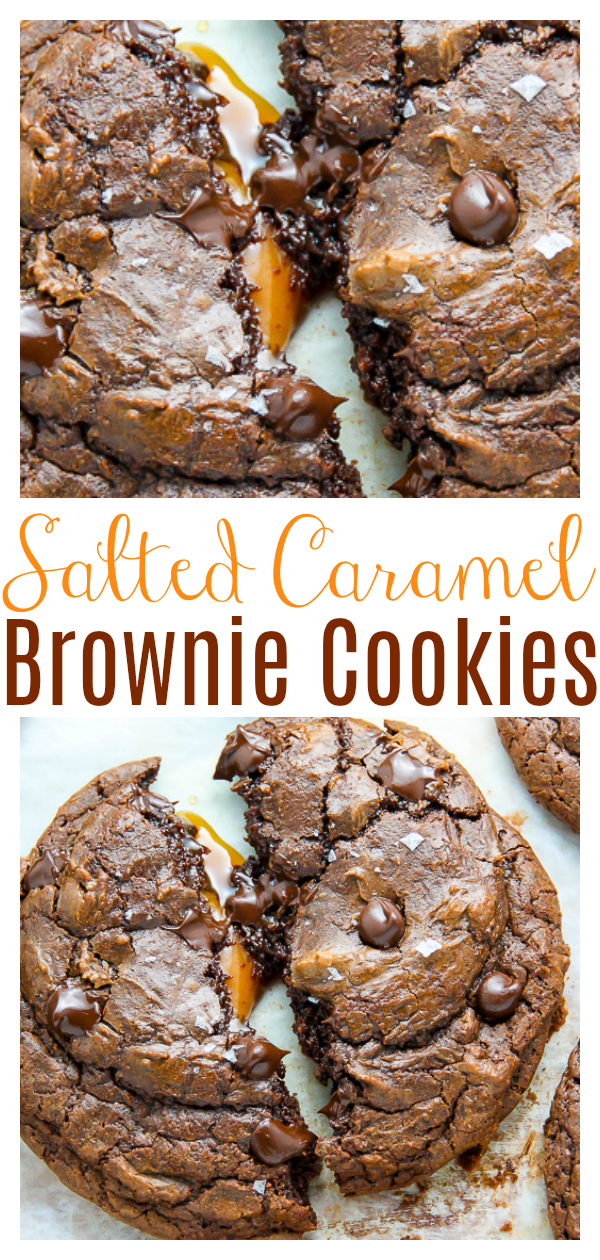 These rich and gooey cookies are the ultimate chocolate & caramel indulgence! Spoil yourself and make a batch today.
As always, it's a good idea to read the recipe in full before beginning.
More Chocolate Cookie Recipes:
If you try this recipe, let me know! Leave a comment below and don't forget to snap a pic and tag it #bakerbynature on instagram! Seeing your kitchen creations makes my day.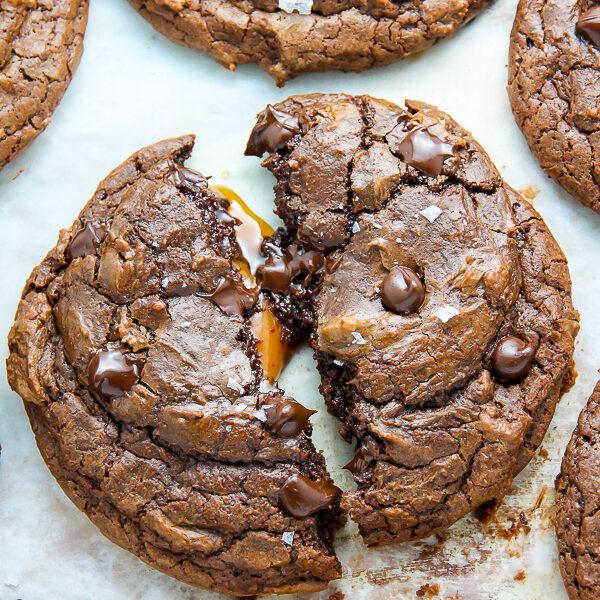 Soft Batch Salted Caramel Chocolate Fudge Cookies
Thick and ultra fudgy chocolate cookies stuffed with a pocket of gooey salted caramel. These are epic!
Ingredients
12 salted caramels, see post for more information
2 cups semi-sweet chocolate chips
4 tablespoons unsalted butter
2 and 1/2 cups all-purpose flour
6 tablespoons unsweetened cocoa powder
2 teaspoon baking powder
1 teaspoon salt
1 cup granulated sugar
3/4 cup light brown sugar, packed
4 large eggs, at room temperature
4 tablespoons whole milk
2 teaspoons vanilla extract
2 cups milk chocolate chips
2 teaspoons flaky sea salt
Instructions
Unwrap the caramels, roll each one into a ball, and place them on a freezer-safe plate. Place the plate in the freezer for 20 minutes. In the meantime, prep your cookie dough.

Preheat oven to 325 degrees (F). Line two large baking sheets with parchment paper, lightly spray them with non-stick spray, and set aside.

Place the semi-sweet chocolate chips and butter in a small, microwave safe bowl. Heat them in the microwave for for 15 second increments of time, mixing in between each, until butter and chocolate are completely melted and can easily be whisked smooth. Set aside. *You may also do this process on the stove top if you don't own a microwave.

In a medium-sized bowl whisk together the flour, cocoa powder, baking powder, and salt. Set aside.

In a separate medium-sized bowl whisk together the sugars, eggs, milk, and vanilla.

Add the dry ingredients into the wet ingredients, and stir to combine - be sure not to over mix here!

Fold in the chocolate/ butter mixture and the milk chocolate chips into the batter, stirring until everything is just combined.

Scoop 2 tablespoon-sized potions of batter onto the prepared baking sheets, leaving an inch in-between each cookie for inevitable spreading. Press a caramel in the center of each cookie, then top with an additional tablespoon of dough. Lightly press the edges together using your fingers.

Place pans in the oven - one at a time - reduce heat to 300 degrees, and bake for 18-20 minutes. Sprinkle the top of each cookie with a pinch of flaky sea salt. Allow cookies to completely cool on the baking sheet before serving.