Sriracha Chicken Strips
Y'all… These fiery red little devils are officially the chicken fingers of my dreams! They're so simple to whip up, gluten-free, and bring double the spice thanks to sriracha and tabasco. Oh, and don't fear the heat! There's a wee bit of honey and butter in the sauce to keep things from getting out of hand 😉
The chicken tenders take a quick dip in a gluten free seasoned coating mix before diving into a milk/egg mixture, then they go for one more roll in the coating mix before getting fried to perfection – easy peasy!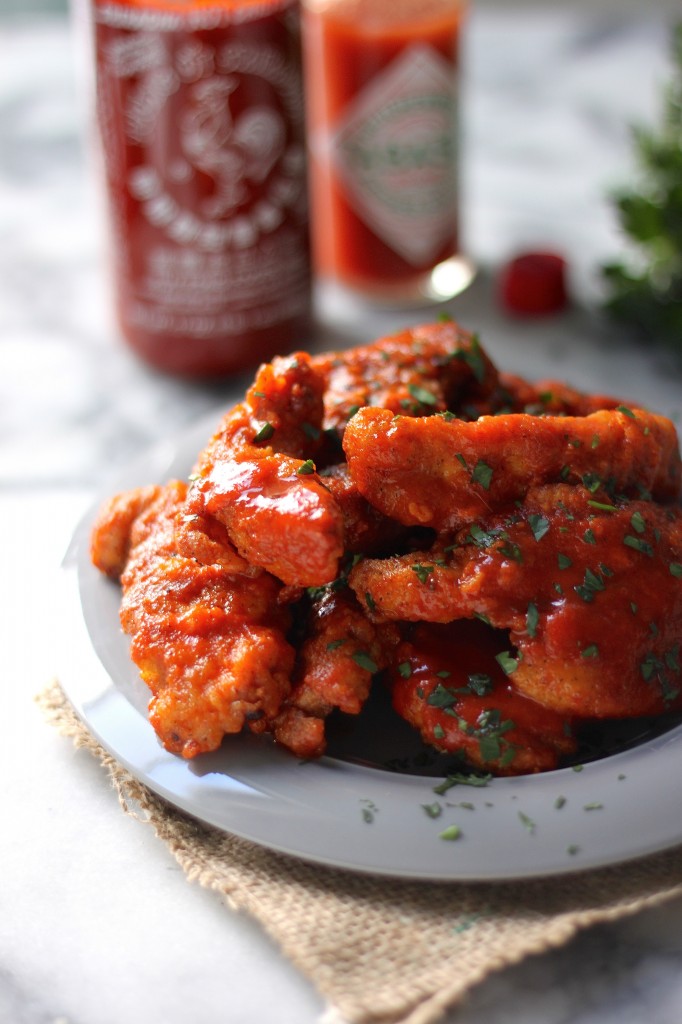 I actually fried these in olive oil and it worked wonderfully (although it did start to smoke and turn a darker brown by the third batch, which is fine by me), but you can definitely go with canola, vegetable, or even coconut oil if you prefer! I also tried baking a batch… but frying beat out baking black and blue. Sometimes, ya just gotta FRY!
The last step in this chicken finger adventure is the sauce! Oh THE SAUCE. This sauce is a fiery combination of sriracha, tabasco, melted butter, and honey. I really (really, really, really) love the unique blend of bold spice and mild sweetness in this sauce and pretty much want to dip everything in it now! Obsessed… well, yes I am.
I choose to sprinkle some chopped parsley on top really just for a pop of color, but ended up loving the subtle freshness it added to these spicy fingers – I bet cilantro would be tasty, too! And although I didn't go there… a blue cheese dip is kind of a no-brainer if you're feeling extra indulgent 😉 xoxo
Spicy Sriracha Chicken Fingers
Ingredients
2 cups gluten free seasoned coating mix (I used Hodgson Mills brand and loved it)
2 teaspoons garlic powder
2 teaspoons salt
3/4 teaspoon black pepper
1 teaspoon cayenne pepper
1 teaspoon paprika
3/4 cup milk
1 large egg
4 boneless, skinless chicken breasts, cut into 1/2" strips
1/3 cup sriracha hot sauce
2 teaspoons tabasco sauce
1 teaspoon honey
1 1/2 tablespoons butter, melted
1 tablespoon fresh parsley, chopped
Olive Oil (or other variety), for frying
Instructions
Heat oil in a large saucepan until it sizzles. You can test this by dropping a drip of water in and watching (from a distance) to see if it ferociously simmers. If it does, it's ready.

Combine coating mix, salt, black pepper, cayenne pepper, garlic powder, and paprika in a large bowl.

Whisk together the egg and milk in a wide, shallow bowl.

Dip each piece of chicken in the coating mixture, then then the egg mixture (allowing any excess egg mix to drip back into the bowl), and then again in the coating mixture. Repeat so that each piece of chicken is double coated.

In small batches (you don't want any of the chicken touching) fry chicken in the hot oil, cooking until the exterior is nicely browned, about 6 minutes a batch (3 minutes on each side).

Combine hot sauces, honey, and melted butter in a small bowl.

Place fried chicken in a large bowl, drizzle with sauce, and toss to coat. Serve at once.