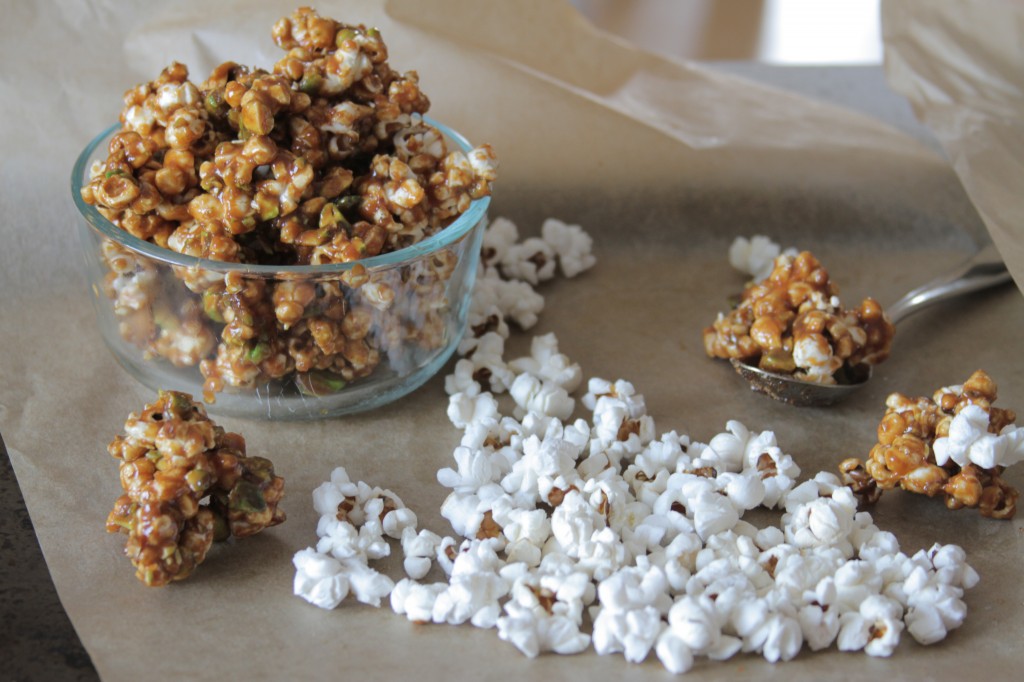 Popcorn… it's an easy thing to love. Yes, I love popcorn. Ok?
I'm not ashamed to say it's occasionally what's for dinner after a day of work, working out and then working some more.
Do I shy away from an afternoon of pink wine and popcorn in a sun drenched garden… No, no I don't.
And if popcorn dresses up in a decadent robe of spicy caramel and knocks at my door, I always answer.
If snacking were only a sport… we'd dominate.
In this popcorn adaption, our kernels are popped in coconut oil. Then we toss some chopped pistachios in with the popped corn and cover it all in a gorgeous coat of spicy caramel. The caramel is easy to make, and the addition of sriracha gives it an incredibly unique flavor.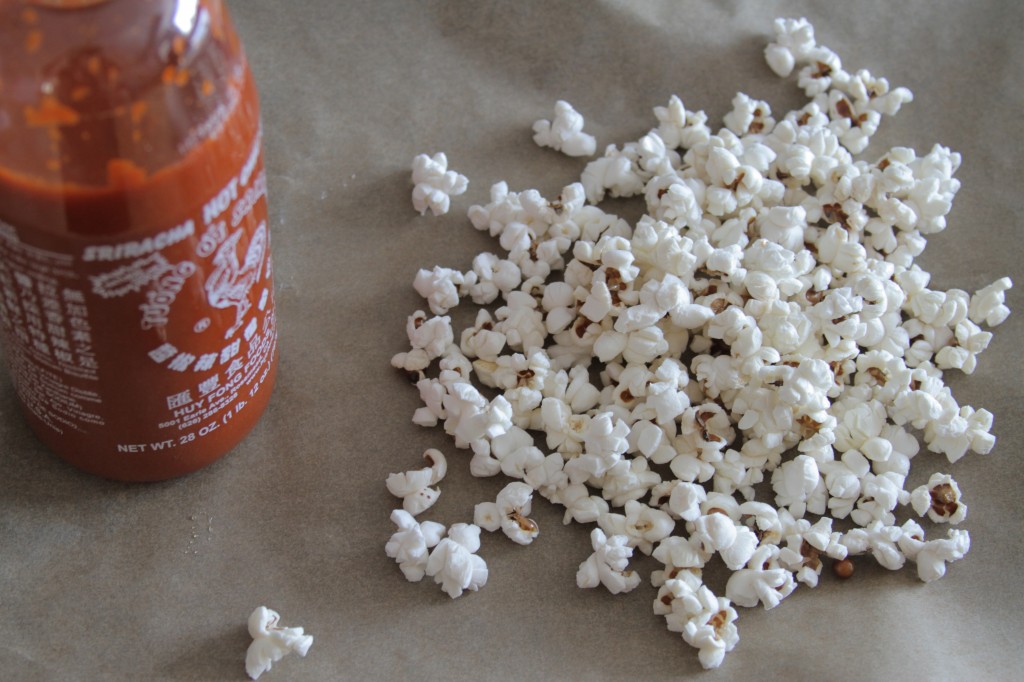 Truth: the first batch of this caramel corn lasted under 12 hours.
After bite #1, it was a fast, face-stuffing frenzy that left me only wanting more, more, more. Popcorn can be addicting like that.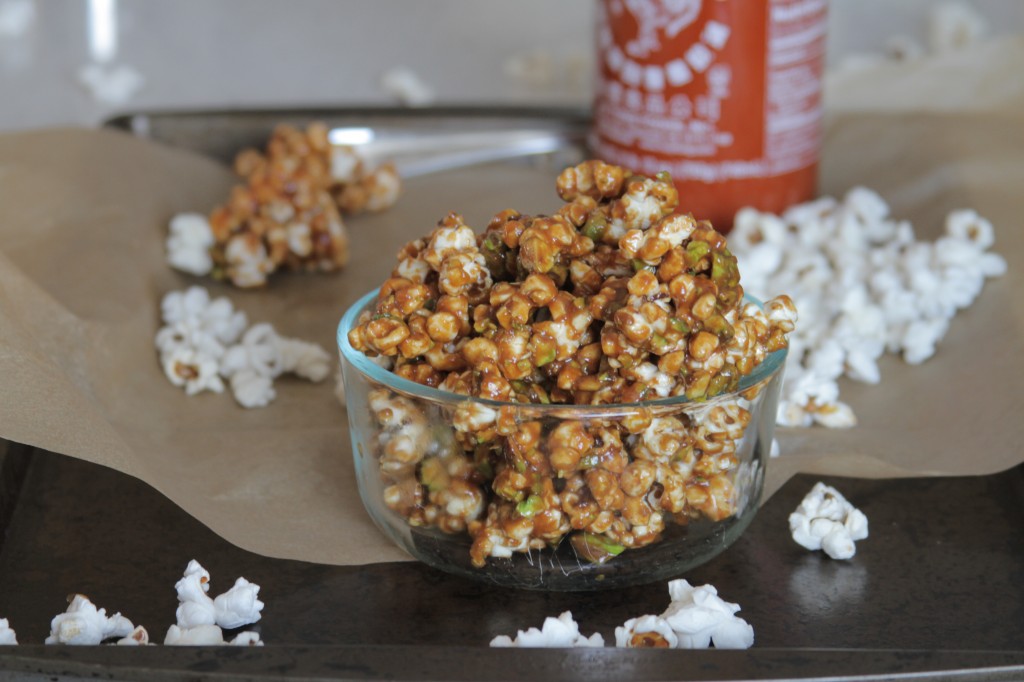 I'll be making this for everyone from my boyfriend to my boss, and I recommend you doing it too. Just make extra for yourself!! Trust me on this one.
Sriracha Caramel Corn – Baker by Nature
makes 4-6 servings
3/4 cup popcorn kernels
5 tablespoons coconut oil
1 1/3 sticks butter, unsalted
1/2 cup honey
1 cup brown sugar
1/2 teaspoon salt
1 cup whole milk
2 Tablespoons Sriracha (less if you don't like spice)
1/2 teaspoon baking soda
1 cup chopped pistachios, optional (feel free to sub in any other nut; I think peanuts would work great)
Instructions:
Spray two large rubber spatulas with non-stick spray (I used coconut oil). Line two large cookie sheets with parchment paper.
In a large heavy bottomed pot, heat coconut oil over medium-high flame. Add popcorn kernels and cover pan (leaving lid slightly ajar) and cook until popping becomes infrequent, about 5 minutes. Discard any un-popped kernels while transferring popcorn into a large bowl. In a sauce pan over high heat whisk together butter, honey, salt, sriracha and sugar, stirring constantly. Bring the mixture to a rapid boil, while continuing to stir (don't stop stirring!). Once rapidly boiling, add milk, and continue to stir until again the mixture has come to a rapid boil. Once boiling, stop stirring and let the mixture boil untouched for 5 minutes. Stir, and allow it to boil another 3 minutes, or until the mixture is the color of a penny. Remove the caramel from heat and add the baking soda (this will cause the caramel to puff up). Immediately pour the caramel on the popcorn and carefully toss with prepared spatulas until evenly coated. Spread the popcorn out onto parchment paper lined cookie sheets and break into pieces while still warm. Let cool for about 20 minutes. Eat right away, or store in airtight containers for up to 48 hours.