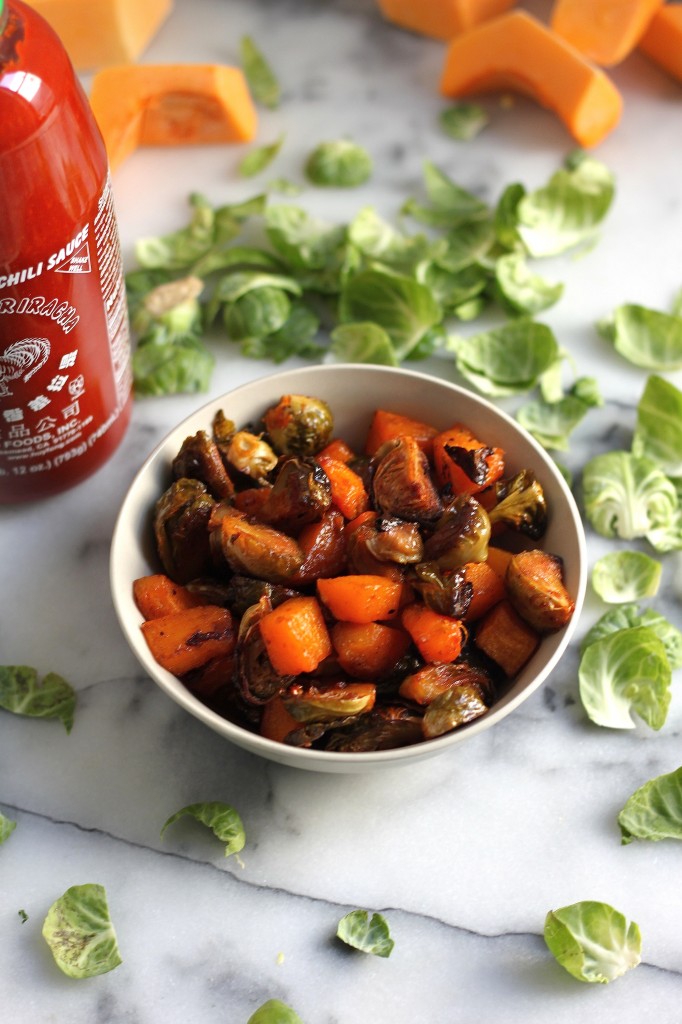 Well, it finally happened… It's like, for reals Winter here folks! And for me, that means non-stop roasted veggies are popping in and out of the oven like crazy! They're SO simple and satisfying. And they're veggies! So it's a win all over the place.
If you haven't tried roasting your veg yet, you just GOTTA do it!
Recently I had a butternut squash so massive I thought it would never run out. After making a soup, a chili, and some fries featuring the orange butternut beauty, I opted to use the last of it for something a little more experimental. See, I've been thinking – er, dreaming, really – of roasting a big ol' pan of brussels in a lovely sriracha & maple glaze… but I was a bit hesitant to add the sweet squash to the roasting party. I mean, it's so sweet already. What if it goes ahead and screws everything up!? A girl needs her sprout fix, ya know! Especially this close to Turkey Day. Hmph.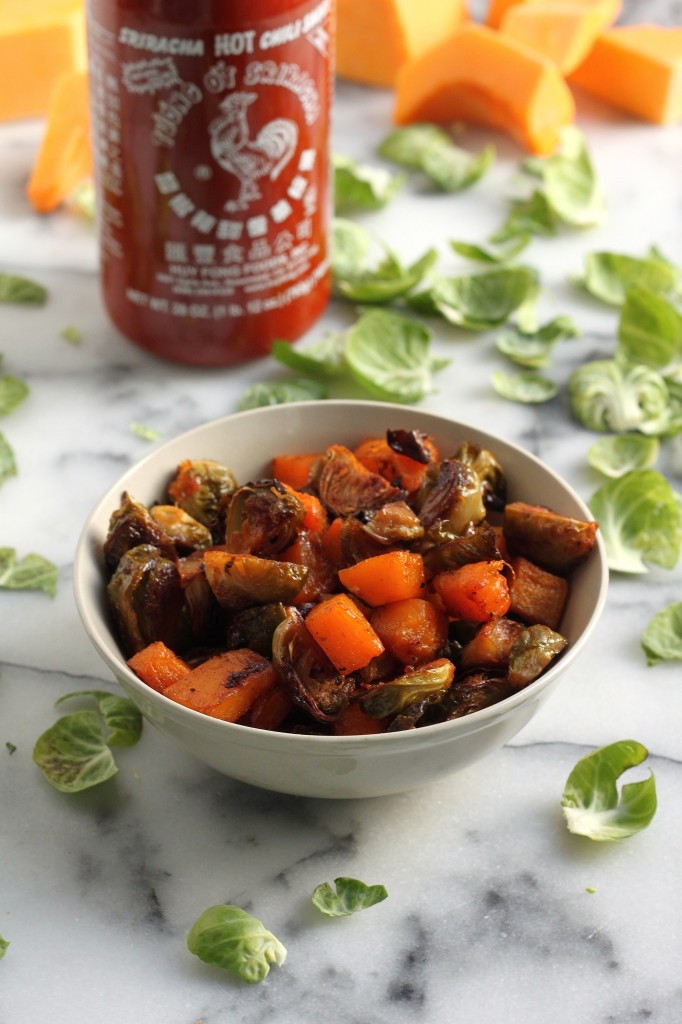 Buuuuuut! I lived on the edge and added it anyways. And y'all… it was the right decision. After about an hour in the oven, my pan emerged offering me a bounty of delicately sweet, spicy, and MEGA crispy green and orange gems that even the boys couldn't get enough of. And I'm talking boys who still believe in the old fable that sprouts are evil and taste like crud. Silliness!
Needless to say, the tray of vibrantly roasted veg was scraped clean in… well… maybe that little detail is best kept secret 😉 But I'll tell ya this, if you're feeding more than 4, double this recipe up!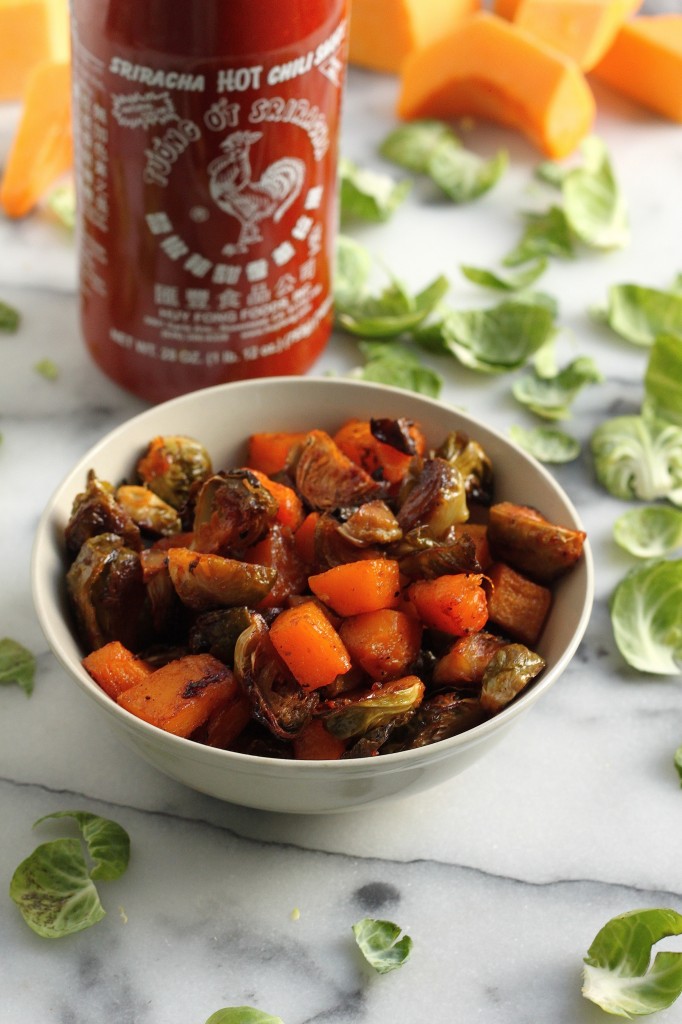 Oh, and if you somehow happen to have leftovers, an egg on top for breakfast the next day is SO the way to go.
Happy Friday, friends! I'll be posting spontaneously throughout the weekend and next week; just a heads up. XO
Sriracha & Maple Roasted Brussels & Butternut Squash – Baker by Nature
Serves 4
Ingredients:
1 pound brussels sprouts, ends cut off and cut in half lengthwise
1 pound butternut squash, peeled, seeded, and cut into bite sized chunks
1 1/2 tablespoons olive oil
Salt and pepper to taste
1 1/2 tablespoons maple syrup
1/2 tablespoon sriracha sauce
*Fried eggs, optional
Instructions:
Preheat oven to 450 degrees (F). Line a large, deep baking pan with parchment paper; set aside.
In a large bowl toss brussels sprouts and butternut squash with the olive oil, salt, and pepper. Pour mixture out onto prepared pan and roast for 40 minutes.
In a small bowl whisk together maple syrup and sriracha sauce.
At the 40 minute mark remove pan from oven and gently flip the vegetables – or stir the around a bit if flipping is impossible – then place the pan back in the oven for another 15 minutes. Carefully remove the pan from the oven and pour the maple/sriracha mixture overtop the veggies, and gently stir to evenly coat. Place the pan back in the oven and bake for another 10 minutes.
Transfer hot, crispy vegetables to a serving platter and serve at once!