This Sicilian Braciole recipe has been in my family for generations!!! So tender, flavorful, and perfect for Sunday night dinner. If you love Italian food, you have to try this!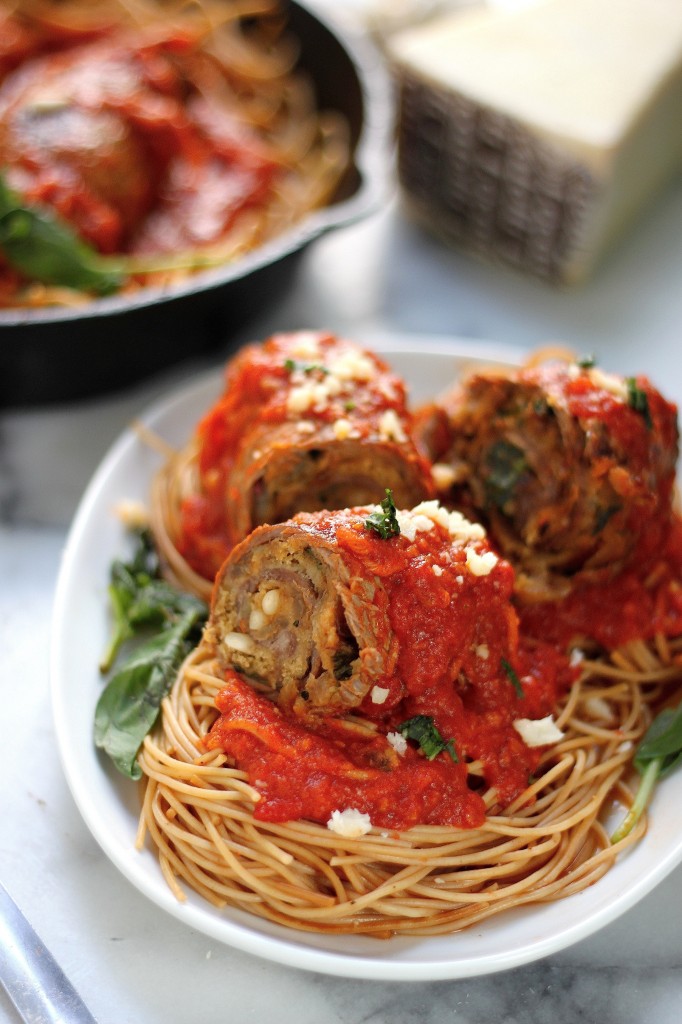 Braciole Recipe
A trip to Italy is in the works. And for once… not just in my mind. Next month C and I are flying to Sicily, and then – Rome! Please hold while I pinch myself. We're both so excited for this trip, and of course, all the FOOD! I would seriously marry Italian food.
..If, ya know, marrying food was a thing and all.
Since it's not a thing, I'll just have to funnel all of my love into this new little series: Sunday Suppers. A series where – on Sundays – I will be taking a break from the sweets to share with you some of our favorite cozy supper recipes. Many will be tried and true classics, with a few fun, funkier dishes in the mix. We'll keep it interesting – I promise 🙂 And if there's anything you'd like to see, feel free to shout it out!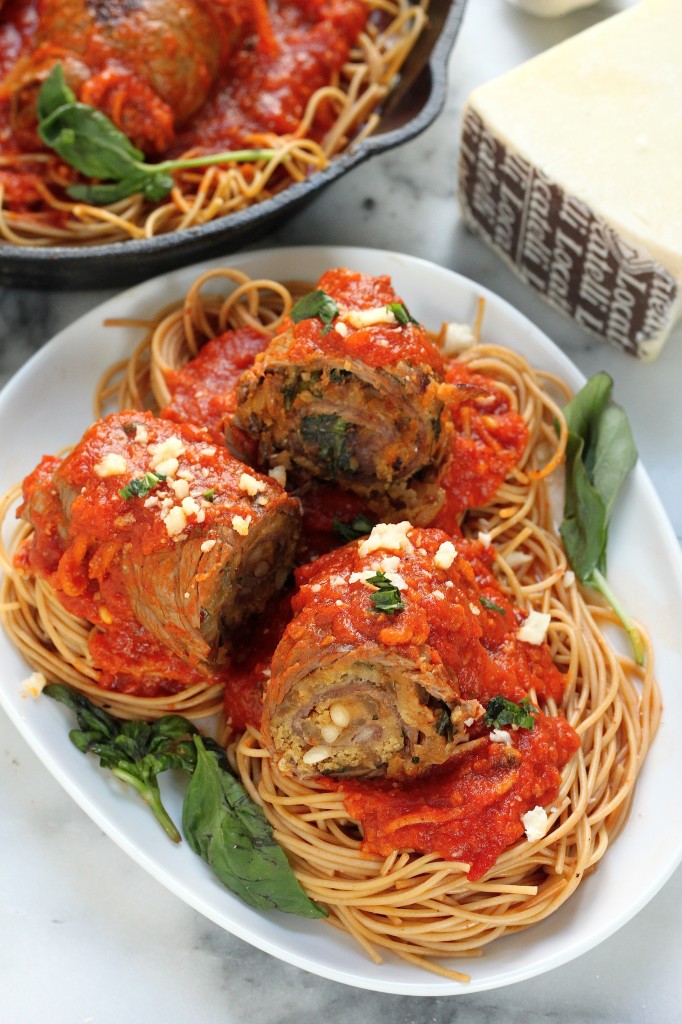 Braciole
Today we have a classic Sicilian dish, and Sunday staple over here in our house – braciole. I mean… Authentic Sicilian BRACIOLE! Just typing that word gets me all excited. Are you familiar with this amazing meal? If not, here's a quick what's what on the dish.
What is Braciole?
Braciole is a very lean cutlet of beef tenderized by many, many, maaaaaaany smashes from a heavy meat mallet. You can do this yourself, ask your butcher to do it for you, or keep an eye out for it pre-packed in the meat department. Just make sure it's niiiiice and thin. That's how it tastes like heaven!
Filling the Braciole Steak
Once you have your meat all set and ready, the real fun begins!  It's time for the FILLING! The filling is what really takes this meat from good to great. Different regions have slightly different fillings when it comes to this dish, but for this recipe I choose to stick with what I was raised on, and also what I just find to be the perfect fit. I will say though, some folks choose to add prosciutto to their braciole, and it is super delicious. But only with good prosciutto (the cheap kind is too salty and chewy and doesn't do justice), which can be mega pricey, and thus, is kind of a turn off. Braciole is very moderately priced, and hearty, so that being said, feel free to add the prosciutto if you want a little salty kick and don't mind spending a little extra on the  meal. It's going to be lovely either way.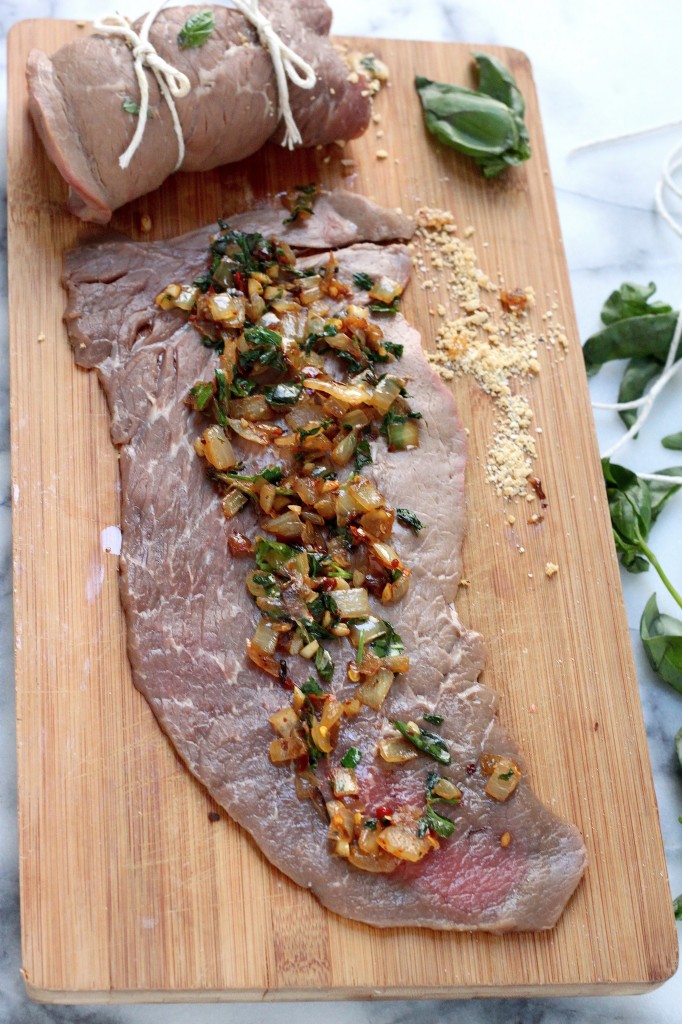 The nonnegotiable fillings are sautéed onion, fresh parsley, fresh basil, lots of garlic, pine nuts, bread crumbs, and parmesan cheese. You need them all! And you'll want them all, too. They add the dreamiest flavor and texture to these rolls, and skipping even just one of them throughs the recipe off a bit.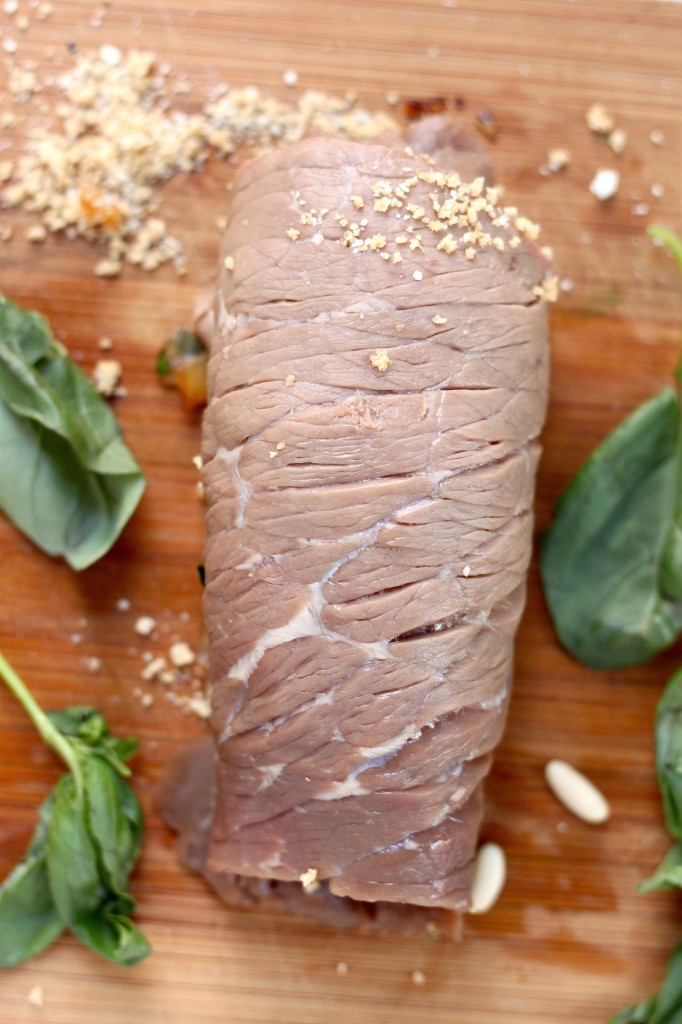 Once the meat has been covered with the stuffing, you're going to roll the meat up SUPER tight. You want it solid as rock. Making sure it's rolled as tightly as possible and secure is an important part. If you don't roll it properly, you'll lose all your precious fillings! So roll it right. Roll it right, roll it tight!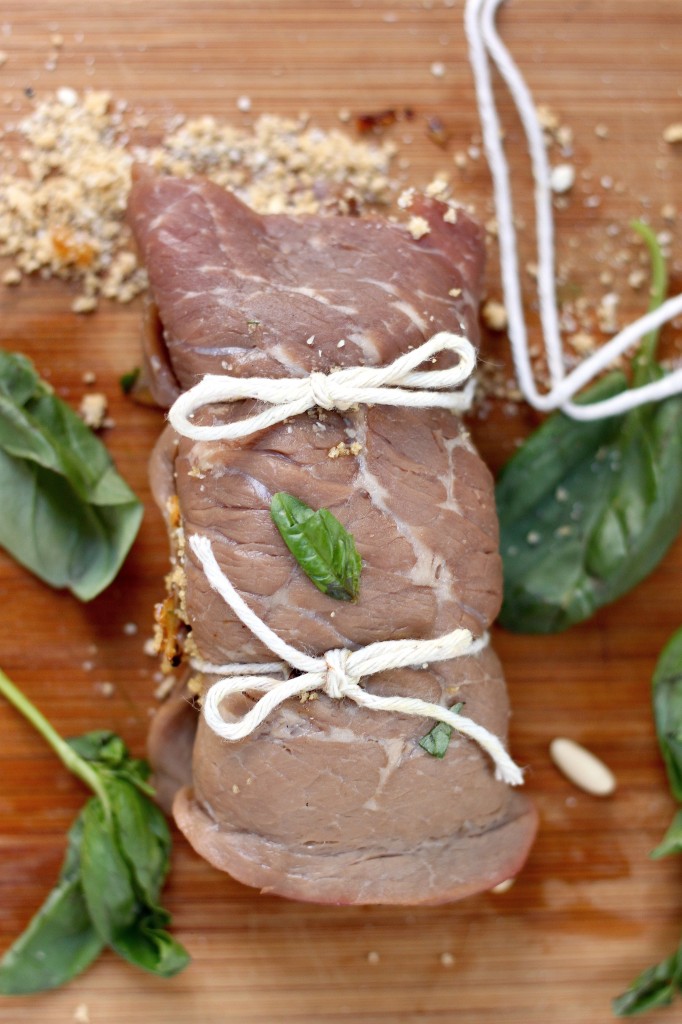 Now that they're all rolled and ready, it's time to go down to browning town. Browning is important for the flavor and texture of the braciole. You want high heat here because you don't want to cook it! You just want to brown the meat on all sides – including the ends. Since the meat is thin, this will happen quickly.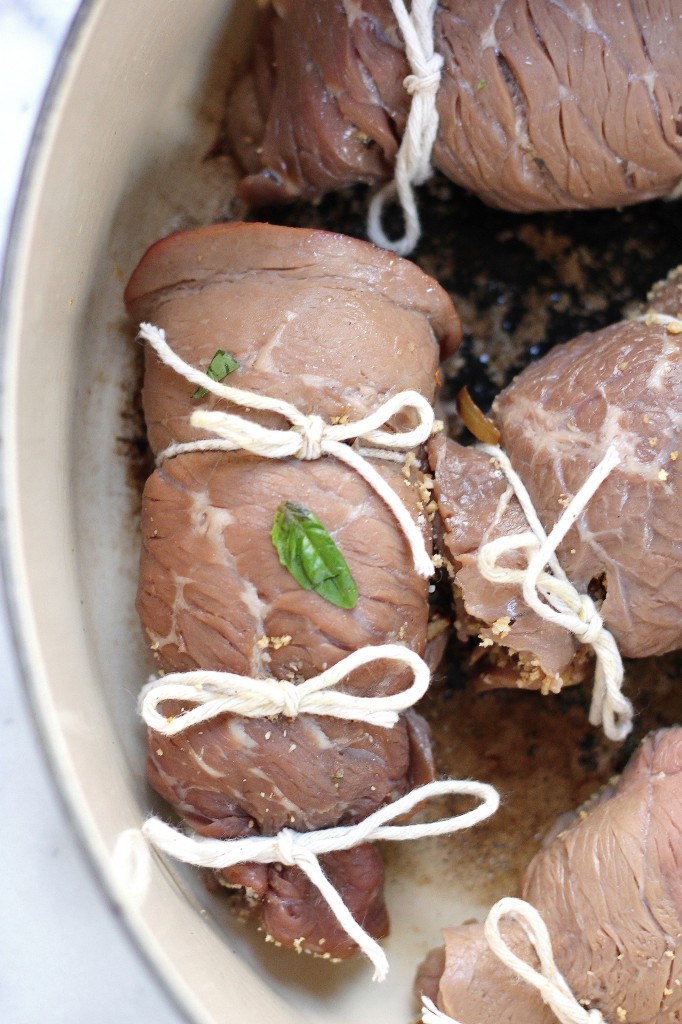 Braciole in Sauce
Once it's nice and golden, it's sauce time! I used our classic marinara sauce, and totally think you should too 😉 But jar sauce will work if you're really in a pinch. I love this one from Victoria Fine Foods; it's all natural and full of flavor!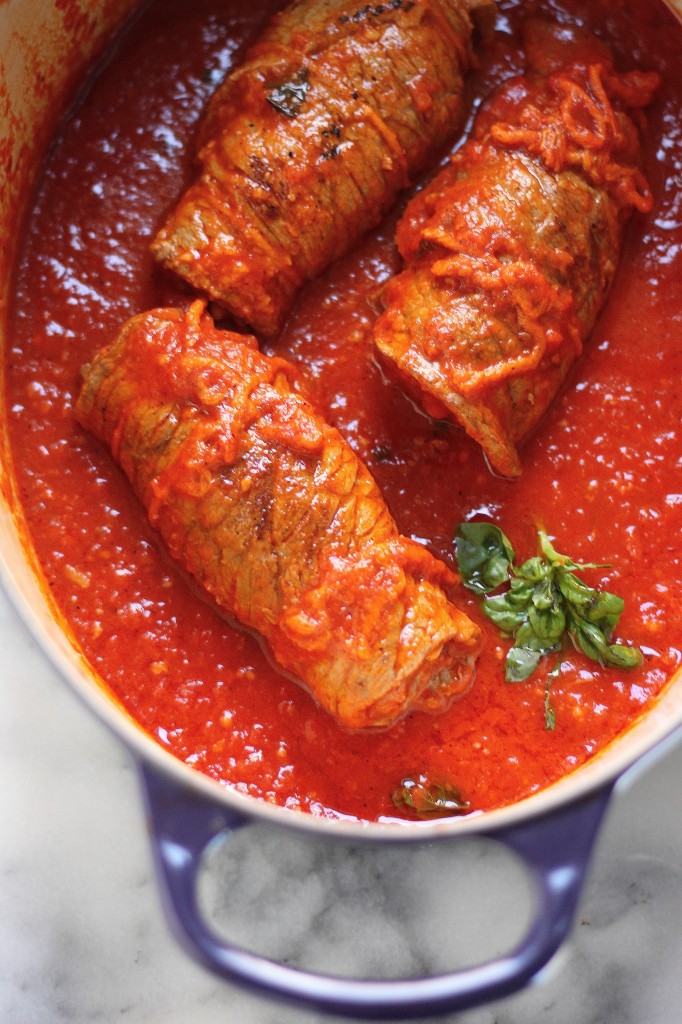 This is by far the easiest part of the job, because all you need to do is pour the marinara sauce on top of the braciole, reduce the heat, and let it simmer away… for 4 hours.
…
Ok. So maybe this is actually the hardest part?! Waiting for 4 hours is hard. But so, so worth it, friends. This is where the braciole soaks up so much flavor and moisture and leaves you with a dish you'll want to make over and over and over again.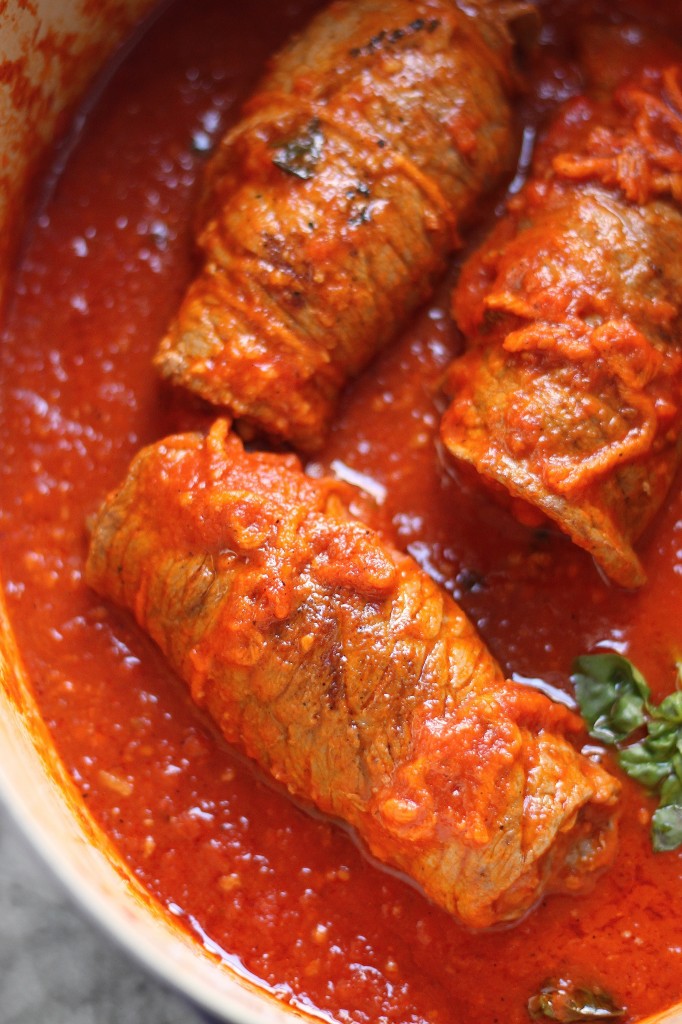 When the braciole has been cooking for 3.5 hours, you can boil your pasta! I always use spaghetti when I'm making this, but you can absolutely play around with your noodles here. I chose whole wheat this time because we're trying to be (a little) healthier but still like (read: need) real noodles.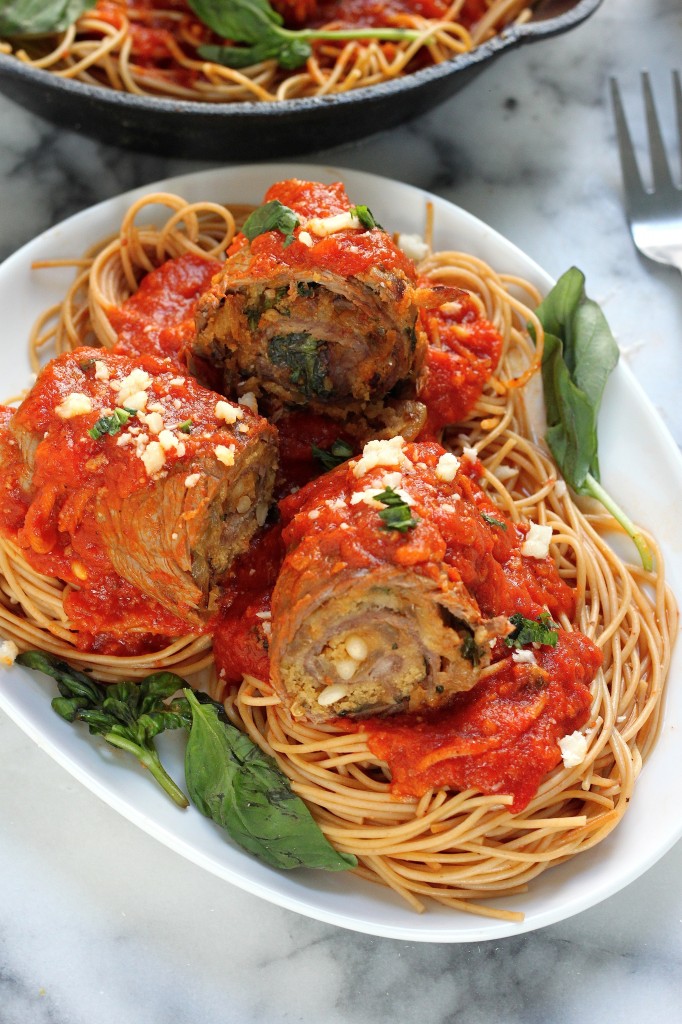 Be sure to remove the string on the braciole before serving! No one wants string on their meat, and it's best to cut them off "behind closed doors", since seeing string on your food can be weird for some people, and even weirder seeing you with your kitchen shears cutting away.
Toss a roll or two (or three) on top of spaghetti, cover it in cheese and fresh basil, and serve at once! Just get ready for the wave of applause and "oh hey, can I get this recipe?" requests, because they will be a comin' your way! Sicilian Braciole is just that much of a hit 😉
Happy Sunday, friends. xoxo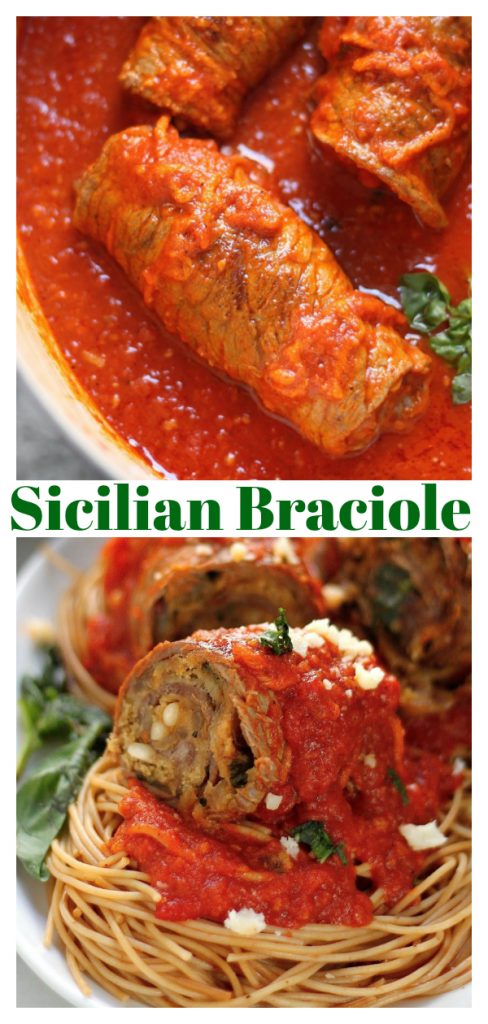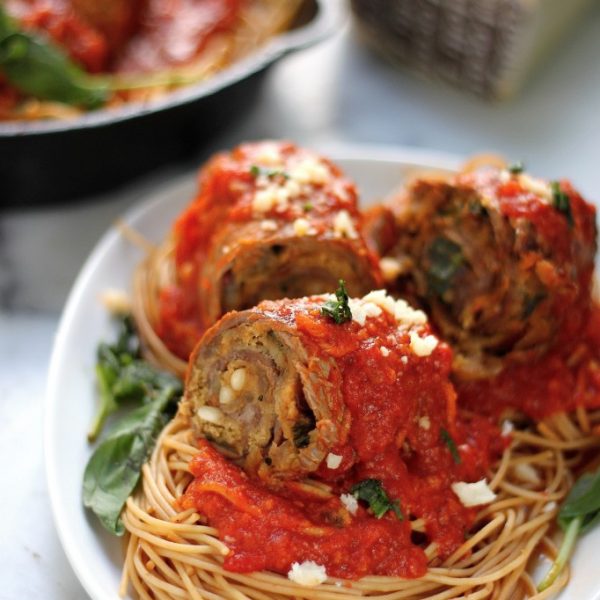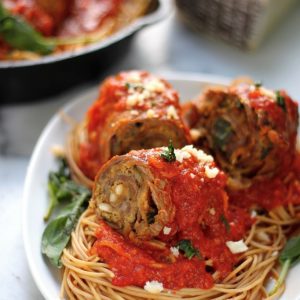 Sicilian Braciole
This Sicilian Braciole is tender and so flavorful! So good with pasta!
Ingredients
1/2 cup dried Italian-style bread crumbs
2/3 cup grated Parmesan
1/2 cup grated provolone
2 tablespoons chopped fresh Italian parsley leaves
1/4 cup toasted pine nuts
Salt and freshly ground black pepper, to taste
4 tablespoons olive oil; divided
1 large onion, diced
4 cloves garlic, minced
1/2 teaspoon crushed red pepper flakes
2 tablespoons fresh basil leaves, chopped
1 1/2 pounds braciole meat or flank steak, pounded super thin (1/8 inch)
1/2 cup dry white wine
3 cups classic marinara sauce, recipe link in post, or store-bought marinara sauce
Spaghetti, cooked al dente
*You will need butcher's twine to tie the rolls
Instructions
Stir the first 5 ingredients together in a medium bowl, mix until well combined. Stir in 2 tablespoons of the olive oil. Season mixture with salt and pepper; set aside.

Heat a large skillet over medium-heat. Add one tablespoon of olive oil, then add onion and sauté for 4-5 minutes. Add garlic and crushed red pepper, and cook for another minute. Turn heat off and stir in basil. Season with salt and pepper.

Combine the bread crumb mixture with the onion mixture, stirring well to combine.

Lay the braciole flat on a large, clean work surface. Sprinkle the bread crumb/onion mixture evenly over the steak to cover the top evenly (if you're using multiple pieces of meat, divide the filling accordingly). Starting at 1 short end, and roll up the steak "jelly roll style" to enclose the filling completely. Using butcher's twine, tie the steak roll at the beginning, middle, and end to secure. Sprinkle both sides of the braciole with salt and pepper.

Heat the remaining tablespoon of oil in a heavy large dutch oven over medium heat. Add the braciole and cook until browned on all sides and edges, about 6 minutes. Add the wine to the pan and bring to a boil; this should only take a minute or so. Stir in the marinara sauce.

Cover partially and simmer until the meat is tender, turning the braciole and basting with the sauce every 30 minutes. After 2 hours, uncover the pot completely and continue cooking until the meat is tender, about another 2 hours. The total cooking time will be about 3 1/2 hours - 4 hours. The meat will be technically cooked before this point, but will not be as tender if you cut the cook time to an hour or so. You've been warned 😉

*When the meat has been cooking 3.5 hours, bring a large pot of salted water to boil. Add pasta and cook for 8-9 minutes, or until al dente. Drain pasta and transfer to a large serving platter or multiple plates. Top with lots of sauce and braciole.

When ready to serve, remove the braciole from the sauce. Using a large sharp knife or kitchen shears, cut the twine off all rolls. Then, using a large sharp knife, cut the braciole crosswise and diagonally into thick slices. Transfer the slices to a large serving platter or on top of plates of pasta. Spoon the sauce generously over the meat and pasta and serve with cheese.