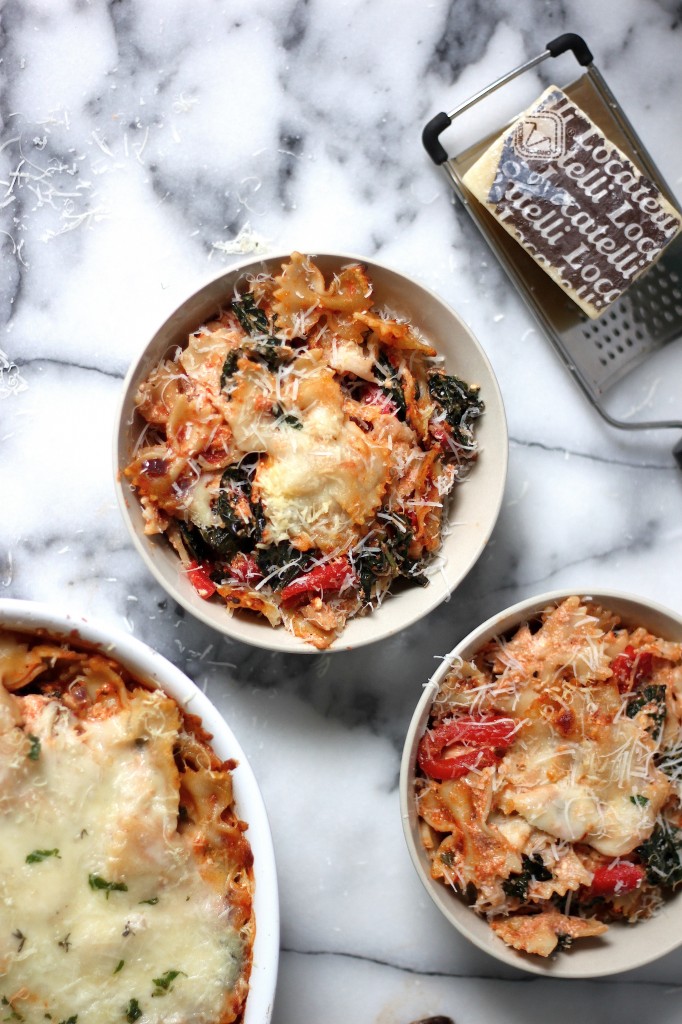 I can hardly believe the holidays are right around the corner! My brain is all like "whaaaa?!". But it's also excited! I absolutely love this time of year (!!!), so I'm really trying to soak it all in. There are so many fabulous aspects of this season to drink up; What's your favorite part?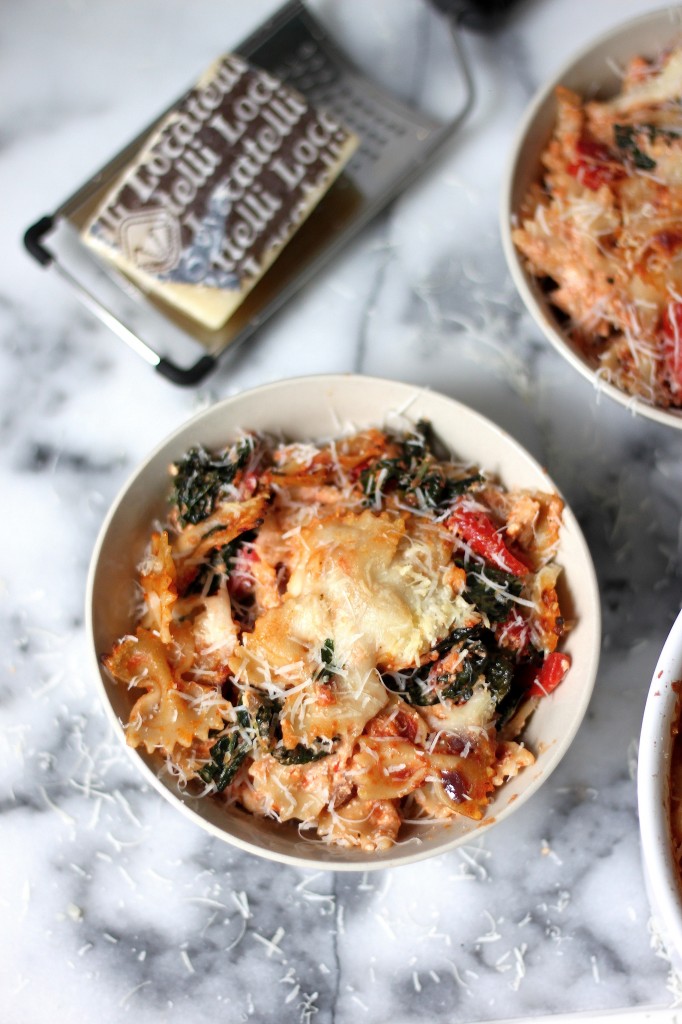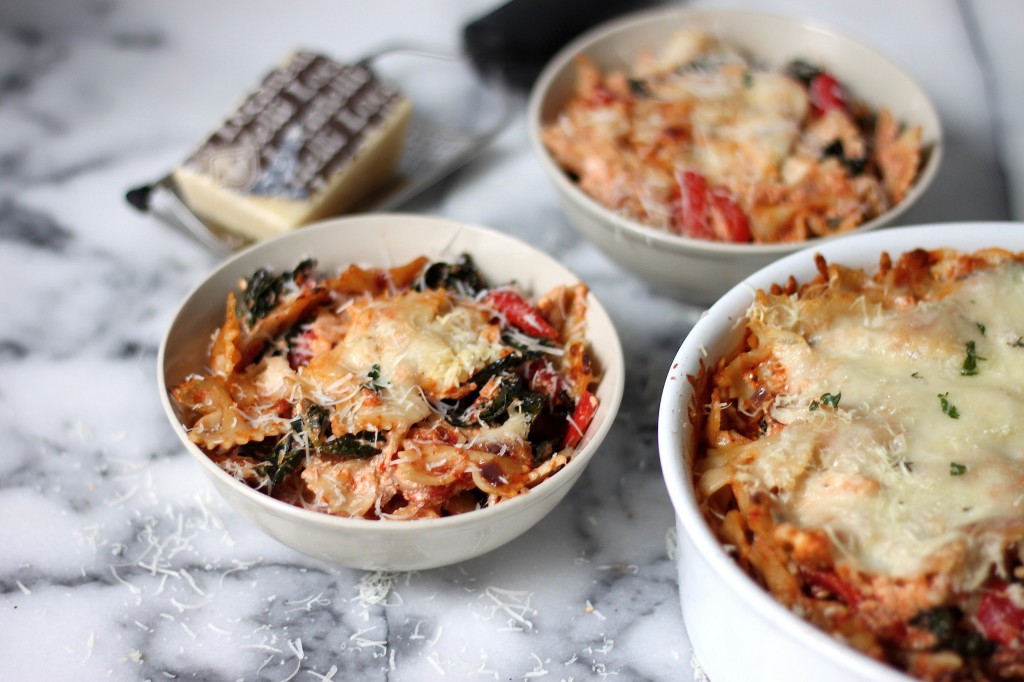 Despite my undying love for all things celebratory, I think the one thing we can all agree on is that when it comes to the holidays, things can get BANANAS! Bananas busy, that is. It's half the fun! But it's also good to have a game plan to keep ones self sane and all 😉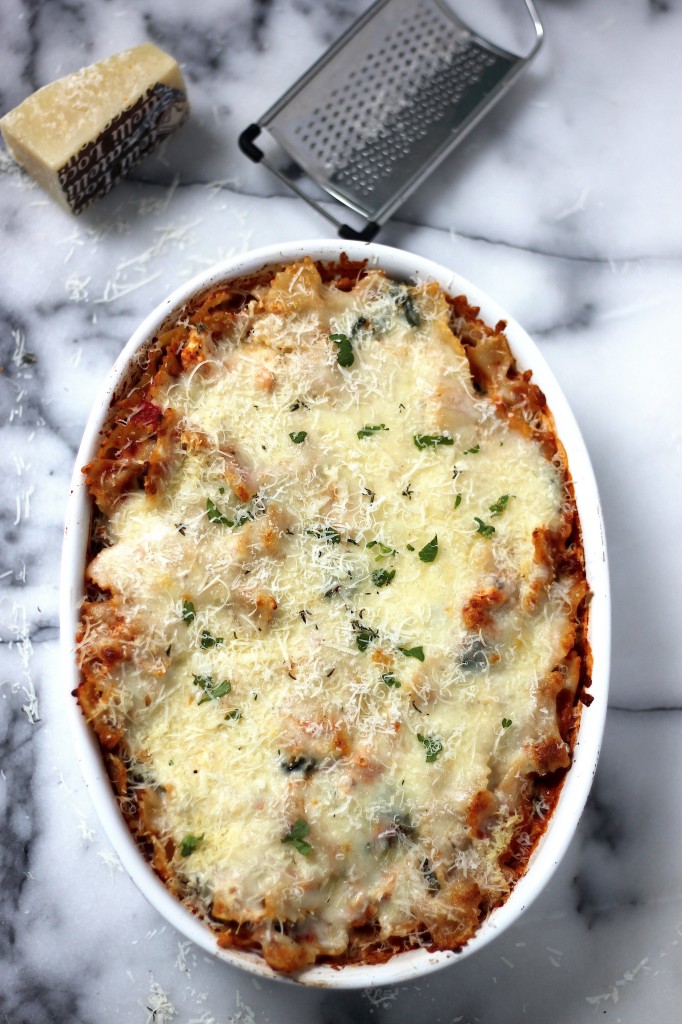 My game plan is make ahead meals; always and forever! And this suuuuuper cheesy kale and roasted red pepper pasta bake is my go-to dinner gem and jam. It's hearty, full of veggies and cheese, and truly just good old fashioned comfort food. It also makes a TON! Which is great if you have a big family to feed. Or if you're a lazy couple who likes to eat leftover pasta with cheap wine 3 nights in a row (hand raised!).
Happy Thursday, friends! We're almost at the weekend. Plans!?
Super Cheesy Kale and Roasted Red Pepper Pasta Bake – Baker by Nature
Serves 6-8
Ingredients:
1 pound bow tie pasta, cooked al dente
2 tablespoons olive oil
1 medium-sized yellow onion, diced
1 large roasted red pepper, sliced into thin strips
1 pound kale, ribs discarded and chopped
4 cloves garlic, minced
1/2 teaspoon crushed red pepper
2 cups of your favorite marinara sauce, I used my classic marinara 
salt and pepper to taste
1 cup ricotta cheese
1 cup shredded mozzarella
2 tablespoons fresh parsley, roughly chopped (optional)
Parmesan cheese for sprinkling, optional
Instructions:
Bring a large pot of salted water to boil. Add pasta and cook for 7-8 minutes, or until al dente. Drain and set aside. Don't over cook pasta or your final result will be soggy noodles.
Heat oil in a large skillet over medium flame. Add onions, peppers, and kale, and cook, stirring occasionally, for about 10 minutes, or until the kale has softened and the onions have lightened in color. Add garlic and crushed red pepper, and cook for another 2 minutes. Stir in marinara sauce, then remove pan from heat.
Preheat ovens broiler.
Stir cooked noodles into the sauce mixture, then pour mixture into a very large, deep, baking dish. Spread ricotta cheese over the top of the noodle mixture, then sprinkle with mozzarella. Place baking dish in the oven on the middle rack, and broil for 5-6 minutes, or until the lid of cheese is melted and lightly golden.
Spoon pasta mixture onto plates, sprinkle with parsley and parmesan, and serve once!