When it comes to junk food weaknesses, Oreos are definitely my kryptonite. I'm a bonafide freak for them! And I can't – I mean, I won't – tell you how many time I've nestled in for a Law & Order marathon and polished off the entire package myself. It's so bad! But so good. So so so gooooooood.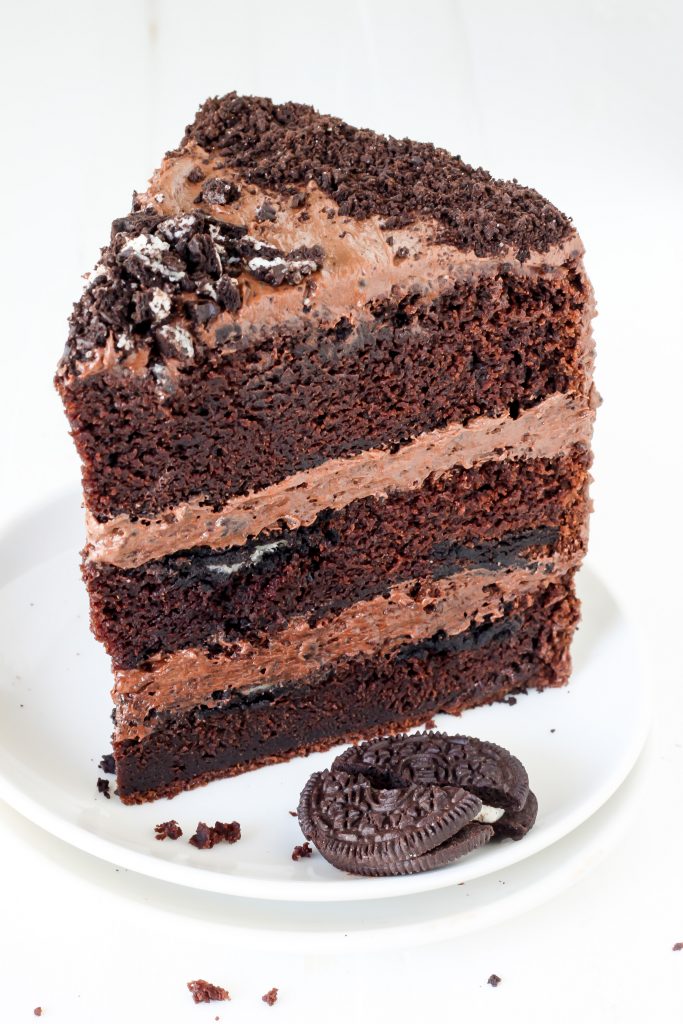 Whaaaa? … We all have our things 😉
Over the weekend I found myself with 4 packs of black and white cookies and the urge to get a little more creative than my usual dunk in milk and shove in face routine. And thus, the Triple Layer Chocolate Oreo Cake was born!
This cake is an Oreo lovers DREAM! It has 3 layers of Oreo stuffed chocolate cake (and yes, the cake is rich and moist and heavenly!), a decadent cream cheese Oreo frosting, and an incredible crushed Oreo crumb to top it off and take it over the top.
It's Oreo madness! You in?
Triple Layer Chocolate Oreo Cake
This Mile-high Triple Layer Oreo Cake is rich, fudgy, and sure to impress!
Ingredients
3 3/4 cups all-purpose flour
3 3/4 cups granulated sugar
1 1/2 cups unsweetened cocoa powder
2 teaspoons baking powder
1½ teaspoons baking soda
1 teaspoon salt
1 cup whole milk
1 cup Full-Fat Sour Cream
1 3/4 cups coconut oil OR canola oil (coconut oil should be liquified)
4 large eggs + 3 large egg yolks
1 tablespoon vanilla extract
1 1/2 cups hot water
39 Oreo cookies
For the Oreo Chocolate Frosting:
4 1/2 cups confectioners sugar, sifted
1 1/4 cups unsweetened cocoa powder, sifted
2 sticks (8 ounces) unsalted butter, VERY soft
2/3 cup half and half, more if needed
1/2 teaspoon salt
2 teaspoons vanilla
1 cup crushed oreo cookie crumbs (filling removed), divided
Instructions
For the Triple Layer Oreo Cake:
Preheat oven to 350º (F). Prepare three 9-inch metal cake pans by spraying them generously with baking spray or generously buttering and lightly flouring. Arrange 13 oreo cookies on the bottom of each pan; set aside.

Add flour, sugar, cocoa, baking powder, baking soda, and salt to a large bowl or the bowl of a stand mixer. Whisk through to combine or, using your paddle attachment, stir through flour mixture until combined well. Set aside.

In a large bowl combine the milk, sour cream, oil, eggs, yolks, and vanilla; mix well to combine. Slowly add the wet ingredients into the dry ingredients, mixing until just combined. Then, carefully, add the hot water to the cake batter. Beat on medium-low speed until evenly combined. Be careful not to over mix here - it's easy!

Distribute cake batter evenly between the prepared cake pans (I measured out about 3 1/4 cups per pan). Bake for 25-28 minutes, or until a toothpick or cake tester inserted in the center comes out clean.

Remove from the oven and allow the cakes to cool for about 5 minutes before carefully removing from the pan and transferring to a wire rack cool completely.
In the meantime, make the Oreo Chocolate Frosting:
Sift together the confectioners sugar and cocoa powder, whisking well to ensure it's bump and lump free!

Using a handheld mixer OR a stand mixer fitted with the paddle attachment, beat the butter on medium-high speed until creamy; about 2 minutes. Reduce speed to low and slowly add the sifted sugar/cocoa powder, alternating with the half and half, then add the vanilla and salt. Stir in half of the cookie crumbs. Once all of the ingredients have been added, beat on high speed until light and creamy and combined; beat for at least 1 minute on high.

Frost cooled cake layers as desired. Decorate with remaining cookie crumbs.
Notes
Half and half is a product found in most dairy sections; it is half milk, half heavy cream. If you cannot find it, simply mix half milk and half cream together.
*Photos updated 3/6/2015