When it comes to junk food weaknesses, Oreos are definitely my kryptonite. I'm a bonafide freak for them! And I can't – I mean, I won't – tell you how many time I've nestled in for a Law & Order marathon and polished off the entire package myself. It's so bad! But so good. So so so gooooooood.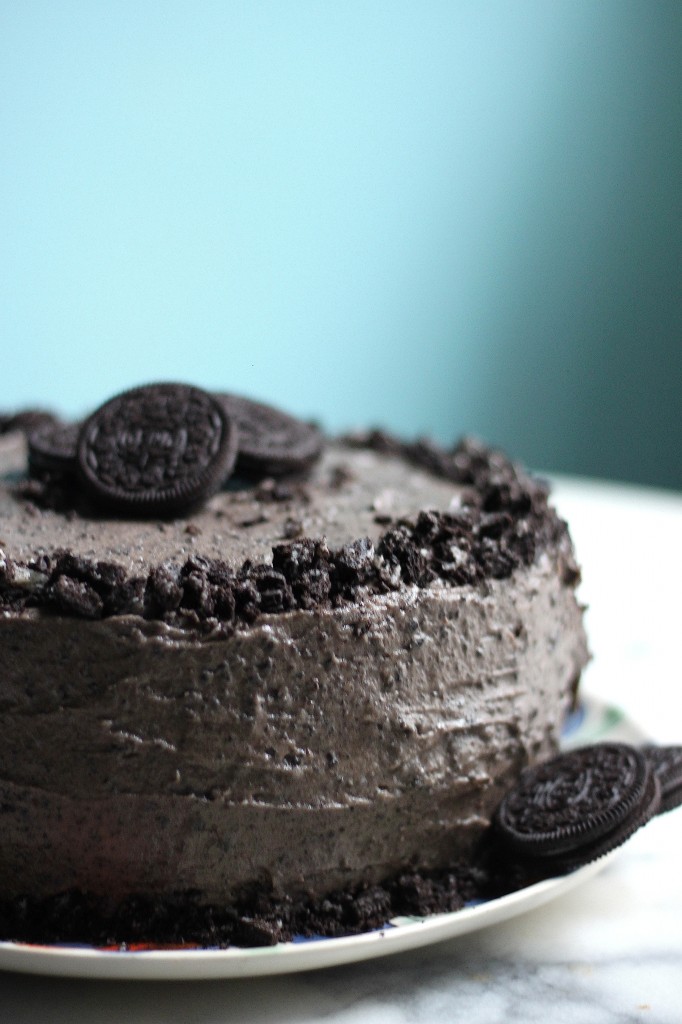 Whaaaa? … We all have our things
Over the weekend I found myself with 4 packs of black and white cookies and the urge to get a little more creative than my usual dunk in milk and shove in face routine. And thus, the Triple Layer Chocolate Oreo Cake was born!
And you guys… it's a killlllllllller QUEEN! It's dynamite. With a laser beam! Guaranteed to blow yo mind. ANYTIME.
Ok. I'm done. With the Queen, I mean. I still got some cake talk coming your way though!
This cake is an Oreo lovers DREAM! It has 3 layers of Oreo stuffed chocolate cake (and yes, the cake is rich and moist and heavenly!), a decadent cream cheese Oreo frosting, and an incredible crushed Oreo crumb to top it off and take it over the top.
It's Oreo madness! You in?
Happy Thursday, lovlies! xo
Triple Layer Chocolate Oreo Cake – Baker by Nature
Ingredients:
For the cake
2 1/4 cups all purpose flour
2 teaspoons baking powder
2 teaspoons baking soda
1/2 cup cocoa powder
1 teaspoon salt
1 cup boiled water
4 tablespoons unsalted butter, cut into cubes
1 tablespoon instant espresso
1/4 cup dark chocolate chips
1 cup whole milk
2 cups sugar
2 large eggs
1/4 cup vegetable oil
24 oreo cookies
For the Icing 
(1) 8 ounce package of cream cheese, cut into cubes
4 ounces unsalted butter, cut into cubes
3 1/2 cups powdered sugar
1/2 teaspoon salt
20 oreo cookies, roughly chopped + 4 crushed Oreos finely crushed for topping the cake
3 -4 tablespoons heavy cream (milk may also work, but I'm not 100% on that)
Instructions:
For the Cake 
Preheat oven to 350 degrees (F). Line 3 round 9 " pans with parchment paper and grease well. Arrange 7 oreo cookies on the bottom of each pan; set pans aside.
In a mixing bowl whisk together the flour, baking powder, baking soda, salt, and cocoa powder; Set aside.
Pour the boiling water into a large bowl. Add butter, espresso, and chocolate chips, and whisk until butter and chocolate are completely dissolved. Whisk in sugar and stir until dissolved. Add milk, eggs, and vegetable oil and beat until the mixture is completely combined, about 1 minute. Pour the dry ingredients into the wet mixture, and stir until just combined.
Divide the batter evenly among the three pans; about 2 1/4 cups of batter in each. Bake cakes for 22 – 24 minutes, or until a cake tester comes out clean. Run a knife around the edge of the cakes before carefully turning them out of the pans and transferring them to a cooling wrack to cool completely.
Once cakes are cooled, you can ice and decorate them! Use a serrated knife to cut the rounded top off ONE of the layers.
For the icing
Place cream cheese and butter in the body of a stand mixer fitted with the whisk attachment and beat for 1 -2 minutes, or until the mixture is light and fluffy. Add powdered sugar, a cup at a time. Add salt and oreo cookies and beat until the oreos are evenly distributed in the icing. Add cream as needed, adding one tablespoon at a time until it reaches your desired consistency; you don't want your icing to thin!
Assembly
Place the first layer of cake flat side up on a large plate or cake stand. Smooth about 3/4 cup of the icing over the top of the layer, allowing it to drip down the sides as well. Place the next layer (the layer you cut the rounded top off of) on top. Repeat icing the same as the first layer. Top this layer with the last tier of cake, and continue to ice the top, then go around the sides, frosting the cake evenly. You will have extra icing leftover for touchups if needed. Top the cake with crushed oreos, and enjoy!