Roasted Almond Toffee Bark made with 3 simple ingredients! Crunchy, chocolatey, and so easy… it's perfect for homemade holiday gifts!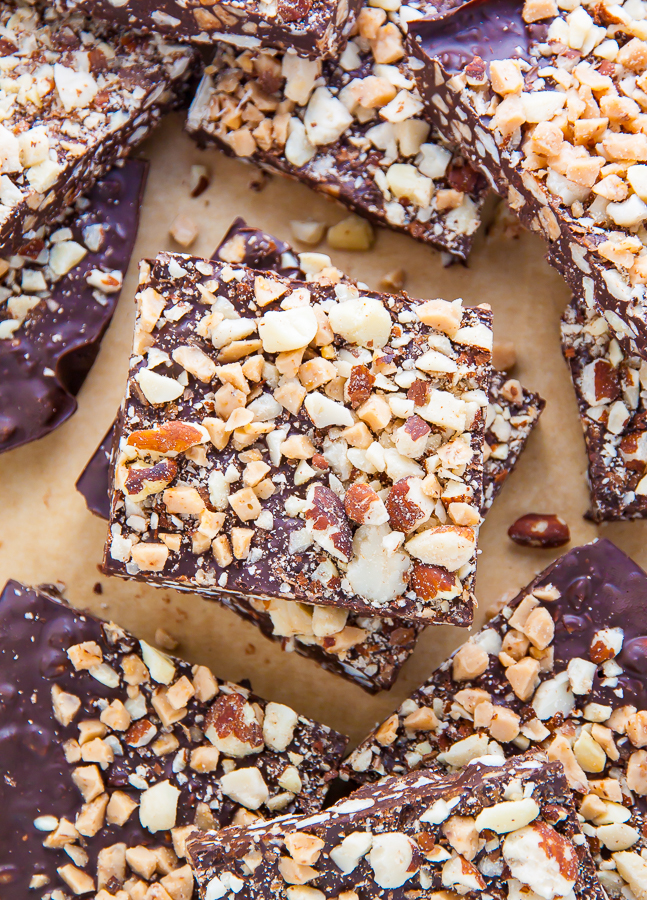 Almond Bark Recipe
I like to think of chocolate as my dessert soul mate. I mean… am I cuckoo for cookies? Absolutely. Does a fat slice of pie make me swoon? You bet your bottom dollar it does. And it's no secret donuts and I have a deep bond.
But at the end of the day, a chunk of chocolate is all I really need. ← If you feel the same, get ready to fall in love with today's recipe. Rich, creamy, dark chocolate swirled with roasted almonds and toffee. Just one bite will have you hooked… trust me! I made a pound last week and um… what's that? There's NONE left.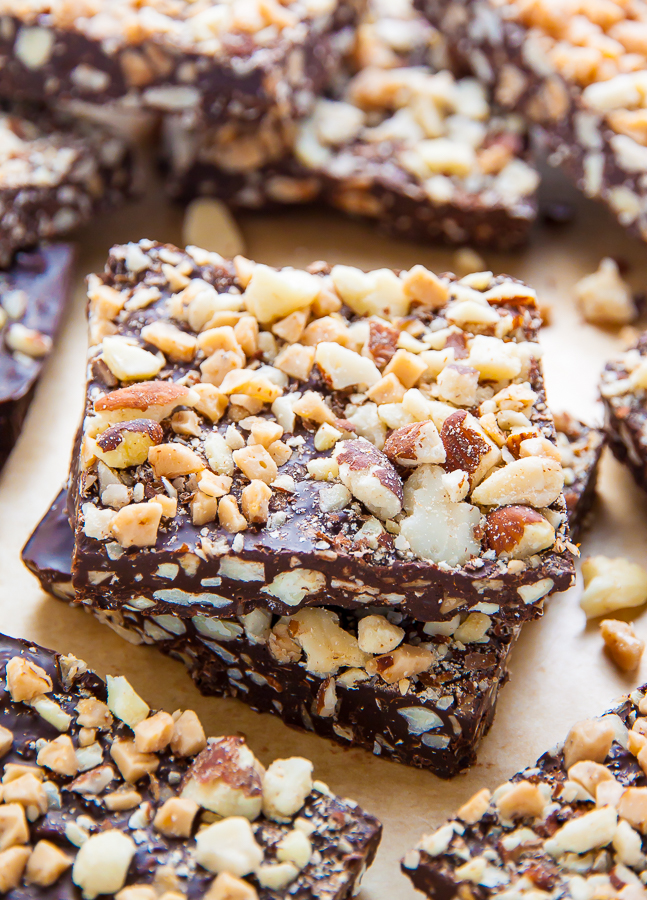 This foolproof recipe is one of my favorites because honestly… it's hardly a recipe at all! If you can melt chocolate and chop almonds, you can make almond toffee bark. Plus, with just three simple ingredients, you can feel good about making it, eating it, and gifting it to loved ones.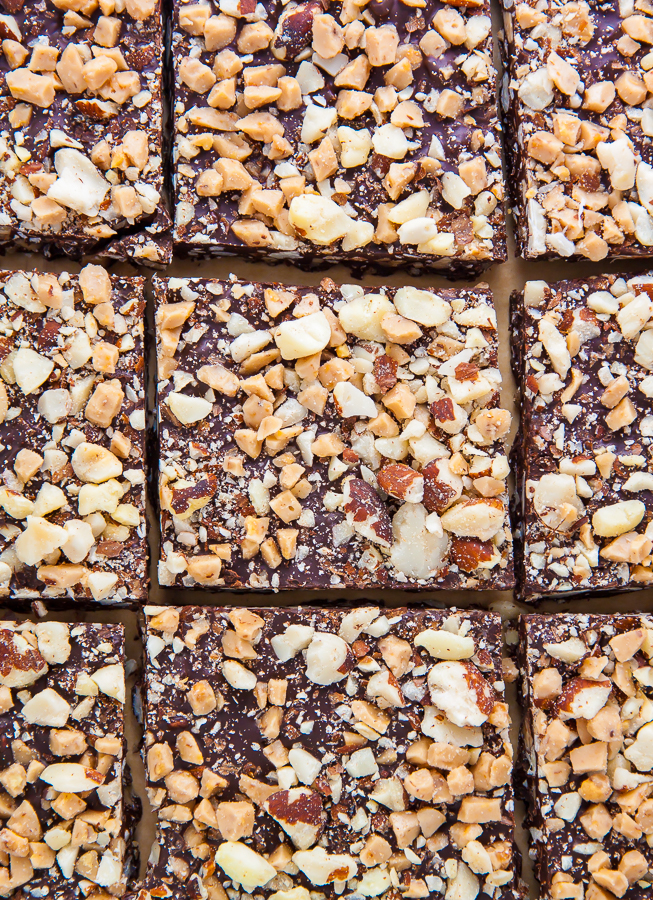 Almond Bark Ingredients
Tips and Tricks for Recipe Success:
You may roast your almonds at home (instructions included in the recipe box below) or – if you'd like to keep your oven off and save time – simply buy already roasted almonds and just chop them up.
Use quality chocolate! This recipe is all about the chocolate, so be sure to choose a brand and variety you trust and enjoy. I suggest Ghirardelli, Lindt, Godiva, or Trader Joe's Pound Plus Bar (such a deal!). Just be sure you don't use chocolate chips. They don't melt smoothly and the flavor doesn't compare to pure chocolate bars.
If you're not a dark chocolate fan, feel free to use semi-sweet chocolate or milk chocolate in its place. Again. just be sure to choose a quality brand, preferably one you know melts well.
If you use milk chocolate, you may want to add a pinch of sea salt to the mix. This helps balance out the sweetness. This is totally optional!
Plan ahead when making this, as it does need to chill in the fridge for a few hours. I find it takes at least 3 hours to completely set.
Make it ahead of time! Almond toffee bark can be made, chopped, and stored in the fridge for up to 2 weeks.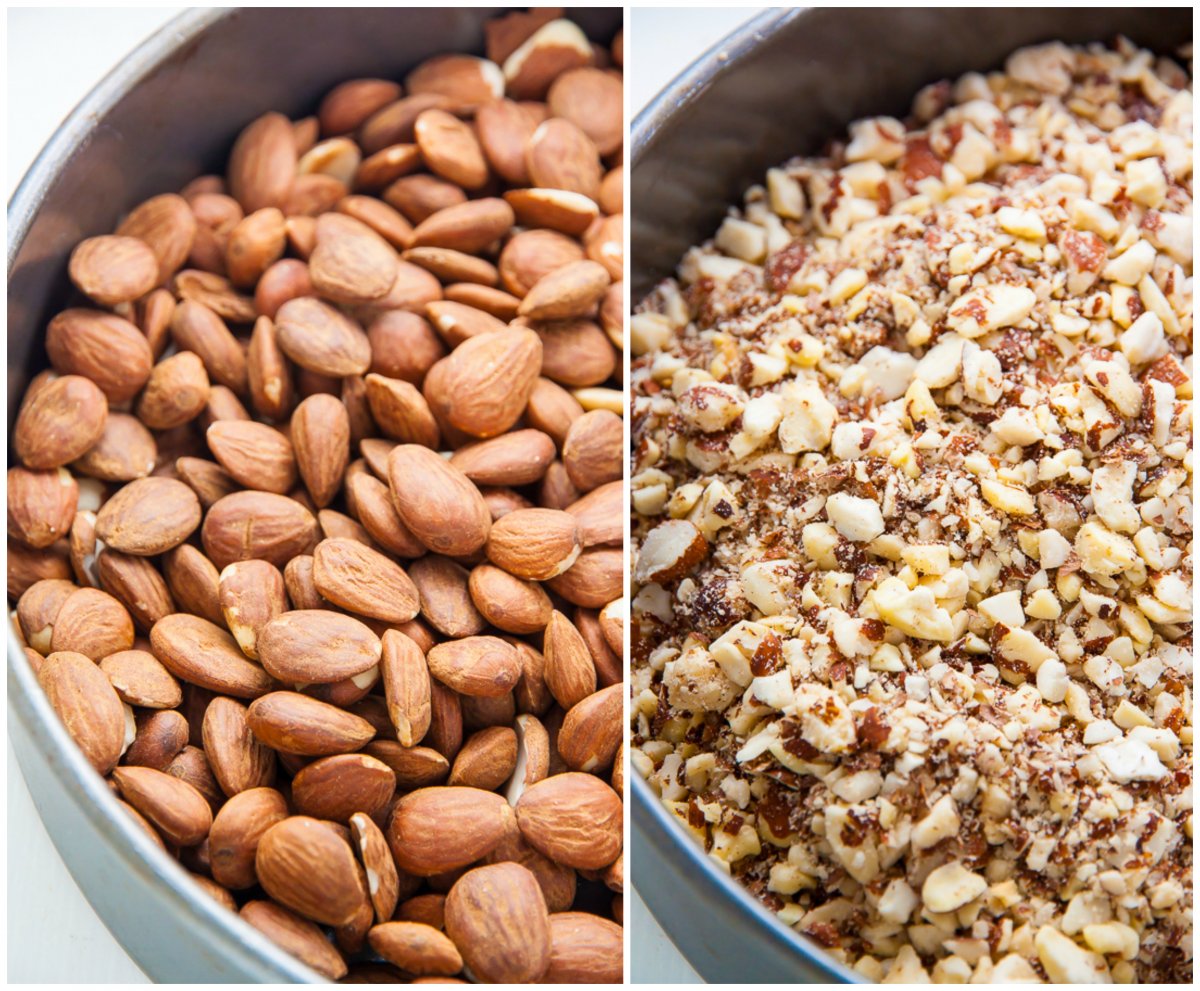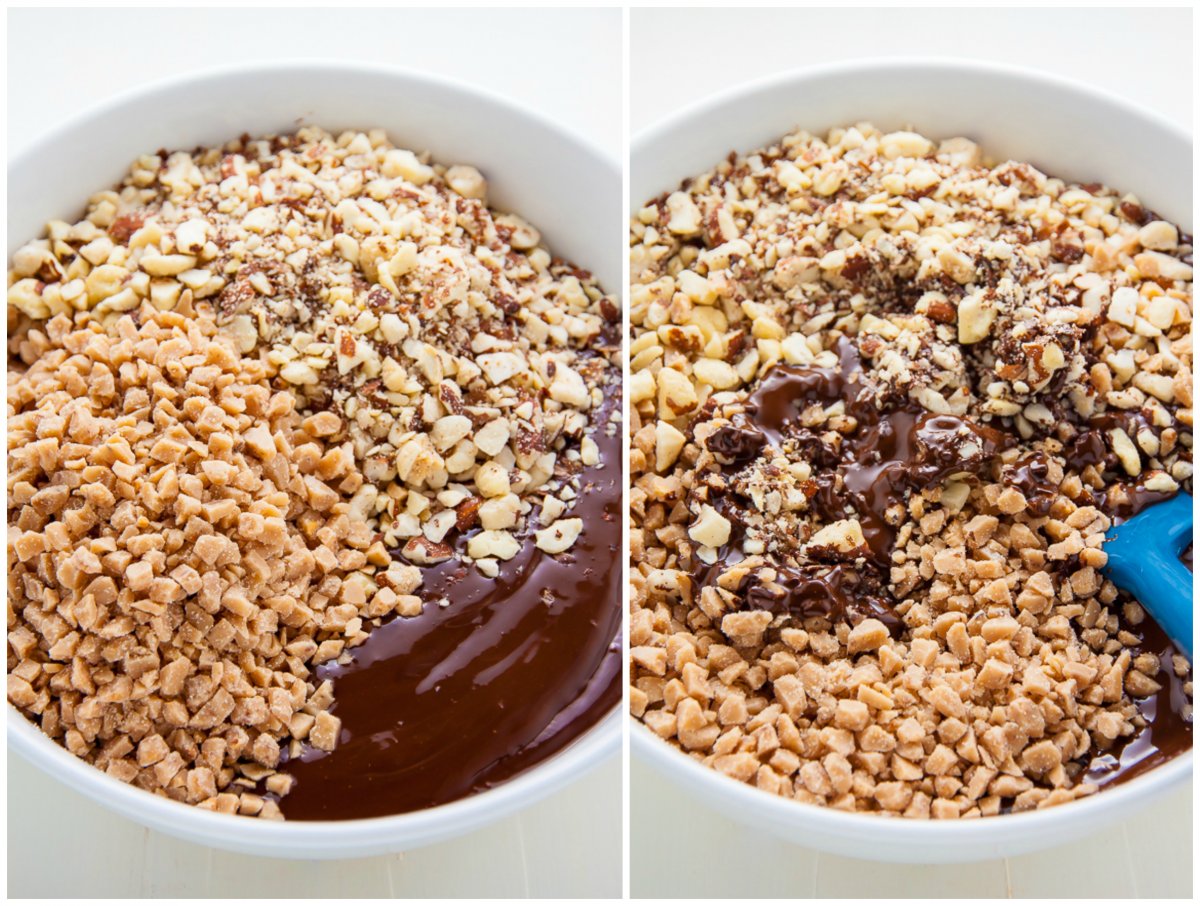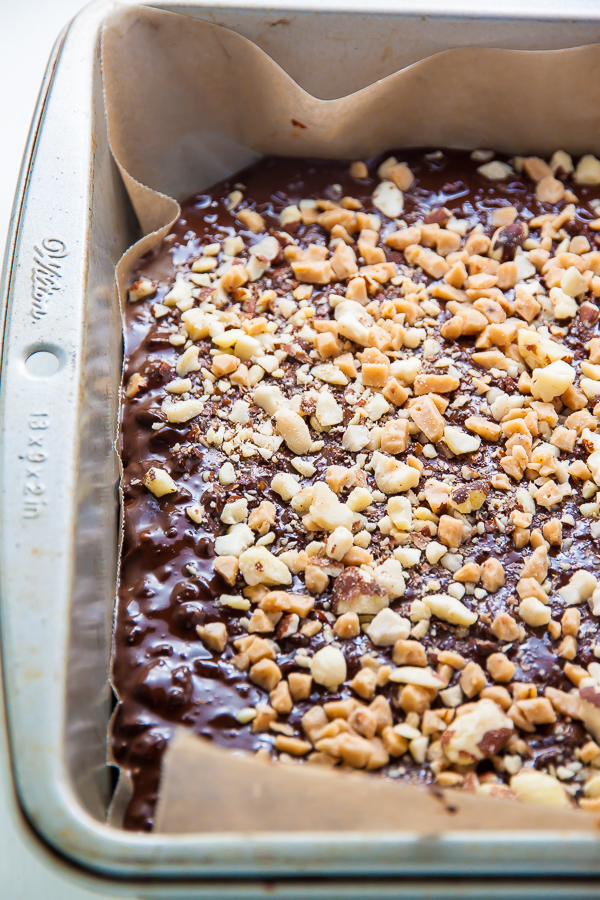 Next time you have a hankering for almond toffee bark, skip the store and make it at home! So easy, completely delicious, and made with real ingredients. What's not to love?!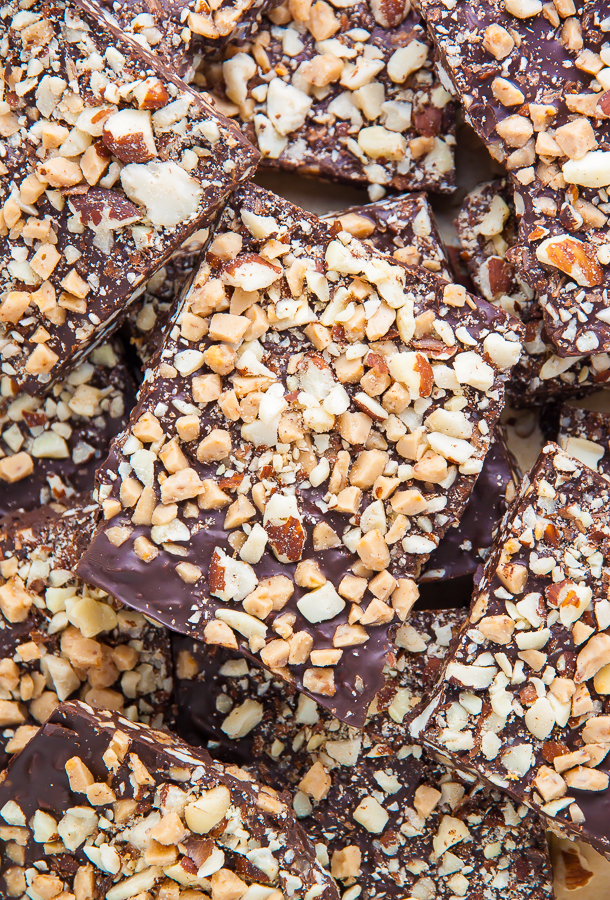 Now… who's ready for a slice of Pizza? Because – spoiler alert – that's what we're having tomorrow. See you then!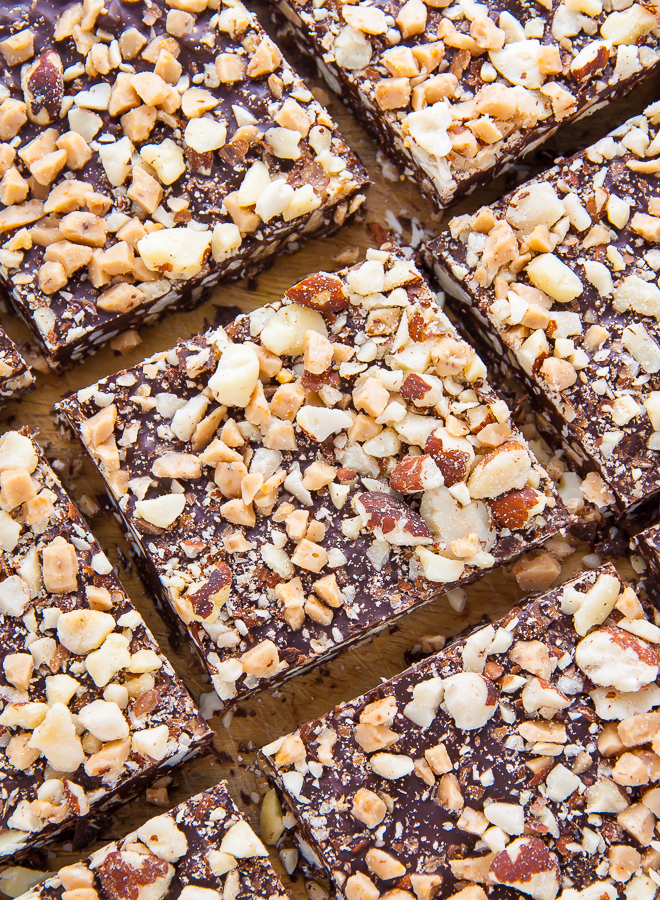 If you try this chocolate, almond, and toffee bark recipe, let me know what you think! Leave a comment below, and don't forget to snap a pic and tag it #bakerbynature on instagram! Seeing your creations makes my day ♥
More Chocolate Candy Recipes: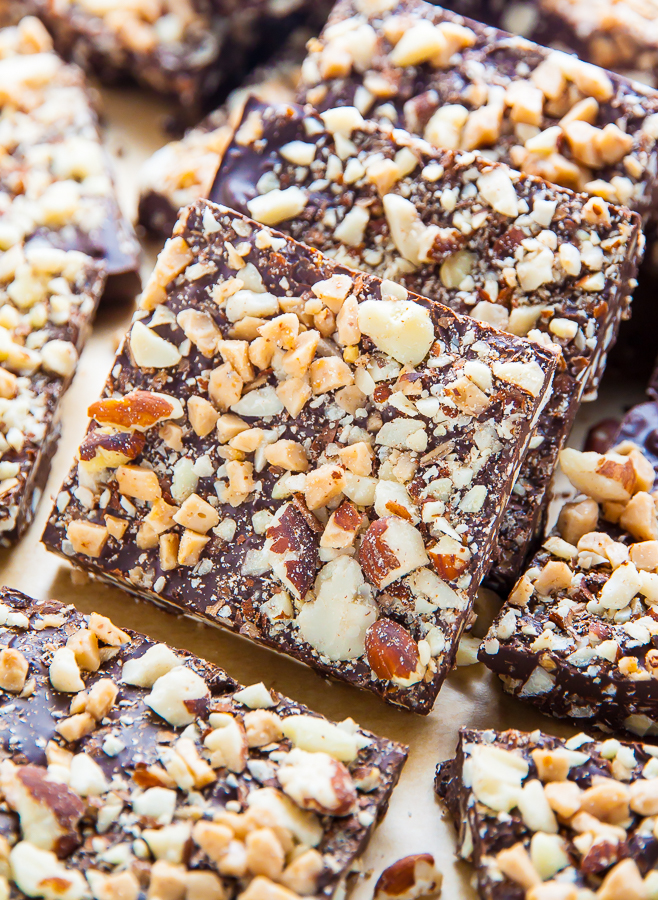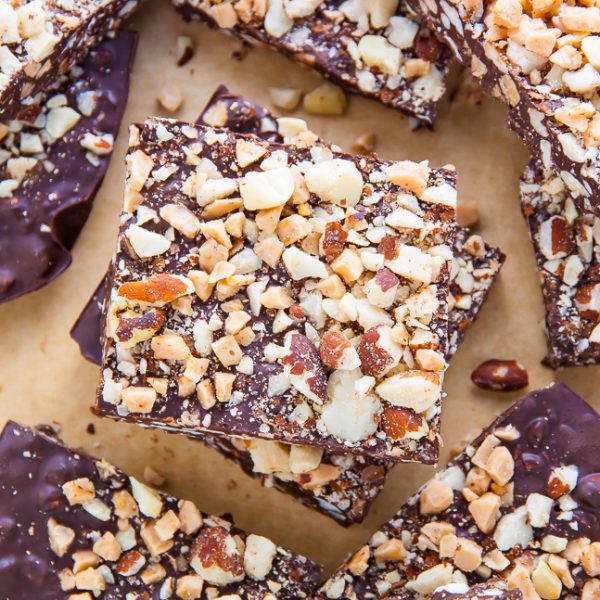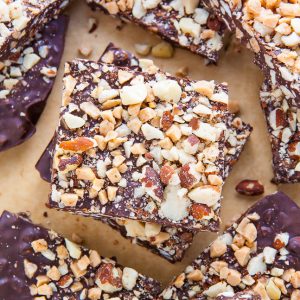 3-Ingredient Roasted Almond Toffee Bark
Homemade Almond Bark made with just 3 Ingredients!
Ingredients
1 and 1/2 cups almonds, divided
1 pound quality dark chocolate, finely chopped
1 cup toffee bits, divided
Optional: 1 teaspoon flaky sea salt, for sprinkling
Instructions
Line a 9x13 inch baking pan with foil or parchment paper, allowing two of the sides to overlap; set aside.
To roast the almonds:
Preheat oven to 350 degrees (F).

Spread the almonds in an even layer on a small baking sheet or cake tin. Place in preheated oven and roast for 5 minutes. Remove after 5 minutes and stir. Return to the oven and roast for another 3 to 4 minutes, or until they've become a few shades darker and smell nutty. If they need longer, give them another stir. I find my almonds are perfectly roasted right around 9 minutes, but yours may be done a few minutes earlier/later depending on your oven.

Once sufficiently roasted, remove from the oven and immediately transfer them onto a large plate to cool completely. Once cool, finely chop the almonds into bits.
To melt the chocolate:
Place 3/4 cup of water in a small saucepan and bring to a simmer. Place the chopped chocolate in a heatproof medium bowl, then set the bowl over the saucepan until the chocolate is completely melted. Remove from heat. Add in 1 cup of the nuts and 3/4 cup of toffee and stir quickly to combine.

Spread the chocolate-nut mixture on prepared baking sheet. Top with the reserved almonds and toffee; sprinkle with salt if using. Chill until chocolate is set, about 3 hours. Chop into pieces and serve.