These simple 2-Ingredient Chocolate Almond Clusters are easy, adaptable, and make great gifts! Creamy, crunchy, and perfect sweet! If you have almonds and dark chocolate, you can make these!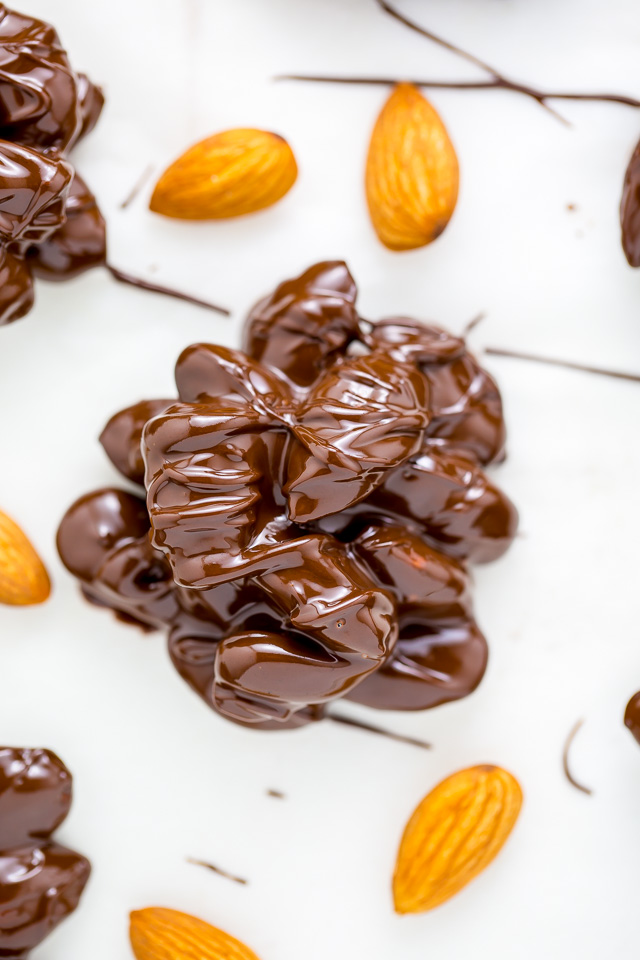 Almond Clusters
Happy weekend!!! Easiest recipe ever today! Seriously. If you have chocolate, almonds, and 20 minutes, you can make these Chocolate Almond Clusters!!!
The best part? They're so fancy everyone will think you swiped them up from a gourmet chocolate shop.
I gift these to family, friends, and clients on the regular, and there's always a TON of swooning involved from the recipient. Life win!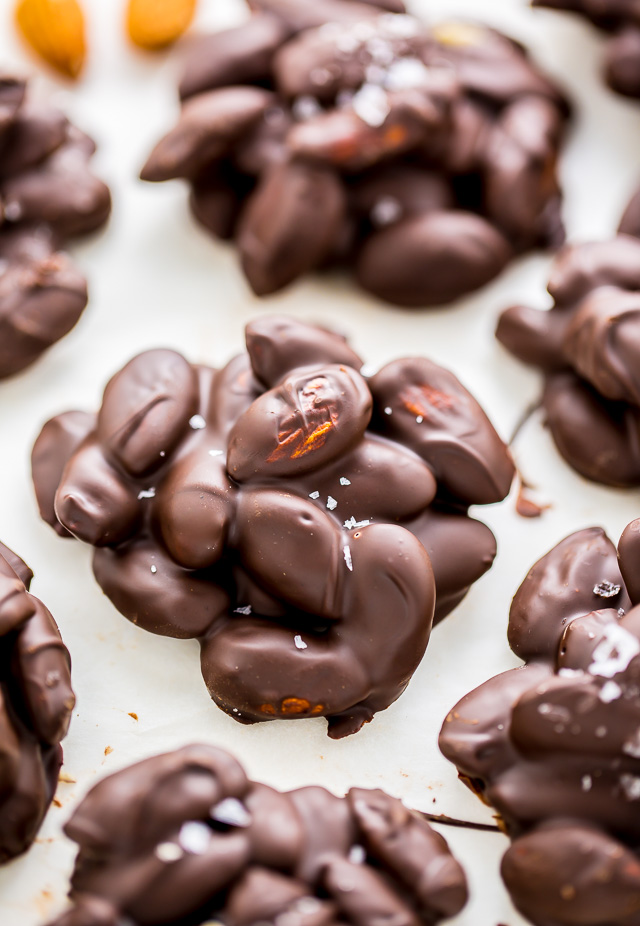 Sprinkle with sea salt to make them extra fancy! Or don't. Totally up to you.
This "recipe" is adaptable like that. You can double it or triple it as you need. You can make them plain, or jazz them up with chopped toffee, rainbow sprinkles, or toasted coconut. Really, the options are endless.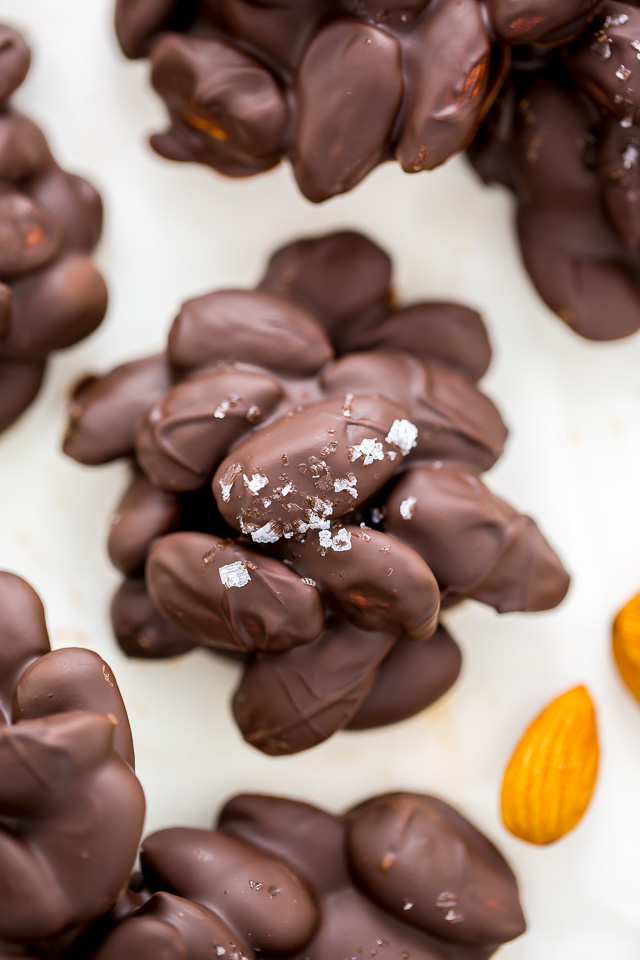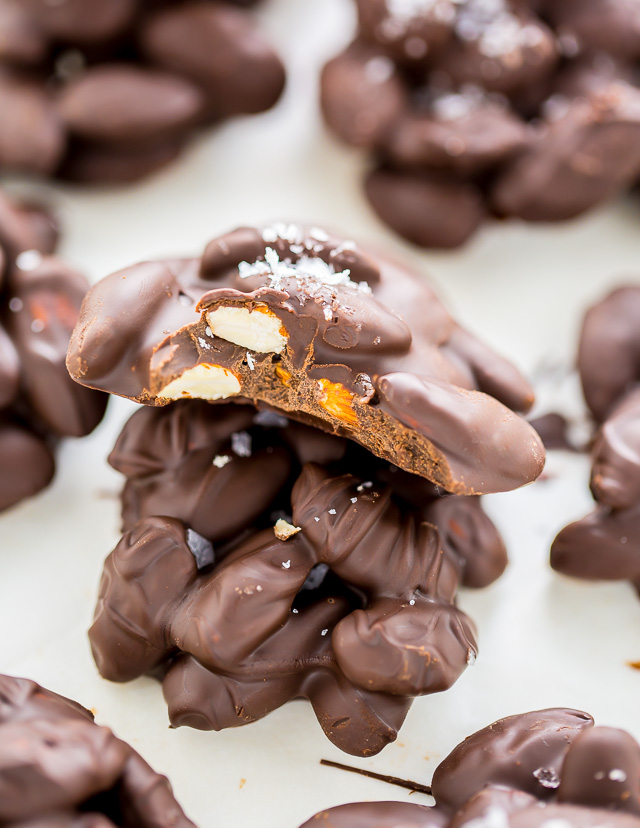 How to make Chocolate Covered Almond Clusters
Tips and Tricks for Recipe Success:
I highly suggest using quality chocolate! Now, I'm not saying you have to splurge on the most expensive variety on the market… but you should choose a brand you know melts well and has nice flavor. I used Ghiradelli semi-sweet chocolate for my chocolate almond clusters, but Baker's Chocolate Bars, Trader Joe's Pound Plus, or Godiva would all work great. Just be sure you don't use chocolate chips! The won't melt or reset properly.
You may use milk chocolate, semi-sweet chocolate, or dark chocolate! Just be sure to follow my advice above when choosing a brand.
Going back to quality ingredients, I recommend you also use fresh high-quality almonds. You can purchase plain almonds or roasted almonds, according to your taste.
Dunking the clusters is easy, but messy, so be sure to have a few wet paper towels nearby for spills.
The chocolate almond clusters need to set completely before consumption. You can let them set at room temperature, which takes a few hours, or you can speed the process up by popping them in the fridge.
If you're not eating/serving the chocolate almond clusters right away, store them in the fridge until needed. Just be sure to let them sit at room temperature for a few minutes before chowing down, as they really firm up in the fridge… and nobody wants a broken tooth.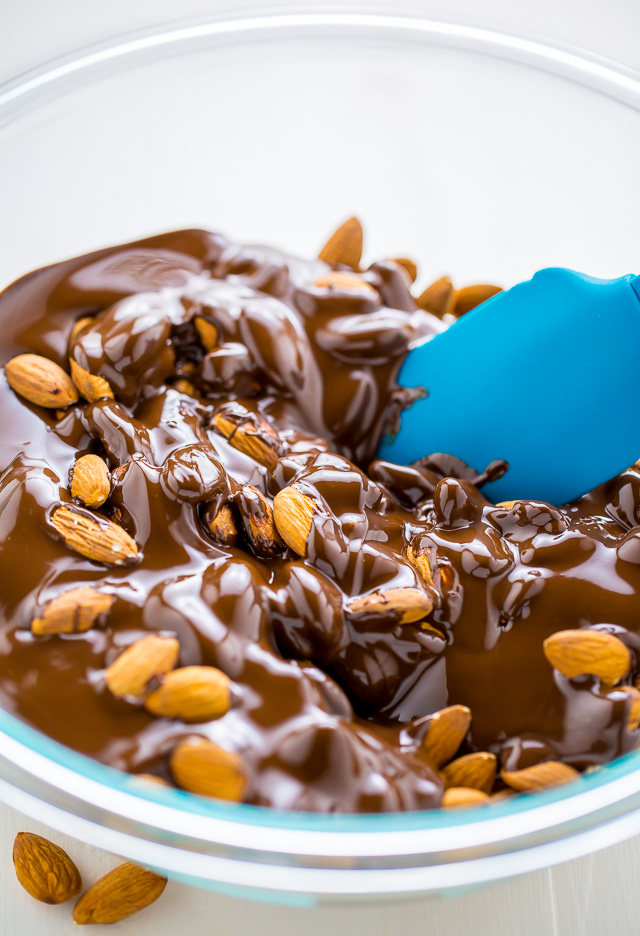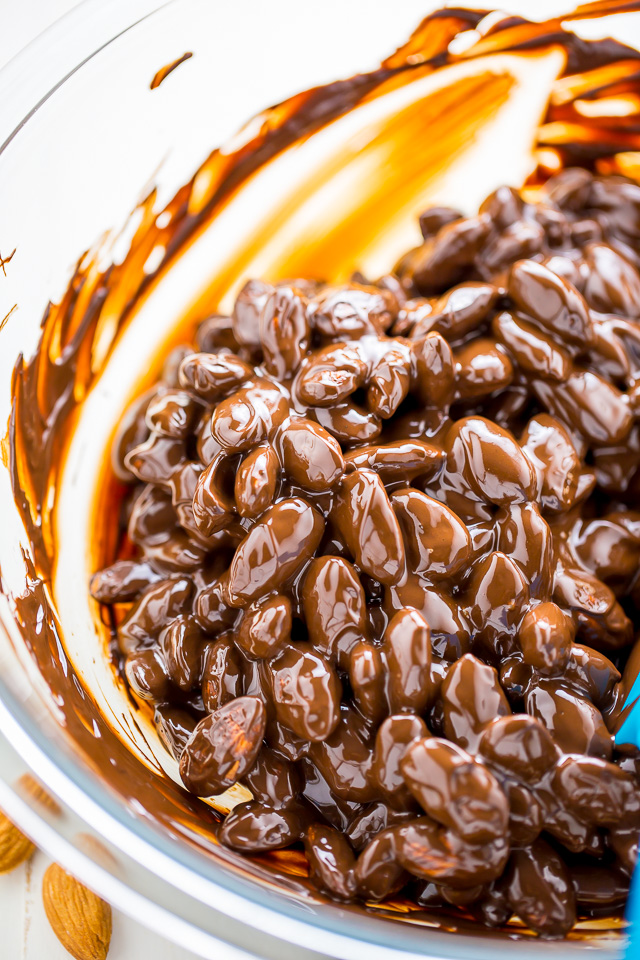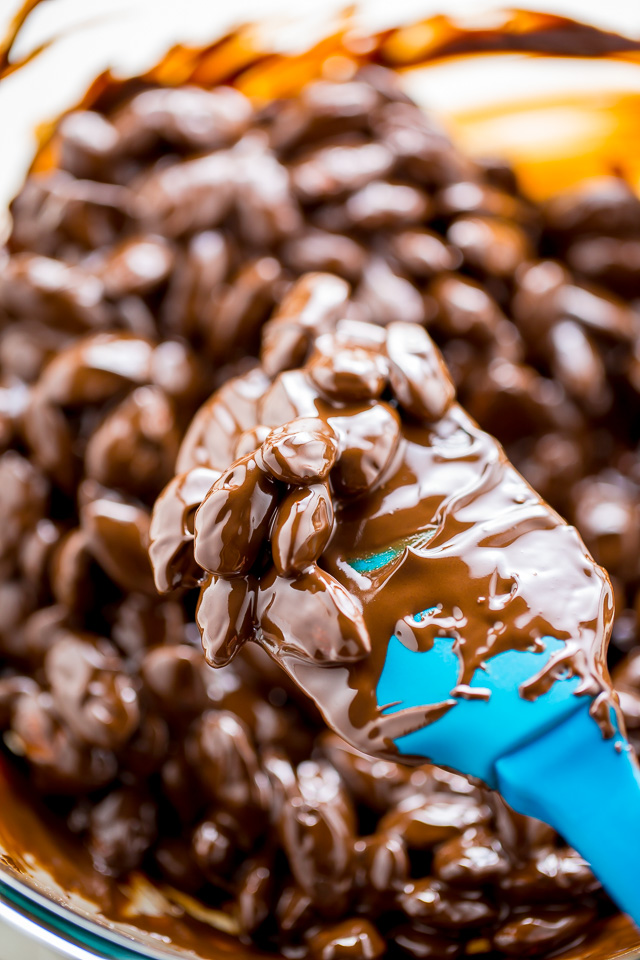 If you love chocolate and almonds as much as I do, you're going to go NUTS over this simple recipe. You've been warned… 😉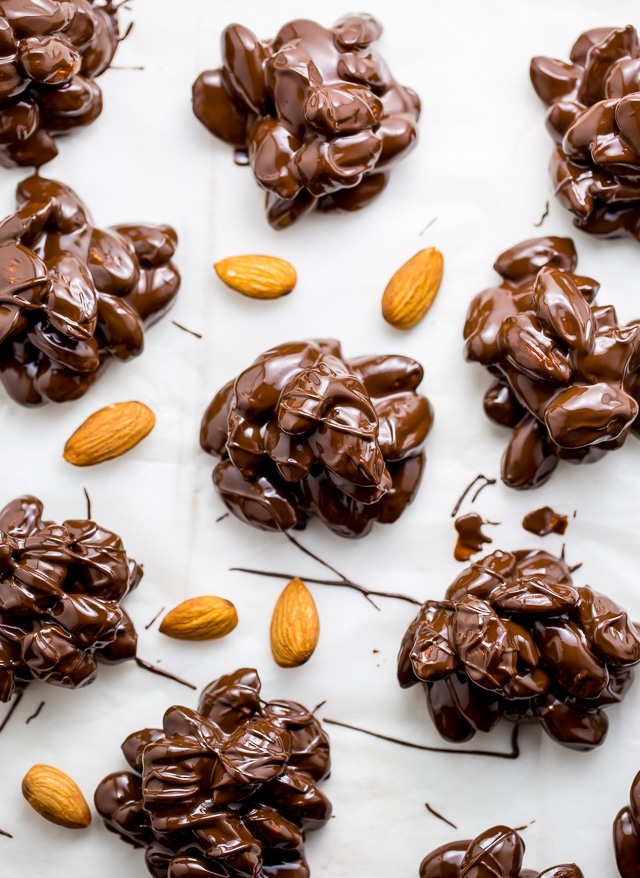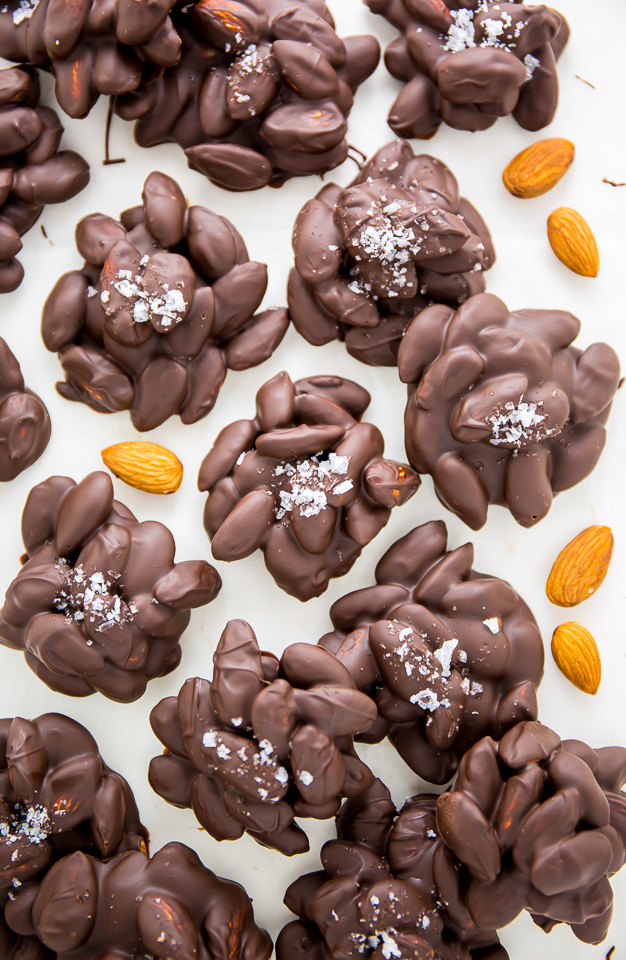 More Chocolate Almond Recipes:
If you try this recipe, let me know! Leave a comment below and don't forget to snap a pic and tag it #bakerbynature on instagram! Seeing your kitchen creations makes my day.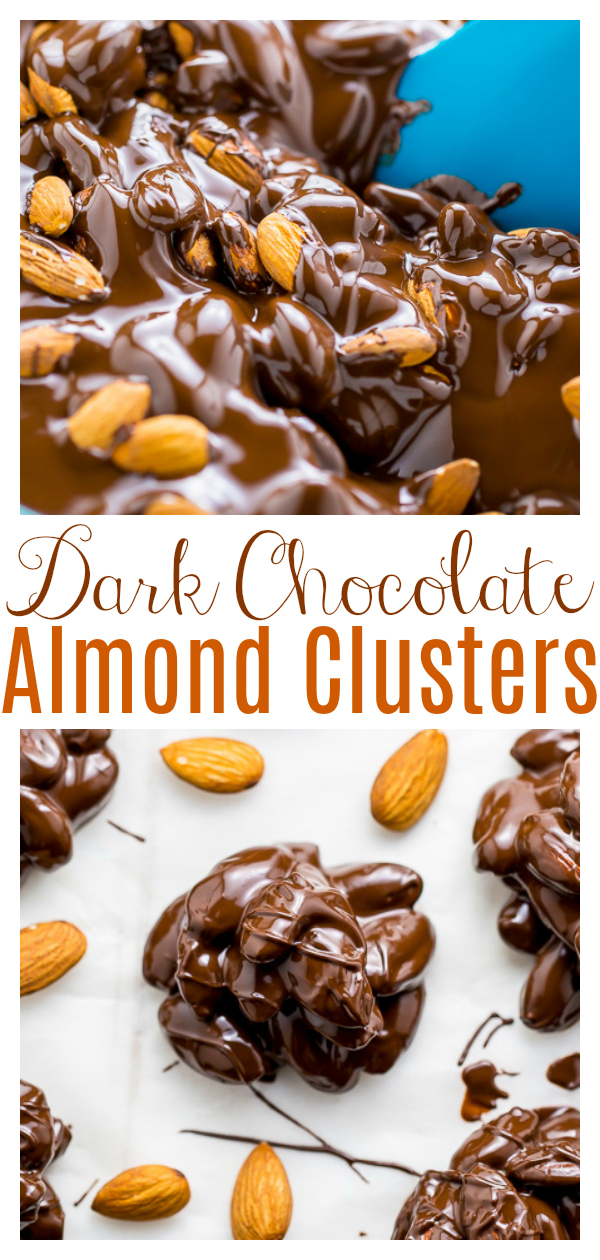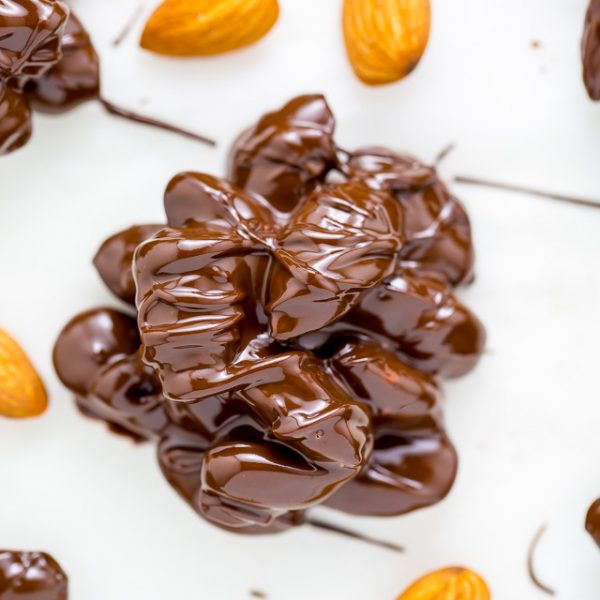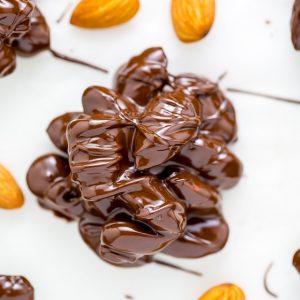 Chocolate Almond Clusters
Simple 2-Ingredient Chocolate Almond Clusters are easy, adaptable, and make great gifts!
Ingredients
12 ounces semi-sweet chocolate, roughly chopped
1 pound roasted almonds (salted or unsalted)
Flaky sea salt, for sprinkling, optional
Instructions
Line a large baking sheet with parchment paper; set aside.

Place the chocolate in a large heatproof glass bowl and melt, on low-power, in 15 second increments, stirring after each increment, until completely melted. You may also melt the chocolate using a double broiler, if you prefer.

Whisk the chocolate smooth and add in almonds; use a spatula to stir, making sure each almond is coated in chocolate. Use a spoon to scoop clusters of the almonds onto the prepared baking sheet. You can make them as large or small as you'd like, but I find 2 tablespoons to be the perfect size.

Sprinkle the wet chocolate with a little sea salt, if using.

Allow clusters to set completely before serving. You may place them in the fridge to speed this process up.
Notes
For best results, I recommend using high-quality almonds and chocolate. I do not recommend using chocolate chips for melting chocolate. Chocolate Almond clusters will keep, stored in the fridge, for 1 month. I suggest bringing the almond clusters to room temperature before serving.