Spicy, saucy, and full of flavor – this Sriracha Chicken and Broccoli Lo Mein is a million times tastier than any take-out you've ever had! An incredibly easy and satisfying 30-minute meal!Last month we packed up all of our belongings and said a teary-eyed farewell to New York City – a place we will always love and feel lucky to have called home for 6 long, wonderful years.
I have to admit though, I was ready for the move. Or, ready for a change, at least. One can only live in those conditions (read: necessary roommates, unavoidable cockroach confrontations, and perpetual subway traffic) for so long without needing a little break. So I'm embracing our time away from the big apple with arms flung wide open. I know we'll be back soon enough (in fact, I'm catching the train in for the day tomorrow). And I can honestly say this upstate air is doing me worlds of good! Fresh air… peace and quiet… friendly neighbors who invite you to backyard bonfires (!!!). I like it. I like it a lot. 
But there is one major problem…
There isn't ONE SINGLE CHINESE RESTAURANT IN TOWN. Cue the freak out!!!
If you're wondering WHY the freak out… well, let's just say I'm somewhat a fan of my weekly "ordering in" routine, and food of the Chinese variety is at the top of my list. It's just so good! And spicy… and comforting… I mean, spicy, slurpy noodles never do you wrong. Ya know?
This recipe is actually a combination of my two favorite Chinese take-out menu items: Chicken and Broccoli and Lo Mein. I've made a Spicy Sriracha Shrimp and Zucchini Lo Mein before, but never chicken. I have to admit it took me a few tries to get the chicken just right (I find chicken more fussy than shrimp), but hoo-boy was it worth the work.
Just look at that…! Don't you just want to dive right in?
The chicken is browned on all sides in olive oil on higher heat, leaving it crispy on the outside but with a nice, tender interior. The broccoli is blanched then cooked quickly with the chicken in the spicy sriracha sauce. Holy mother of YUM!!!
Then, as if the amazingly delicious chicken and broccoli situation wasn't enough, we add in the lo mein!!! Yessss. You want this 🙂 Lo mein noodles are my happy place… can you tell?!
The lo mein noodles are cooked in a separate but equally tasty sriracha soy sauce mixture. They have some crunchy carrots and snow peas added in for texture and health. Amen.
This whole meal comes together in 30 minutes, which is great because that means you can make it in less time than it would take to order delivery. Or, if you're like me, and you have to make it because there IS no delivery. Luckily now that I've got this recipe down, I don't need it 😉 This sriracha chicken and broccoli lo mein is exactly one billion times tastier than ANY delivery ever. And that's the truth!
Be sure to snap a pic of this delicious meal when you make it and share it on instagram using the hashtag #bakerbynature (p.s. do you follow me?)
I love love love seeing your recipe creations, and believe me when I say I click over each and everytime you share one of my recipes. I appriciate you. I love you. I love seeing your kitchen magic. xoxo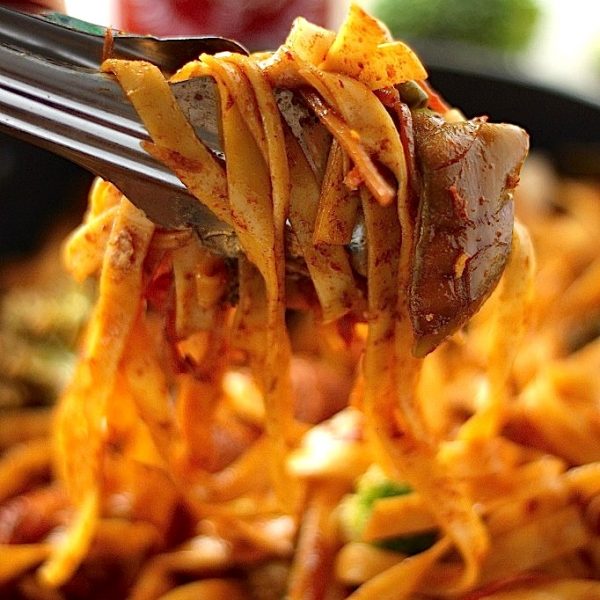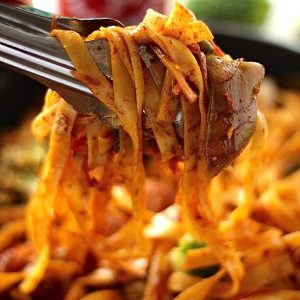 30 Minute Sriracha Chicken and Broccoli Lo Mein
Fast and flavorful, this 30-Minute Spicy Sriracha Chicken and Broccoli Lo Mein is a personal favorite and sure to please you and yours!
Ingredients
For the Chicken and Broccoli:
3 cups fresh broccoli (about 2 medium-sized heads), cut into bite-sized florets
2 tablespoons olive oil
1 large boneless, skinless chicken breast, cut into 1-inch (bite sized) pieces.
1 tablespoon sesame oil
1 tablespoon Sriracha Hot Sauce
3 garlic cloves, minced
1/2 cup soy sauce
2 tablespoons water
2 tablespoons dark brown sugar
2 tablespoons cornstarch
For the Lo-Mein:
(1) 8 oz. package lo mein noodles (I found them in the ethnic foods section of our grocery store)
2 Tbsp olive oil
1 tablespoon butter
1/2 cup shredded carrots
1/2 cup snow peas
3 cloves garlic, minced
1/2 tsp crushed red pepper flakes
2 large eggs, lightly beaten
1 Tbsp brown sugar
2 Tablespoons soy sauce
1 1/2 Tablespoons Sriracha hot sauce
1 teaspoon grated ginger
1 teaspoon sesame oil
2 green onions, sliced thinly
Salt to taste, if needed (the soy sauce has a lot of sodium, so taste before you add any to the finished product)
Instructions
For the Chicken and Broccoli:
In a small bowl, whisk together the sesame oil, hot sauce, garlic, soy sauce, water, sugar, and cornstarch; set aside.

Prepare an ice bath for the broccoli by placing a lot of ice in a large bowl of water; set aside.

Bring a large pot of salted water to a boil; add the broccoli. Blanch the broccoli for 4 minutes, then immediately transfer the broccoli to an ice bath to stop the cooking process; set aside.

Heat the olive oil in a large skillet over medium-high heat. Add the chicken and brown it on both sides. Add the broccoli, reduce the heat to medium, and add the sauce. Stir to coat ingredients and cook for about 5 minutes, or until the sauce has thickened.

Meanwhile, make the Lo mein -

Begin a large pot of salted water to boil. Once the water reaches a full boil, add the noodles and cook according to the package directions (about 4 minutes).

While waiting for the water to boil, prepare the spicy sriracha sauce. In a small bowl stir together the brown sugar, soy sauce, sriracha, ginger, and sesame oil.

In a large skillet melt 1 tablespoon of butter over medium-low heat. Add the crushed red pepper to the butter, and once it's completely melted whisk in the eggs. Stir gently and cook for about 3 minutes. Once the egg is done cooking, keep the pan on the burner but transfer eggs to a small plate; set aside.

Add 1 tablespoon of oil to the pan and increase the heat to medium-high. Add carrots and snow peas to the pan and stir fry until just charred; about 3 minutes. Stir in the garlic and cook for one minute more.

Add drained noodles to the skillet along with the cooked egg and prepared sauce. Turn the heat on to medium-low, and stir until everything is coated well with the sauce. Top the noodles with the chicken and broccoli, sprinkle with the sliced green onions and serve at once!
Notes
This may take an additional 5-10 minutes depending on kitchen speed/appliances/etc.