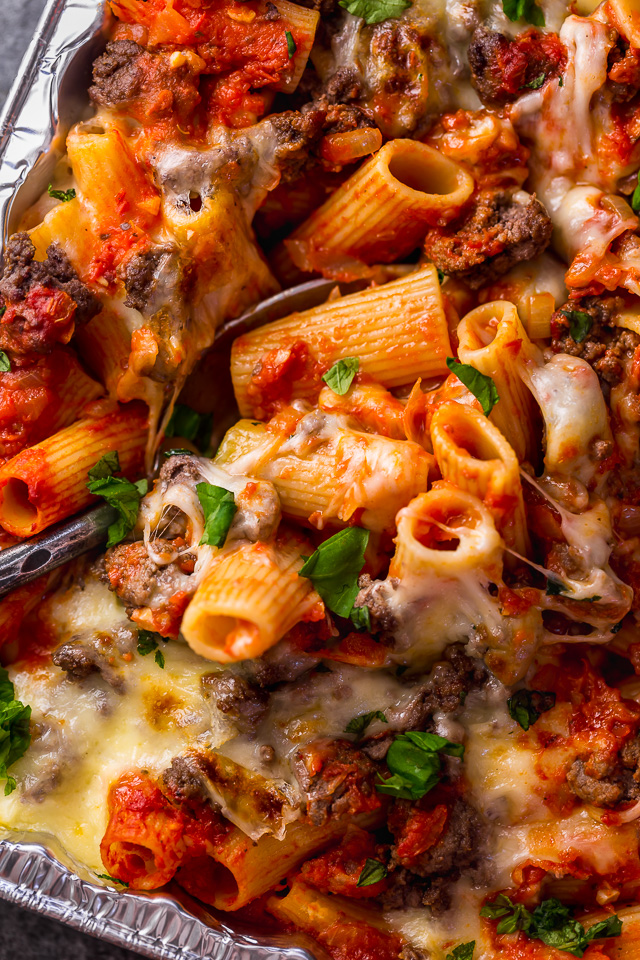 Baked Rigatoni with Beef
Yield 8 servings
Care to join me as we dive into this CHEESY Baked Rigatoni with Beef?! It's SO easy and loaded with flavor! And it's the perfect recipe to whip up when you're having company, because it seriously serves a crowd!!!
Ingredients
1 pound (16 ounces) uncooked rigatoni pasta
1 pound (16 ounces) ground beef
2 and 1/2 Tablespoons olive oil, divided
1/2 cup (2.6 ounces) yellow onion, diced 
5 cloves garlic, minced
2 Tablespoons tomato paste
(1) 28-ounce can crushed tomatoes with basil 
1 cup (8 ounces) chicken broth 
3/4 teaspoon salt 
1/2 teaspoon black pepper
Handful fresh basil, chopped
1 pound (16 ounces) part-skim mozzarella cheese, cut into 1" cubes
Instructions
Preheat oven to 350°F. Spray a 9x13-inch baking dish with nonstick cooking spray and set aside.
Bring a large pot of salted water to a boil over medium-high heat.
Warm a 1/2 Tablespoon of olive oil in a saute pan over medium-high heat. Add in the ground beef and season lightly with salt and pepper. Using a wooden spoon, break it into small pieces. Cook until brown and no pink color remains, about 5 to 7 minutes. Use a slotted spoon to remove the beef from the pan and transfer it to a large plate. Set aside until needed.
Drain any excess grease from the pan, then return it to the stovetop. Reduce heat to medium, and add in the remaining oil. Add in the yellow onion and cook, stirring occasionally, until the onion is very soft, about 8 minutes. Add in the garlic and cook for 1 minute, or until fragrant. Stir in the tomato paste, breaking it up with a wooden spoon. 
Add in the crushed tomatoes, chicken broth, and season with salt and pepper.
Cook, stirring occasionally, for about 15 minutes. Stir in the basil and cook for another 5 minutes. Finally, stir in the cooked ground beef. 
In the meantime, add the rigatoni into the boiling water and cook for 8 to 9 minutes, or until al dente.
Drain the pasta and return it to the pot. Immediately add the meat sauce and stir well to combine. 
Pour pasta into prepared baking dish. Sprinkle with cubed mozzarella.
Bake for 30 minutes or until cheese is melted and bubbling. Garnish with a sprinkle of fresh basil, if desired. 
Serve warm! 
Courses Dinner
Cuisine Italian
Recipe by Baker by Nature at https://bakerbynature.com/baked-rigatoni-with-beef/