This One Pan Tomato Basil Pasta is so easy and flavorful!!! And because everything is made in one pot, the clean up is minimal. This crowd-pleasing pasta recipe is perfect any night of the week!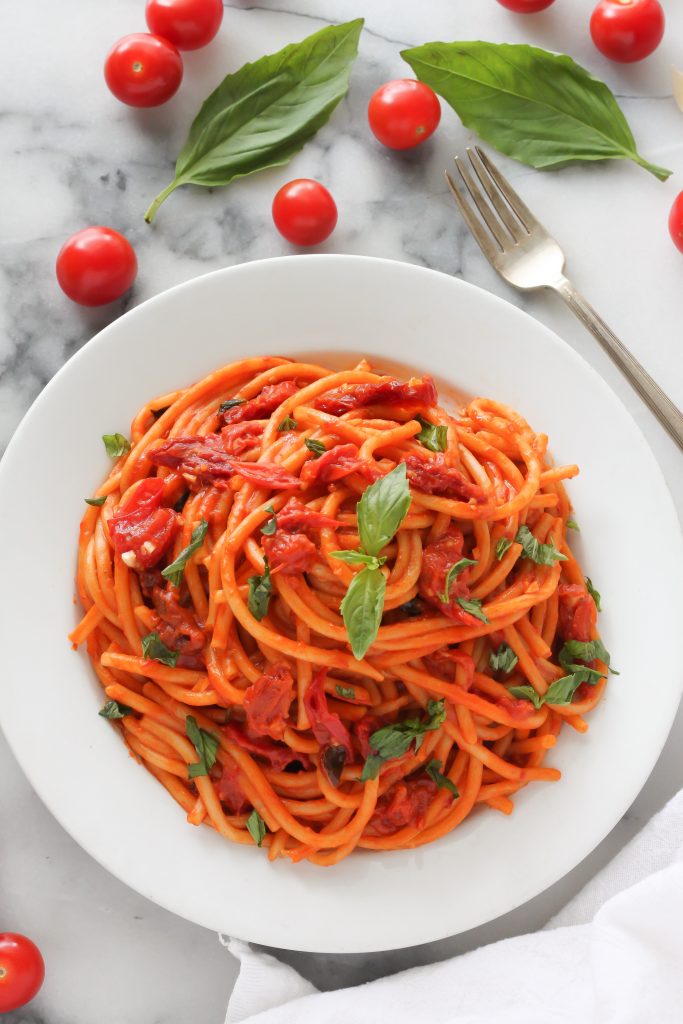 Tomato Basil Garlic Pasta
I'm a huge pasta eater. Examples supporting this fact can easily be found in this simple spaghetti fra diavolo, my famous one-pan cacio e pepe, and this outrageously easy veggie fajita pasta. I love them all! But my favorite pasta of all time…?
It might just be this simple, saucy, tomato basil pasta. I mean… how good does that look?
This is not your run-of-the-mill same ol' same ol' spaghetti and sauce. No, no. This one pan tomato basil pasta is a star!
What makes this pan of pasta such a crowd pleaser?! Well, for starters, it's made in just one pan. Any home cook will rejoice at this news. Second, it's incredibly flavorful, full of fresh ingredients, and – to me at least – pretty dang healthy. Finally, this gorgeous one pan pasta can be ready for the eating in just 30 minutes. This is fantastic news because once you catch a whiff of the heavenly combination that is garlic, tomatoes, olive oil, and basil, you're going to want to DIG IN… and fast!
Let's talk pasta details, shall we?
This one pan tomato basil pasta begins by adding olive oil, sun dried tomatoes, cherry tomatoes, and a pinch of salt to a large pan or dutch oven. I love using my heavy bottomed dutch oven for this recipe, but if you don't own one – don't worry – a very large pasta pot will work just fine.
You're going to cook this mixture until the tomatoes burst and release all of their delicious, flavorful juices – about 5 minutes. Then we add a whole bunch of garlic and a kiss of crushed red pepper – cook for a few more minutes, then add our pasta, water, broth, and tomato paste. A whole can of tomato paste, in fact! This might seem crazy, but trust me – you want the whole can in there. The tomato paste thickens the sauce up wonderfully and creates the richest tomato sauce a pasta lover could ever wish for.
I heavily suspect this is one of those recipes you'll try once and happily make again and again and again —> It is truly that good.
And that easy. And, well, what more can I say? Make a pot yourself and you'll see what all the fuss is about 🙂
More Pasta Recipes:
One Pan Triple Tomato Basil Pasta
Yield 4 servings
One Pan Tomato Basil Pasta is so easy and flavorful!!! 
Ingredients
1/4 cup olive oil
1/4 cup sun dried tomatoes (that have been packed in olive oil)
1 pint cherry tomatoes
8 cloves garlic, minced
1/2 teaspoon crushed red pepper
1/2 teaspoon black pepper
2 teaspoons salt (don't skimp here!)
1 pound bucatini pasta or thick spaghetti
4 cups vegetable broth
2 1/2 cups water
(1) 6 oz can tomato paste
2 cups (about 3 large handfuls) fresh basil, thinly sliced
Instructions
Add the olive oil to a large pot or dutch oven and bring to a simmer over medium-heat. Add the sun dried tomatoes (along with any oil they may still have clinging to them) and the cherry tomatoes; mix well to coat. Partially cover the pan and allow the mixture to cook for 6 minutes - or until the cherry tomatoes have burst and released most of their juices - stirring once or twice. Add in the garlic, crushed red pepper. black pepper, and salt, stir well, and cook for 2 minutes.
Add the bucatini into the pot, then pour in the vegetable broth, water, and tomato paste. Increase the heat to high, and - using a wooden spoon - gently break up the tomato paste, stirring it into the water/broth mixture. Allow the mixture to come to a rapid boil.
Boil mixture, stirring and turning pasta frequently, until pasta is cooked and the sauce has nearly evaporated, about 14 minutes. Remove pan from heat, stir in the basil, and cover for 5 minutes.
Serve with extra basil and cheese, if desired.
Courses Dinner
Cuisine Italian