In my humble opinion, the only thing better than peach crisp is BOURBON PECAN PEACH CRISP! Made with brown sugar, fresh peaches, bourbon, and a touch of cinnamon, this is Summer in a baking dish! Serve warm while the fruit is bubbling, with a big scoop of vanilla ice cream on top!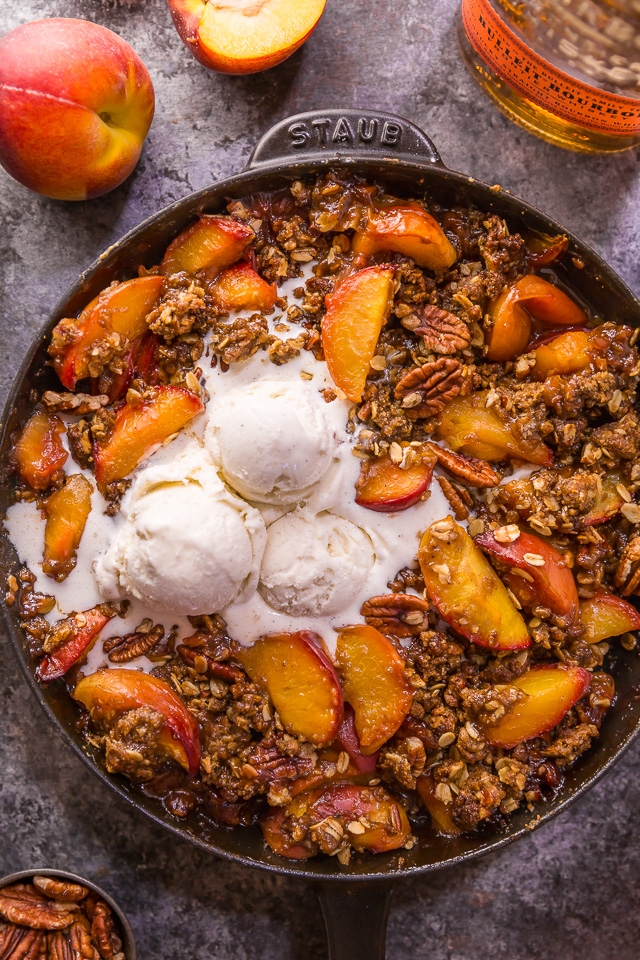 Bourbon Peach Crisp
Last week I shared Bourbon Pecan Brownies, last year I shared Bourbon Pecan Blondies, and the year before that, I introduced my internet famous Bourbon Pecan Chocolate Chunk Cookies to the world. So clearly, I have a thing for the bourbon pecan flavor profile!
But up until now, all of my bourbon and pecan creations have involved chocolate. Which, if you know me, is no surprise. Chocolate is my love language! I even made a T-shirt to prove it!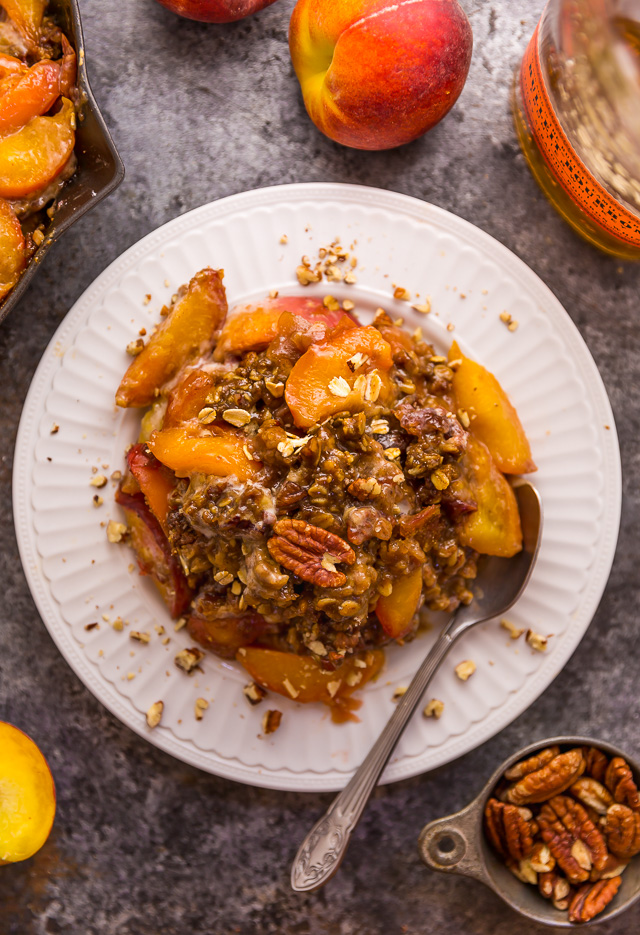 But with Summer in the air, I decided it was high time I create a seasonally appropriate bourbon and pecan recipe for you!
I actually have to quickly thank my husband for helping me think of this recipe idea! I had fully planned of sharing a peach crisp with you, but I was going back and forth on the exact flavor profile. Classic peach crisp vs Brown Sugar Bourbon Peach Crisp.
I asked C his thoughts and without a moment of hesitation he responded "bourbon pecan… it's your thing, right?". And just like that, I knew Bourbon Pecan Peach Crisp was on the menu!
So, without further ado, let's dive into this delicious peach dessert recipe!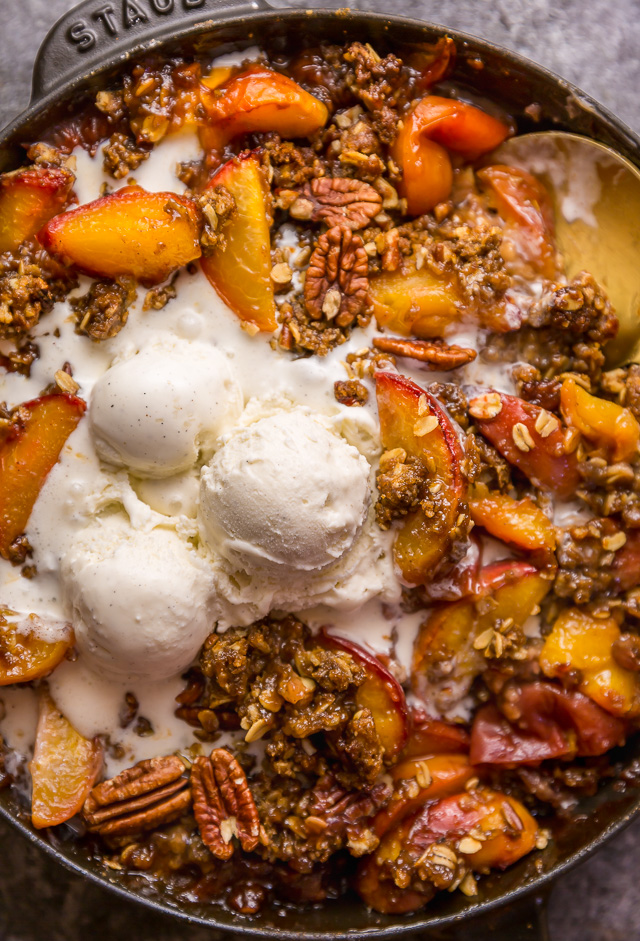 What is the Difference between Peach Cobbler and Peach Crisp?
A crisp is typically fruit (in this case, peaches), covered in a buttery streusel like topping. While peach cobbler is typically a fruit base topped with fluffy biscuits (or a biscuit like mixture). Both are delicious, and much easier than peach pie!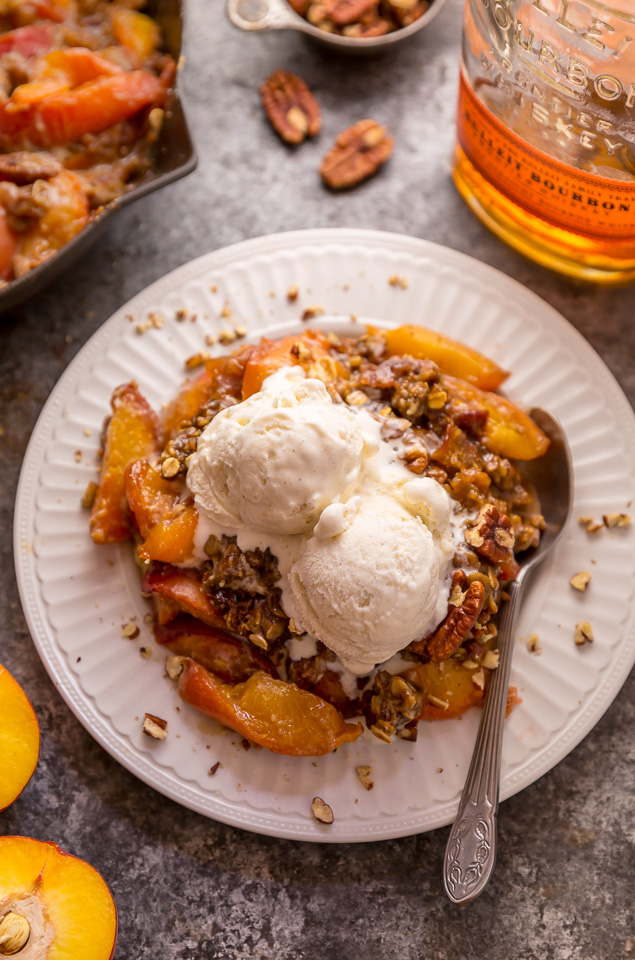 What you need to Make Peach Crisp
Although this recipe might sound fancy, it's actually made with pretty basic ingredients (and a few fancier but not fussy ones). For the peach filling you'll need fresh peaches, bourbon, orange juice (but lemon juice will work in a pinch), vanilla extract (if you want to be extra fancy, use a vanilla bean!), brown sugar, and a touch of cornstarch.
For the crisp topping, you'll simply combine 1/2 cup of butter, flour, oats, pecans, sugar, and cinnamon. That's it! Of course, you'll probably also want to have some ice cream or whipped cream on hand for serving!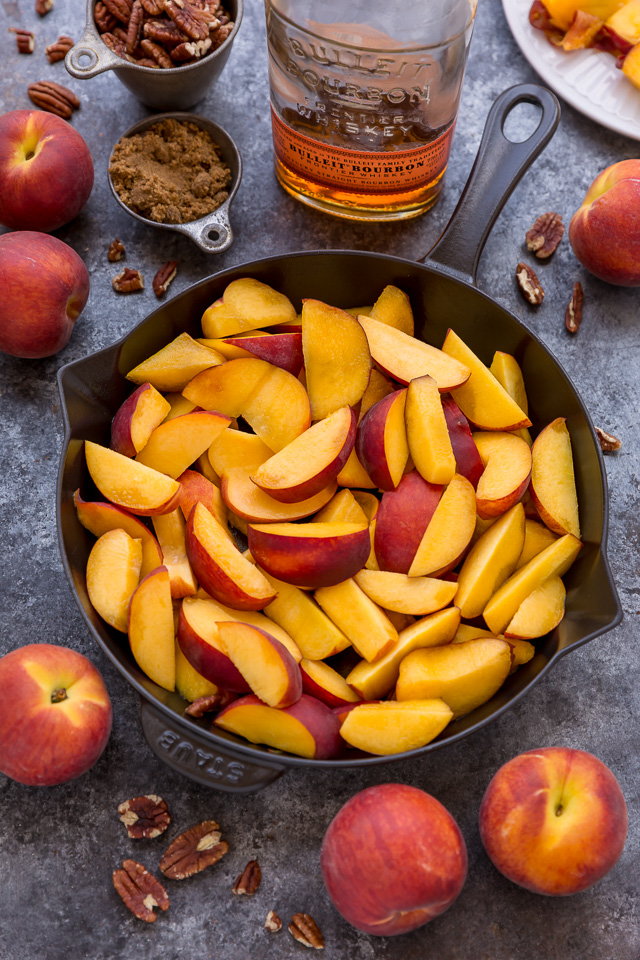 Can I leave the Bourbon Out?
Sure. It won't have the same oomph, but it'll still be quite delicious! I would suggest adding a little more OJ (maybe a tablespoon or so).
If you're not sure what kind of bourbon to use, we love Bulleit Bourbon, and it's typically easy to find. If you're not a big drinker and don't want to invest in a full-size bottle, go to your local liquor store and peruse the mini bottles, usually located near the check-out. They're the perfect size for baking projects! Plus, you can sample a few to see what you prefer without breaking the bank or committing to a huge bottle.
If you don't have bourbon but still want to use liquor, whiskey would be a nice substitute or even a rye! Another idea, use amaretto and swap the pecans for almonds in the crumble topping!
How to Make Bourbon Peach Crisp
This recipe couldn't be easier! But here are a few tips and tricks to make your baking journey a breeze:
To avoid an extra dirty dish, you can mix the peach filling right in the baking dish! A 9×13-inch baking dish or a large skillet will work fine!
Unless peach skin REALLY bothers you, I say skip peeling them! It'll save you so much time and effort.
Unlike many recipes that call for you to preheat the oven to 350 degrees, this recipe actually calls for a slightly higher temperature of 375. Be sure to preheat your oven about 20 minutes to 30 minutes before you plan on baking, so it gets sufficiently hot.
If you're baking in a skillet, you may want to place it on a baking sheet before baking. This just ensures if any juice pop and bubble up, they land on the baking sheet and not the floor of your oven.
Be sure to bake for about 45 minutes! Or until the top is golden brown and the peaches are soft and juicy.
Serve warm, but allow the juices to "set" for about 15 to 20 minutes before digging in! But I also scoop about 1/4 cup into a small bowl to taste test before serving everyone else 😉
More Fruit Crisp Recipes: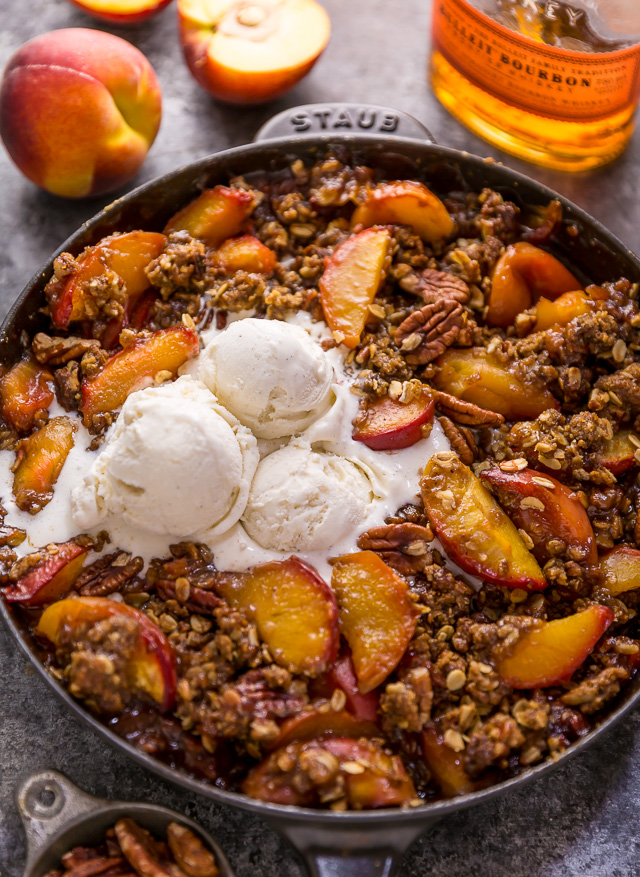 If you try this recipe for Peach Crisp, please let me know! Leave a comment below and don't forget to snap a pic and tag it #bakerbynature on instagram! Seeing your kitchen creations makes my day.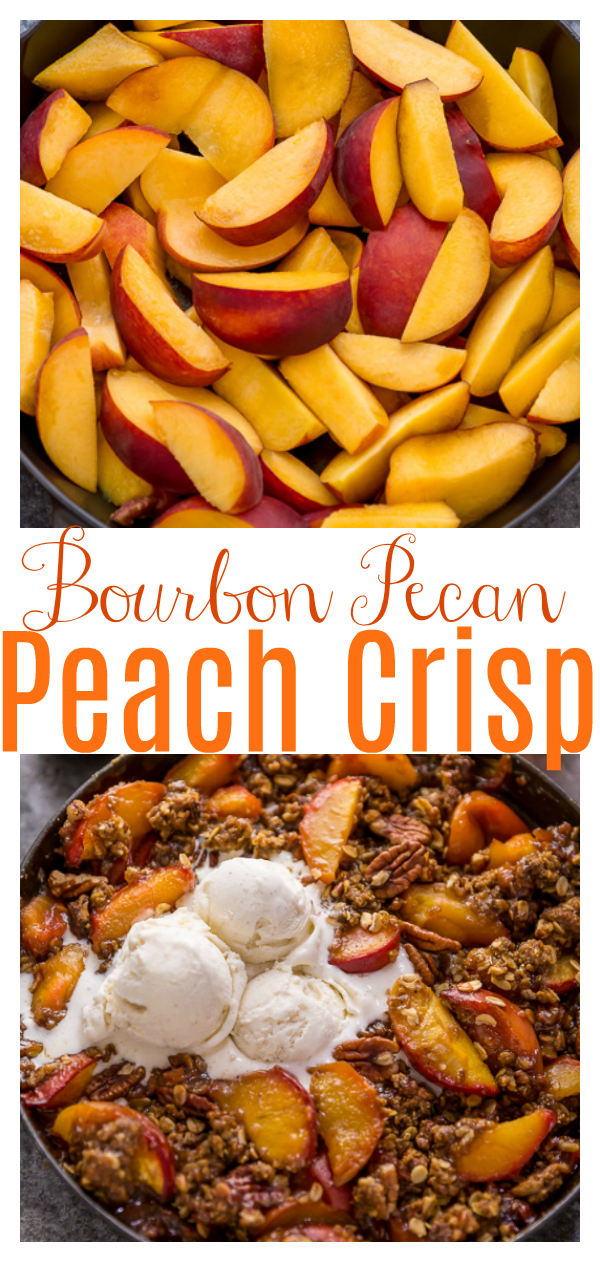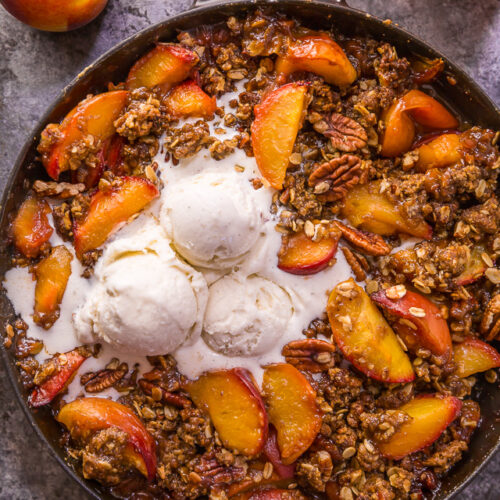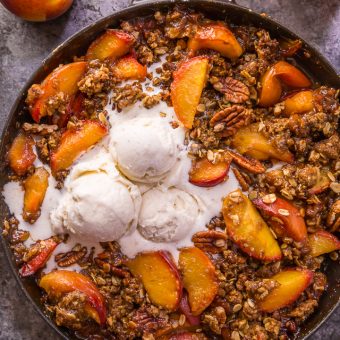 Bourbon Pecan Peach Crisp
In my humble opinion, the only thing better than peach crisp is BOURBON PECAN PEACH CRISP! Made with brown sugar, fresh peaches, bourbon, and a touch of cinnamon, this is Summer in a baking dish! Serve warm while the fruit is bubbling, with a big scoop of vanilla ice cream on top!
Ingredients
For the Peach Filling:
2 and 1/2 pounds peaches, pitted and cut into 1/4-inch slices
2 and 1/2 Tablespoons bourbon
2 Tablespoons orange juice
1/2 teaspoon orange zest
1 teaspoon vanilla extract
1/2 cup light brown sugar, packed
1/4 teaspoon ground cinnamon
3 tablespoons cornstarch
For the Crisp Topping:
1/2 cup (113 grams) unsalted butter, cut into cubes, at room temperature
3/4 cup (75 grams) old-fashioned oats
1/2 cup (57 grams) pecans, finely chopped
1/4 cup (50 grams) granulated sugar
1/2 cup (106 grams) light brown sugar, firmly packed
1 teaspoon ground cinnamon
1/4 teaspoon ground cardamom (optional)
2/3 cup (82 grams) all-purpose flour
ice cream, for serving, optional
Instructions
Preheat oven to 375 degrees (F). 

In a 9x13-inch baking dish OR

10" to 12" cast iron skillet

, combine the peaches, bourbon, orange juice, orange zest, vanilla, brown sugar, and cinnamon. Toss well, making sure the peaches are well coated.

Sprinkle in the cornstarch and toss well to combine. Set aside while you make the crisp topping. 
For the Pecan Crisp Topping:
Cut butter into cubes and set aside.

In a large bowl, combine the oats, pecans, both sugars, cinnamon, cardamom, and flour.

Add in the cubed butter and, using two forks or a pastry blender, cut the butter into the dry ingredients until mixture resembles a coarse meal. 

Sprinkle topping evenly over peaches. Place pan in the oven.

Bake for 40 to 45 minutes, or until the peaches have begun to burst and release their juices and the topping is golden brown.

Allow the juice to settle slightly (about 15 minutes), then serve warm!