This is the BEST Italian Hoagie recipe around and it's so easy to make! Made with the best hoagie rolls, fresh veggies, cherry pepper hoagie spread, and Italian hoagie meats, this sandwich is exploding with flavor!

Italian Hoagie
Let's talk about sandwiches for a sec. Are you a fan? I'm the kind of girl who will happily eat me a sandwich all day/everyday – but my favorite kind of sandwich is a hoagie! More specifically, a Philly Style Italian Hoagie ← They are the best. And if you've never had one, you're in for a major treat. I grew up in Philly and today I'm going to share with you the ingredients you'll need to make this delicacy in your very own kitchen.
All of the meats, plenty of cheese, and all of the vegetables make this sandwich sensational ↓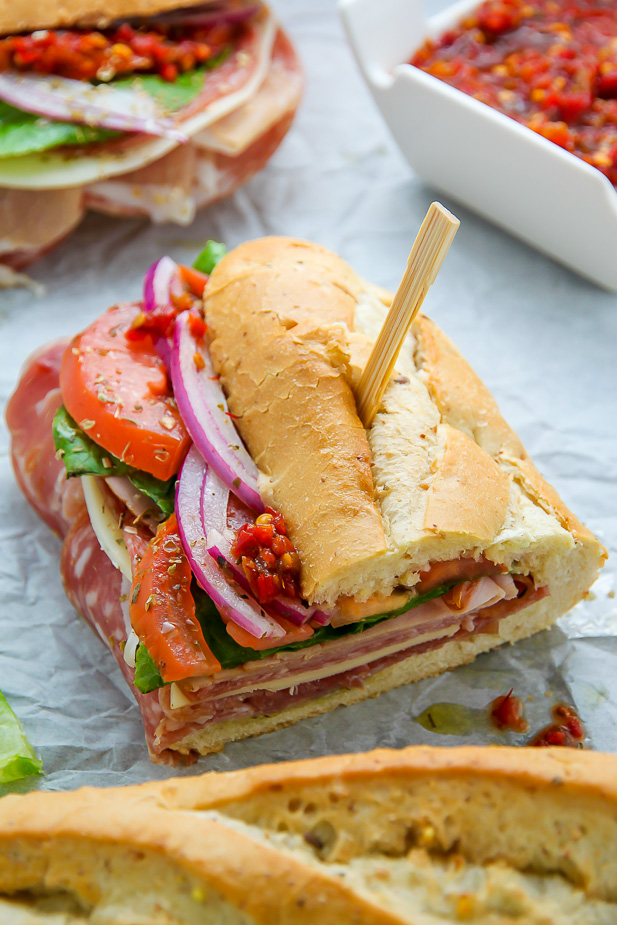 What is a Hoagie?
Simply put, a hoagie is a sandwich that's made on a long "hoagie" roll. Typically it's filled with a variety of meat, cheese, and vegetables. The term is mainly used by Philadelphia natives. But anyone can enjoy a hoagie!
How to Make a Hoagie
To make this recipe you'll need romaine lettuce, juicy tomatoes, red onion, provolone cheese, prosciutto, capicola, genoa salami, soprassata salami, red wine vinegar, dried oregano, olive oil, and hot cherry pepper hoagie spread. You should be able to find all of these ingredients at any grocery store, but if you have an Italian deli nearby, it's worth making an extra trip.
FYI: This is the Hot Cherry Pepper Hoagie Spread
I use.
You'll also need hoagie rolls! Again, if you can, grab these from a bakery or Italian deli. The fresher the bread, the better the sandwich. Any serious hoagie connoisseur knows the first step to building a solid sandwich is starting with a soft but crusty bread base! It's worth being fussy over.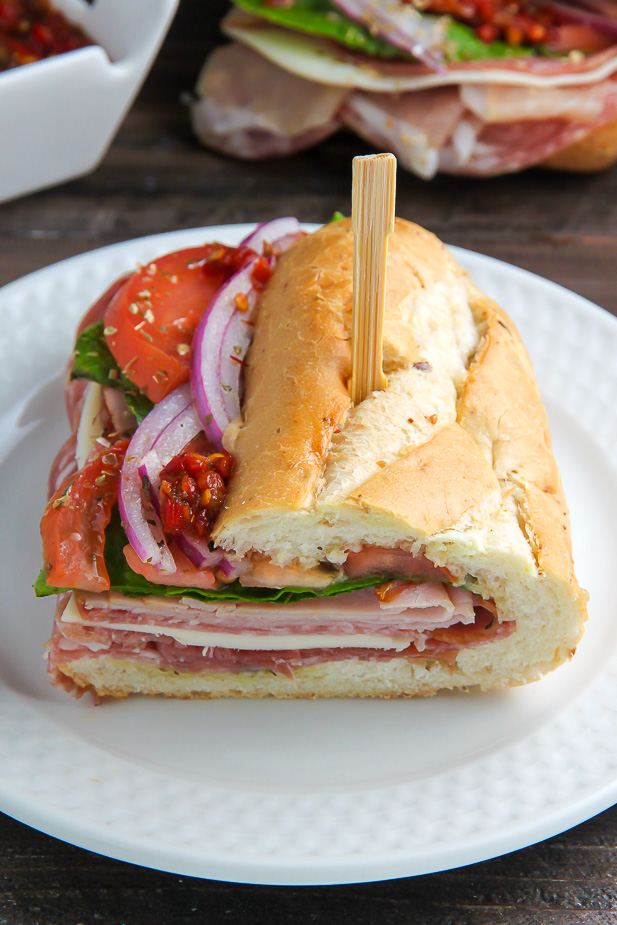 The #1 thing I love about this recipe? It tastes like a million bucks but comes together in just 5 minutes! Yep. FIVE. I mean, I know it's a sandwich… but still! This means you can make these crowd pleasing, hearty hoagies for dinner, lunch, or picnics and still have tons of time to do all the other life things you may need to do.
And the clean up? Easy peasy! One knife, a cutting board, and for serving? I say paper plates all the way! To be 100% honest, I ate mine straight off the parchment paper 😉 So don't feel the need to be all fancy! Just make em', eat em' and enjoy! xoxo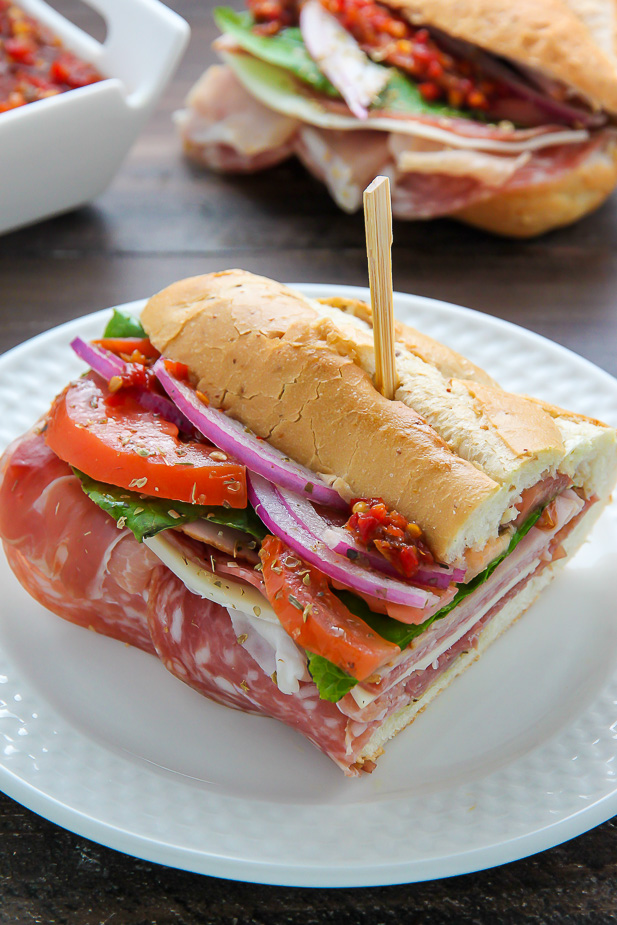 More Italian Recipes: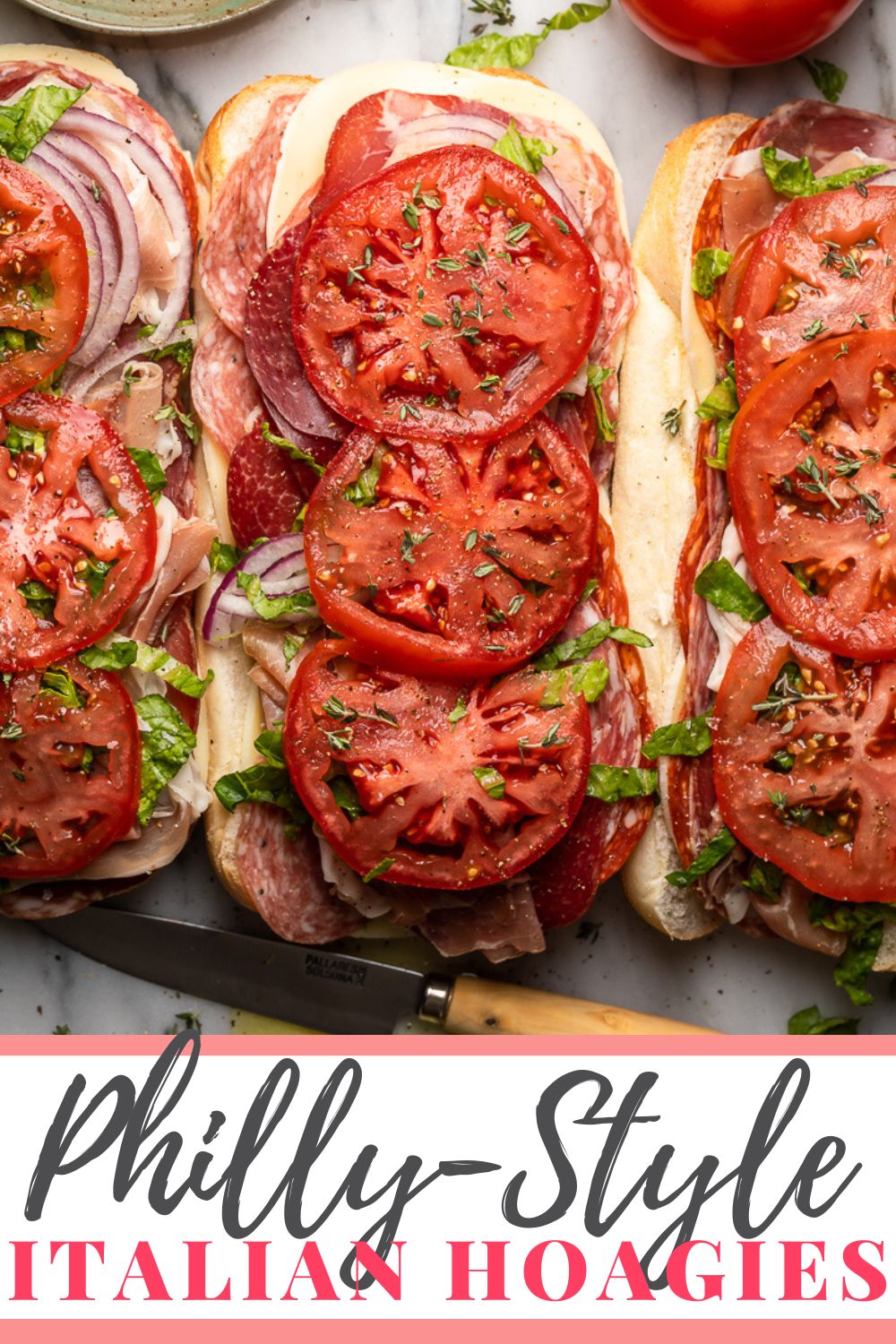 The Best Philly Style Italian Hoagies
The Best Philly Style Italian Hoagies are so easy and delicious!
Ingredients
1 tablespoon red wine vinegar
1/2 tablespoon dried oregano
2 tablespoons olive oil
2 long Italian hoagie rolls
1/4 lb prosciutto
1/4 lb capicola
1/4 lb genoa salami
1/4 lb hot soprassata salami
1/4 lb sharp provolone cheese, thinly sliced
1 large tomato, thinly sliced
1 small onion, thinly sliced
1/4 cup iceberg or romaine lettuce, shredded
1/4 cup hot cherry pepper hoagie spread
Instructions
Slice the rolls lengthwise, cutting only half way through. Remove the thick, fluffy dough center of the bread and discard it. Set rolls aside.

In a small bowl whisk together the vinegar and oregano; slowly add in the oil, whisking as you pour to emulsify the mixture.

Drizzle a small amount of the oil/vinegar mixture on the rolls, then layer the cheese and meats.

Top with the tomatoes, onions, lettuce, then peppers. Drizzle with additional oil/vinegar, cut in half, and serve!