Italian Sausage and Peppers is delicious served with pasta or piled high on a chewy hoagie roll! Loaded with sausage, peppers, and onions and coated in a tangy tomato sauce, this is one of my favorite recipes to make for company! Serves a crowd and can be kept warm in a crockpot or slow cooker.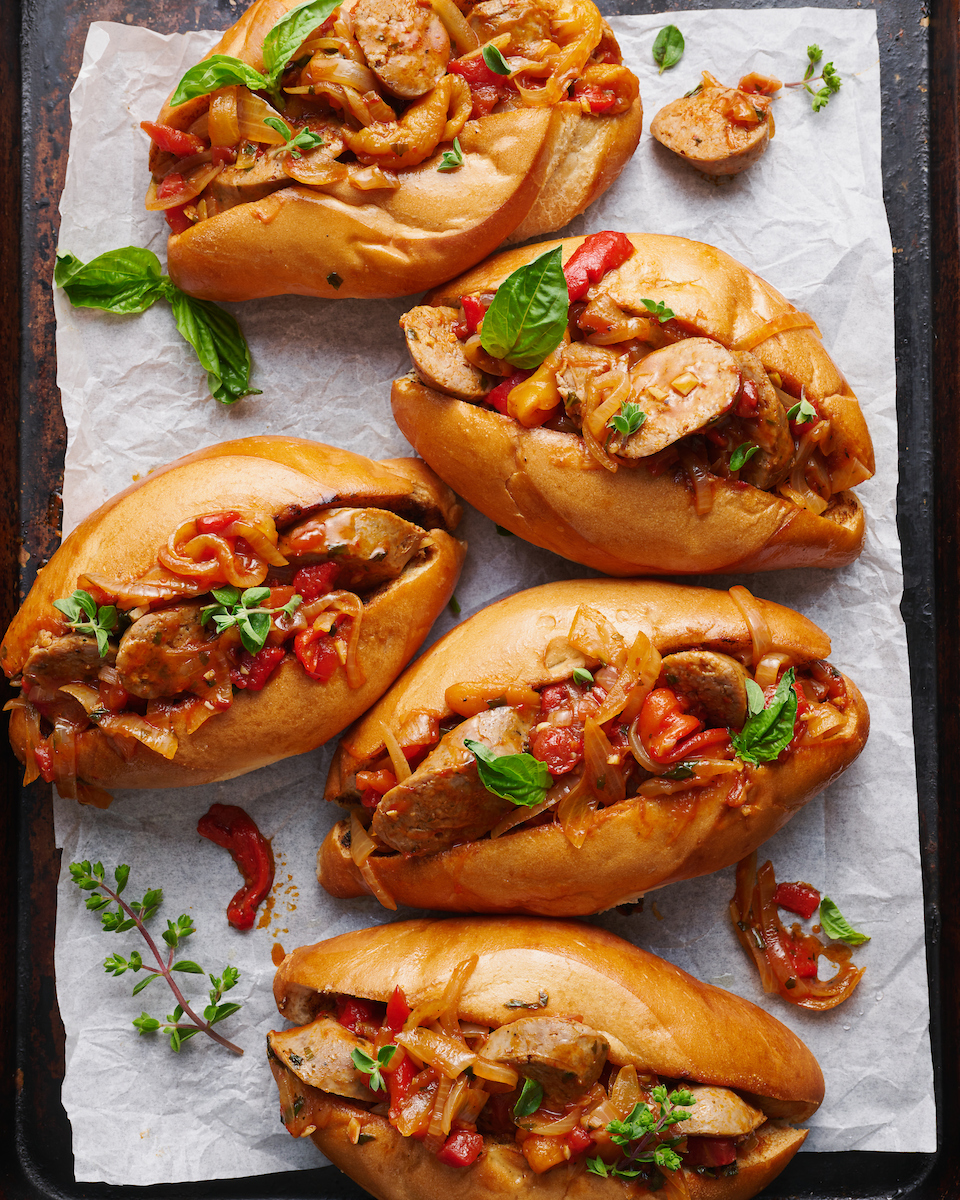 Sausage and Peppers Recipe
Spring is in the air, and that means entertaining season is in full swing! As an avid entertainer, I'm always looking for crowd-pleasing recipes that can be made in advance and served later. What can I say? I like to enjoy my own parties! And not be stuck in the kitchen all night long.
One of my go-to party recipes? Italian sausage and peppers! It can be prepped hours before your big event and tossed in the slow cooker on low until needed. Or heated up on the stovetop! My personal favorite way to serve it is with hoagie rolls on the side. And some freshly grated Parmesan cheese, for sprinkling.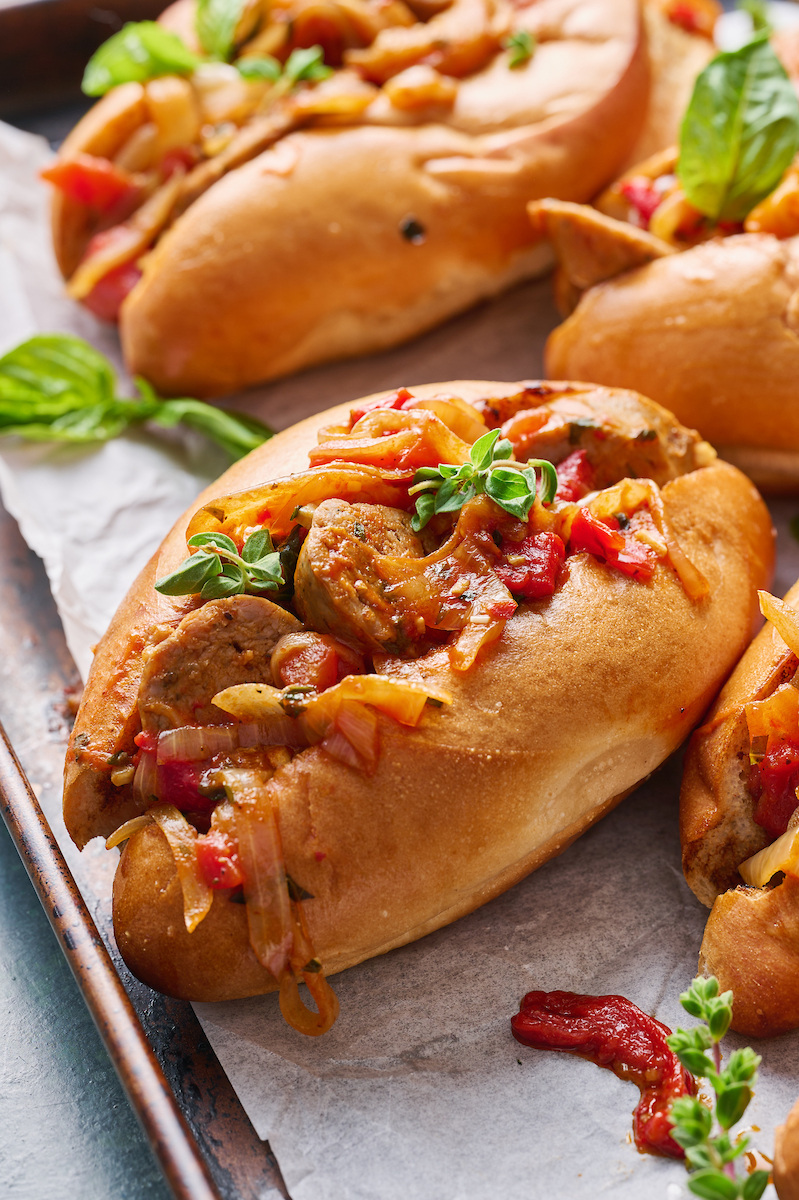 But it's also delicious over pasta! We love serving it with penne, spaghetti, or bow-ties.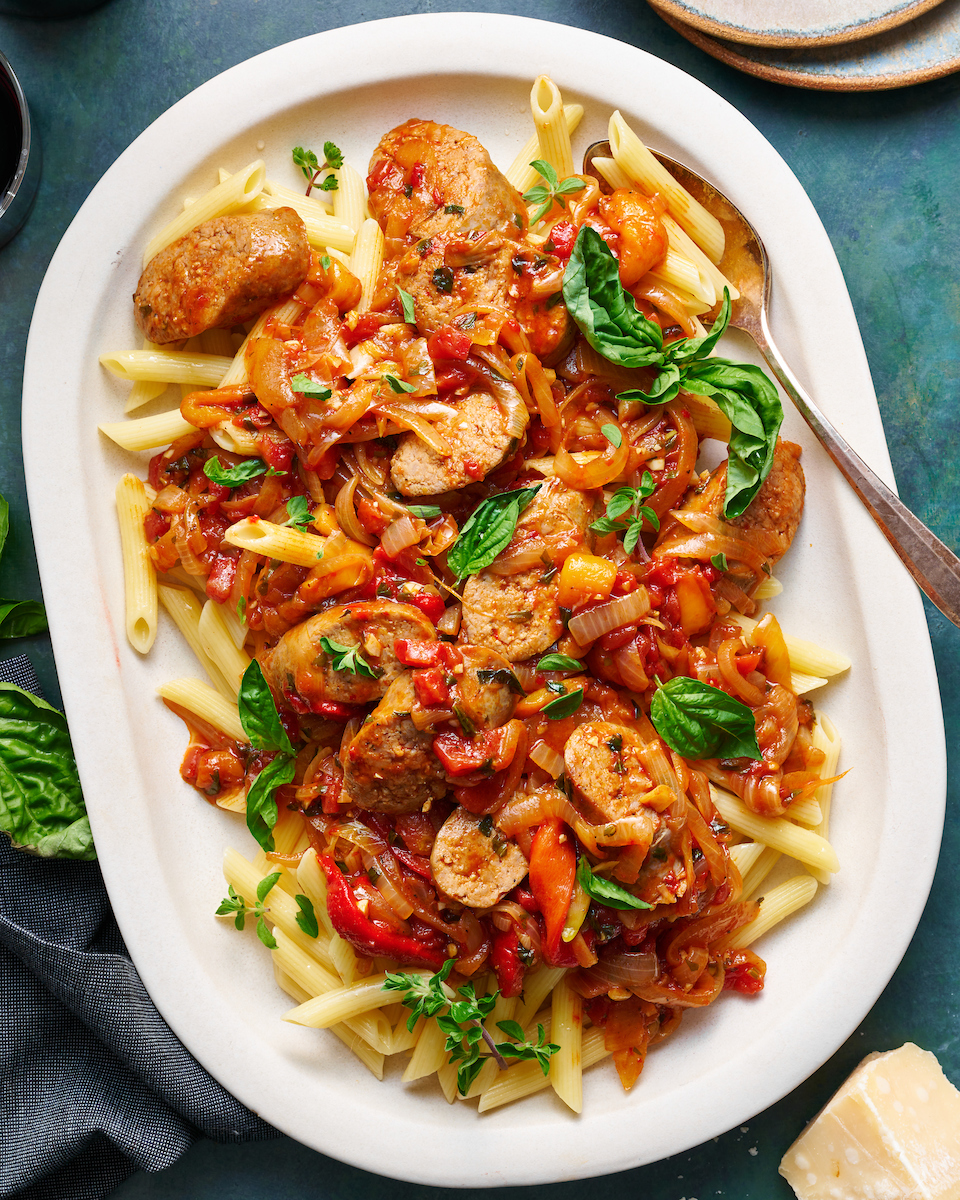 Let's Talk Peppers
You'll need red bell peppers and yellow bell peppers for this recipe. If you can't find yellow peppers, you can definitely use all red! But I don't recommend using green peppers, as they won't roast the same way and aren't as sweet.
Speaking of roasting, let's talk about that! Instead of chopping up the peppers and cooking them in a pan. You're going to roast them in the oven on high heat until they're soft and their skin is blistering. Then you'll peel the skin, discard the seeds, and just keep the silky smooth peppers. This step is time consuming, but can be done up to 48 hours in advance! Simply store your peppers in the fridge until needed.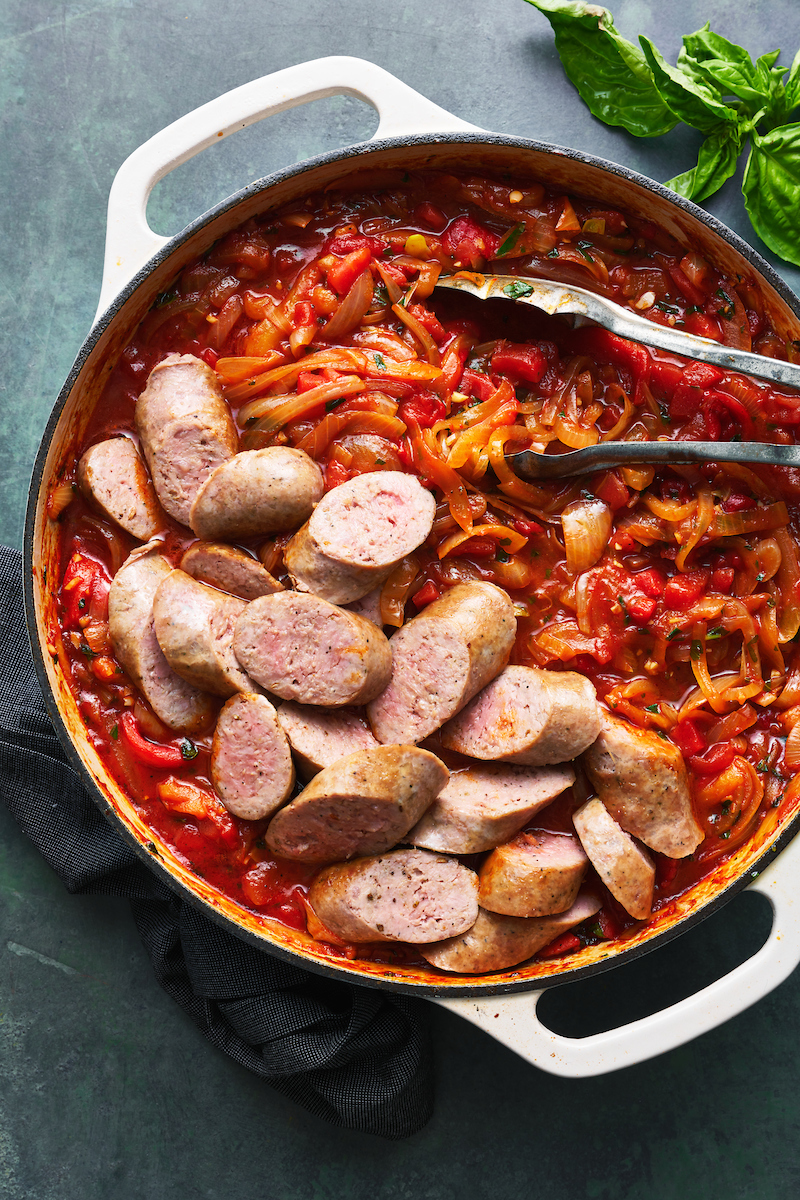 What's the best kind of Sausage?
As you'll see in the recipe box below, I call for sweet Italian sausage. But honestly, any variety will work! So feel free to use hot Italian sausages, mild Italian sausages, or a combination!
What about the Wine?
I use marsala wine in this recipe and whole heartedly believe it's the best choice! Dry or sweet, both work! Obviously one will create a sweeter sauce and one will create a drier (less sweet) sauce, so choose based on your taste preferences. Either way, this wine adds a subtle sweetness and doesn't overpower the other ingredients. That being said, you can definitely use red wine, white wine, or even chicken broth instead. Just be warned this will alter the flavor!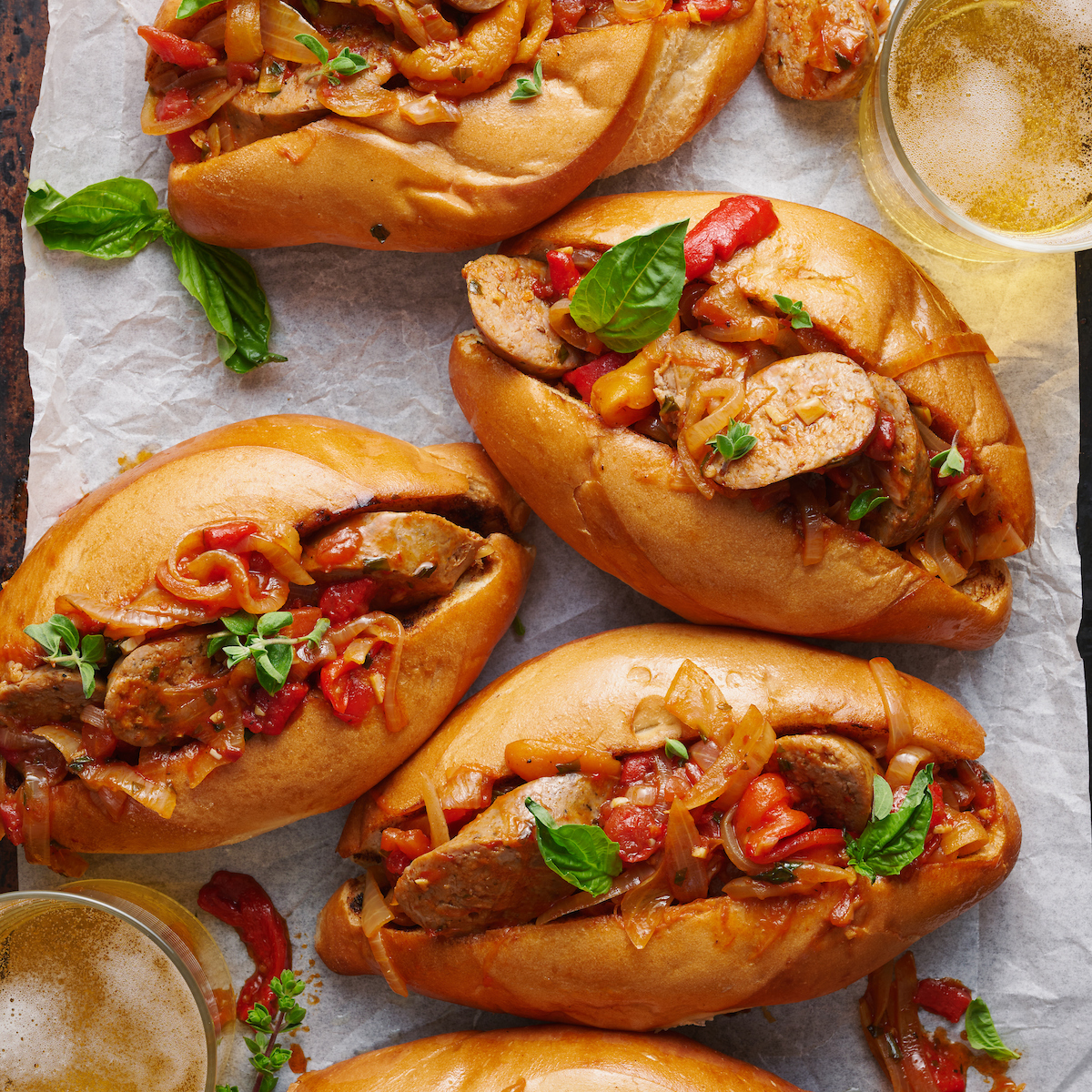 Let's Make Sausage and Peppers
You'll need a large dutch oven or saucepan for this recipe! You can definitely brown the sausages in a large skillet over medium heat, but you'll need more room for all of the sauce. So I say save yourself a dish and just cook everything in one pan.
You'll brown the sausages first, and then set the semi-cooked sausages aside. Next you'll cook down the onion and peppers. These are seasoned with red pepper flakes and brown sugar (don't skip it). Then a TON of garlic is tossed in, along with salt and pepper, oregano, and basil. Do not sub dried herbs here! Dried oregano and dried basil will not work. Finally you'll add the tomato paste, tomato sauce, and wine. I call for diced tomatoes, but an equal amount of crushed tomatoes will work fine! Just don't use the whole 28 ounce can or you'll have watery sauce. Then you'll add the sausage back and simmer for 25 minutes.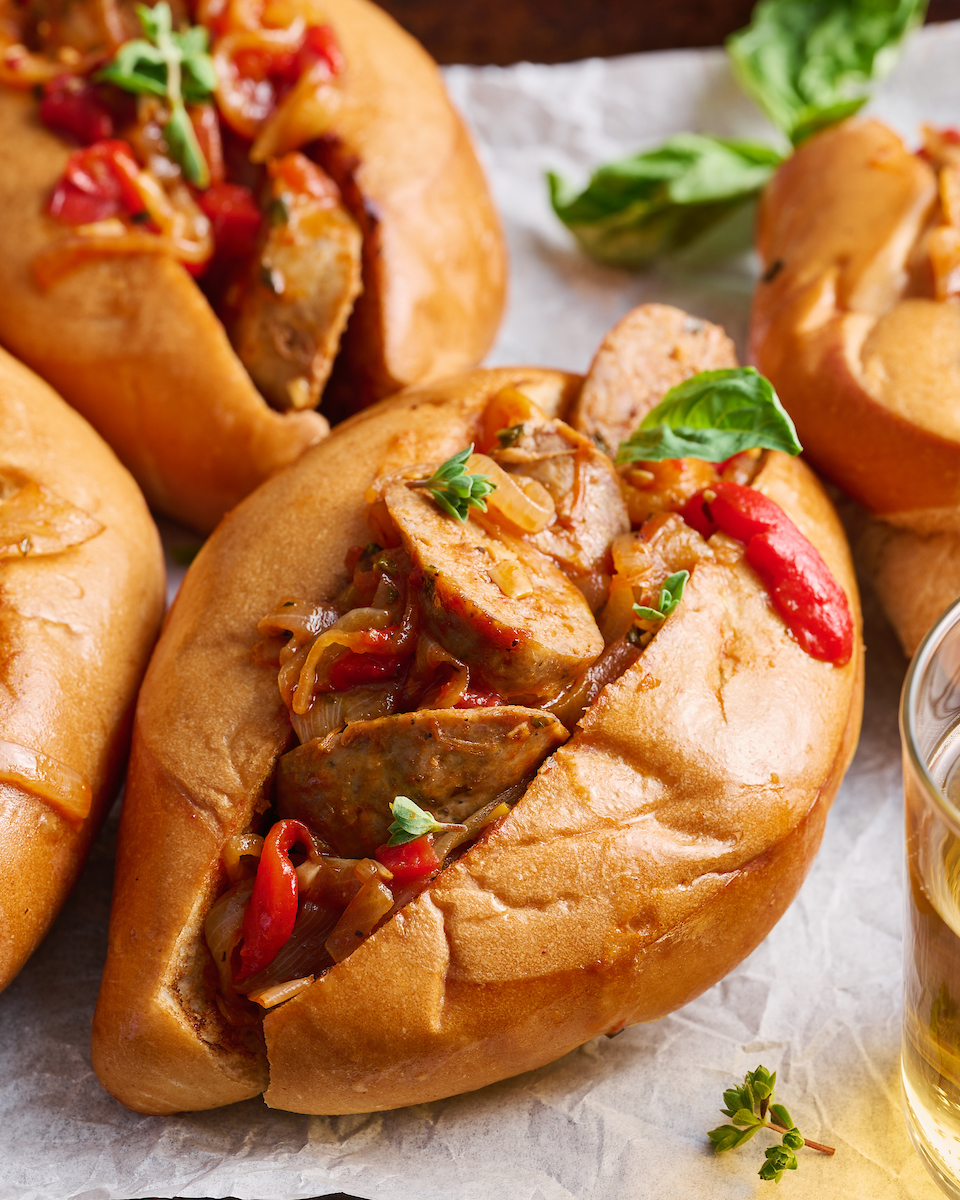 This definitely isn't the quickest recipe, but it can be made in phases and ahead of time, which makes it doable! And it's so delicious it's worth the effort!
More Sausage Recipes: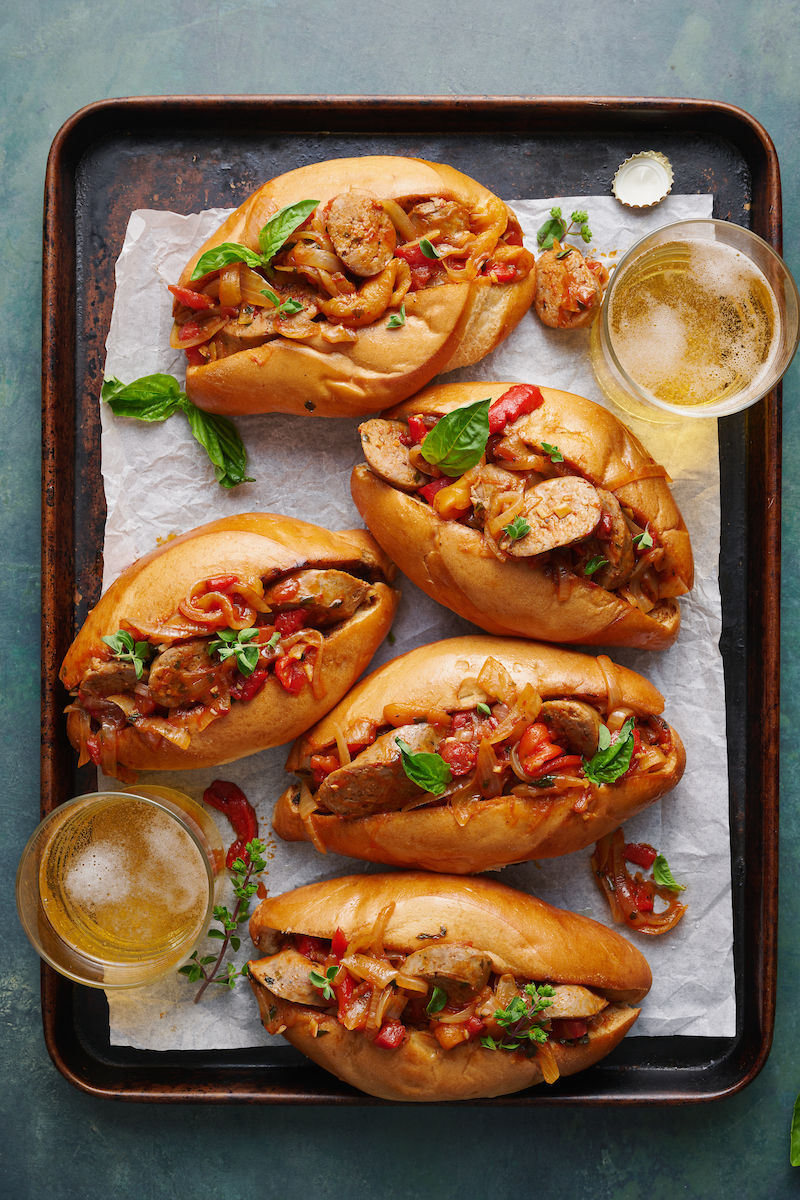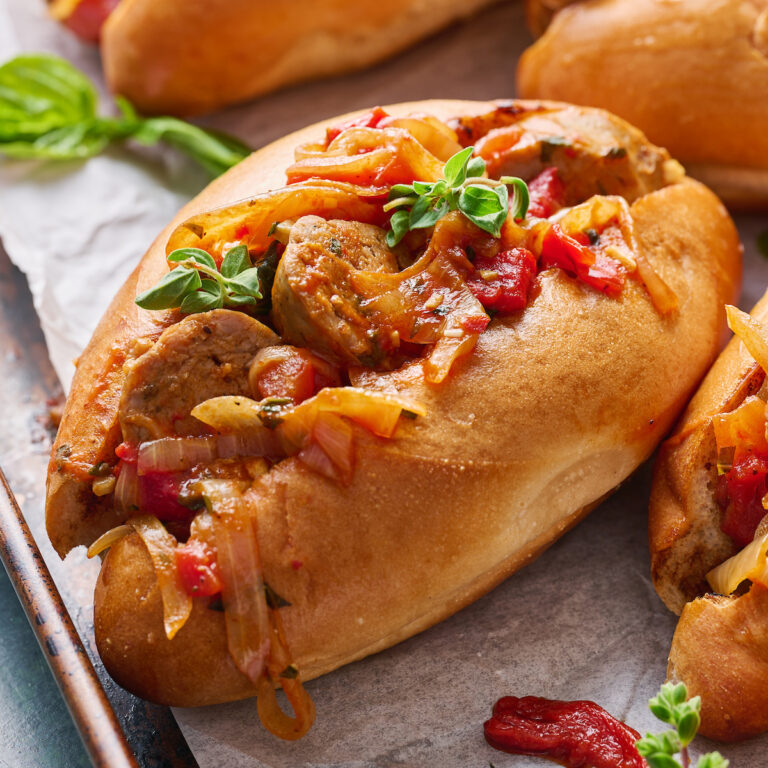 Italian Sausage and Peppers
Italian Sausage and Peppers is delicious served with pasta or piled high on a chewy hoagie roll! Loaded with sausage, peppers, and onions and coated in a tangy tomato sauce, this is one of my favorite recipes to make for company! Serves a crowd and can be kept warm in a crockpot or slow cooker.
Ingredients
2 red bell peppers
2 yellow bell peppers
1/4 cup plus 2 tablespoons (78 ml) olive oil divided
2 pounds sweet Italian sausage
3 large yellow onions cut into 1/2"-inch slices
1 and 1/2 teaspoons light brown sugar
3/4 teaspoon crushed red pepper flakes use less, if desired
1 and 1/4 teaspoons salt
1/2 teaspoon black pepper
1 teaspoon fresh oregano minced
1/2 cup fresh basil leaves loosely packed
8 cloves garlic minced
1/4 cup (57 g) tomato paste
1 cup (227 ml) marsala wine dry or sweet, depending on taste preference
(1) 14.5 ounce can diced tomatoes
Instructions
Preheat the oven to 425 degrees (F). Place the red and yellow peppers on a heavy sheet pan and place in the oven for 30 minutes, turning at the halfway point, or until the skins are wrinkled and the peppers are charred. 

Very carefully remove the pan from the oven, cover it tightly with aluminum foil, and set aside for 30 minutes, or until peppers are cool enough to safely handle. 

Remove the stem from each pepper and gently tear them in half. Remove the peels and seeds. Discard the stems, peels, and seeds. Chop the peppers into ½-inch slices and set aside until needed. 

Place a large saucepan over medium heat. Add in 2 Tablespoons (28 ml) of the oil and warm until shimmering. While the pan warms, take a fork and prick the sausages all over, making little holes in the skin. Add the sausages to the skillet and cook until brown on all sides, turning them frequently, about 8 to 10 minutes. Remove the sausages from the pan and set them aside on a clean cutting board. Drain any grease from the pan, then place it back over medium-heat. 

Add the remaining oil (57 ml), roasted peppers, onions, brown sugar, and red pepper flakes and cook, stirring occasionally, until the onions have softened and are golden brown, about 6 minutes.

Stir in the salt, pepper, oregano, basil, and garlic and continue cooking, stirring frequently, for 2 more minutes. 

Add in the tomato paste and stir until well combined. Then pour in the wine and cook for 2 minutes, scraping the bottom and sides of the pan as your stir. Finally, stir in the diced tomatoes and stir well to combine.

Slice the sausages into 1-inch pieces. Add sausage into the sauce and stir well to combine. Bring sauce to a simmer and then partially cover and cook, stirring occasionally, for 25 minutes.

Serve warm, on hoagie rolls or over pasta.