Bite-Sized Brown Butter Chocolate Chip Cookies are thick, chewy, and bursting with mini chocolate chips! Bonus: They're just SO cute. The perfect mini chocolate chip cookie recipe to share with friends!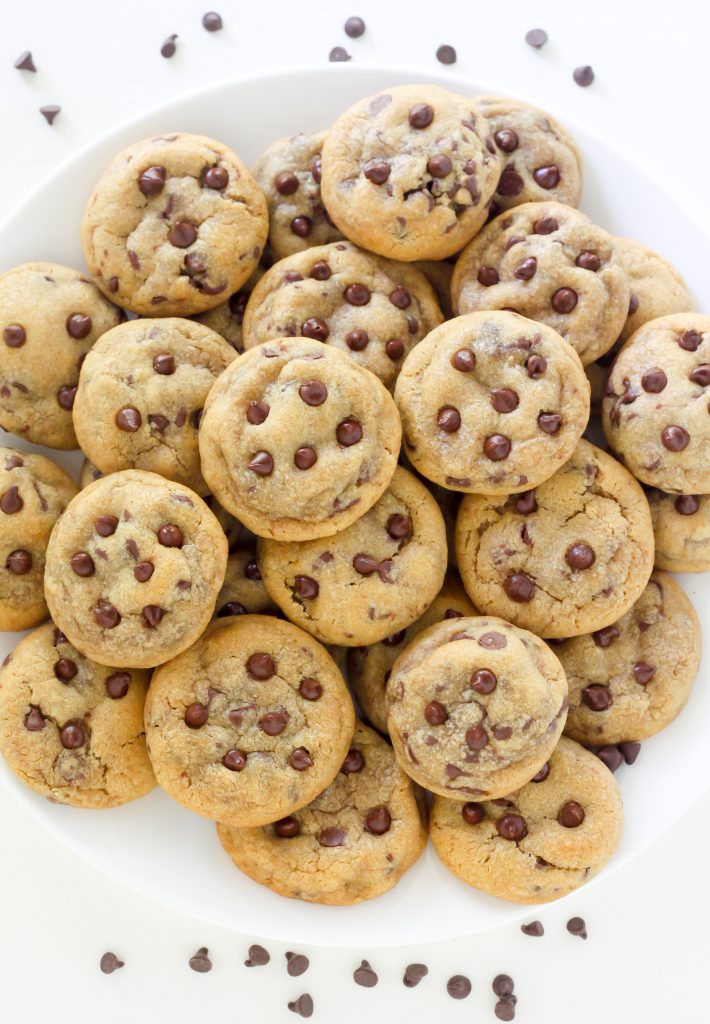 Mini Chocolate Chip Cookies
Today's recipe is a teeny-tiny, bite-sized, oh-so-adorable version of my beloved everyday chocolate chip cookies. <—- Those chocolate studded cookies are by far the #1 most requested dessert by my family and friends, and the dessert I most often find myself making JUST FOR ME. They're really just that GOOD.
And in the Summer… a scoop of vanilla ice cream on one cookie… another cookie on top of that scoop of vanilla… press down lightly and… well, I think you know where I'm going with this. Homemade Ice cream sandwiches for ALL ♡♡♡♡♡♡♡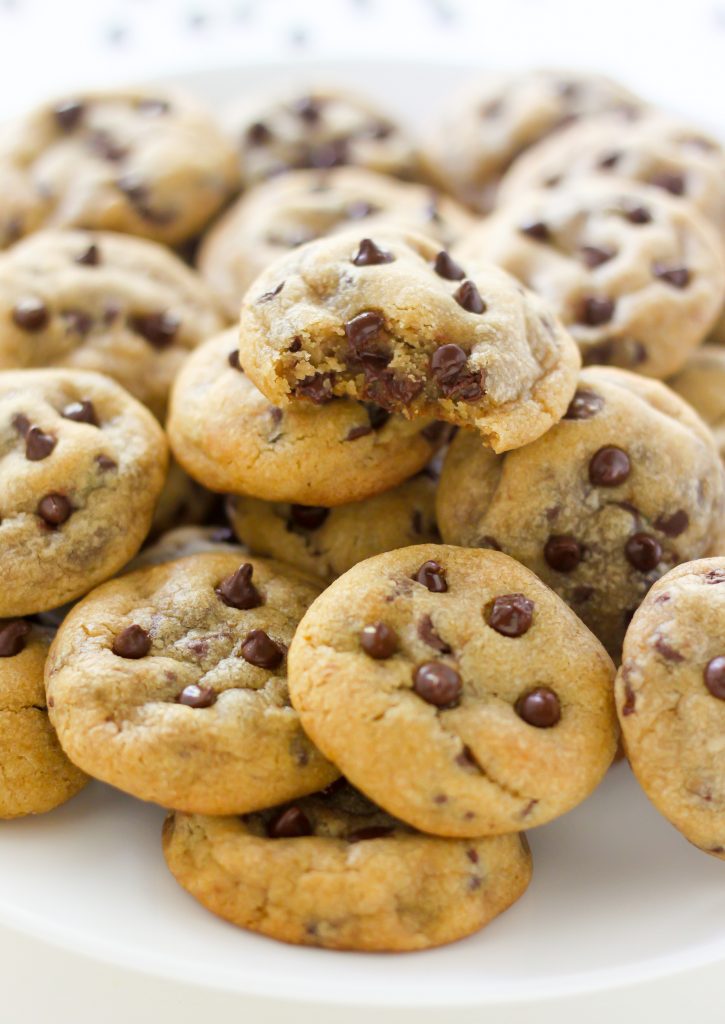 But I digress. Back to business; back to the cookies. Last week I decided to take good and make it even better. I took my famous chocolate chip cookie recipe and tweaked it – just a little bit.
Here's what I did:
1) I swapped out the big boy chocolate chips I use in the original recipe, and in their place tossed in an equal amount of baby chocolate chips. Baby chocolate chips – better known as mini chocolate chips, are equally delicious and full of chocolatey goodness, but obviously waaaaay cuter because um, tiny things always are.
2) I lowered the cooking temperature and cut the cooking time in half. To be more specific, I lowered the temperature from 375 degrees (F) to 350 degrees (F). I also cut the baking time down from 13 minutes to a mere 7. I will explain why I made these changes in the snippet below.
3) The baking time and temperature are adjusted for this version because I made these cookies into minis. The rolled balls of cookie dough around just 1 tablespoon in size, meaning they bake FAST. Baking them at a lower temperature helps them keep that soft and chewy texture we all know and love.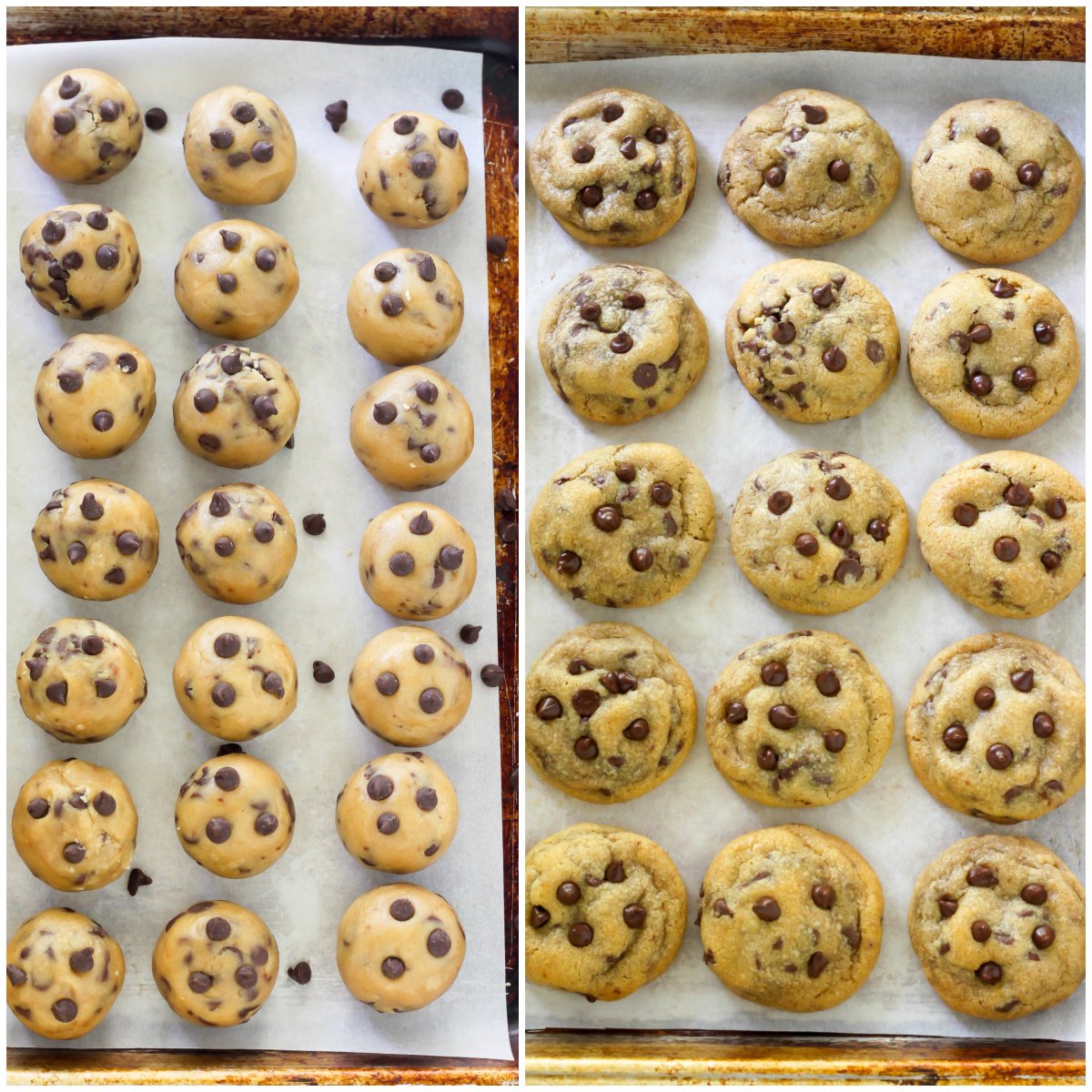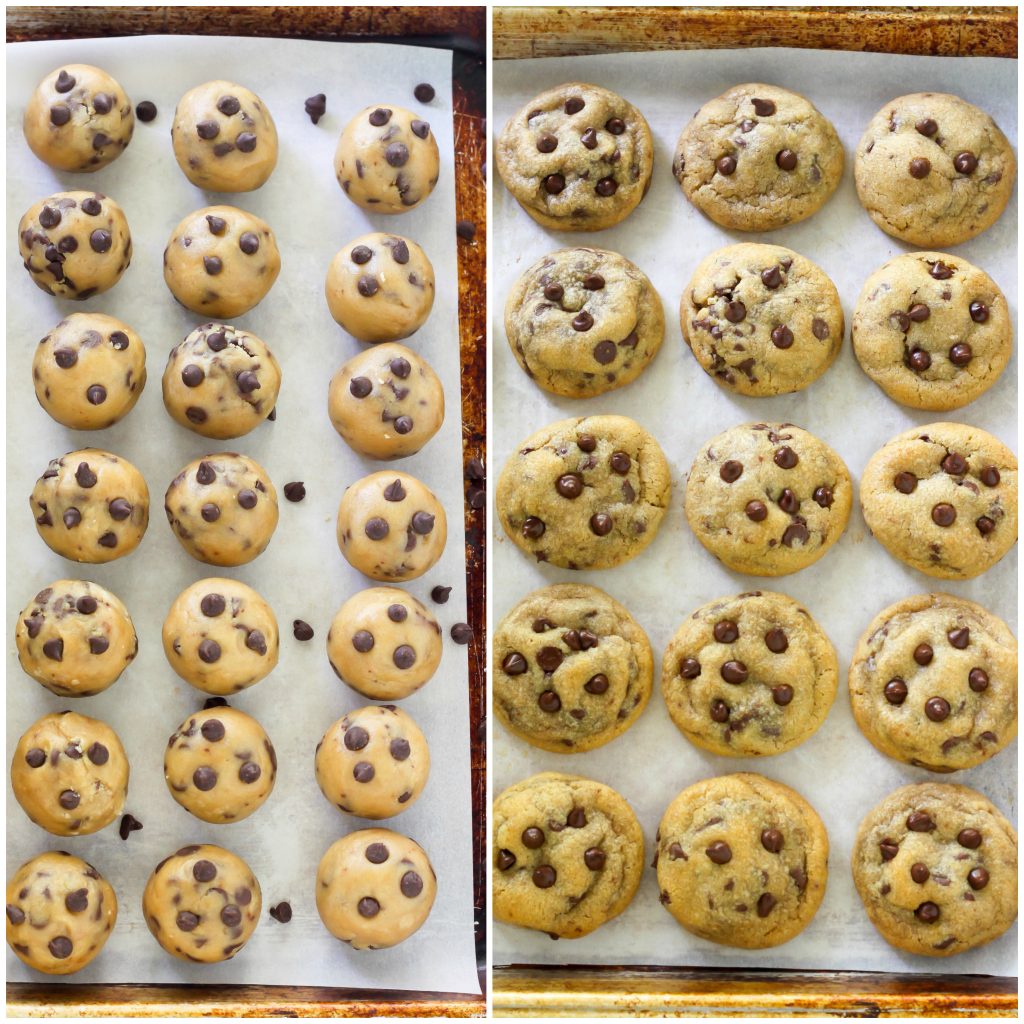 Brown Butter Cookies
So, more about the recipe. Let's talk details, yes? There really aren't too many, so I promise I won't bore you with a million and one little details. I'm just going to do a quick rundown of the IMPORTANT ones. Here we go!
1) You must (must must must!) bring your brown butter back to room temperature. You can easily do this by pouring the hot browned butter into a heatproof bowl (do be sure it's heatproof, friend, as the butter is blazing off the stove-top), then placing said bowl in the fridge for about 30 minutes.
2) If you want your cookies to look like the ones in my pictures, shape your balls of dough into nice little round balls and bake. Right when you pull them out of the oven, gently press a few more mini-chocolate chips on top of each cookie, then let them cool completely. This is my go-to trick for gorgeous cookies every time 😉
3) Don't over bake! This one is important. The cookies will look very soft and under-baked when you pull the tray out of the oven. This is OK because you're going to allow the cookies to cool on the tray. Cooling the cookies on the tray means they're going to continue baking even after they've left the oven. Once cooled (completely) they will be thick, chewy, and soft.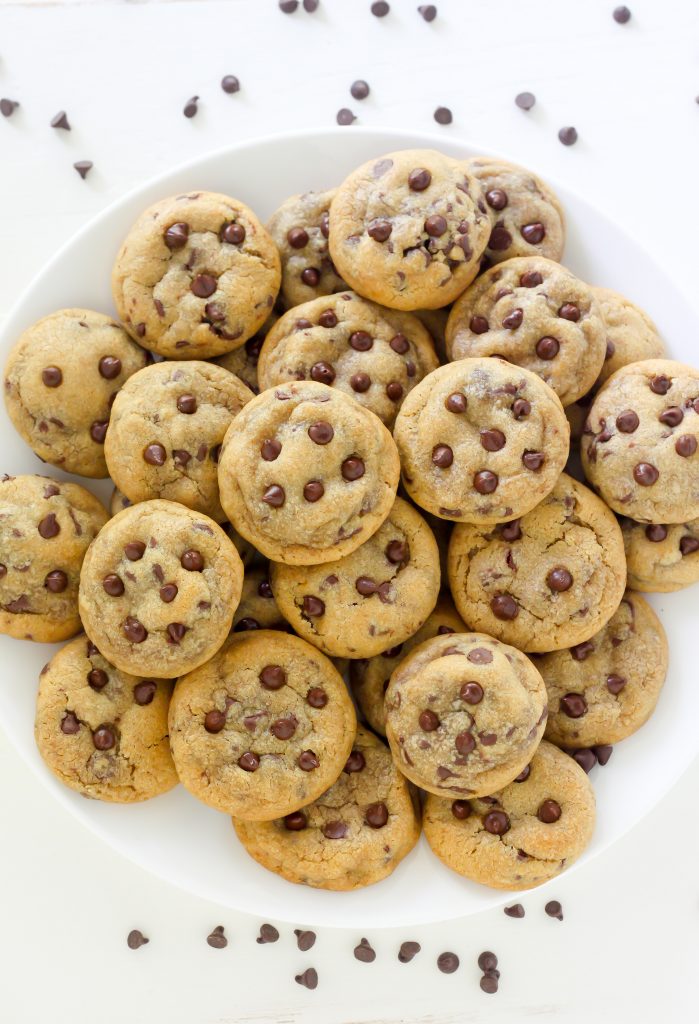 As these cookies bake in your oven your entire home will smell like brown butter, sugar, and chocolate. 7 minutes later, you'll have a batch of fresh baked mini chocolate chip cookies ready for the taking.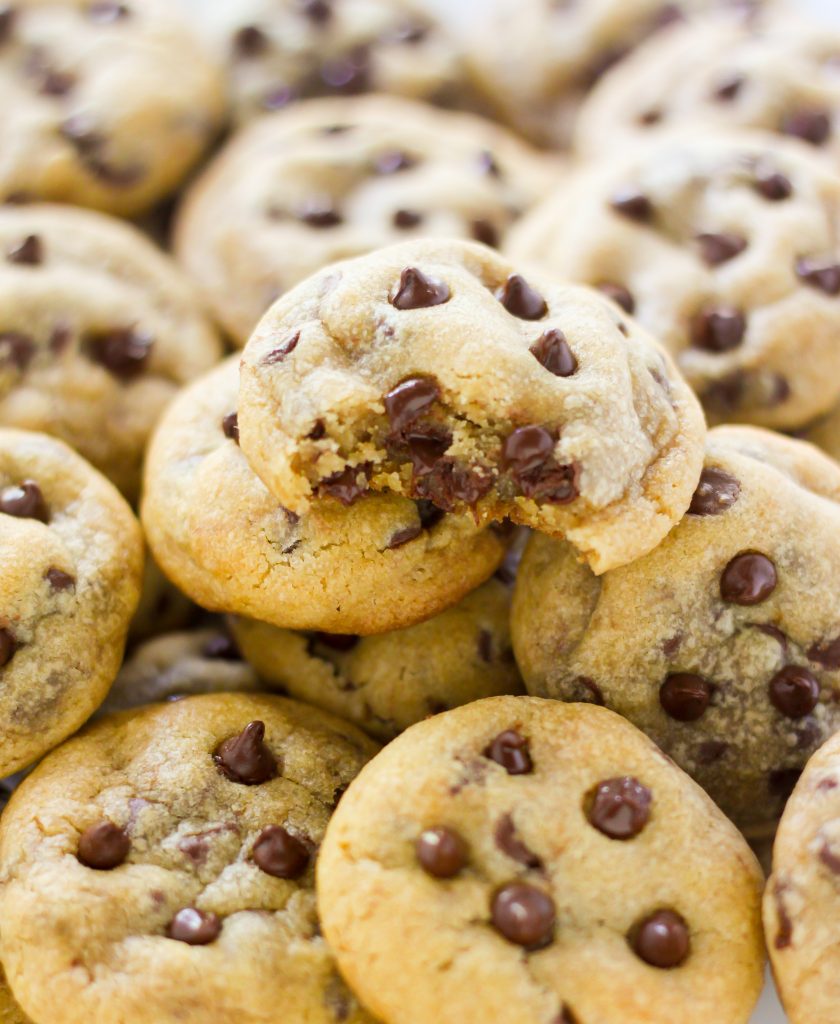 Yes, my friends, this scenario is just as glorious as it sounds!
AND IF YOU TRY THIS MINI CHOCOLATE CHIP COOKIE RECIPE, PLEASE LET ME KNOW! LEAVE A COMMENT BELOW AND DON'T FORGET TO SNAP A PIC AND TAG IT #BAKERBYNATURE  ON INSTAGRAM! SEEING YOUR KITCHEN CREATIONS MAKES OUR DAY.
More Chocolate Chip Cookie Recipes: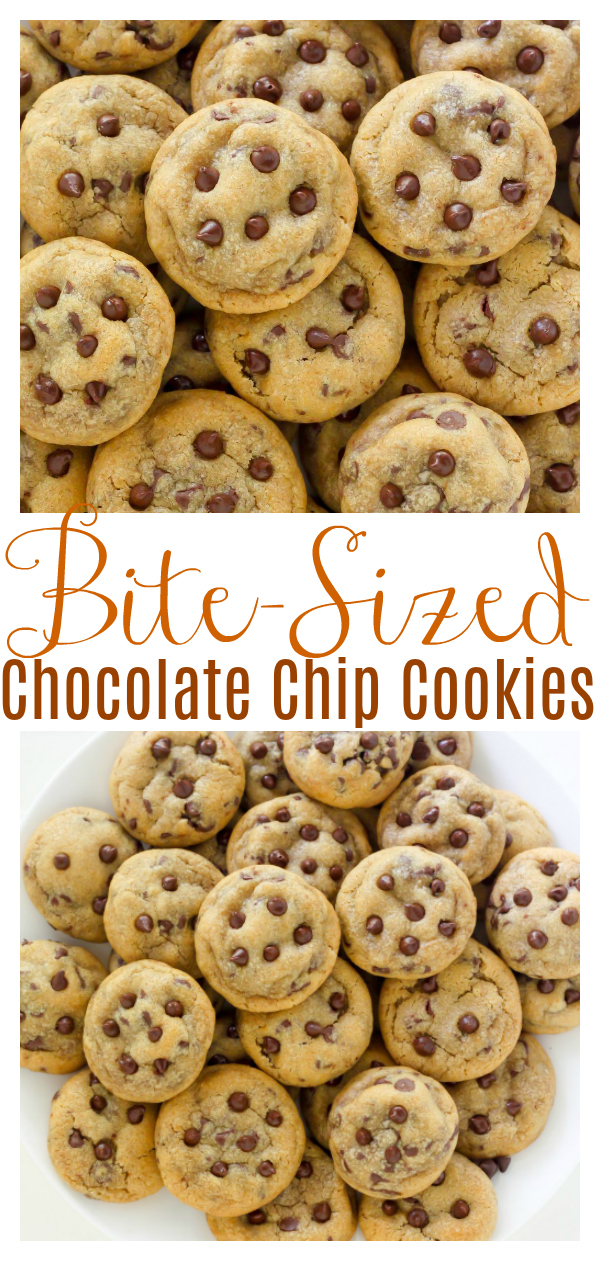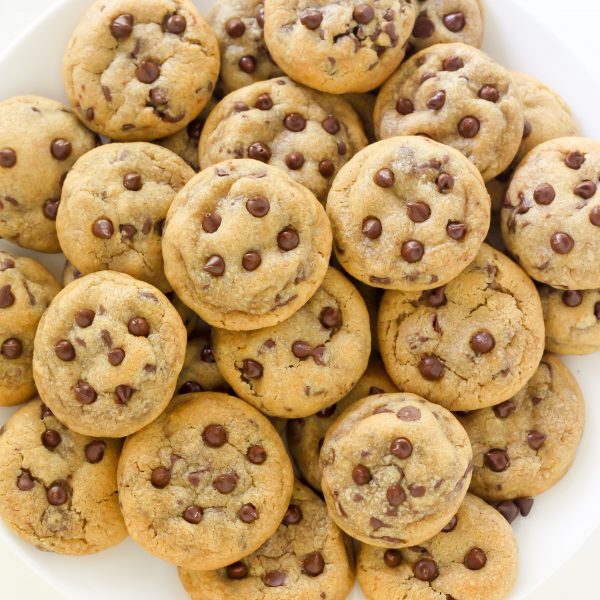 Bite-Sized Brown Butter Chocolate Chip Cookies
Bite-sized Brown Butter Chocolate Chips Cookies are perfect for any occasion!
Ingredients
2 1/2 cups all-purpose flour
1 teaspoon baking soda
1/2 teaspoon flaky sea salt
2 sticks (16 tablespoons; 8 ounces) unsalted butter
1 cup + 2 tablespoons dark brown sugar
1/2 cup granulated sugar
3 teaspoons vanilla
2 large eggs, at room temperature
2 1/2 cups mini chocolate chips
Instructions
Preheat oven to 350 degrees (F). Line 2 large baking sheets with parchment paper; set aside.

In a medium-sized bowl whisk together the flour, baking soda, and sea salt; set aside.

Place one stick of butter in a small saucepan over medium-high heat and cook for about 3 minutes – stirring almost constantly – or until the butter has browned. Remove from heat and stir in remaining stick of butter; whisk until completely smooth. P

our the hot butter into a heat proof bowl, then place the bowl in the refrigerator or freezer and bring the butter back to room temperature. *You'll know the butter is at room temperature when you press a finger into the top and it makes a slight indentation.

Once the butter is at room temperature…

Add the sugars and the vanilla to the browned butter and beat on medium-speed until light and fluffy; about 2 minutes (you may use a stand mixer/ handheld mixer to help if you have one). Add the eggs and beat quickly – for only about 30 seconds – until they're just combined; scrape down the sides of the bowl with a rubber spatula. Let the mixture rest for 5 minutes, then beat the eggs for another 30-45 seconds. Gently fold in the flour mixture with a wooden spoon, stirring only until the flour begins to disappear. Fold in the mini chocolate chips.

Roll scant tablespoon sized balls of dough between your palms to form a ball, then place on prepared sheet (make sure to leave a little bit of room in between each cookie for inevitable spreading). Continue this process until all the dough has been rolled. Place baking sheets, one at a time, in preheated oven and bake for 7-8 minutes, or until golden at the edges but still soft in the middle. Let cookies cool for 15 minutes on the sheet before transferring to a wire wrack to cool completely.