This Chocolate Chip Pumpkin Bundt Cake recipe is super moist thanks to a whole can of pumpkin puree! Easy and impressive, this is one of the best pumpkin desserts to bake for Halloween or Thanksgiving.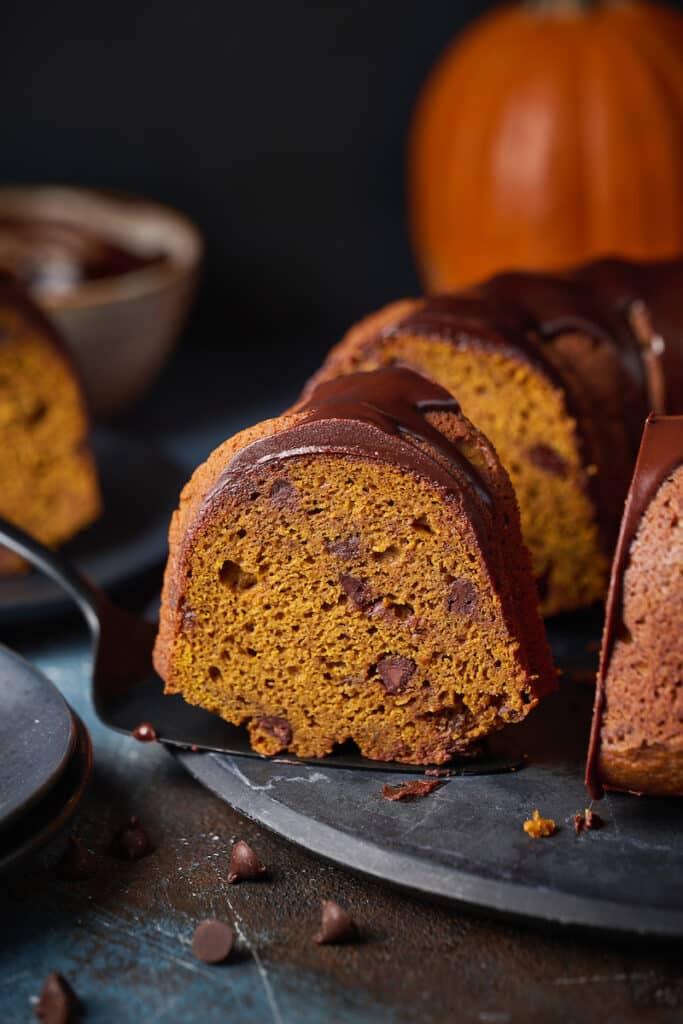 Chocolate Pumpkin Bundt Cake Recipe
It's no secret that I love pumpkin desserts! We have dozens of pumpkin recipes on our website. And this fall I've already shared new recipes for pumpkin coffee cake muffins AND pumpkin cake with cream cheese frosting! Both have been on heavy rotation in my kitchen… and I see no end in sight.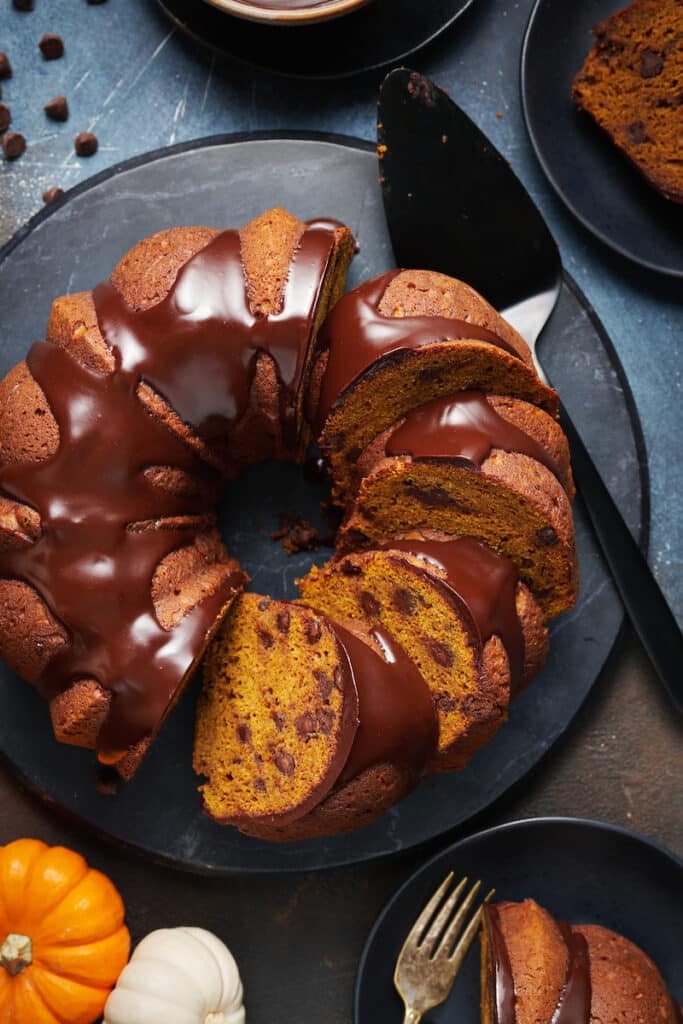 But I must admit this chocolate chip studded pumpkin Bundt Cake recipe has a special place in my heart. It's stick-to-your-fork moist, packed with pumpkin flavor, and loaded with gooey chocolate chips. A shiny chocolate glaze on tops is… well, literally the icing on the cake!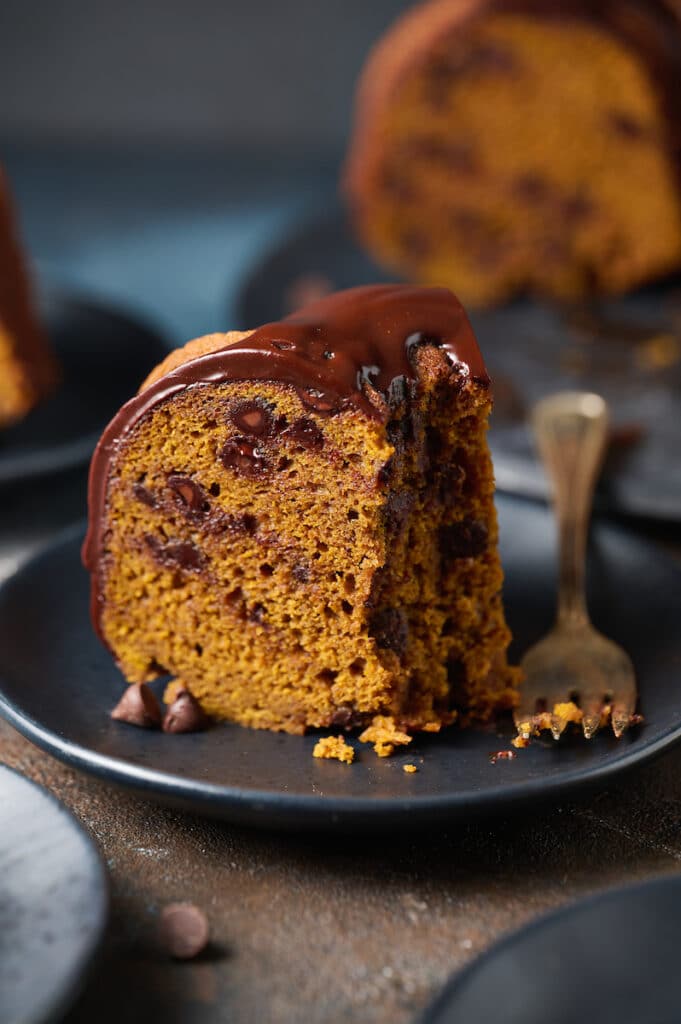 Why you'll Love Pumpkin Bundt Cake:
Quick and Easy to Bake! No need to be a baking pro to make this cake. Just pour the batter into a Bundt Cake pan and bake.
Made with gooey chocolate chips and topped with chocolate glaze, it's the perfect pumpkin dessert for chocolate lovers.
Loaded with pumpkin pie spice flavor thanks to pumpkin puree and cozy spices.
Super moist and flavorful because you use butter, vegetable oil, and an ENTIRE can of pumpkin puree in the cake batter.
Perfect for breakfast, brunch, or dessert. Halloween party? Bake this! Thanksgiving breakfast snack? This pumpkin Bundt Cake recipe is the perfect choice!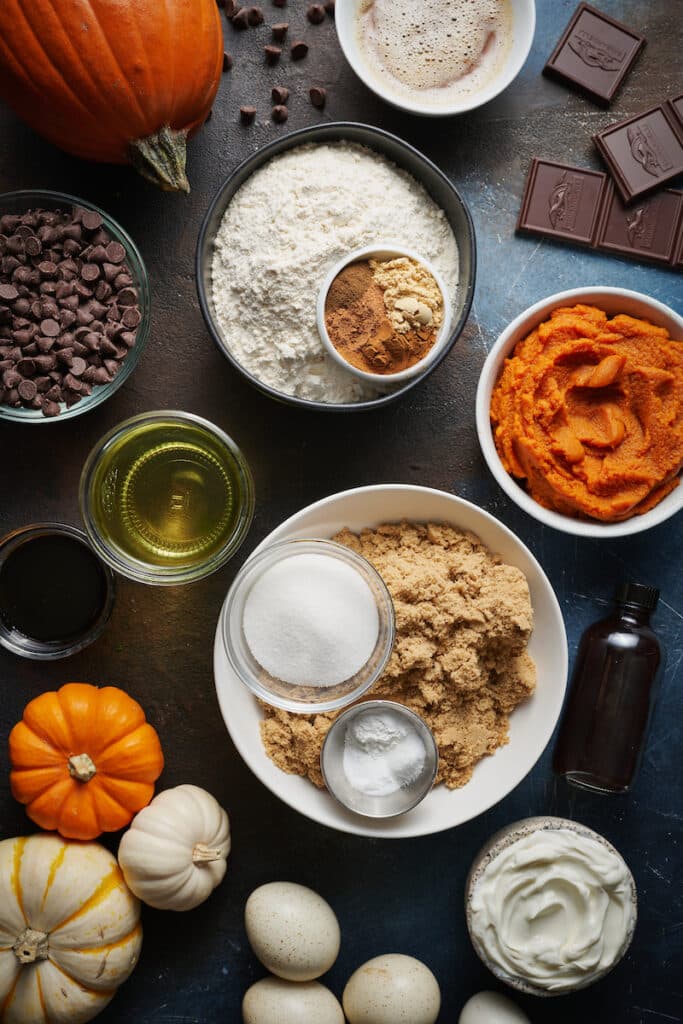 What You'll Need to Bake Pumpkin Cake
This might look like a long list of ingredients, but don't fret. Most of them are dry ingredients you probably already have hiding in your pantry! Or basic fridge staples like butter and eggs!
Bundt Cake Pan: Unfortunately, I don't recommend making this recipe into a sheet cake or cupcakes. It works best baked in a bundt cake pan, so be sure to have one on hand. This is a very large cake, and required a bundt pan that can hold 10 to 12 cups of batter.
Pumpkin Puree: Although homemade pumpkin will technically work, I suggest using canned pumpkin puree for best results. Moisture levels vary in homemade pumpkin puree, so if you do use it, blot it first to remove some moisture.
Molasses: Be sure to use classic mild molasses, not robust or blackstrap molasses.
Eggs: Use large eggs and be sure to bring them to room temperature before you add the eggs to the batter.
Sugar: You'll use granulated sugar and brown sugar for this pumpkin Bundt Cake recipe. I recommend using light brown sugar but dark brown sugar will work just fine!
Vanilla Extract
Vegetable Oil: Feel free to sub canola oil instead! Or if you're not worried about adding more saturated fat, melted refined or unrefined coconut oil will also work.
Sour Cream: If you cannot find sour cream, full-fat plain Greek yogurt is the best substitute.
Butter: In addition to adding moisture, melted browned butter adds incredible flavor to this cake!
All-Purpose Flour: Of all the dry ingredients, this is the most important. I have only tested this recipe with all-purpose flour and cannot recommend flour substations.
Leavening Agents: Baking powder AND baking soda help this cake rise and spread properly. Be sure they're both fresh so they work properly.
Spices: Use ground cinnamon, ginger, cloves, and nutmeg to make homemade pumpkin pie spice! Or feel free to sub 3 and 1/2 teaspoons of pumpkin pie spice instead.
Salt: A tiny dash of salt balances the sweetness in this cake and enhances all the other flavors.
Chocolate: You'll use chocolate chips in the pumpkin bundt cake recipe and bittersweet chocolate for the glaze.
Heavy Cream: The chocolate glaze is a thinner chocolate ganache, made up of chocolate and heavy cream. Be sure to heavy cream aka whipping cream, not milk or half and half.
Corn Syrup: This ingredient is 100% optional! It makes the glaze shiny and extra sweet, but you can leave it out without substituting anything else.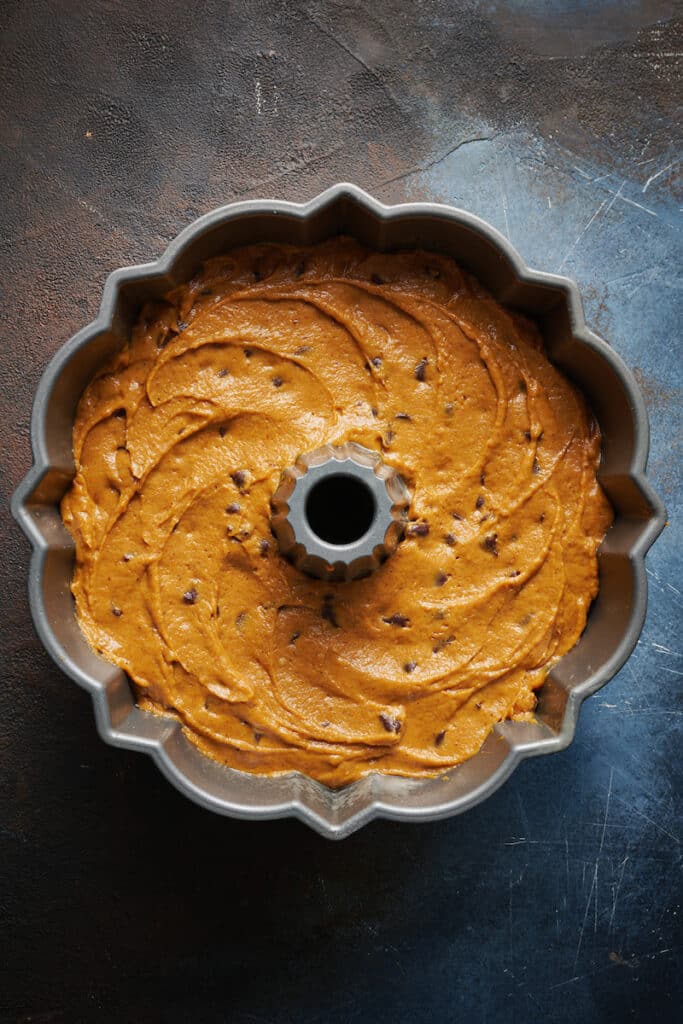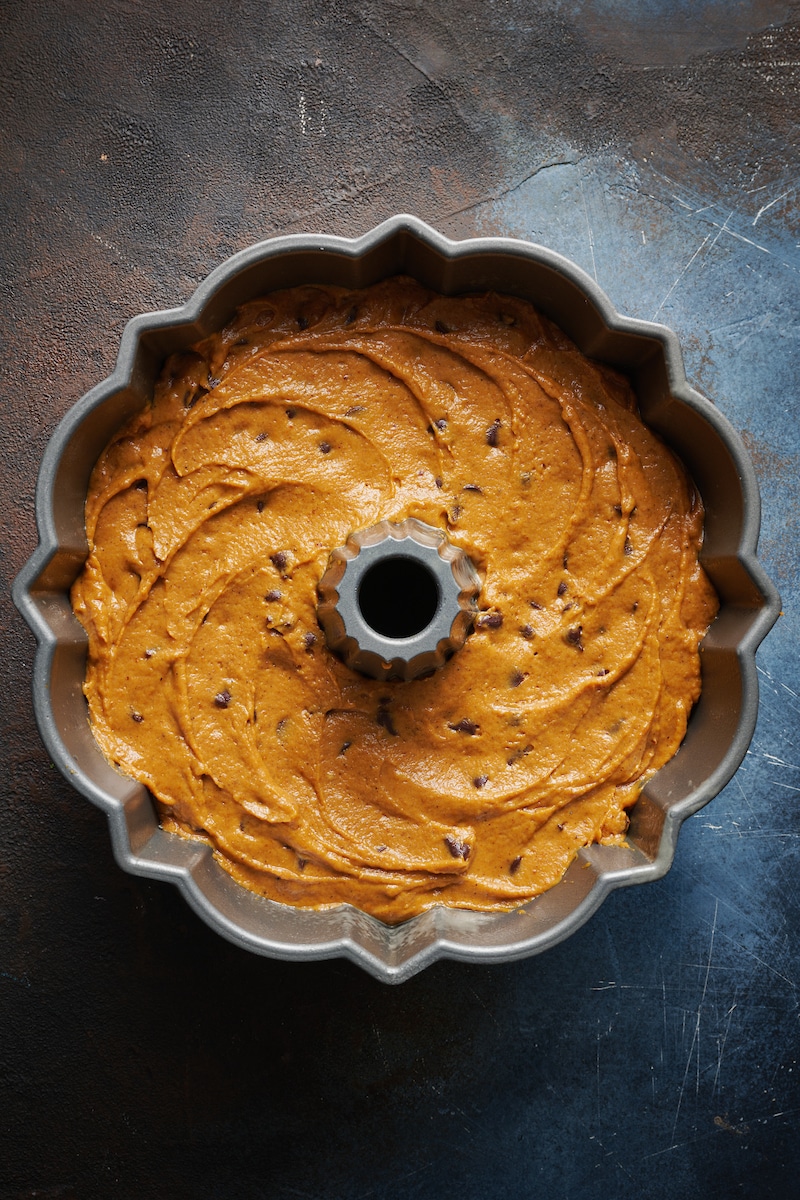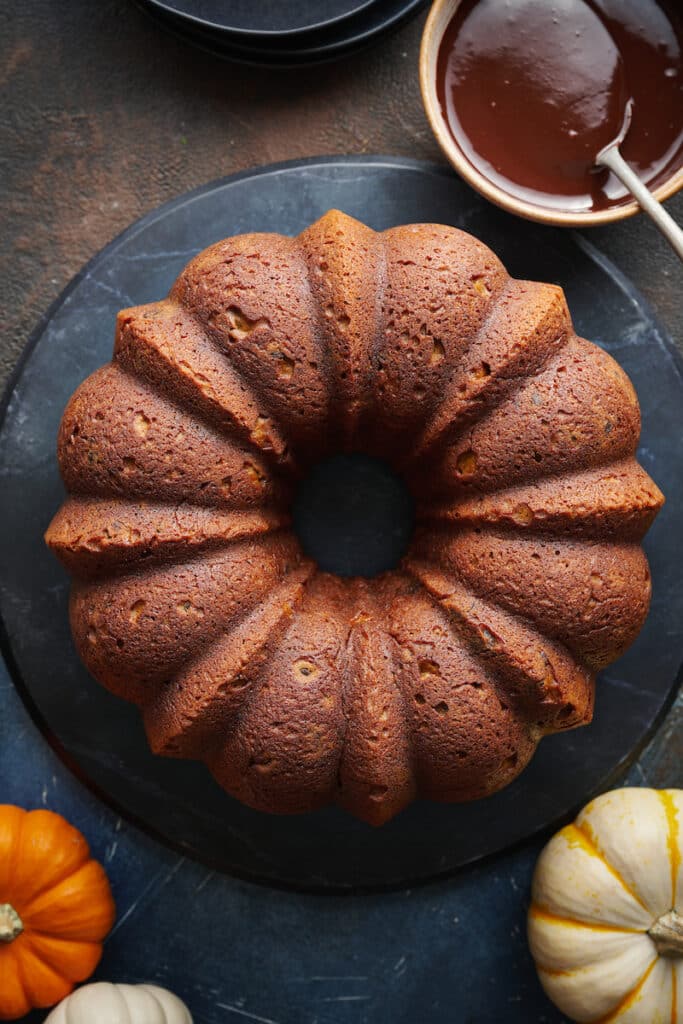 How to Make Pumpkin Cake Super Moist?
Measure your flour properly! The biggest sin in most baking recipes? Using too much flour, which creates dry and bland baked goods! Be sure to measure your flour with a digital kitchen scale or lightly spoon it into the measuring cup.
You don't need to add the eggs one at a time. But you do need to beat them well before adding any other ingredients. I suggest whisking the eggs for about 45 seconds to incorporate enough air into the batter.
Don't over mix the cake batter. Over mixing will create a dry and dense cake. Once you've added the dry ingredients into the batter, you want to mix as minimally as possible.
Avoid over baking your cake, which can dry it out. Baking times are only estimates, and can vary depending on your oven and baking pan.
Cool the cake in the baking pan, on a wire rack, for 12 minutes exactly! Then turn it out onto the wire rack to cool completely. If you try to cool the cake in the pan any longer it will likely stick. And continue to bake from the heat of the pan, which can cause a dry cake.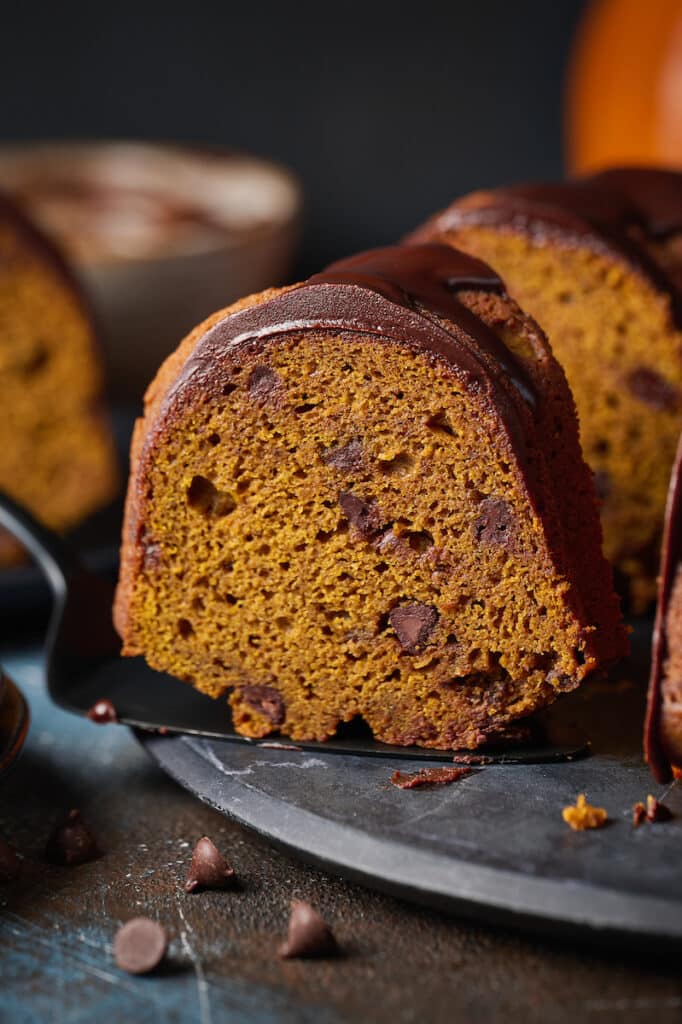 More Pumpkin Desserts: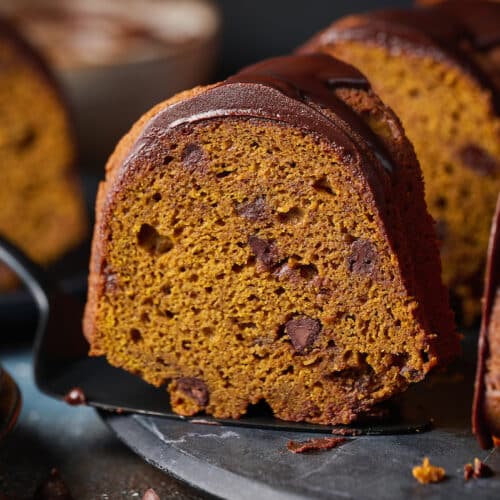 Chocolate Chip Pumpkin Bundt Cake
This Chocolate Chip Pumpkin Bundt Cake recipe is super moist thanks to a whole can of pumpkin puree! Easy and impressive, this is one of the best pumpkin desserts to bake for Halloween or Thanksgiving.
Ingredients
For the Chocolate Chip Pumpkin Bundt Cake:
4 large eggs room temperature
1 and 1/2 cups (319g) light brown sugar packed
1/4 cup (50g) granulated sugar
1 15 ounce can packed pumpkin puree *not pumpkin pie mix
3 Tablespoons (42ml) molasses
2 teaspoons pure vanilla extract
1 cup (227ml) vegetable oil
3/4 cup (170g) sour cream room temperature
6 Tablespoons (84g) unsalted butter melted until browned then lightly cooled
3 cups (360g) all-purpose flour
1 and 1/2 teaspoons baking powder
1 teaspoon baking soda
3 teaspoons ground cinnamon
2 teaspoons ground ginger
1 teaspoon ground cloves
1/2 teaspoon ground nutmeg
1/2 teaspoon salt
1 and 1/2 cups chocolate chips
For the Chocolate Glaze:
4 ounces (113g) 70% cocoa chocolate finely chopped
1/2 cup (113ml) heavy cream
1 and 1/2 teaspoons corn syrup optional
Instructions
For the Chocolate Chip Pumpkin Bundt Cake:
Preheat the oven to 325 degrees (F). In a large bowl, whisk the eggs until well combined. Add in both sugars and beat until well combined. 

Beat in the pumpkin, molasses, vanilla, oil, sour cream, and melted browned butter, and whisk until well combined. Set aside until needed. 

In a medium bowl, whisk together the flour, baking powder, baking soda, spices, and salt until well combined.

Using a rubber spatula, fold the dry ingredients into the wet ingredients, mixing just until combined. Fold in the chocolate chips, mixing just until combined. Set aside. 

Using nonstick baking spray, generously spray every nook and cranny of a 10-cup Bundt Cake pan. Scrape the batter into the pan and smooth the top. Bake in the preheated oven for 65 to 68 minutes, or until a toothpick inserted in the center comes out clean. 

Cool cake, in the bundt pan, placed on a wire cooling rack, for 12 minutes. Then invert the cake onto the rack and cool completely, about 2 hours. 
For the Chocolate Glaze:
Finely chop the chocolate and place it in a small heatproof bowl. Set aside. 

Warm the cream over medium heat until it comes to a boil. Remove from heat and pour the hot cream over the chopped chocolate and let it sit for 1 minute, then whisk until smooth. Whisk in the corn syrup, if using.

Slowly spoon the glaze over the cake, letting it drip down the sides. Allow the glaze to set for at least 20 minutes before slicing and serving!