An easy no-bake recipe for Black-Bottom Banana Cream Pie!
Black Bottom Banana Cream Pie Recipe
Bananas and I have a complicated relationship. And by that I mean I only like them when they're in dessert form. Banana cake, banana bread, banana muffins, banana donuts, and banana cookies are all perfectly acceptable forms of banana to me. But a raw banana…? Shiver. Please get it far, far away from me.
My only exception? Black-Bottom Banana Cream Pie! Which has a whole layer of fresh bananas that I'll happily eat any day of the week. You think maybe the layer of hot fudge anBd snickers bars has something to do with that?! The Oreo cookie crust doesn't hurt either 😉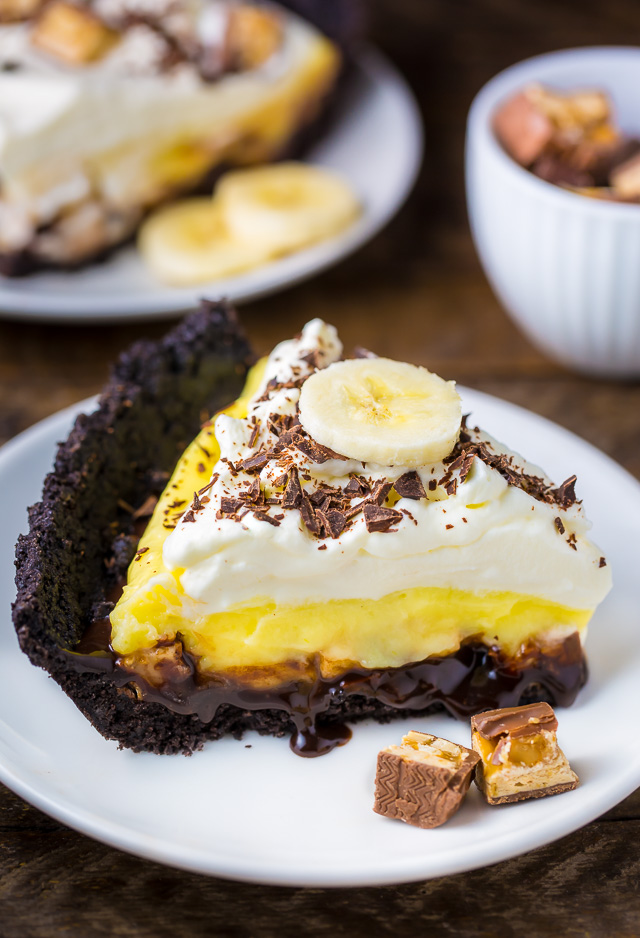 I hope you love pie, because there are a TON in your future! I'm sharing an epic apple pie with you on Monday, and my grandma's pecan pie with you later in the week. 'Tis the season, am I right?! But let's focus on the here and now, let's focus on this black-bottom banana cream pie.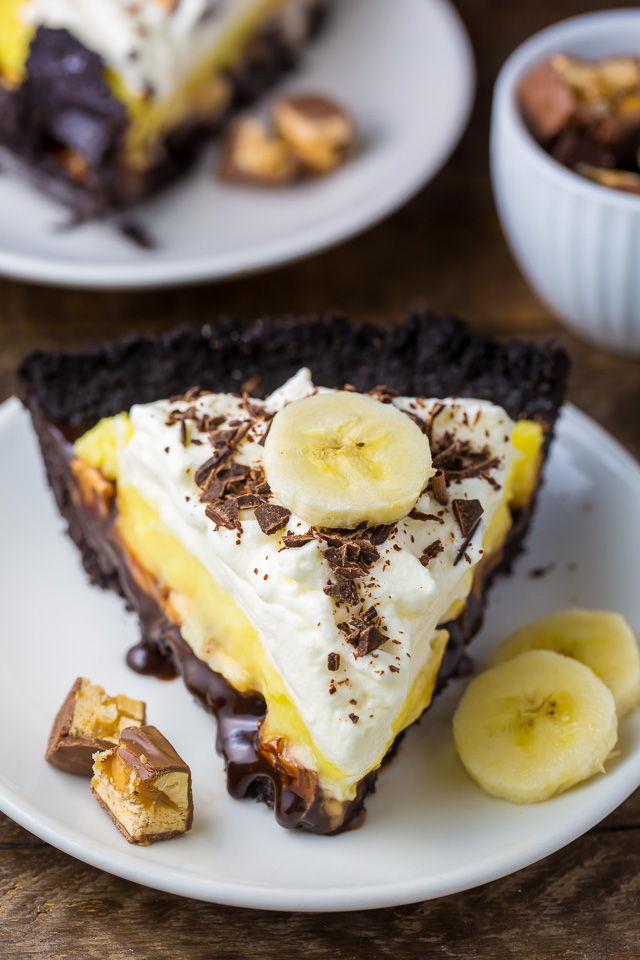 Black Bottom Banana Cream Pie with Oreo Crust
Tips and Tricks for Recipe Success:
The crust of this black-bottom banana cream pie is made from crushed Oreo cookies and melted butter. You do NOT need to remove the filling from the Oreo cookies before crushing them up.
When it comes to crushing your Oreo cookies, you have a few options. If you own a food processor or high-powered blender, you can simply place them in the body of the machine and pulse until the cookies are in fine crumbs. You may also crush them manually, by placing the cookies in a large ziplock bag, and rolling over them with a rolling pin or wine bottle. Just be sure all of the cookie bits have been finely crushed!
It's important to freeze the crust before you add the filling. I find 30 minutes is the perfect amount of time, but you can cover the crust and freeze it for up to 1 month.
To enhance the banana flavor in this pie you'll need either banana liqueur OR banana extract. If you're serving this pie to children, you may want to go with the banana extract. I highly recommend Frontier Banana Extract.
Use your favorite hot fudge for this pie. If you need a recommendation, I LOVE Sander's Dark Hot Fudge.
If you have a nut allergy, feel free to replace the Snickers bars with Twix bars, or omit them from the recipe.
Plan ahead time wise, as this black-bottom banana cream pie needs at least 2 and 1/2 hours to chill.
Don't fret if this crust for this pie crumbles a little when you slice it. You can just sprinkle them on the whipped cream topping. YUM.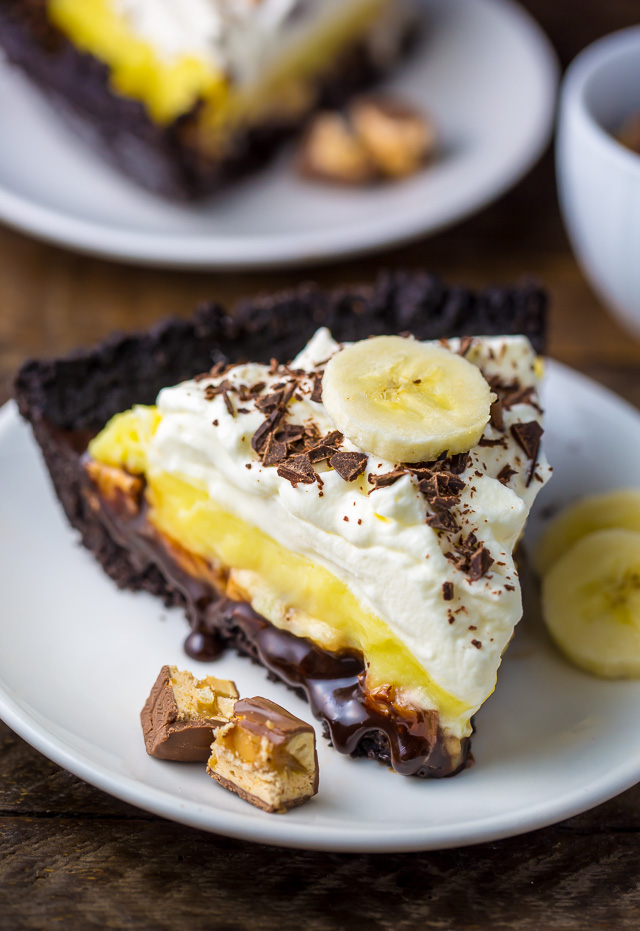 I hope you have an awesome Friday night! Any fun plans? I've been working my bootie off this week, so I'm looking forward to catching up on my shows, eating PIZZA, drinking a few glasses of red wine, and finishing the night off with a slice of pie!
↑ Sounds pretty perfect right!? xoxo
If you try this recipe, let me know! Leave a comment below and don't forget to snap a pic and tag it #bakerbynature on instagram! Seeing your kitchen creations makes my day.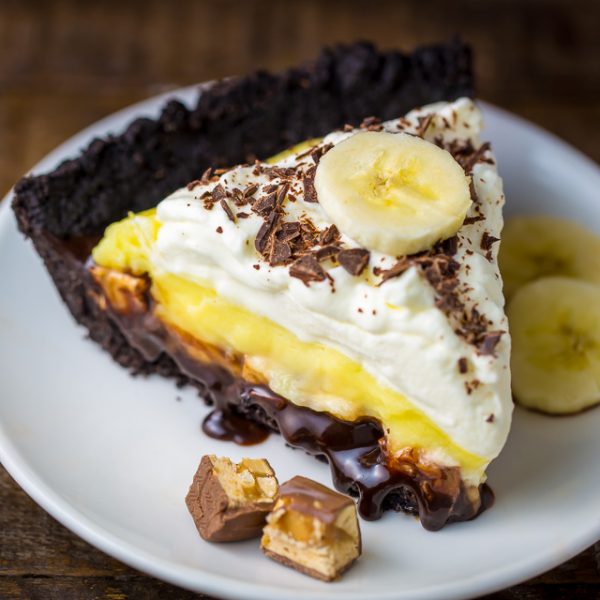 Black-Bottom Banana Cream Pie
This pie is best served the day it's made, but will keep, covered and stored in the refrigerator, for up to 3 days. For best results, I suggest adding the whipped cream topping right before serving.
Ingredients
For the Oreo Cookie Crust:
(1) 14.3 ounce package of Oreo cookies
1 stick (8 tablespoons) unsalted butter, melted
For the Banana Cream Filling:
1/2 cup granulated sugar
2 and 1/2 tablespoons cornstarch
1/4 teaspoon salt
3 large egg yolks, at room temperature
3/4 cup whole milk
1/2 cup evaporated milk
2 tablespoons unsalted butter
2 tablespoons banana liqueur OR 1 tablespoon banana extract
1 teaspoon vanilla extract
1/2 cup hot fudge (use your favorite brand)
1 full-size Snickers bars, chopped into 1/4 inch pieces
1 large banana, thinly sliced
For the Whipped Cream:
1 cup heavy whipping cream
2 tablespoons confectioner's sugar
1 teaspoon vanilla extract
Instructions
For the Oreo Cookie Crust:
Place Oreo cookies in a food processor or blender and pulse into crumbs. If you don't own a food processor or blender, place the Oreo cookies in a large ziplock bag and crush them into crumbs using a rolling pin. There should be no large chunks of cookie when you're done crushing them.

In a large bowl combine the Oreo cookie crumbs and melted butter, mix well to combine. Press the crust into a lightly greased 9" pie pan, pressing it firmly down in the middle and up the sides. Place the crust in the freezer for 30 minutes before filling.
For the Banana Cream Pie Filling:
In a medium-sized saucepan whisk together the sugar, cornstarch, salt, egg yolks, milk, and evaporated milk; continue mixing until ingredients are evenly combined. Cook over medium heat, stirring constantly, until the mixture is thick enough to coat the back of a spoon, about 10 to 12 minutes. Remove pan from heat and whisk in butter, banana liqueur, and vanilla. Set aside to cool for 10 minutes, stirring frequently so skin doesn't form.

Remove your No-Bake Oreo Cookie Crust from the freezer. Spread the bottom evenly with hot fudge, then sprinkle the fudge with chopped Snickers. Layer the sliced bananas over the Snickers, completely covering them in a single layer. Pour the partially cooled custard over the bananas and spread smooth using a rubber spatula. Cover the surface of the custard with saran wrap then place the pie in the refrigerator to cool for at least 2 and 1/2 hours. When ready to serve, spread the whipped cream over the top of the pie, and top with extra banana slices. Slice and serve at once!
For the Whipped Cream:
In the bowl of a stand mixer fitted with a paddle attachment, or in a large bowl using a handheld electric mixer, beat the heavy cream, sugar, and vanilla on medium-high speed until soft peaks form, about 3 minutes. Right before serving, spread the whipped cream over the top of the pie, and top with extra banana slices, if desired.