Sweet and juicy blueberries are the filling for these luscious little blueberry hand pies with lemon poppy seed crust! The crust is golden, flaky, and pure poppy seed perfection! It's also perked up with poppy seeds and lemon zest for a fun twist on the classic combo.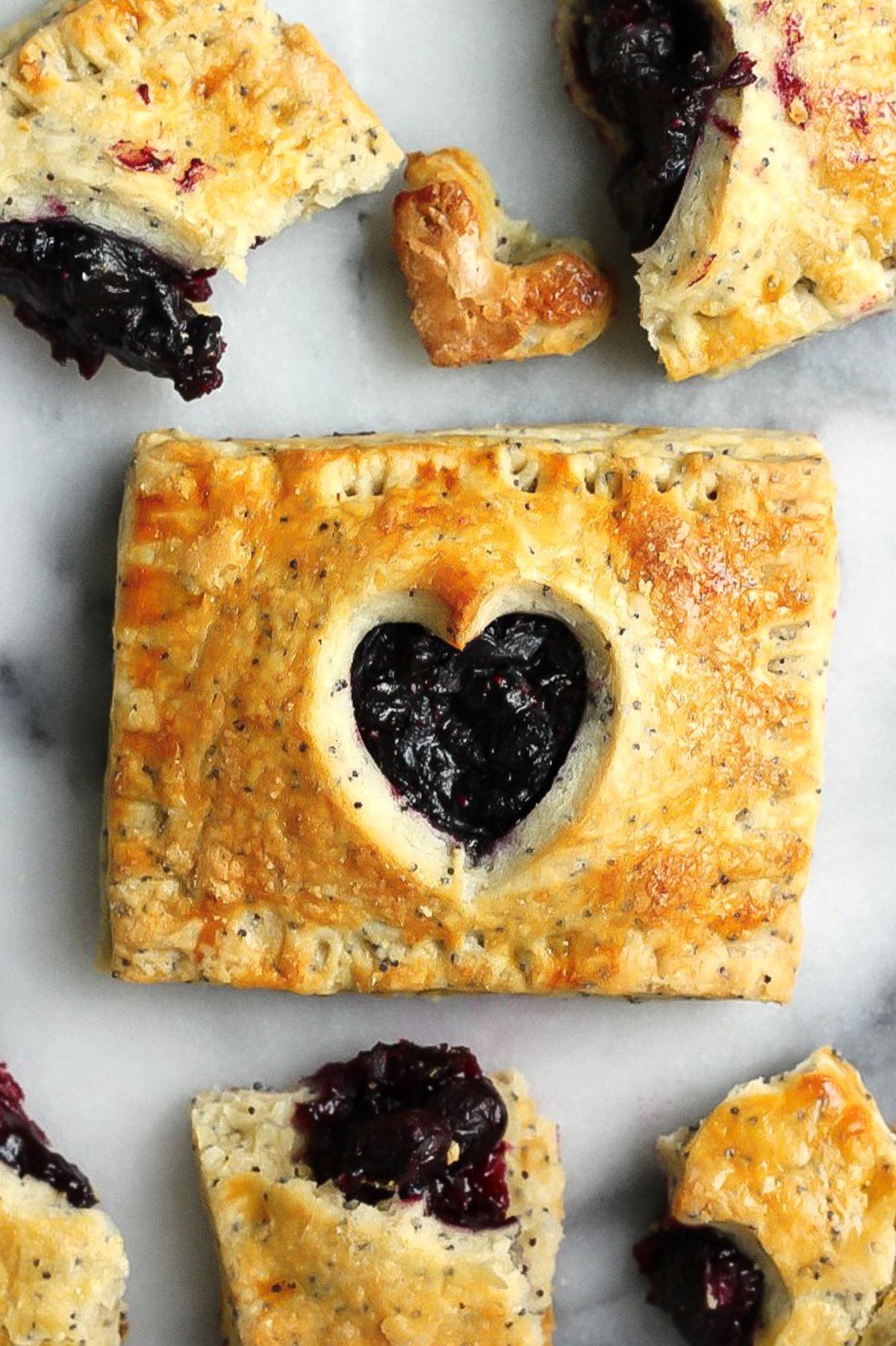 Lemon Blueberry Hand Pies
How delicious is blueberry pie? Answer: SO delicious.
It rates VERY high on my love list… especially now that Summer is right around the corner. I cannot wait to carry home pints and pints of fresh, tiny little blue gems! But until then, I'll survive on the frozen variety. Frozen berries are your friend! And they work perfectly in this hand pie recipe. Good news for all!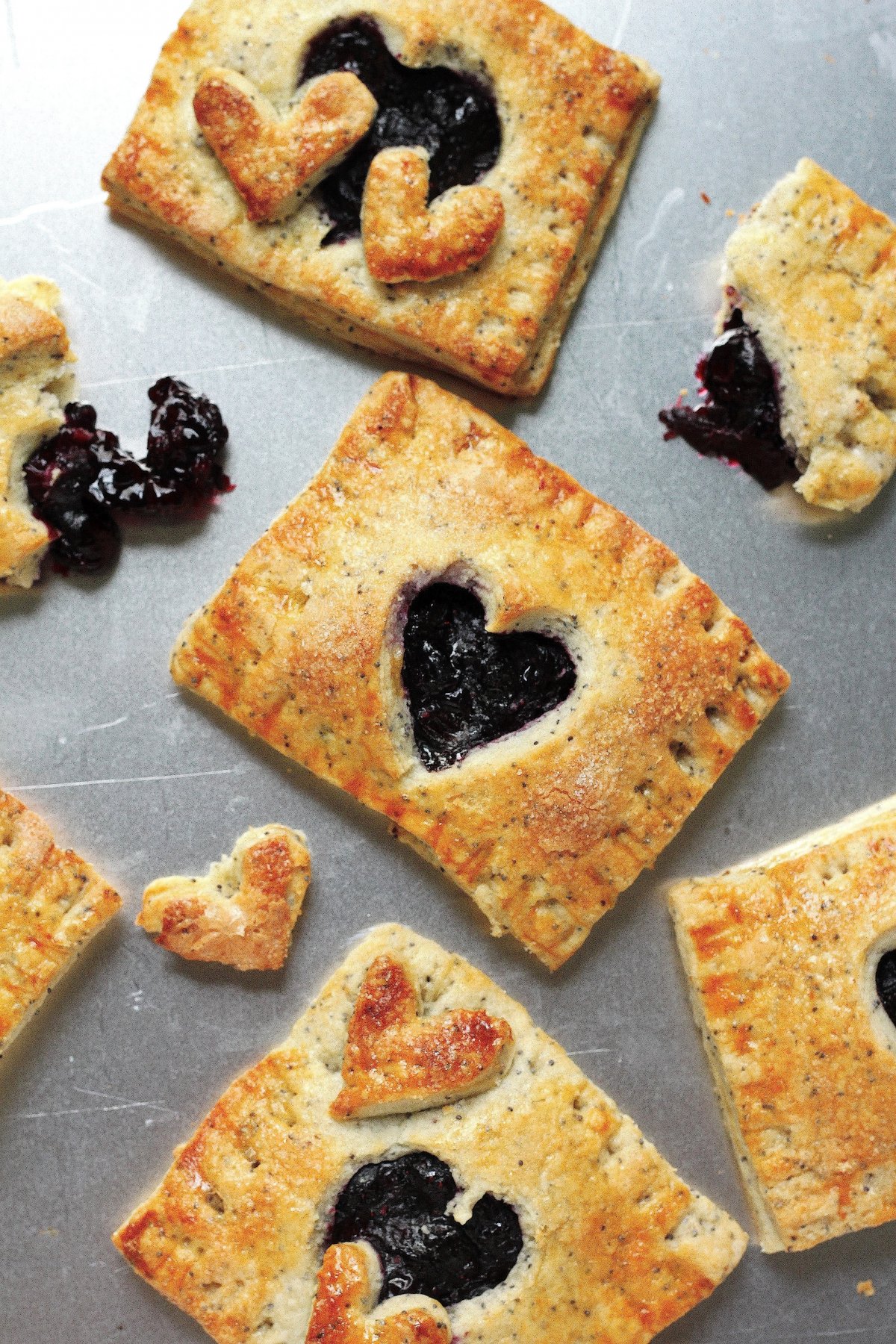 Hand Pie Crust
The thing that really takes these hand pies to a whole new level of awesome is the crust. The buttery, flaky crust that's laced with fresh lemon zest and poppy seeds… I mean, come on! It's just so good. And it really compliments the sweet, succulent berry filling.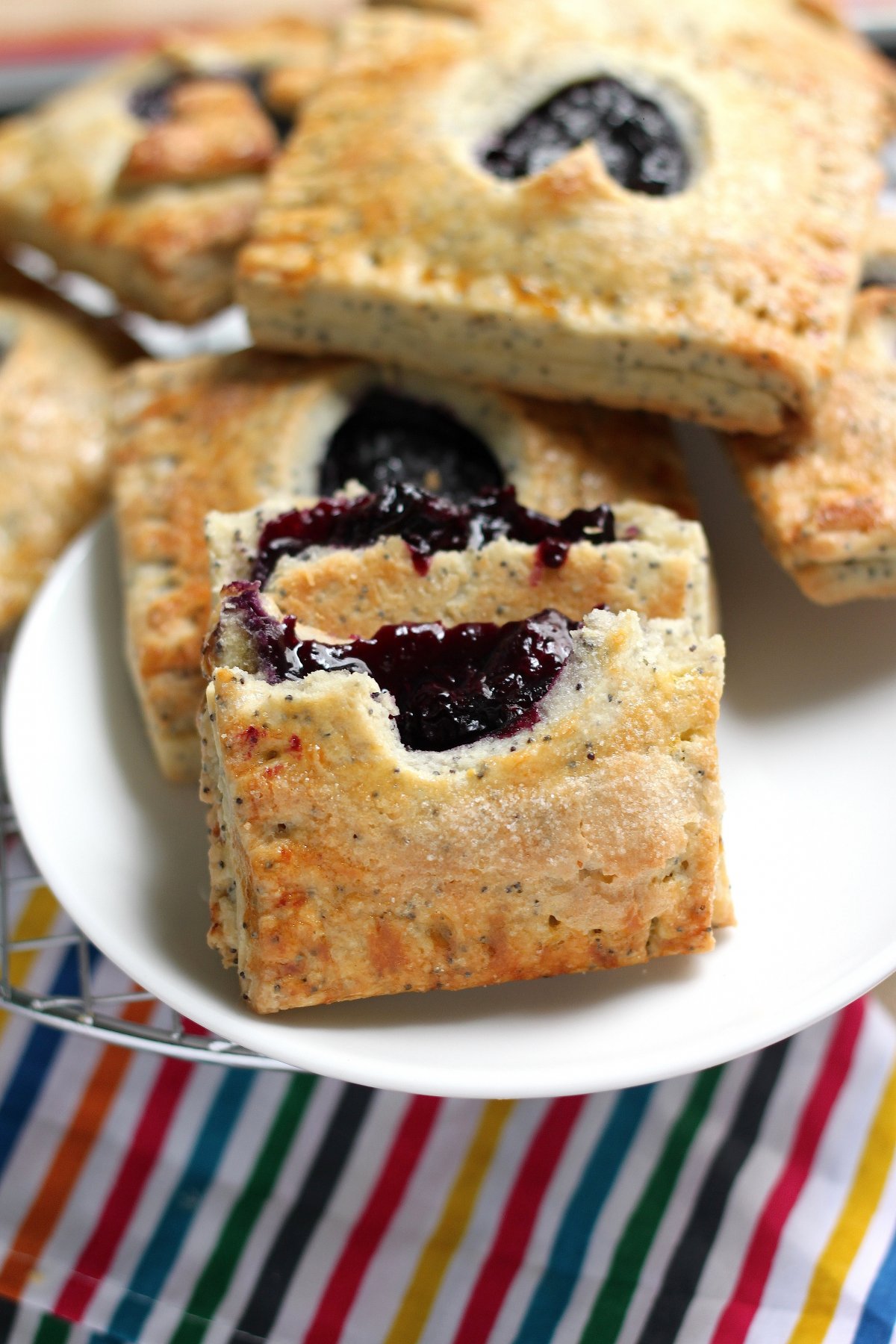 Blueberry Hand Pie Filling
The filling is pure and simple berry goodness. All you do is boil down some fresh – or frozen – berries with a little sugar, lemon juice, and cornstarch, and cook until it's thick. That's it! It's really simple and forgiving, which makes making these pies a dream.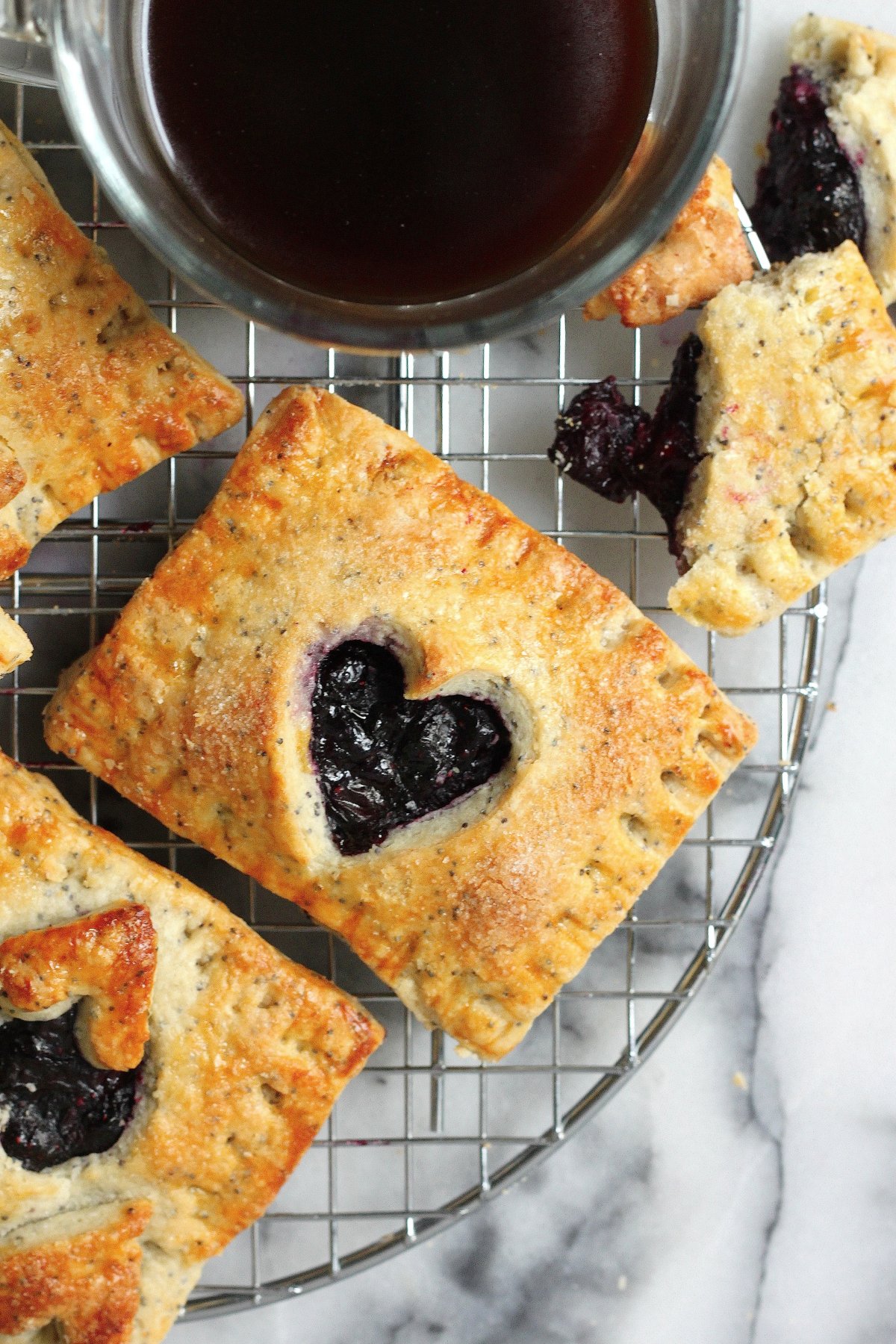 I chose to cut out a little heart in the middle of each pie, making them look like little love letter envelopes, but you can skip the <3 and just make an x or circle cut out. They just need a little vent area so the steam can escape! The shape and size is up to you.
The dough is surprisingly easy to work with, but just remember to keep it cold, cold, cold! Also, start with very cold ingredients. I always cut my butter into tiny cubes, then pop them in the freezer to chill up again for about 5 minutes. It does the trick every time!
These precious little hand pies are sure to put a smile on anyones face! I mean, blueberry hand pies with lemon poppy seed crust… who could say no?!
More Hand Pie Recipes:
Blueberry Hand pies with Lemon Poppy Seed Crust
Ingredients
Crust:
2 cups All-Purpose Flour
1/2 teaspoon salt
3/4 teaspoon baking powder
1 tablespoon sugar
1 cup (16 tablespoons) VERY cold unsalted butter
1/2 cup cold FULL FAT Greek yogurt or sour cream
2 tablespoons poppy seeds
1 teaspoon lemon zest
For the filling:
2 cups blueberries, fresh or frozen
1/4 cup sugar
1 1/2 tablespoons cornstarch
2 teaspoons lemon juice
1 teaspoon vanilla
For the topping:
1 large egg, beaten
Turbinado sugar
Instructions
To make the crust:
Whisk together the flour, salt, baking powder, and sugar.

Add the butter, working it in with your hands to make a coarse meal mixture. The butter should still be in large, pea-sized pieces.

Stir in the Greek yogurt, poppy seeds, and lemon zest; the dough will be shaggy. Turn it out onto a well floured work surface, and bring it together with a few quick kneads.

Pat the dough into a 10 inch log, then roll it out into a 10" x 12" rectangle. Dust both sides of the dough lightly with flour, and starting with a shorter end, fold it in three - like a letter.

Flip the dough over, and roll it again into a 10" x 12" rectangle. Fold it in three again.

Wrap the dough in saran wrap, and chill for 45 minutes.
To make the blueberry filling:
Combine all the ingredients in a saucepan set over medium heat. Cook until the mixture starts to thicken, about 6 minutes. Transfer the berries to a bowl and let cool to room temperature.
Assembly and cooking:
Preheat the oven to 425°(F). place a rack on the middle shelf. Line a large baking sheet with parchment paper.

Roll the dough into a large square, about 16" x 16". Using a pastry wheel cut out sixteen even squares. Don't worry if they're not exactly the same size. Just do the best you can 😉

Divide the cooled filling among eight of the squares, using about a tablespoon and a half for each. Brush a little bit of the beaten egg wash along the edges of each filled square.

Cut a vent (or heart!) into each of the remaining eight squares, using a decorative cutter, small knife, or bottle cap! You can really get creative here.

Top each filled square with a vented square, and press along the edges with the front of a fork or a pie crust crimper; seal well!

Brush the top of each pie with the remaining beaten egg, and sprinkle with sugar.

Transfer the pies to prepared baking sheet.

Bake the pies for 18 to 20 minutes. Remove them from the oven, and let cool for 20 minutes before serving.