Sweet and juicy homemade cinnamon apple pie filling is spiked with just a touch of bourbon and baked up in flaky whole wheat crust! These sweet little hand pies just ooze Fall spirit! They're sure to be a new favorite!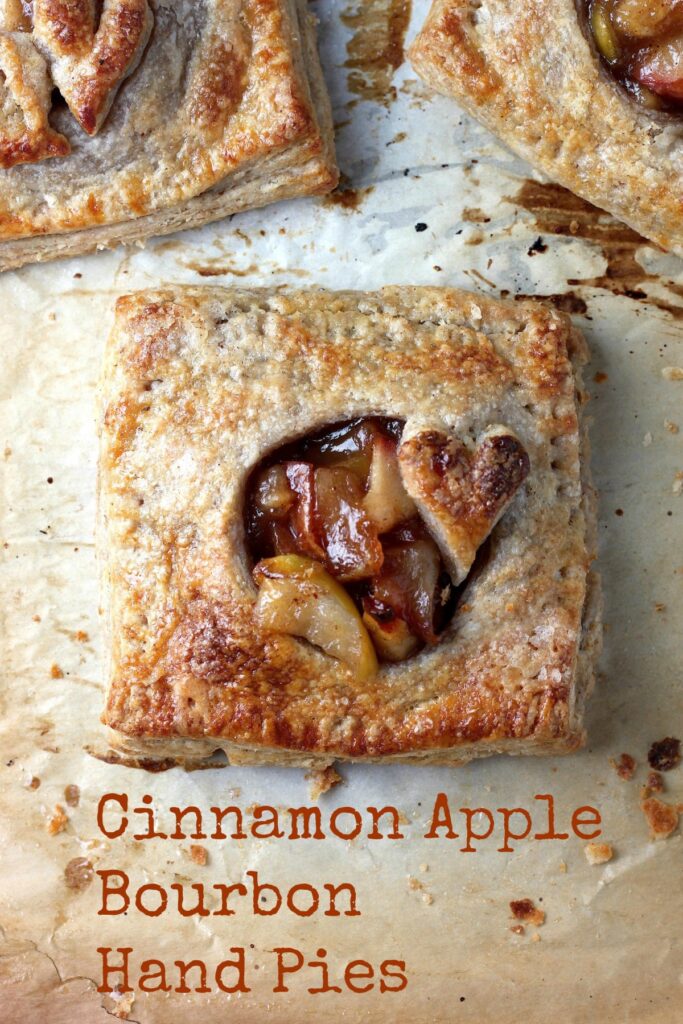 Apple Hand Pies
You guys are going to go nuts over these pretty lil' cinnamon apple bourbon hand pies! First of all, they are just SO cute. I mean, sometimes homely looking food still tastes good… but since we eat with our eyes before anything else, I say aesthetically pleasing food is always a win!
But these pies are so much more than just a pretty face! They have a juicy, not-too-sweet homemade apple pie filling that is 100% going to blow your mind. I actually made a double batch of this filling the last time I baked these pies because I wanted to have it on hand as an ice cream topping! Now that I think about it… I'm pretty sure this filling would be delicious on top of pancakes/waffles/and french toast, too!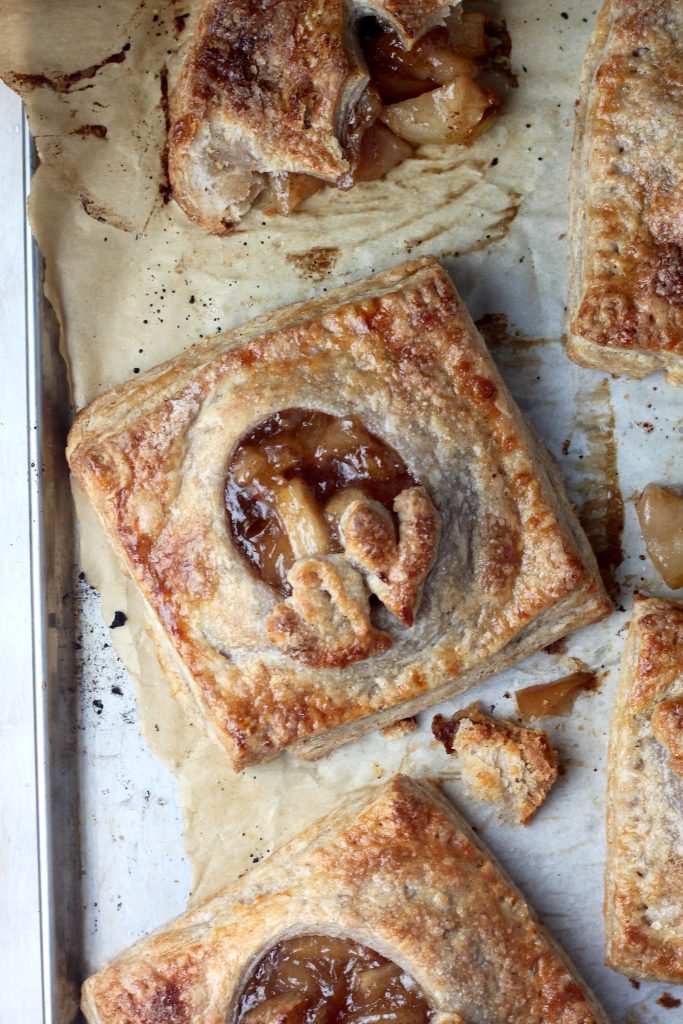 What makes the apple filling so addicting is fresh apples (lots of them), butter, cinnamon, and just a touch of bourbon! If you don't house bourbon and don't want to buy it, you can still make this recipe, just add a tablespoon of water in its place. It won't have the same exact taste (I love the rich, smokiness a spot of bourbon adds to apple pie), but it will work and still leave you with amazing pie.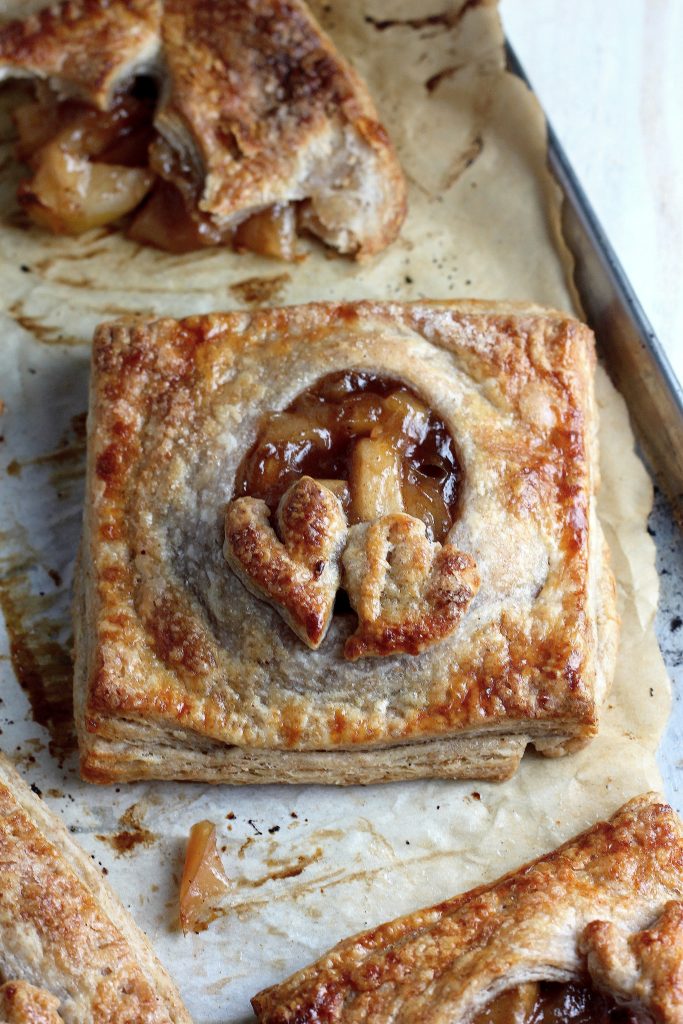 I also use a mix of granulated sugar and brown sugar to sweeten it up. I love the depth of flavor that brown sugar adds, but I found all brown sugar to be too much. So be sure to use half and half for the perfect balance.
There is also one tablespoon of cornstarch added to the apple pie filling. You'll add this at the verrrry end, once the apples have simmered down and softened, and even after you've added the sugars, cinnamon, and bourbon. It's important not to add the cornstarch in too early because the filling needs to simmer for about 10 minutes, and we don't want it to thicken up until the last minute.
Now, let's move onto the crust! These hand pies are made with a whole wheat version of my go-to hand pie crust. I've used this pie crust for fat and flaky cranberry sage pie bites, Blueberry Hand Pies with Lemon Poppy Seed Crust, and these Triple Berry Hand Pies. Have you tried any of them yet? They're all winners if you love pie. And who doesn't love pie?!
The dough is easy to assemble, but does need to chill for at least one hour in the refrigerator, so keep that in mind when you're planning out timing. I hate when I go to make something and don't factor in the chill time 😉 But I'm sure you have a better memory than I do! I swear I'm always forgetting things to do left and right… thank goodness for the notepad on my phone or I'd be lost to the world!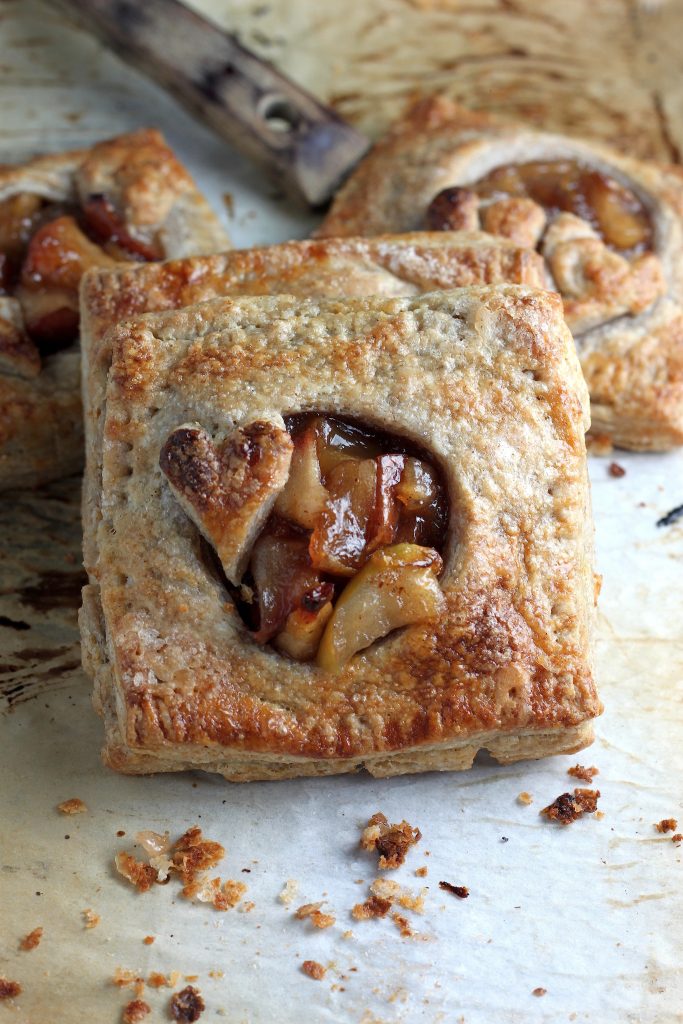 This dough is made with whole wheat flour, lots of butter (it's so flaky!!!), Greek yogurt (full-fat, please!), and a pinch of cinnamon. I love the extra pop the cinnamon adds to the dough!!! What is it about cinnamon? It just makes everything a little more cozy.
These pies are such a fun baking project, and even more than that – a delicious treat on a chilly Fall day! Go bake some now. You'll love em'! xoxo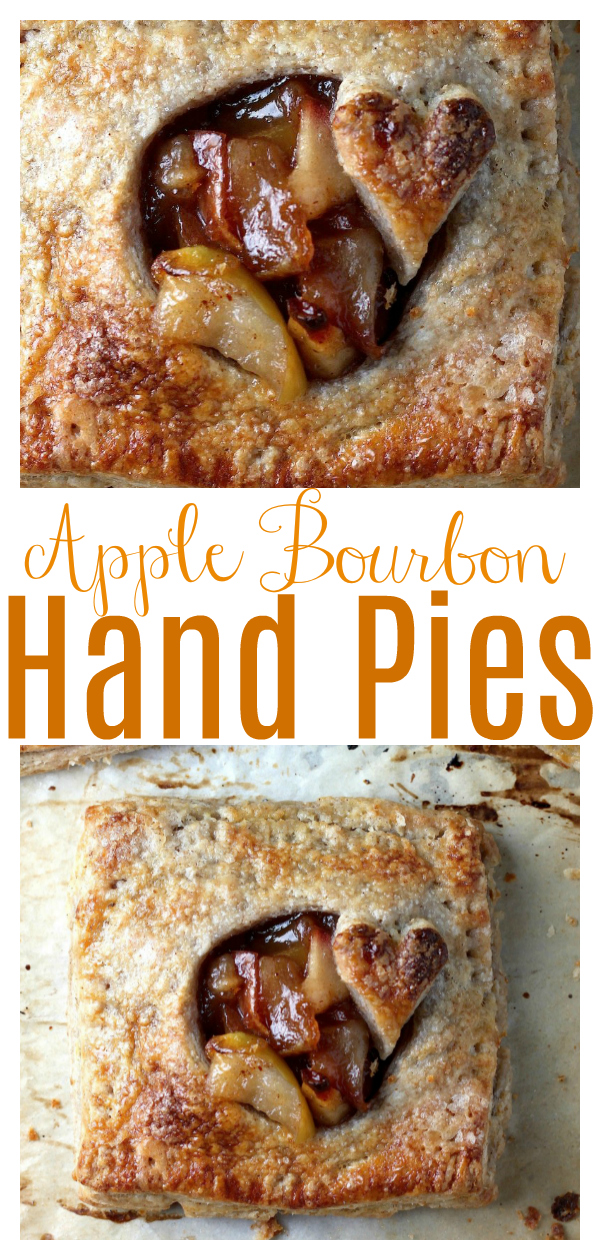 More Apple Pie Recipes: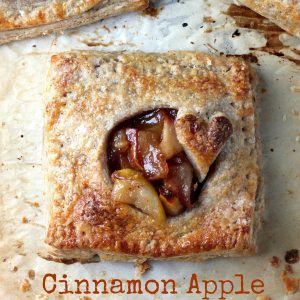 Cinnamon Apple Bourbon Hand Pies with Whole Wheat Crust
Cinnamon Apple Bourbon Hand Pies with Whole Wheat Crust!
Ingredients
For the Whole Wheat Crust:
1 cup All-Purpose Flour
1 cup Whole Wheat Flour
1/2 teaspoon salt
1/2 teaspoon baking powder
1/2 teaspoon cinnamon
1 cup (16 tablespoons) cold unsalted butter, cut into tiny pieces
1/2 cup cold FULL FAT Greek Yogurt
For the Cinnamon Apple Bourbon Filling:
4 large apples, peeled and cored
3 tablespoons unsalted butter
1/4 teaspoon salt
1/4 cup white sugar
1/4 cup brown sugar
2 teaspoons ground cinnamon
1 tablespoon bourbon
1 tablespoon cornstarch
Instructions
For the Whole Wheat Crust:
Whisk together the flours, salt, baking powder, and cinnamon in a large bowl. Add the butter and, using your hands, work it into the flour, making a crumbly mixture. Most of the butter should be in large, pea-sized pieces.

Stir in the Greek yogurt; the dough will be shaggy. Turn it out onto a lightly floured work surface, and bring it together with a few quick, gentle kneads.

Pat the dough into an 8" log, then roll it into an 8" x 12" rectangle. Dust both sides of the dough generously with flour, and starting with a shorter end, fold it in three, like a business letter.

Flip the dough over and roll it again into an 8" x 12" rectangle. Fold it in three again.

Wrap the dough in saran wrap; chill for at least one hour before using.
For the Cinnamon Apple Bourbon Filling:
Peel and core apples. Dice them into tiny pieces and set aside.

Melt the butter in a large skillet over medium heat. Allow the butter to brown into a light golden color; about 1 minute. Add apples into hot butter; sprinkle with salt and both sugars. Cook, stirring occasionally, until apples are completely softened, about 8 minutes. Mix in cinnamon and bourbon; continue cooking until apples are soft and sticky, 1 to 2 more minutes. Stir in cornstarch, mix well, and allow mixture to thicken; about 2 minutes. Remove from heat.
Assembly:
When you're ready to make your pies, preheat the oven to 425 degrees (F). Line a large baking sheet with parchment paper; set aside.

Roll the dough out into a 14" x 14" square. Using a straight edge or pastry wheel, cut out sixteen 4" squares.

Divide the apple filling among 8 of the squares, using about 2 tablespoons for each. Brush some of the beaten egg along the edges of each filled square.

Cut a vent into the each of the remaining eight squares, using a decorative cutter of your choice.

Top each filled square with a vented square, and press along the edges with the tines of a fork to seal.

Brush the top of each pie with the remaining beaten egg, and sprinkle with sugar. Transfer the pies to the prepared baking sheet.

Bake the pies for 18 to 20 minutes. Remove them from the oven, and let cool for 20 minutes before serving.