These Blueberry Hand Pies bake up golden brown and oozing with juicy blueberry filling! Perfect for serving a crowd. And so much easier than traditional blueberry pie!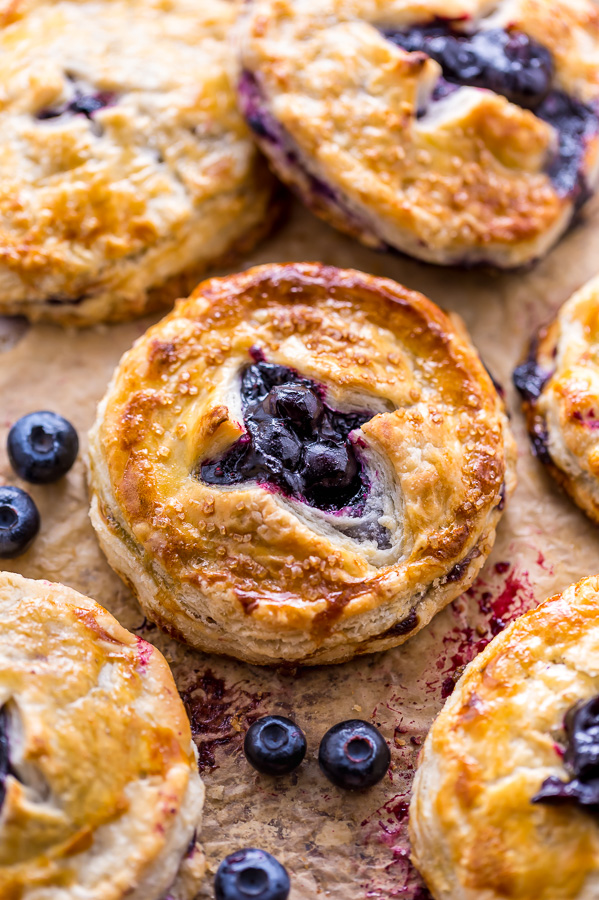 Blueberry Hand Pies
Everyone in my family loves pie! Which is why we always have my foolproof all butter pie crust in the freezer! But pies are a labor of love, so when I really want pie but don't feel like the fuss… I preheat the oven to 425 and whip up a batch of hand pies instead! They taste just as good as classic homemade blueberry pie, but only need to bake for 20 minutes!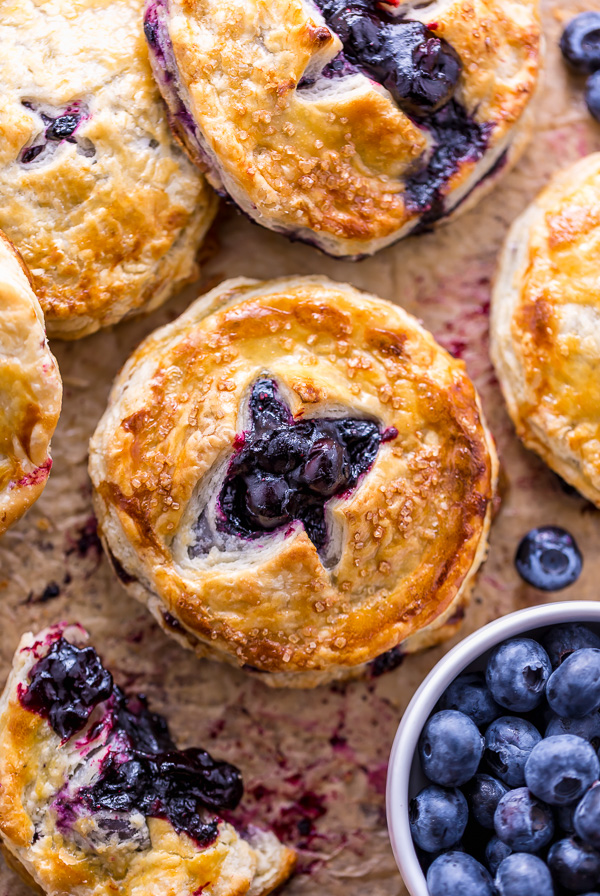 Today's pie post is the LAST recipe I'll be sharing from my Summer Baking Bucket List. So typing this up is certainly bittersweet. But I hope some of the recipes I shared inspired you to stock up on Summer's bounty and get baking.
P.S. I started composing my Fall baking bucket list last week and am so excited to share it with you soon. So if you have any requests, let me know! I seriously love love love making your requests a reality, so don't hold back.
But for right now, let's get back to this delicious blueberry pie recipe!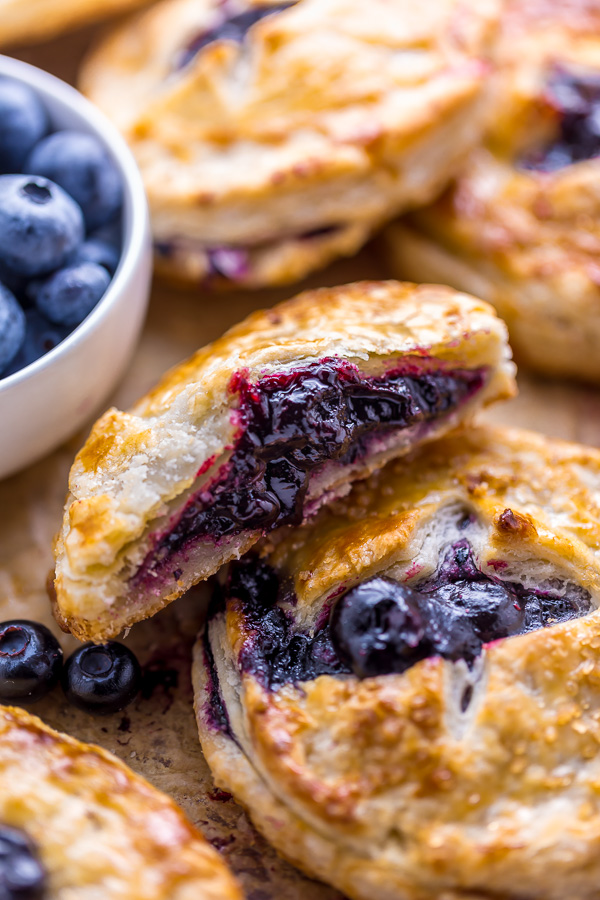 Blueberry Hand Pies Recipe
There are two parts to this recipe!
the buttery crust
and the sweet blueberry filling.
If you've never made pie before, don't worry! Because this is seriously one of the easiest recipes ever. The crust is one of my favorite pie crust recipes because it's so forgiving! And comes together in less than 30 minutes. But you do need to chill it!
And the filling takes less than 10 minutes to assemble! Because hand pies are a rustic dessert, you don't have to worry about making them looking "perfect". My blueberry pies always come out of the oven looking a little bit different. And I love it! I like to think of them like snowflakes; each unique and beautiful in their own way.
Below are all of my pro-tips for baking these blueberry hand pies. I highly recommend reading them (and the full recipe) before getting started.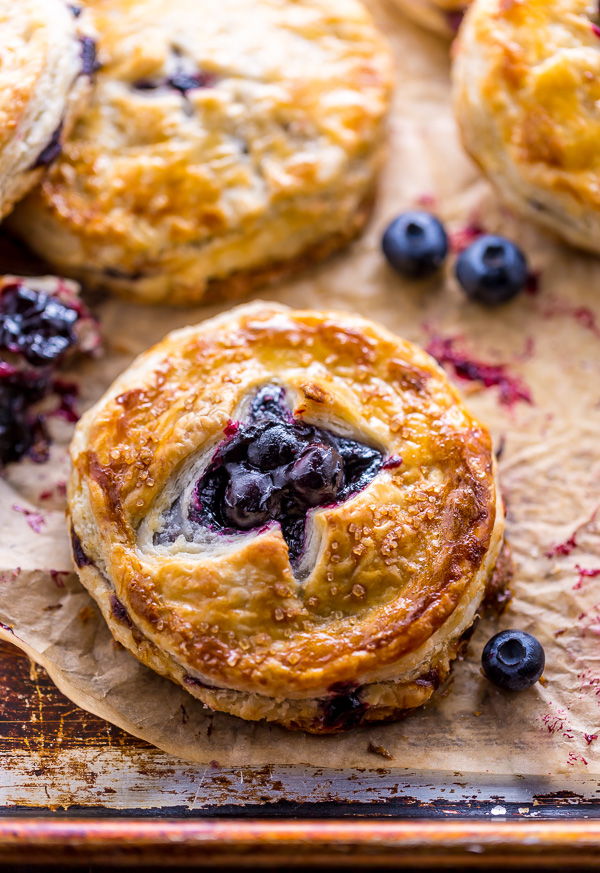 Tips and Tricks for Recipe Success:
Hand Pie Crust
Ingredients needed for Pie Crust:
all-purpose flour
sugar and salt
baking powder
butter
sour cream
Because the crust is the most time consuming step, make that first! It needs to chill in the fridge for one hour before getting rolled out. The good news is it can be made up to 3 days ahead of time and stored in the fridge until needed.
Tip: Be sure to let the blueberry filling cool down a little before adding it to the crust. It doesn't need to be cold, but it should be around room temperature. Because hot filling will melt the butter in the pie dough, which will result in a less flaky and possibly soggy crust.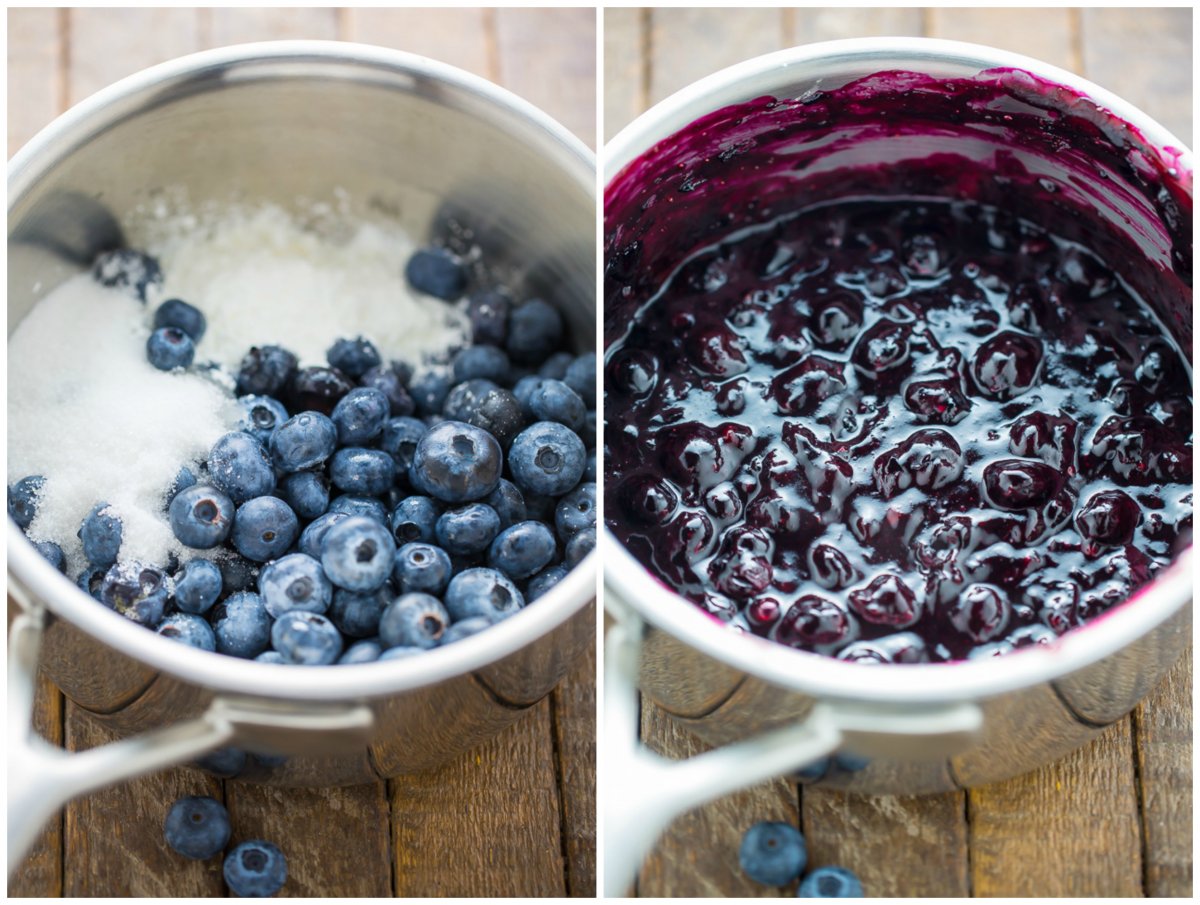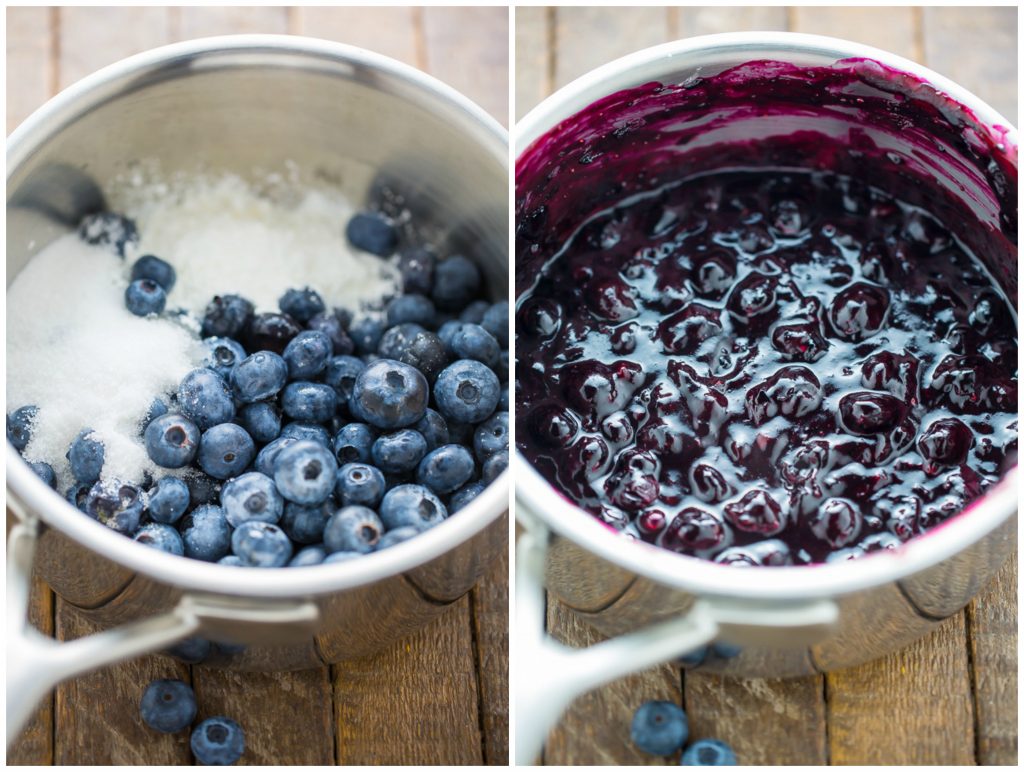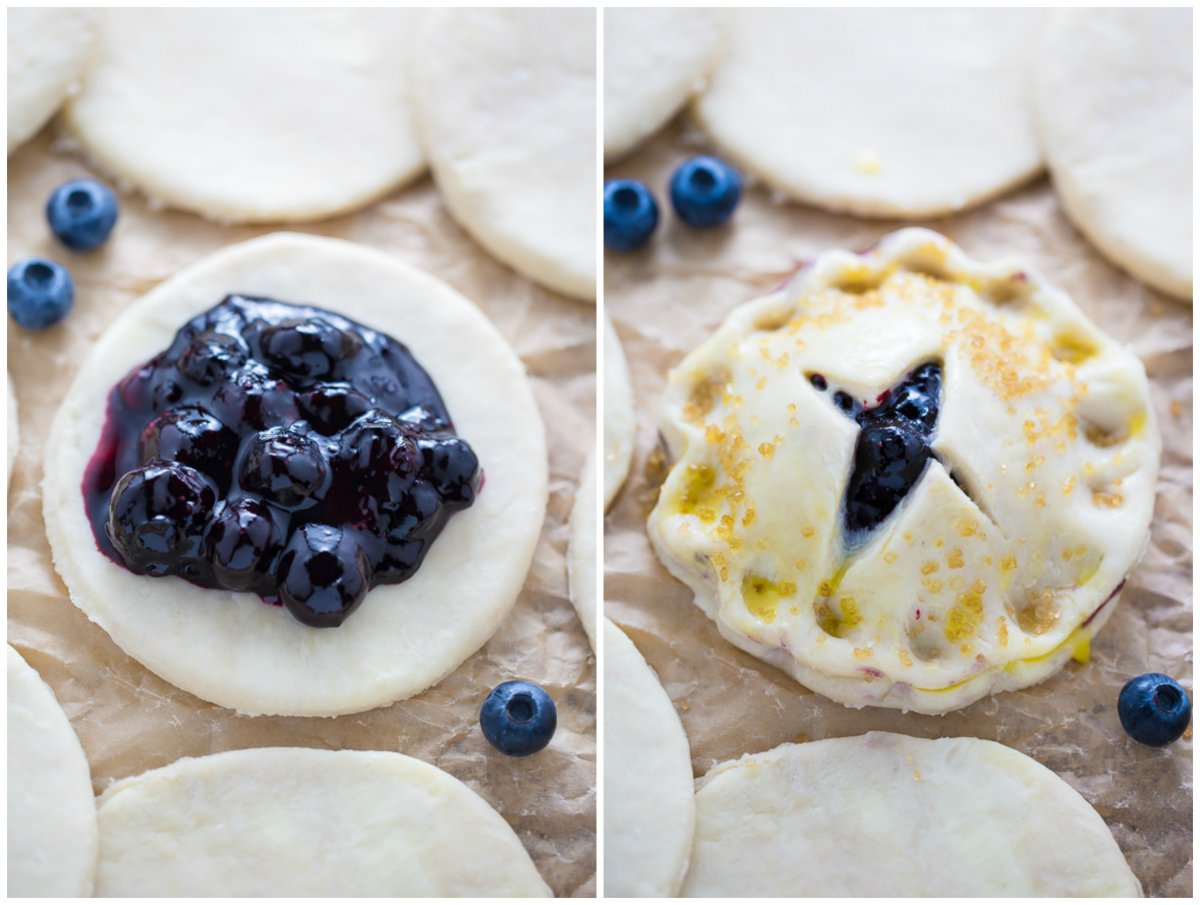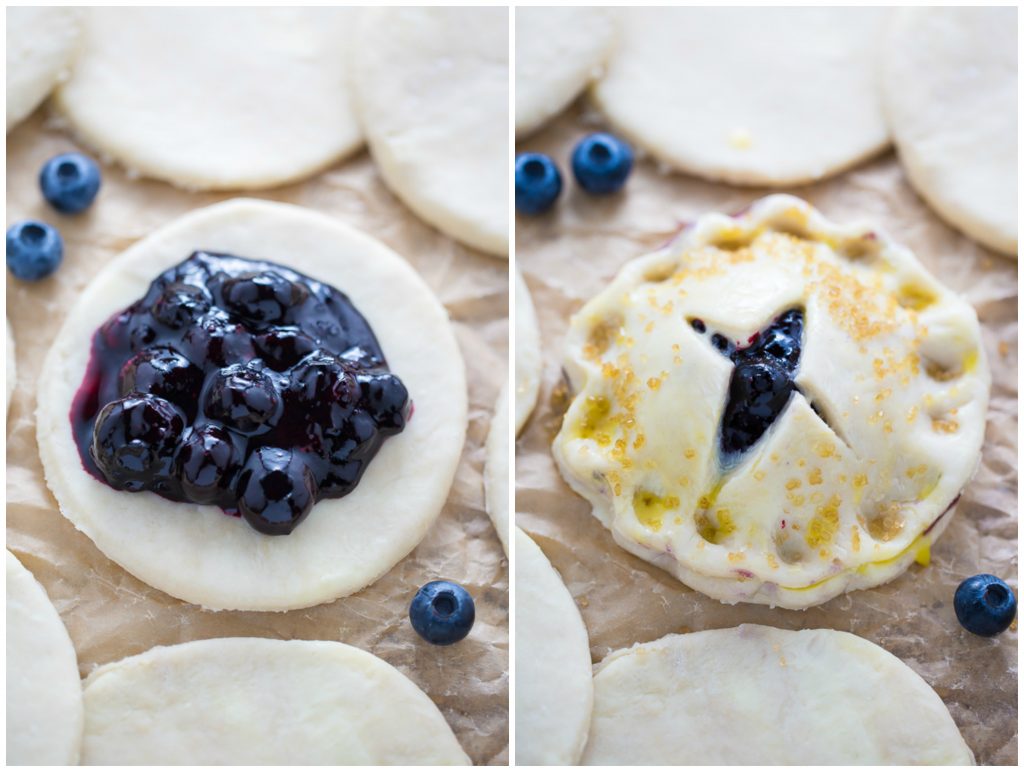 Blueberry Pie Filling
Ingredients needed:
blueberries, fresh or frozen
sugar
cornstarch
lemon juice
1 large beaten egg
When it comes to the shape of your blueberry hand pies, you have so many options! If you want them round, use a 4″ inch biscuit cutter or something round like the top of a martini glass. If you'd like your pies to be square, you can use a pizza wheel to slice the dough into rectangles. I've included full instructions for both methods in the recipe box below. But no matter how you shape your blueberry hand pies, be sure not to overfill them. You only want to add two and a half tablespoons of filling to each pie. Because too much filling will result in soggy hand pies. But if you have any leftover pie filling, place it in a small bowl and store it in the fridge. It's so delicious on pancakes or waffles!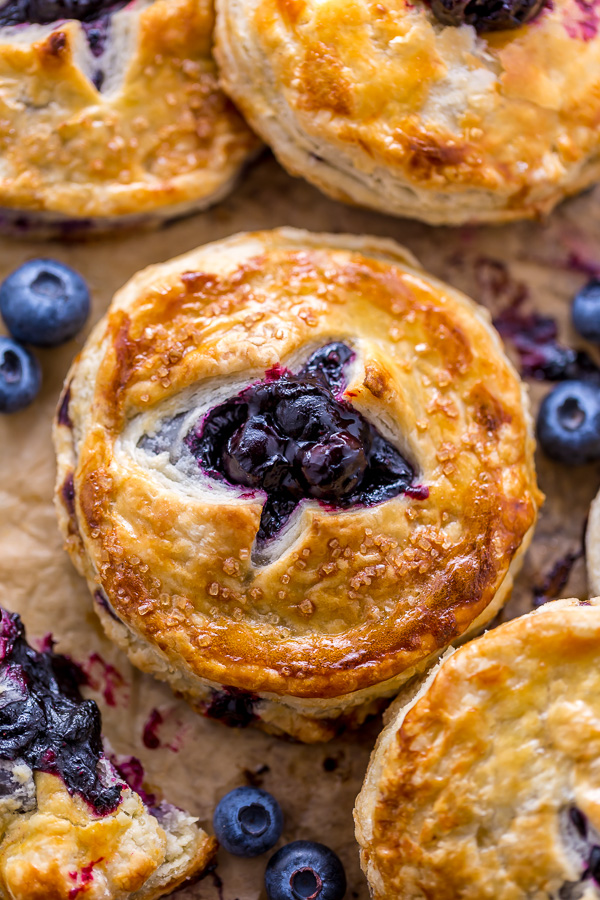 These blueberry hand pies are so easy and what Summer dreams are made of! So enjoy ♥
And if you try this recipe, let me know what you think! Leave a comment below, and don't forget to snap a pic and tag it #bakerbynature on instagram! Seeing your creations makes my day.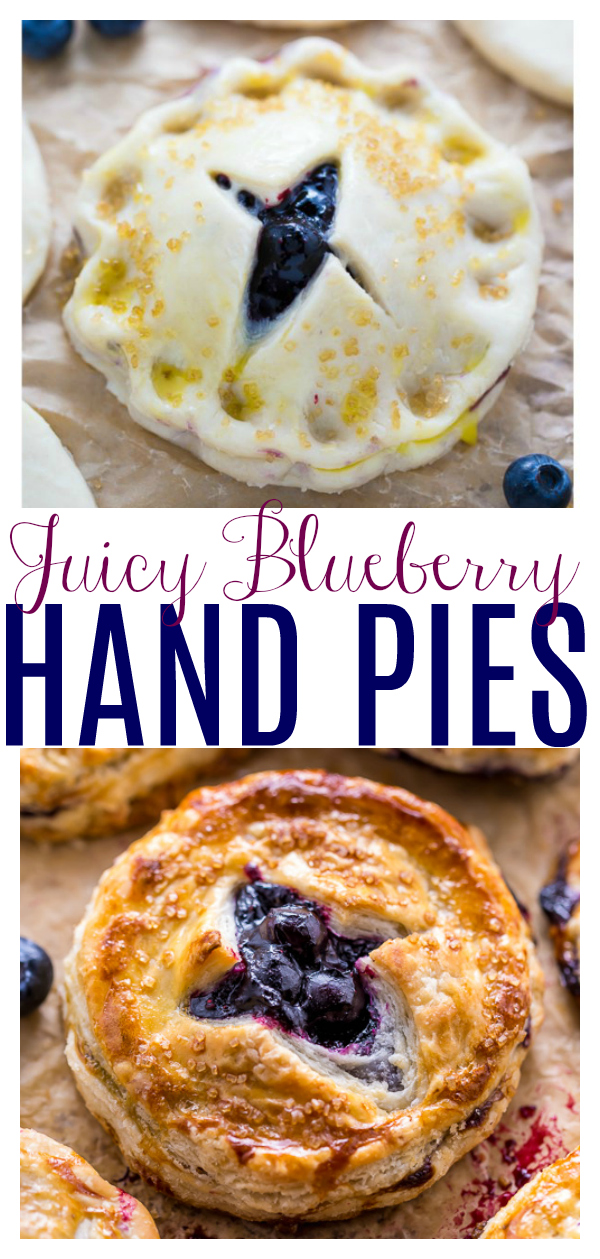 More Blueberry Pie Recipes: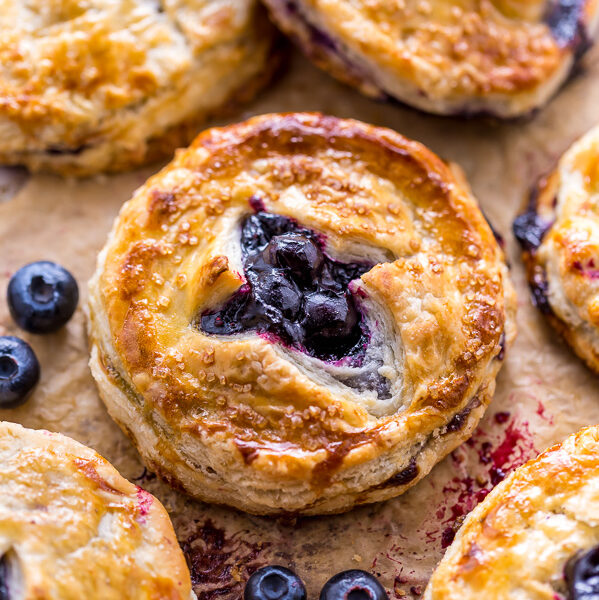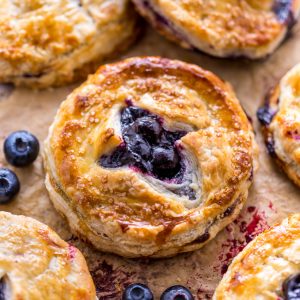 Blueberry Hand Pies
Sweet and Simple Blueberry Hand Pies! Perfect for serving a crowd.
Ingredients
For the Crust:
2 cups all-purpose flour
1/2 teaspoon salt
3/4 teaspoon baking powder
1 ans 1/2 tablespoons granulated sugar
2 sticks (8 ounces) VERY cold, unsalted butter, cut into cubes
1/2 cup cold FULL FAT sour cream
For the filling:
2 cups blueberries, fresh or frozen
1/4 cup granulated sugar
1 and 1/2 tablespoons cornstarch
1 tablespoon fresh lemon juice
For the topping:
1 large egg, beaten
Turbinado sugar, optional
Instructions
To make the crust:
In a large bowl whisk together the flour, salt, baking powder, and sugar.

Add the butter, working it in with your hands or a pastry cutter, until it's a coarse meal. The butter should still be in large, pea-sized pieces.

Using a rubber spatula, stir in the sour cream. The dough will be very shaggy at this point. Turn it out onto a well floured work surface, and bring it together with a few quick kneads.

Pat the dough into a 10 inch log, then roll it out into a 10" x 12" rectangle. Dust both sides of the dough lightly with flour, and starting with the shorter end, fold it in three - like a letter. Flip the dough over, and roll it again into a 10" x 12" rectangle. Fold it in three again. Wrap the dough in saran wrap, and chill for 1 hour.
To make the blueberry filling:
Combine all of the ingredients in a saucepan; bring to a simmer over medium-heat. Cook until the mixture starts to thicken, about 6 minutes. Transfer the blueberry filling to a bowl and let cool to room temperature.
Assembly and cooking:
Preheat the oven to 425°(F). place a rack on the middle shelf. Line a large baking sheet with parchment paper.

Roll the dough into a large square, about 16" x 16". For square pies, use a pastry wheel or pizza cutter to cut out sixteen even squares. For round pies, use a 4" biscuit cutter (or something round like the top of a martini or wine glass) to cut out 16 circles.

Divide the cooled filling among eight of the squares (or circles), using about two tablespoons for each. Brush a little bit of the beaten egg wash along the edges of each filled square (or circle).

Using a small knife, cut a vent into each of the remaining eight squares (or circles).

Top each filled square (or circle) with a vented square (or circle), and press along the edges with the fork or a pie crust crimper. Make sure the edges are sealed well!

Brush the top of each pie with the remaining beaten egg, and sprinkle with sugar, if using.

Transfer the pies to prepared baking sheet.

Bake the pies for 20 minutes. Remove them from the oven, and let cool for 20 minutes before serving.