Pumpkin Oatmeal Chocolate Chip Cookies have chewy centers and crispy edges! Not "cakey" at all!!! These pumpkin cookies are sure to become a Fall favorite!
Pumpkin Oatmeal Chocolate Chip Cookie Recipe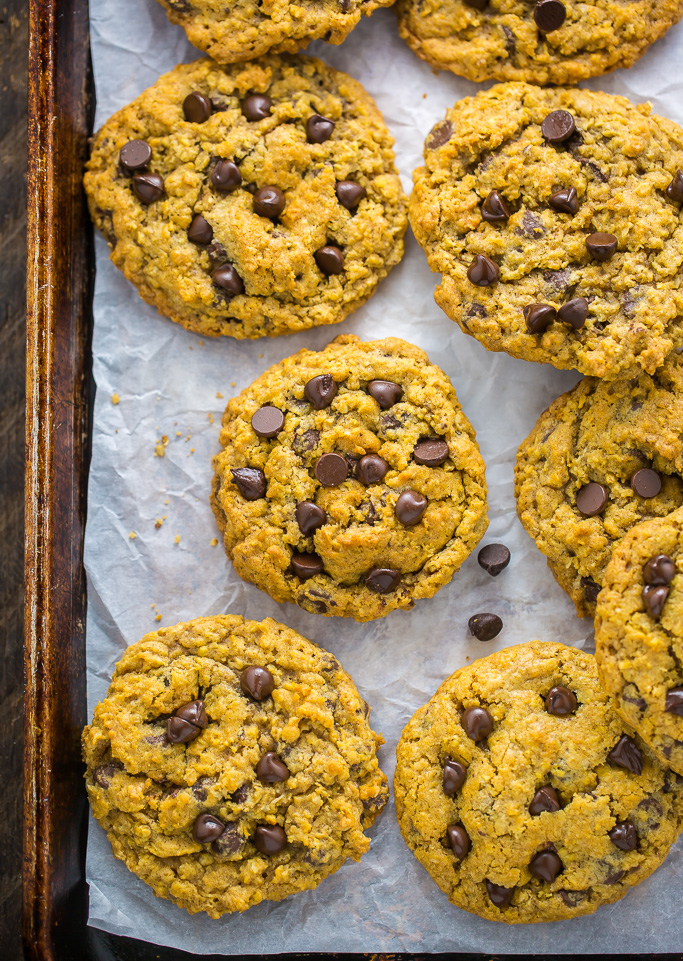 Pumpkin Oatmeal Cookies
Pumpkin is synonymous with Fall baking. Don't you agree? I mean… pumpkin pie, pumpkin muffins, pumpkin donuts, pumpkin bread, vegan pumpkin cookies and now: PUMPKIN OATMEAL CHOCOLATE CHIP COOKIES! And these cookies, you guys…
These crispy oatmeal chocolate chip cookies are:
loaded with REAL pumpkin flavor (there's a 1/2 cup in the recipe)
richly spiced with cinnamon, nutmeg, cloves, and ginger
thick and chewy
crispy at the edges
perfectly sweet
exploding with gooey dark chocolate
SUPER easy to whip up
seriously the best thing I've baked this month!
I have to warn you, things are about to get pumpkin CRAZY here… real soon. I baked the most epic bourbon pumpkin pie last week and tested a pumpkin cake recipe this morning that I need to share with you at once. Sure hope you love pumpkin as much as I do!!!
But I digress. Let's talk about these pumpkin oatmeal chocolate chip cookies! Making them couldn't be easier… which is good news because you NEED to bake them asap. They're made with super basic ingredients like flour, oats, butter, sugar, vanilla, spices, salt, baking powder, and baking soda. They also require NO chill time for the dough, meaning you could be eating one of these babies in less than 30 minutes… you're welcome 😉 ↓↓↓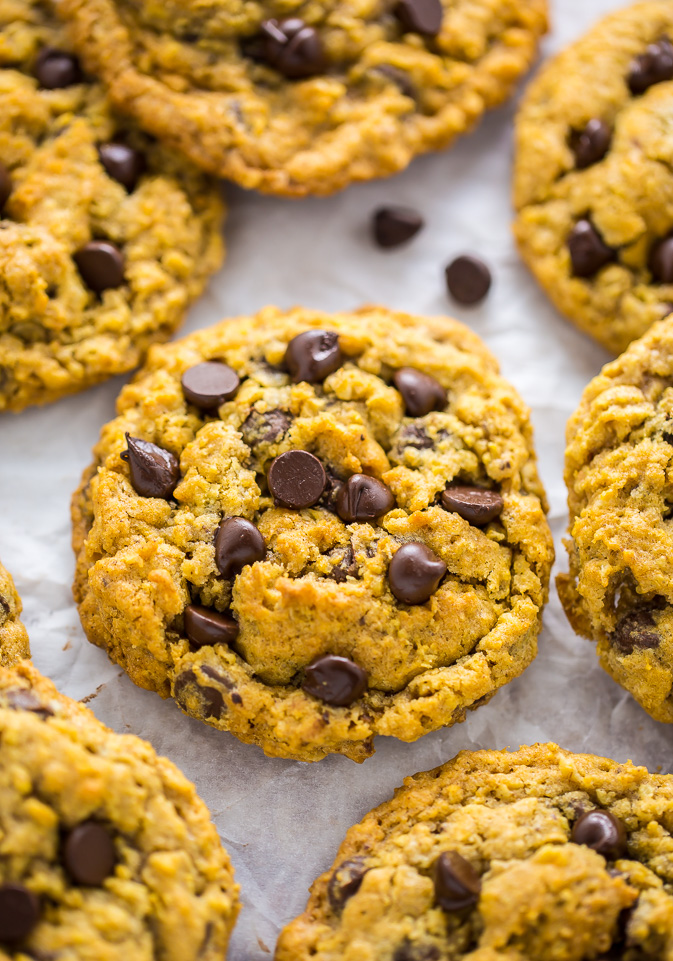 Tips and Tricks for Recipe Success:
For best results, this recipe should followed exactly as written. Baking with pumpkin can be tricky, so adding more or less with definitely change the texture and taste of your cookies.
I highly recommend using pure pumpkin puree – NOT pumpkin pie puree, which is loaded with additional spices and sometimes even sugar. If all you can find is pumpkin pie puree, omit the spices called for in the recipe.
Your butter must be at room temperature to properly cream with the sugars. You'll know your butter is soft enough when you can press your finger into the top and an indentation is effortlessly made. Cold butter, as well as melted butter, should never be used when making this buttercream; it will not work.
For this recipe you'll need rolled oats, not instant oats! Rolled oats may also be labeled as old-fashioned or whole oats. Visually, rolled oats are flat and round.
Don't over bake! The cookies should still be slightly soft in the center; they'll firm up a lot as they cool.
Be sure to allow the cookies to cool on the baking sheet for a full 20 minutes before transferring them to a cooling rack. They need this time to firm up so they don't fall apart as your transfer them.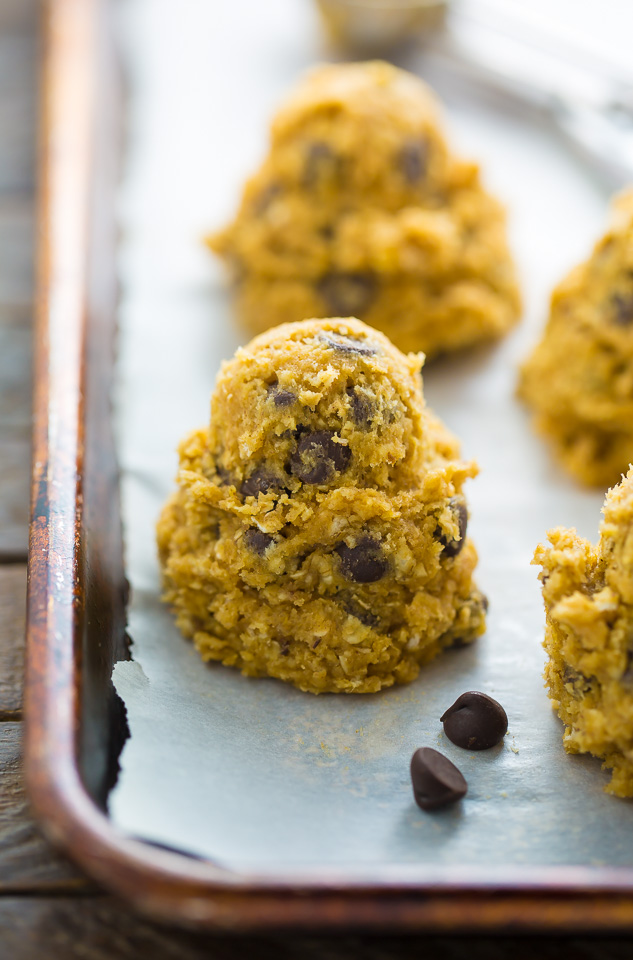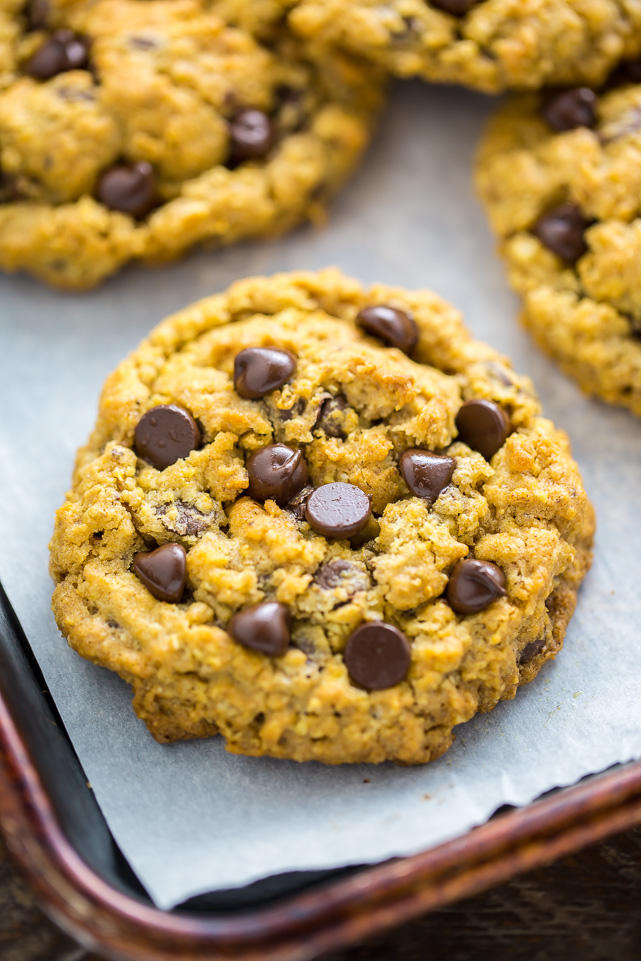 Fellow pumpkin lovers, do yourself a favor and bake these pumpkin oatmeal chocolate chip cookies TODAY.
More Oatmeal Cookies: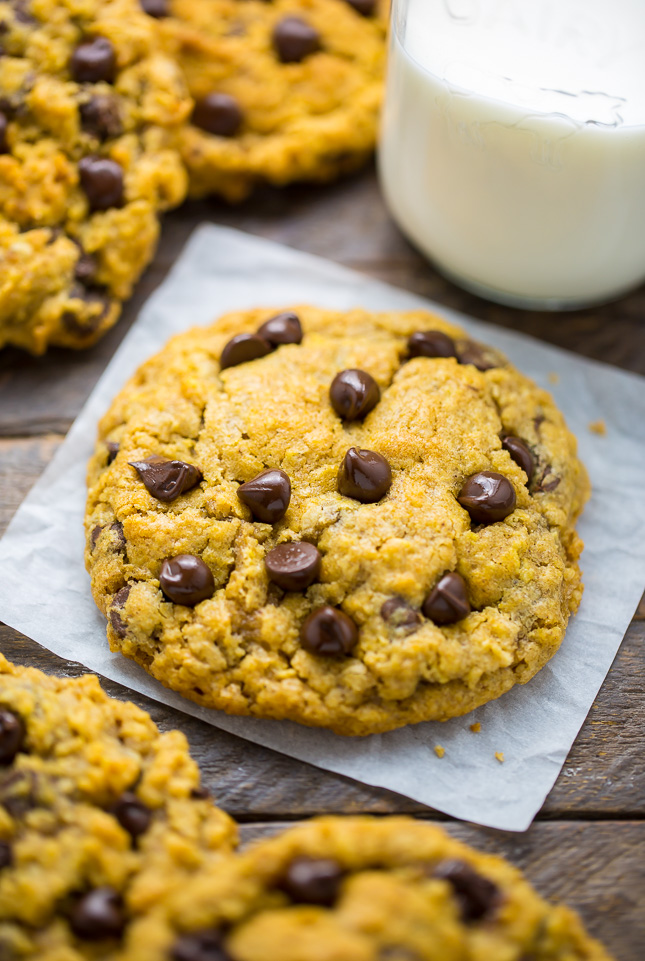 If you try this recipe, let me know what you think! Leave a comment below, and don't forget to snap a pic and tag it #bakerbynature on instagram! Seeing your creations makes my day ♥
Pumpkin Oatmeal Chocolate Chip Cookies
Oatmeal Chocolate Chip Cookies have chewy centers and crispy edges!
Ingredients
2 sticks (8 ounces, 1 cup) unsalted butter, at room temperature
1 and 1/2 cups light brown sugar, packed
1/2 cup granulated sugar
1/2 cup pumpkin puree
1 large egg yolk, at room temperature
1/2 teaspoon vanilla extract
2 cups all-purpose flour
1 teaspoon baking soda
1 teaspoon baking powder
1//2 teaspoon salt
1 teaspoon ground cinnamon
1/2 teaspoon ground nutmeg
1/4 teaspoon ground ginger
1/8 teaspoon ground cloves
2 and 1/2 cups rolled oats (not instant oats)
2 cups semi-sweet chocolate chips
Instructions
Preheat oven to 350 (F). Line two large baking sheets with parchment paper; set aside.

In the bowl of a stand mixer fitted with the paddle attachment, or in a large bowl using a handheld electric mixer, cream together the butter and both sugars until light and fluffy, about 3 minutes. Beat in the pumpkin. Add in the egg yolk and the vanilla extract until combined.

In a medium bowl, stir together the flour, baking soda, baking powder, salt, and spices. On low speed, gradually beat the flour mixture into the butter/sugar mixture until just incorporated. Turn mixer off. Using a wooden spoon or strong spatula, stir the oats and chocolate chips into the cookie dough, stirring just until incorporated.

Scoop 2-inch balls of cookie dough onto the prepared baking sheets, leaving about 1 and 1/2 inches between so they have room to spread.

Bake, one sheet at a time, in preheated oven for 12 to 15 minutes, or until cookies are golden and set at the edges and still just slightly soft in the center. Repeat with all cookie dough.

Cool cookies on baking sheet for 20 minutes before transferring them to a wire rack to cool completely.