I had every intention of sharing cake with you today. Not just any cake, but THE CAKE. The cake that I've been consumed with perfecting for the past month; finally perfected last week; and finally finally photographed over the weekend. But then I got caught up in this batch of muffins – with their generously flavorful brown butter crumbs and seductive swirls of vibrant raspberry jam – and figured that we can wait another day or so for cake… because these muffins – they deserve their moment in the spotlight, like right now.
You guys, these brown butter raspberry swirl muffins are the most ridiculously delicious thing to emerge from my oven all month. And I've had a damn fine month of baking thus far (touch wood and all that junk). Evidence of this can be found by peeping all of the empty muffin wrappers littered around the sink and countertops. This recipe yields 12 pretty decent sized muffins, and well, um… let's just say I can count the amount left now on one hand (I have them stored safely in the deepest pocket of our freezer).
What is it about fresh-from-the-oven muffins that makes them so irresistible?!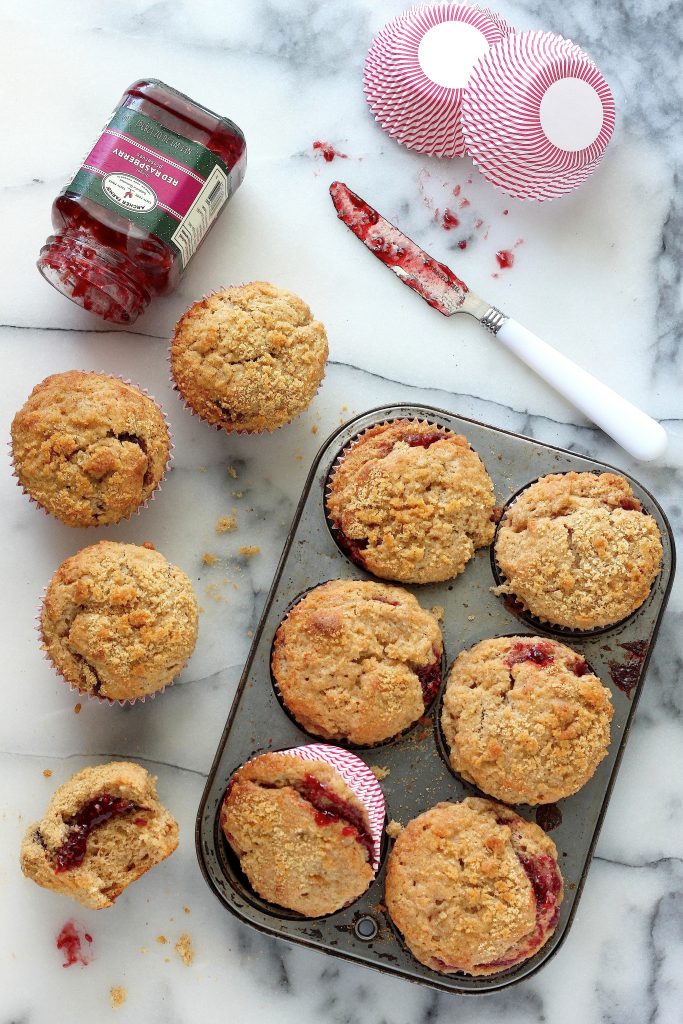 Alright peeps, let's talk details!
First up, the brown butter. This recipe calls for an entire stick of butter; browned; slightly cooled; and divided. You're going to stir half of the browned butter in a bowl with sour cream, eggs, and vanilla; the other half you'll reserve and stir into the batter as the final step before baking. Dividing the butter and inserting it into the recipe this way ensures your finished product will be fluffy, moist, and super buttery! No dry muffins here, thank you very much.
I mentioned sour cream cream in the previous paragraph, so now seems like a great time to talk ingredients! This muffin mix is made up of the usual suspects: flour (I use a combination of all-purpose and whole wheat), sugar, baking powder, salt, and eggs. I also use sour cream (for moisture), a generous pour of vanilla, and cinnamon in this recipe; those ingredients really make everything POP. I should also mention the sugar used in these muffins is light brown sugar. Light brown sugar adds a deeper flavor than granulated sugar, and really marries brilliantly with the browned butter and perky raspberry preserves.
When it's time to fill your muffin tin, here's what you do: Add two scoops of batter to each mold (I looove using a melon baller here), add in a teaspoon of raspberry preserves (gently swirl), then top with one more scoop of batter.
Oh boy… you just know these are going to bake up to be glorious little muffins!
Once they've baked up (and made your home smell ah-mazing in the act), simply allow them to cool in the pan for a few minutes – then DIG IN!
I prefer to eat my muffins right away, but these are actually quite good for up to two days.
They also freeze like a champ! Simply pop them in the freezer fresh from the oven (flash freezing!) and once they're firm, transfer them to a freezer friendly ziplock bag or container <—- doing this will keep your muffins fresh for up to a month… but I doubt they'll last that long.
Wishing you all a happy Tuesday full of love (and, if you're reading this in real time, maybe a few slices of King cake?!) See you soon with caaaaake! xo
Brown Butter Raspberry Swirl Muffins
Moist and flavorful brown butter muffins are swirled with vibrant raspberry preserves and topped with a decadent buttery crumble. These make an extra special snack or breakfast - they're also a great option for the brunch table!
Ingredients
1 cup all-purpose flour
1 cup whole-wheat flour
1 tablespoon baking powder
1 1/2 teaspoons ground cinnamon
3/4 cup light brown sugar, packed
1/2 teaspoon salt
2 large eggs, at room temperature
1 cup Full-Fat Sour Cream
8 tablespoons butter, melted until *browned (see note below if you need help browning your butter), divided
2 teaspoons vanilla extract
1/2 cup raspberry preserves
TOPPING:
4 tablespoons light brown sugar
3 tablespoons all-purpose flour
1/2 teaspoon ground cinnamon
2 1/2 tablespoons cold butter
Instructions
Preheat oven to 400 degrees (F). Grease a 12 cup muffin tin, or line with paper liners; set aside.

In a large bowl combine the flours, baking powder, cinnamon, sugar, and salt; set aside.

In a separate bowl beat the eggs, sour cream, 4 tablespoons of the browned butter, and vanilla; beat well to combine.

Gently stir the wet mixture into dry ingredients just until moistened. Fold in remaining browned butter.

Fill each prepared muffin tin mold half way with batter; add a dollop of raspberry preserves; gently swirl; then top with another scoop of batter. Each muffin tin should be about 3/4 of the way full.
For the topping:
In a small bowl combine sugar, flour and cinnamon. Cut in the butter into the dry ingredients until the mixture resembles coarse crumbs. Sprinkle a teaspoonful or two over each muffin.

Bake at 400° (F) for 16-18 minutes or until the tops are golden brown and a toothpick comes out with just a few crumbs attached. Allow the muffins to cool for 5 minutes in the pan before transferring them to a serving platter. Serve warm.
Notes
*I highly recommend using the best jar of raspberry preserves you can find - or at least your favorite brand! The berry swirl really shines through in the finished product, so it's important to choose one you really enjoy.
*Raspberry preserves may be replaced with any flavor preserves you desire.
*To brown the butter, simply place the butter in a small pot or pan. Begin to melt the butter over medium heat; once the butter has completely melted, begin to whisk constantly. Continue to cook the butter, stirring constantly, until the butter becomes a light tan color, then remove the pan from the heat. The butter will continue cooking even after you remove it from the burner, so be sure to remove it once it's turned that light golden brown. Allow the butter to cool a few seconds before using.
*Full fat sour cream may be substituted with Full fat Greek yogurt.
*You may use all All-purpose flour if desired
*I do not recommend using all whole wheat flour in this recipe. Doing this will result in drier muffins.
*I recommend lightly spraying your paper liners in the muffin tin with a non-stick spray. This helps prevent any paper to muffin "stickage" that may occur during the baking process.