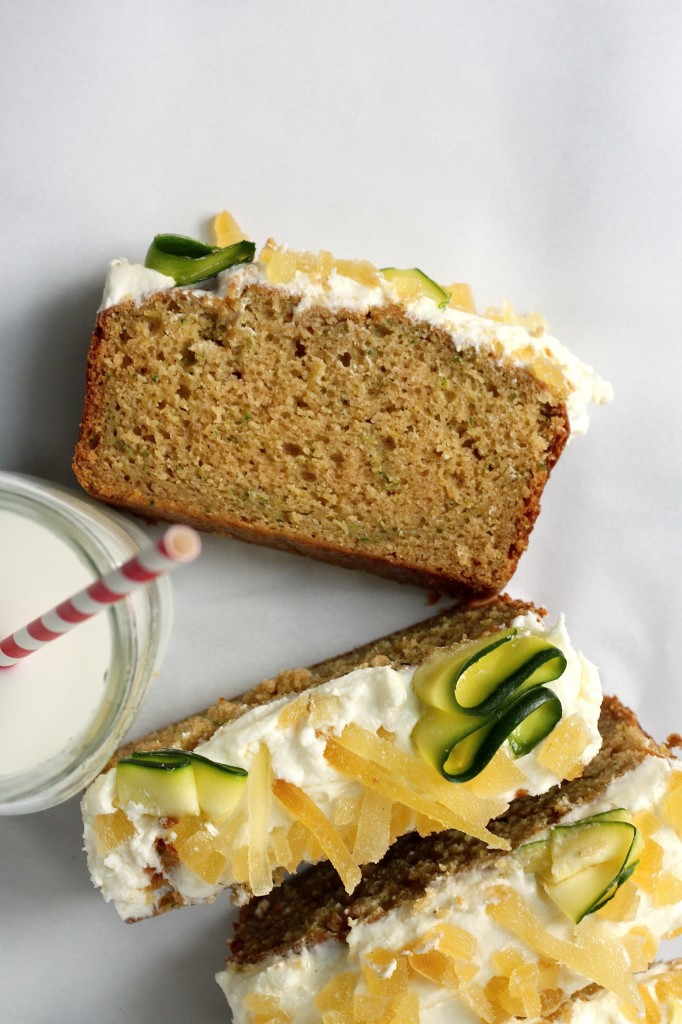 Oh la la, you guys! This bread. This bread is really good. Ok… so maybe it's more cake than bread – but who's forcing us to make that call?
Cake —-> bread? Bread —-> cake? Does it matter? I say nah. They're all in the same family, right? The AWESOME family. Boom.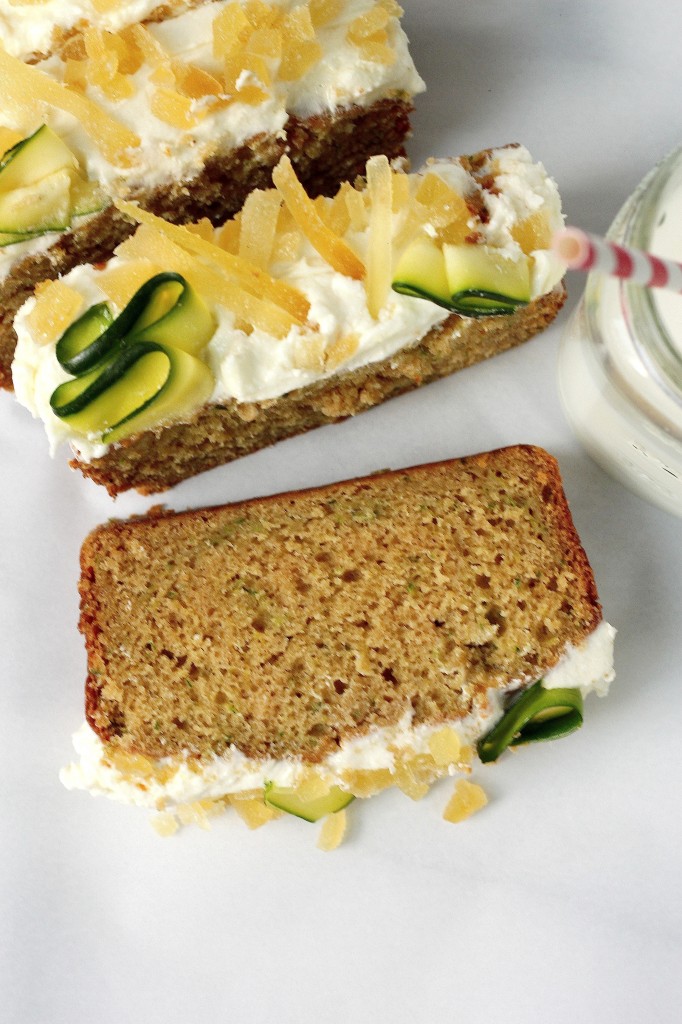 FACT: I just ate a slice of this luscious loaf so that I could be especially excited and accurate in my "This is why you need to make this… today!" spiel. The things I do for you 😉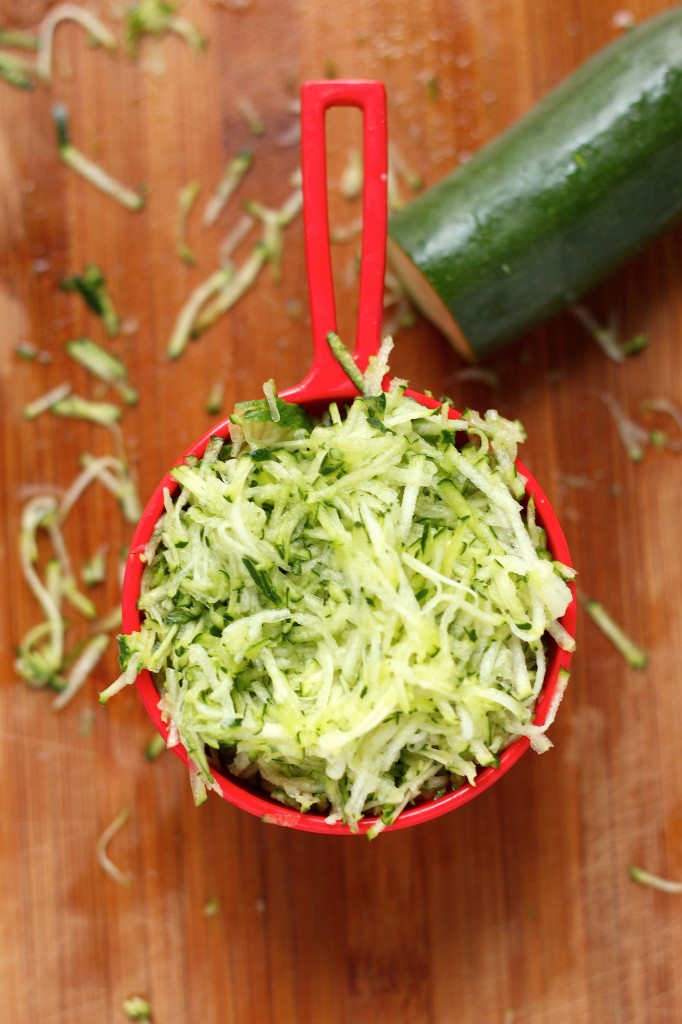 So here it is! The spiel. To start, just look at it! Pretty, pretty! The glistening golden slivers of crystalized ginger!!! The orange blossom buttercream!!! The ZUCCHINI. Ok. Maybe zucchini isn't all so purdy. But it's super tasty. And sometimes that's enough.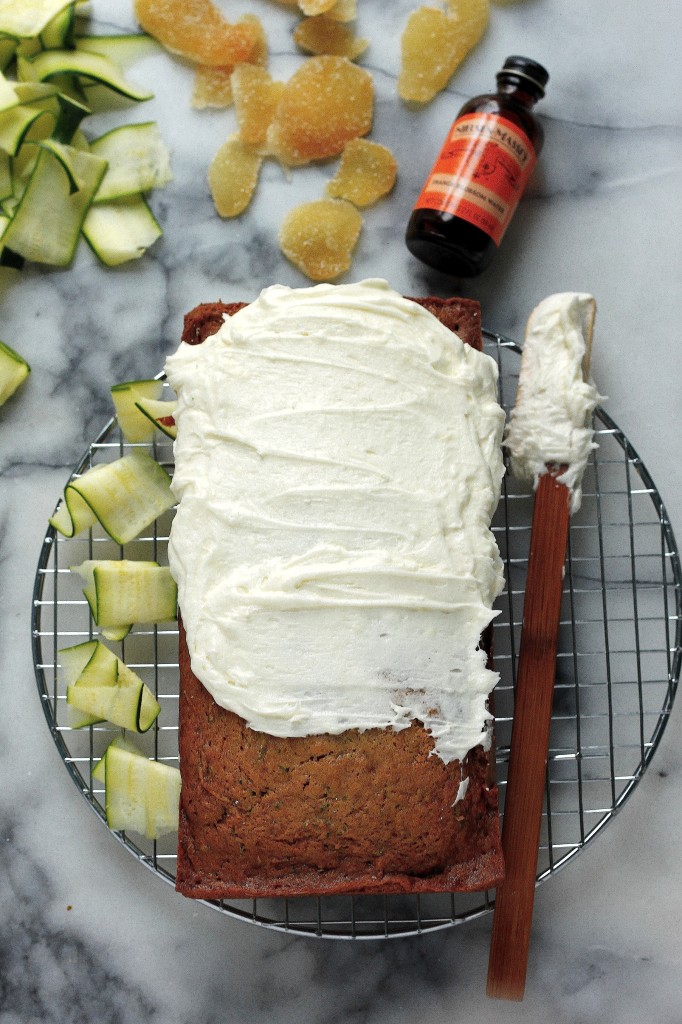 If looks alone don't sell ya – good for you! Let's talk taste. This bread – at its true bread core – is a humble whole wheat zucchini loaf made not-so-humble by a good slip of brown butter and a large dollop of sour cream. I mean, those guys know how to make a bread BEAM with both flavor and moisture. Score.
Then, to make good great, we add a simple buttercream. This buttercream is woken up and sunshine sweet thanks to orange blossom water. Orange blossom water sounds fancy, but I bet you can find it for 3 or 4 bucks in the same region of the store you'd swipe up vanilla/ dried herbs/ spices. You can also of course buy it online. I love keeping a bottle around for times I'm fresh out of real citrus and want a little pop of that great zingy flavor. It's kind of like adding orange zest, but more delicate. I think you'll like it.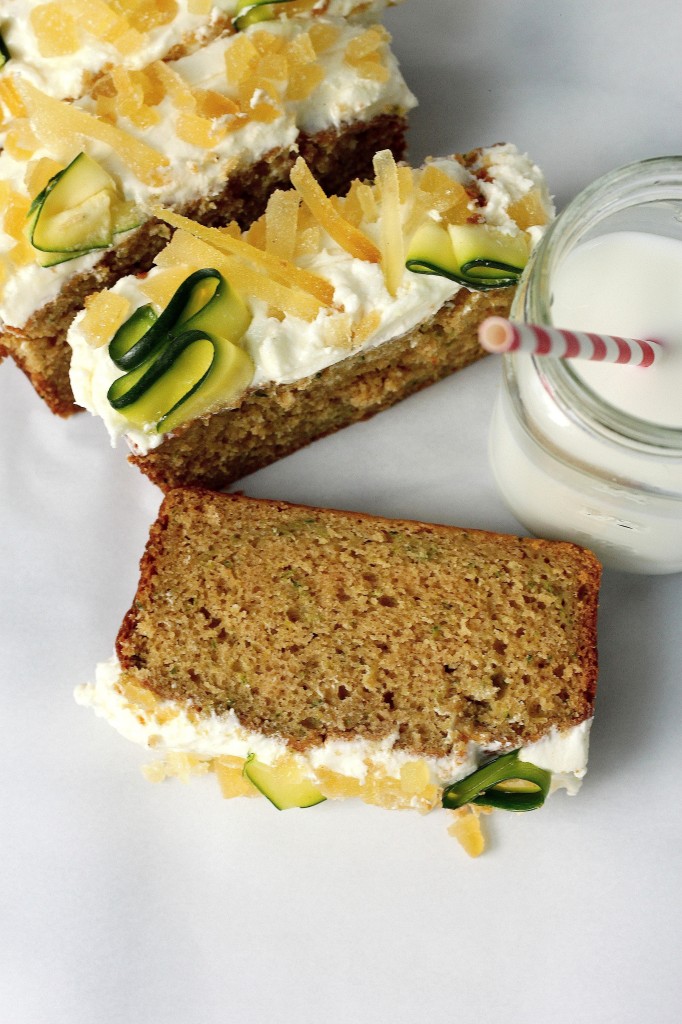 I topped the cake (bread…?) with candied ginger and slivered zucchini. It was pretty. It was delicious. It was gone in 20 minutes.
Except the few sliced I hid 😉 A girls gotta have her cake!
So moist. SO flavorful. So gonna make you happy when you make! xoxo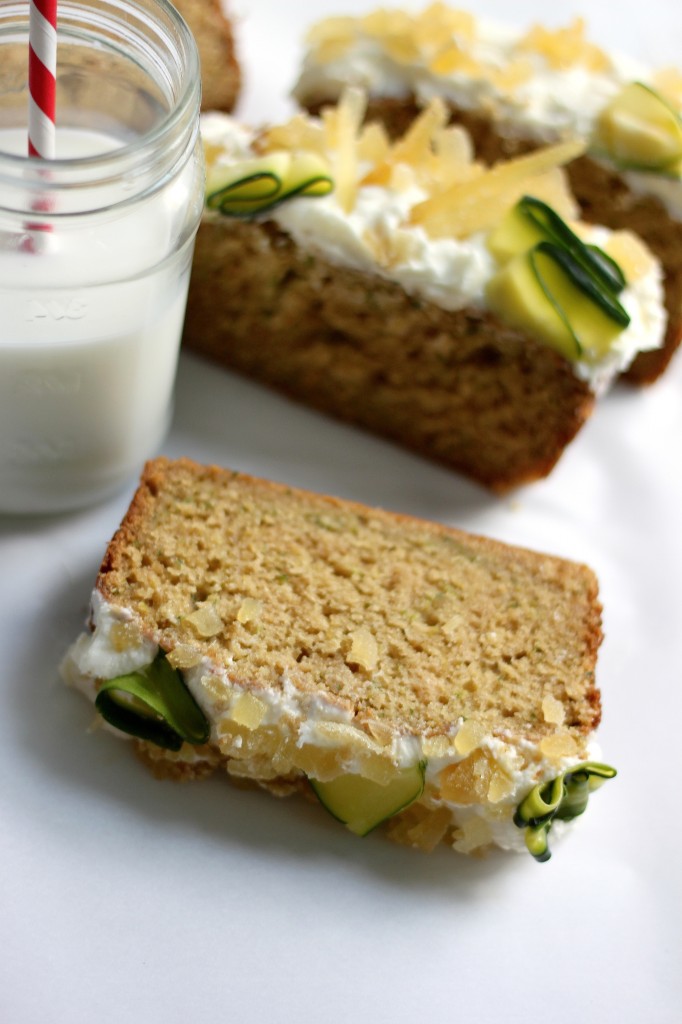 *I do recommend leaving the zucchini slivers off if you're not serving this cake right away. They have a lot of moisture, which will make your buttercream watery if left on for too long.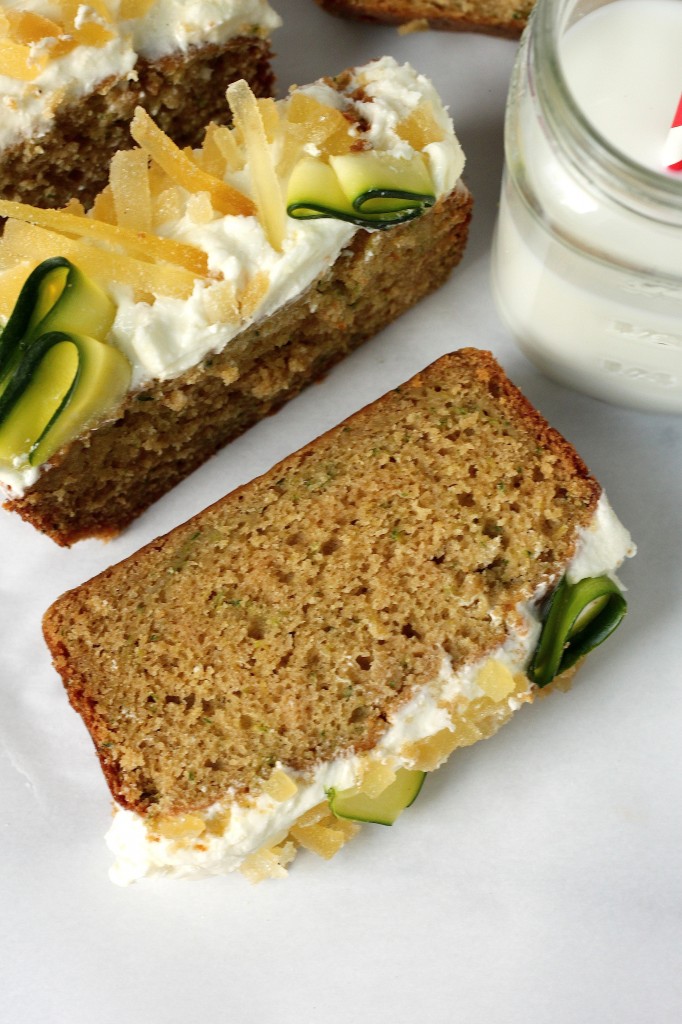 Brown Butter Zucchini Bread with Orange Blossom Ginger Buttercream
Ingredients
4 ounces unsalted butter, melted until browned
1/2 cup granulated sugar
1/2 cup brown sugar
2 large eggs, at room temperature
1 teaspoon pure vanilla extract
1 cup all-purpose flour
1/2 cup whole wheat flour
1 teaspoon baking soda
1/2 teaspoon salt
1/2 cup sour cream
1 cup zucchini, shredded
4 ounces unsalted butter, very soft
1 tablespoon orange juice
1 tablespoon orange blossom water
1/4 teaspoon salt
3 cups confectioners sugar
3 tablespoons crystalized ginger, chopped
Zucchini slivers, for decorating cake (VERY optional)
Instructions
Preheat oven to 350 degrees (F). Grease a 9x5 inch loaf pan; set aside.

Melt butter in a small saucepan over medium-low heat - stirring constantly - until just browned.

In a large bowl whisk together the browned butter and sugars until light and fluffy.

Add the eggs and vanilla, mix well.

Combine the flours, baking soda and salt, stir into the butter mixture until smooth.

Fold in the sour cream and zucchini. Spread evenly into prepared pan.

Bake for 60 minutes, or until a toothpick inserted into the center of the loaf comes out clean.

Cool loaf in the pan for 10 minutes before removing to a wire rack to cool completely.

While the loaf is cooling, make your frosting!

In a large bowl of the body of a stand mixer beat the butter until light and fluffy. Add the orange juice and blossom water. Add the salt. Add the confectioners sugar one cup at a time. Beat until all of the sugar has been added. The frosting should be the perfect consistency, but if for some reason it's too thick add a little more orange juice, a half tablespoon at a time.

Once the loaf is cooled, you can spread the frosting across the top and ice it to your style preferences. Top with crystalized ginger.

Cut into slices and serve! Cake with keep in an airtight container for 3 days.