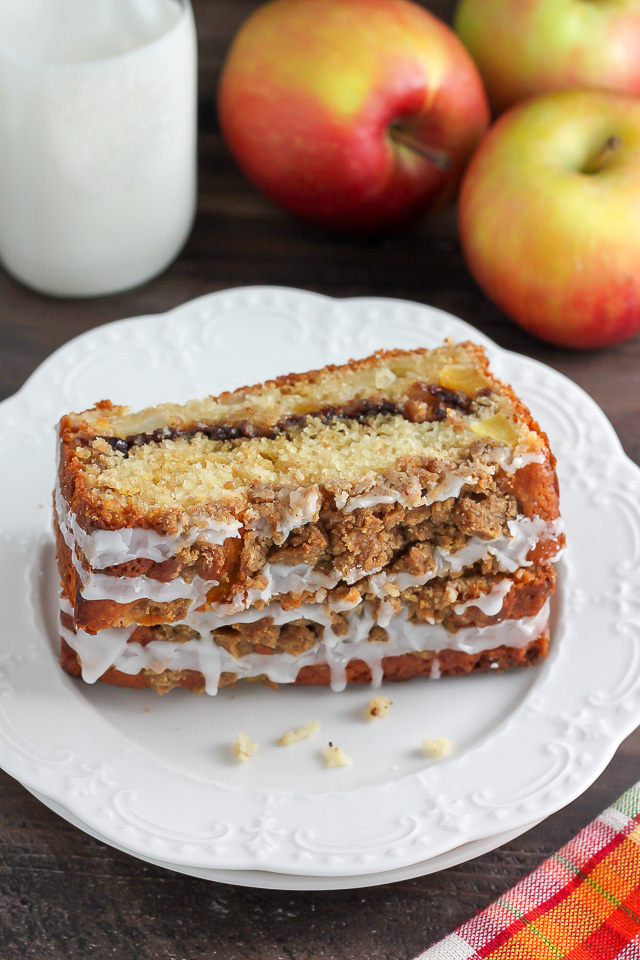 Moist and tender brown butter apple cake loaded with buttery crumbs and a thick cinnamon swirl! Are you drooling yet…?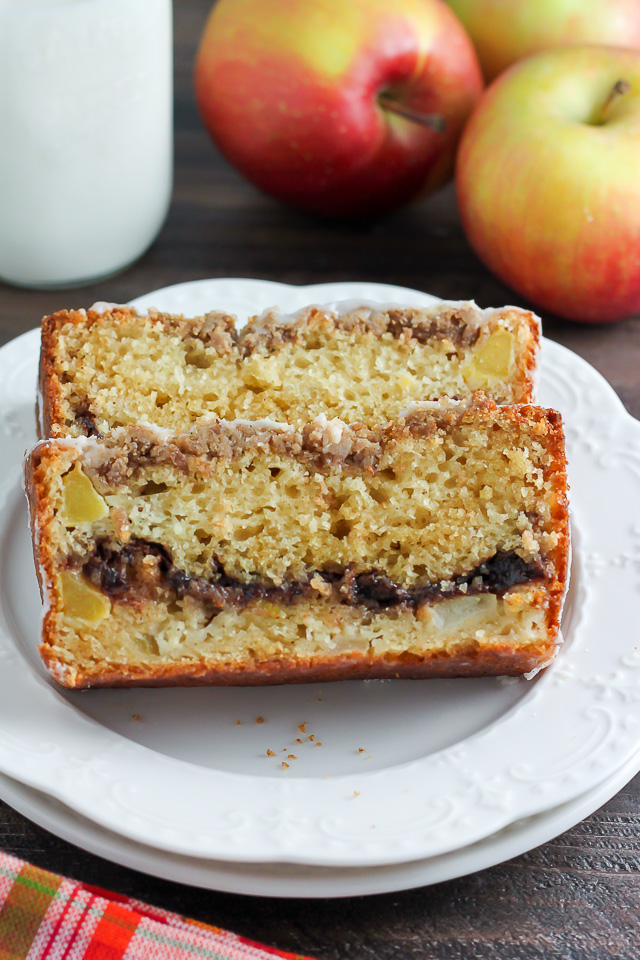 It's crumb cake o'clock here on the blog today! Many of you may already know this, but I love crumb cake in pretty much any form; blueberry ricotta, brown butter cherry, or berry buttermilk… I don't discriminate. So when my good friends over at KitchenAid asked me to create a recipe celebrating the apple, I knew just what to make you!
Friends, meet your new favorite Fall dessert: Cinnamon Swirl Apple Crumb Cake.
Supremely moist brown butter cake loaded with juicy bites of apple, a delightful cinnamon swirl, and giant buttery crumbs. It's seriously delish and super satisfying!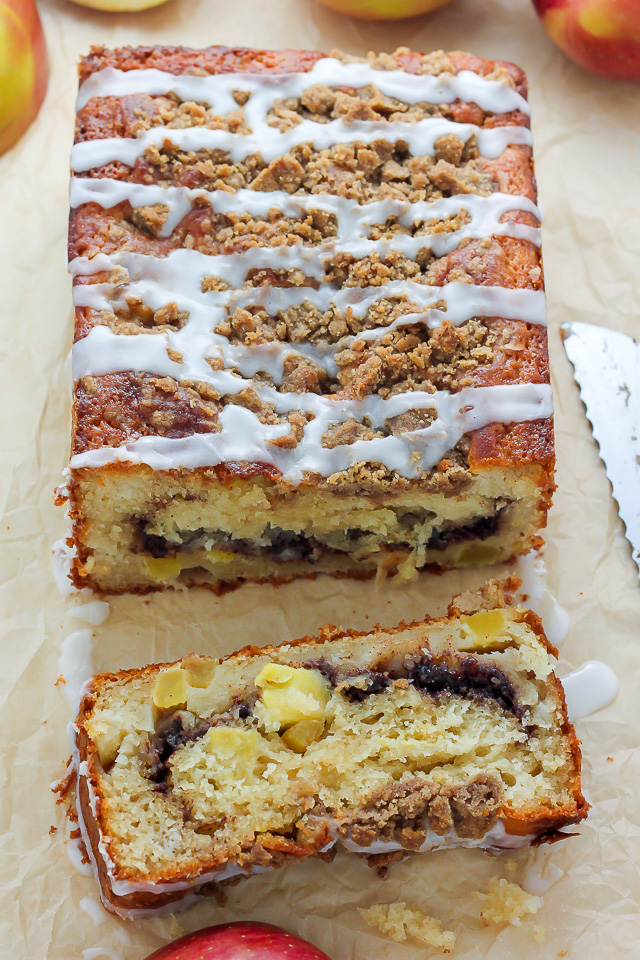 So let's talk recipe details! This recipe is all about embracing simple ingredients and using them in creative ways. My local farmers market was bursting with super pretty apples last weekend, so I stocked up and tested this recipe a whopping 3 times! <<< The things I do for you 😉 During those recipe test runs I learned some invaluable tips and tricks that helped me nail the flawless crumb cake you see in this post.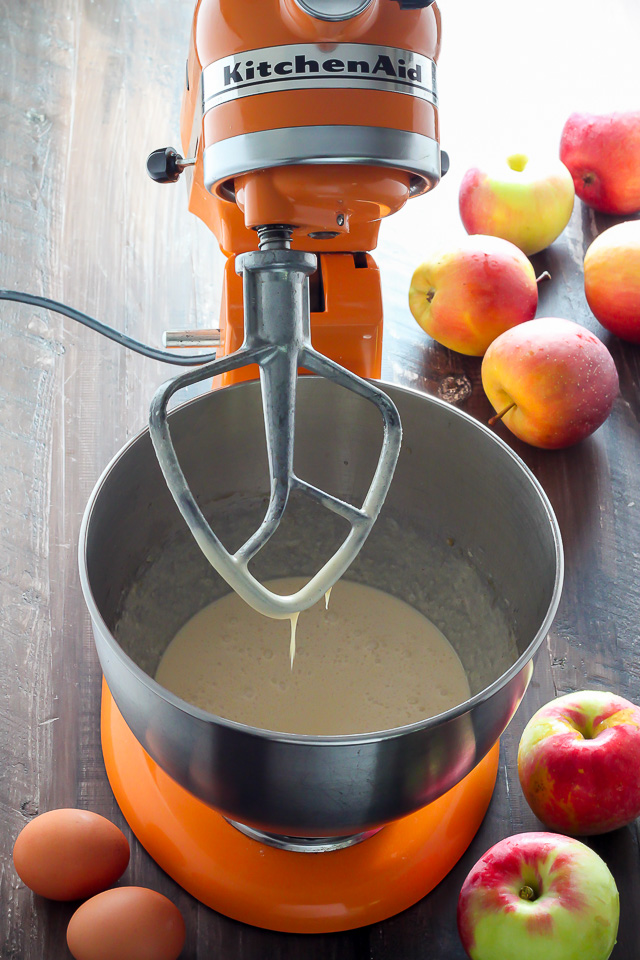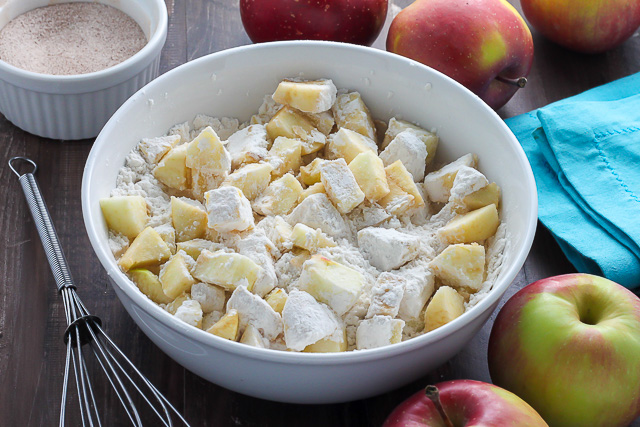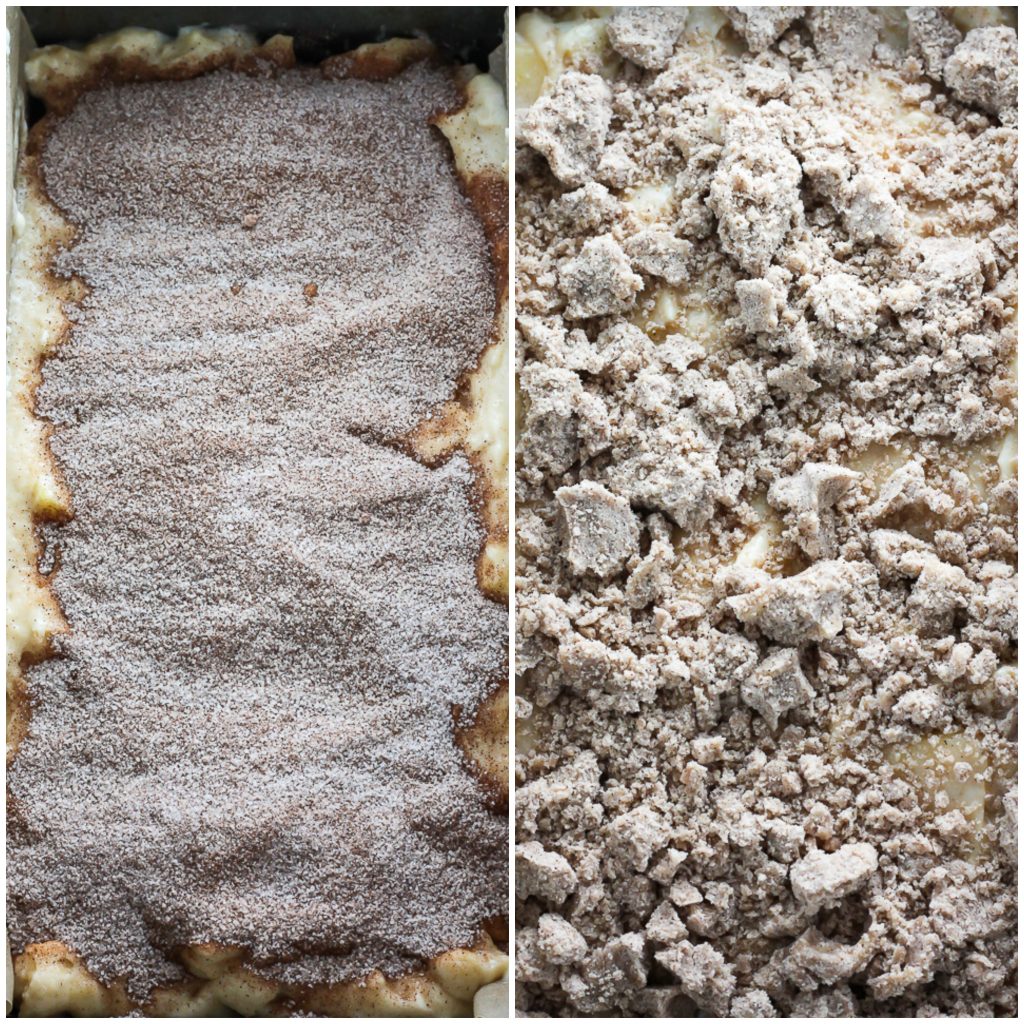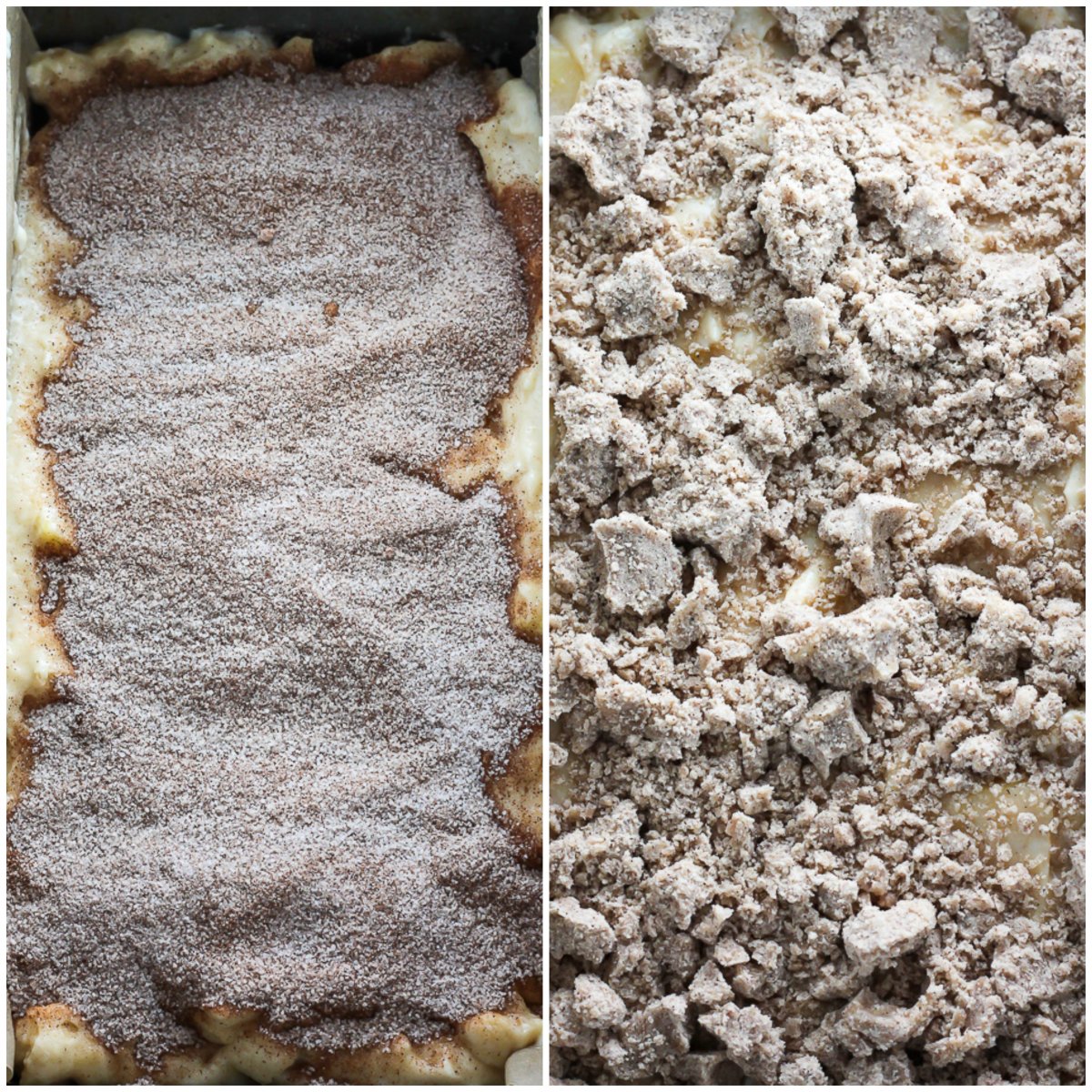 Here are my top 5 tips to baking the perfect apple crumb cake with zero drama:
Line your loaf pan with parchment paper AND spray it with non-stick spray. I know… this sounds pretty simple and straightforward, right? But the first time I baked this crumb cake I foolishly didn't use parchment paper and o-m-g was it a nightmare trying to remove the cake from the pan. The second time I did use parchment but didn't spray. Guess what happened? All those buttery wonderful edges got stuck. It was sad. Moral of the story: Line and spray and your cake will basically float out of the pan. End rant!
Toss your apples in the flour before adding them to the batter. This is mentioned in the recipe box below, but it's important so I'm saying it again here. Tossing the apples in the flour helps keep them afloat during the baking process, resulting in a crumb cake that's speckled with bites of apple everywhere... not just on the bottom of the cake (raw fruit tends to sink).
When making your crumb, be sure to start with very cold butter, and work quickly. Butter softens extremely fast – especially when you're using your hands (body heat!) – so if you see your butter has begun to melt, pop the bowl in the freezer for a few minutes, then finish making the crumb. For extra large crumbs pinch the crumb mixture together firmly with your fingers – making big clusters – then gently break it up over the top of the cake.
Keep an eye on your cake during the last 20 minutes of baking. I baked this cake twice in my own oven, and once at my best friend's house. My oven baked this cake in exactly 55 minutes, while my friend's oven had it ready in just 45!
Be sure to let this cake cool at least 25 minutes (10 in the pan and 15 on a cooling rack) before slicing. If you try to slice it right away, the cake will still be delicious, but may crumble and crack resulting in not-so-pretty presentation. I found slicing at the 20 minute mark provided perfect slices that were still semi-warm.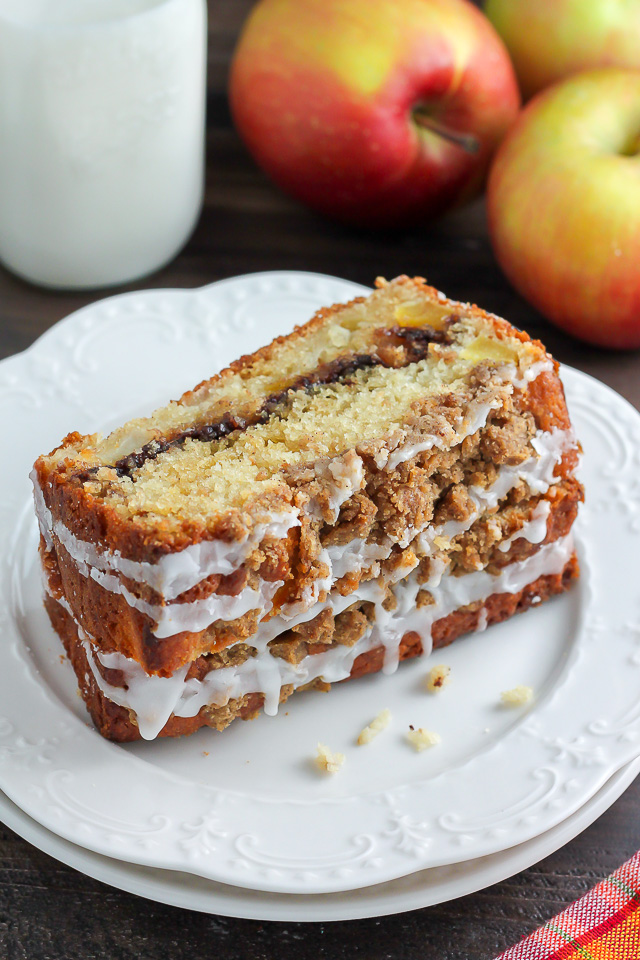 This crumb cake is a hit at brunches and parties; people always flip and swoon over the dramatic (and delicious) cinnamon swirl! Add a little ice cream on top and lord have mercy… minds will be BLOWN!
I hope I've inspired you to enter the KitchenAid contest! All you have to do is make an original dish using an apple (any variety!) and share it on twitter or instagram using the hashtag #KitchenAidContest. You could win a private cooking lesson with Chef Zakarian and the new black stainless suite of appliances (which is stunning!) from KitchenAid. Head on over to the Food Network to check out all of the details.
From the first-ever black stainless steel to the first-ever five-door refrigerator, KitchenAid pushes the limits with their appliances, so our home cooks can do the same with their cooking. See the revolutionary new line of KitchenAid appliances or visit the Kitchenthusiast™ blog for recipes, tips and more.
This is a sponsored conversation written by me on behalf of KitchenAid Elite Bloggers. The opinions and text are all mine.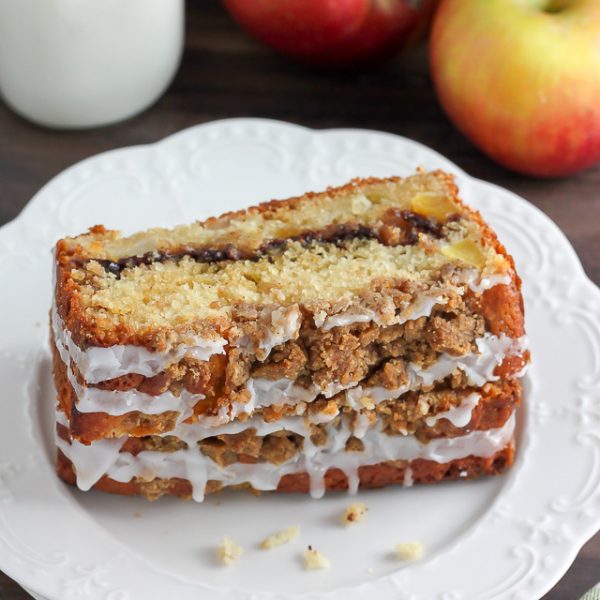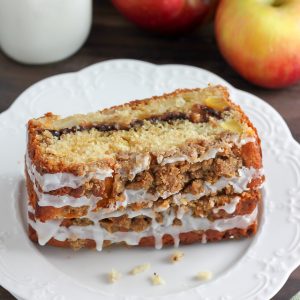 Cinnamon Swirl Apple Crumb Cake
Moist and delicious Cinnamon Apple Crumb Cake!
Ingredients
For the Apple Crumb Cake:
4 ounces unsalted butter, melted until browned
3/4 cup granulated sugar
2 and a 1/2 teaspoons pure vanilla extract
2 large eggs, at room temperature
1 and a 1/4 cups cake flour
1 teaspoon baking powder
1/2 teaspoon baking soda
1/2 teaspoon finely ground sea salt or table salt
1/2 cup sour cream
1 cup chopped apples
2 tablespoons all-purpose flour
For the Cinnamon Swirl:
1/3 cup granulated sugar
2 teaspoons ground cinnamon
For the Buttery Crumb:
1/4 cup light brown sugar, packed
1/2 cup all-purpose flour
3 teaspoons ground cinnamon
1/2 teaspoon finely ground sea salt or table salt
3 tablespoons unsalted butter, very cold
1/2 cup almonds, chopped
For the Vanilla Icing:
1/2 cup confectioners' sugar, sifted
3-4 tablespoons milk (I used whole here, but reduced fat or even almond milk will work here)
1/2 teaspoon vanilla extract
1/4 teaspoon finely ground sea salt or table salt
Instructions
Preheat oven to 350 degrees (F). Line a 9x5 inch loaf pan with parchment paper so that the paper hangs slightly over the edges on two sides (this will help you lift the cake out without loosing any delicious crumbs!). Spray the parchment paper and any exposed pan with non-stick spray; set aside.

In a large bowl using a handheld electric mixer or in the bowl of a stand mixer fitted with the paddle attachment, combine the butter and sugar and beat on medium speed for 3 minutes; or until well combined and creamy. Add in the vanilla and beat for another minute. Add in eggs, one at a time, beating well after each addition. Turn mixer off and allow the wet mixture to rest while you prepare the dry ingredients.

In a medium-sized bowl combine the cake flour, baking powder, baking soda and salt; mix well to combine. On low speed, add the dry ingredients into the wet ingredient mixture, stirring just until combined. Turn electric mixer off. Using a rubber spatula fold the sour cream into the mixture.

Place the apples in a small bowl and gently toss them with 2 tablespoons of all-purpose flour - be sure to really coat the apples in the flour, as this helps them not sink to the bottom of the loaf while baking. Gently fold the flour covered apples into the batter, stirring just until combined. Set batter aside and quickly prepare the buttery crumb.
For the Buttery Crumb:
In medium-sized bowl combine all ingredients. Quickly mix the ingredients together using a pastry cutter, fork, or your fingers until well combined; stop when the butter reaches the size of tiny peas.
Assembly and Baking:
Pour half of the batter into the prepared pan and top with cinnamon swirl and half of the buttery crumb mixture. Add the remaining batter, then top with remaining buttery crumb mixture. Bake for one hour, or until the top is deeply golden and a cake tester inserted in the middle of the loaf comes out clean, or with just a few crumbs attached. Allow cake to cool in the pan for 20 minutes, then, using the overlapping edges of parchment paper, lift up and transfer the cake to a cooling wrack to cool completely.

Once the cake is completely cooled, you may top it with the vanilla icing, slice, and serve!
For the Vanilla Icing:
Combine all of the ingredients together in a medium-sized bowl; whisk well to completely combine.

Drizzle over cooled cake right before serving.