Today I'm teaching you exactly how to make Classic French Madeleines! They taste just like the ones you'd find in a Parisian boulangerie! These soft sea shell shaped cookie cakes care so good with a cup of tea!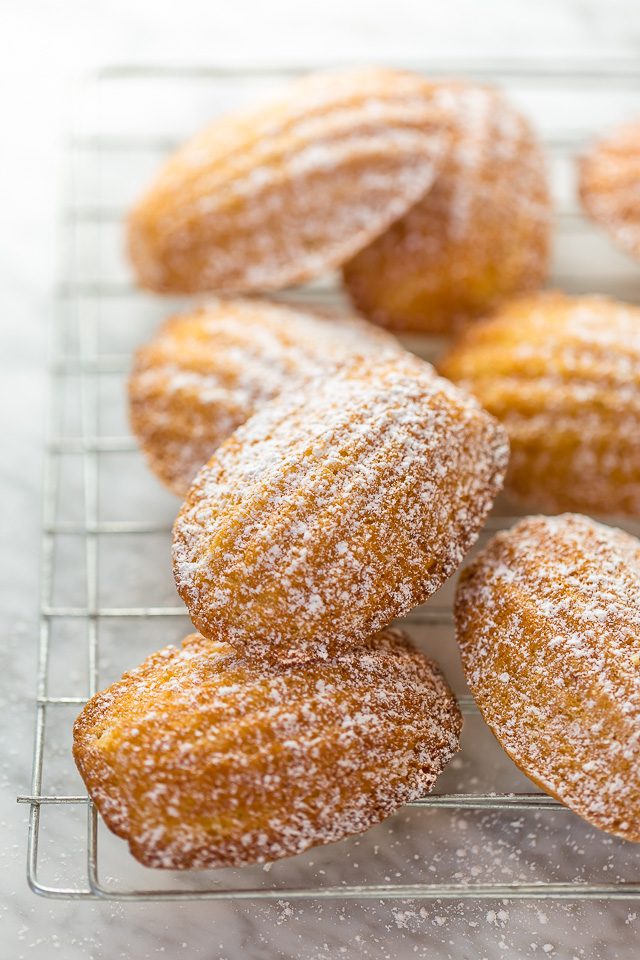 Madeleine Recipe
I've been trying to stay focused… but there's a constant whisper in my ear: 2 weeks till Paris! Of course, the day count changes as the days fall off the calendar, but the message is always the same. Vacation is coming and it's coming soon. So I decided to channel my unavoidable excitement into something sweet for you: a week's worth of French inspired recipes! Beginning with a lovely batch of Authentic French Madeleines.
And just a little disclaimer: I classify this recipe as "classic" because I have several French friends who kindly helped me develop this recipe. But if you are French and this is not classic to you, I'd love to hear how you make your mads in the comments below ♥
But for now, let's move on with the recipe! Because classic or not, these delicate little shell shaped sponge cakes are sweet, buttery, and so DELICIOUS!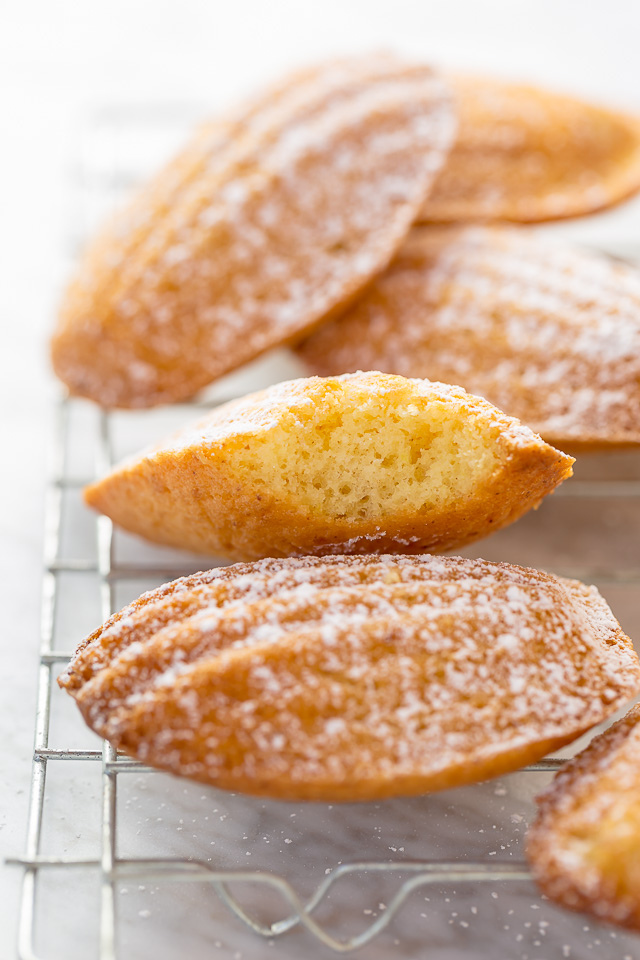 Tips and Tricks for Recipe Success
Madeleine Cookies
First things first! To make this recipe, you will need a Madeleine mold. If you don't already own one, here's a link to the best madeleine pan.
Now that we've got that out of the way, let's discuss brown butter! Because it's the very first step in this recipe and it's an important one. To brown butter you'll need a saute pan, butter, and a little patience. You'll melt the butter as normal, then continue cooking it over medium heat – stirring occasionally – until it reaches a golden brown color. Watch your butter closely as it browns, because it can burn easily! Once it's nice and golden brown, remove it from the heat and pour it into a heatproof bowl – being sure to scrape all of the golden bits off the bottom of the pan. And that's it! Easy, right? You'll want to do this step first because the butter needs to cool a bit before being added to the batter.
Because cold ingredients don't bond, your eggs must be at room temperature before using them in this recipe.
One of the most important steps in this recipe is beating the eggs and sugar together. You're going to want to gradually add the sugar into the eggs, and beat the mixture for a long time; about 3 to 4 minutes.  I find 3 and 1/2 minutes is my "magic number", but visually you'll want the mixture to be pale and very thick.
And the hardest part of this recipe?! The waiting! The batter must be refrigerated for at least 4 hours. The good news? You can keep it in the fridge for up to 2 days!
When it's time to bake the madeleines, you'll want to grease your mold generously with softened butter and a dusting of flour. Otherwise they'll stick!
Finally, be sure to keep an eye on them as they bake. They're ready when their "bellies" have risen and they're golden brown.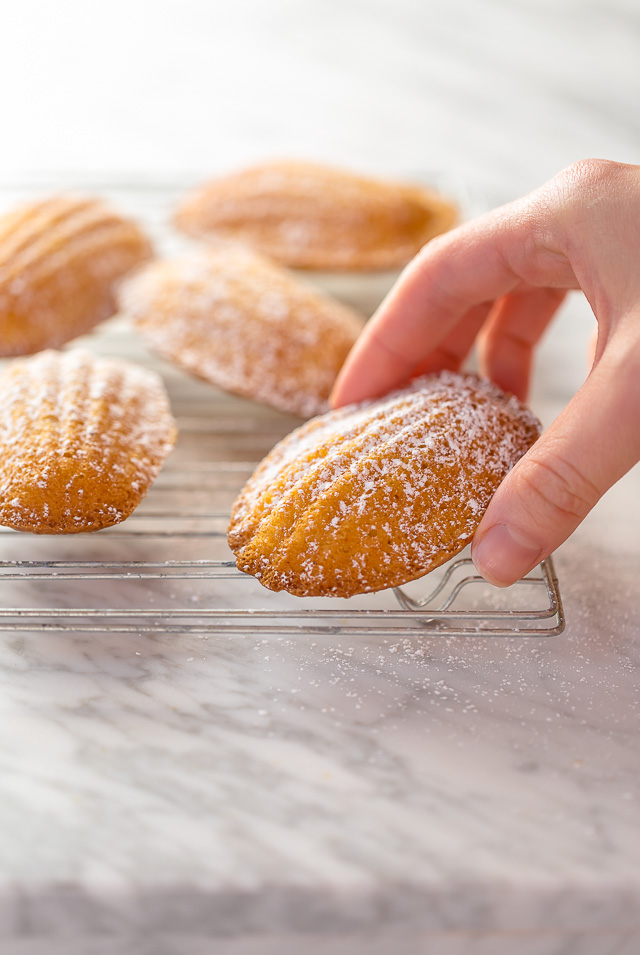 What is a madeleine?
Madeleine cookies? Madeleine cake? What the heck are they, right? I'm going to clear it up for you right now 😉
Although many think that madeleines are French shell shaped cookies, they are actually CAKE. The batter is typically baked in a shell-shaped mold and the finished product is often decorated with confectioners' sugar or some type of glaze.
One more thing! Madeleines are truly best served warm, and definitely best served within an hour of baking them. They lose moisture quite quickly, so they're not a cake I suggest making ahead of time. But as I mentioned above, you can make the batter ahead of time, then bake off fresh batches as needed. I love baking them for brunch because they're so good with a cup of coffee or tea.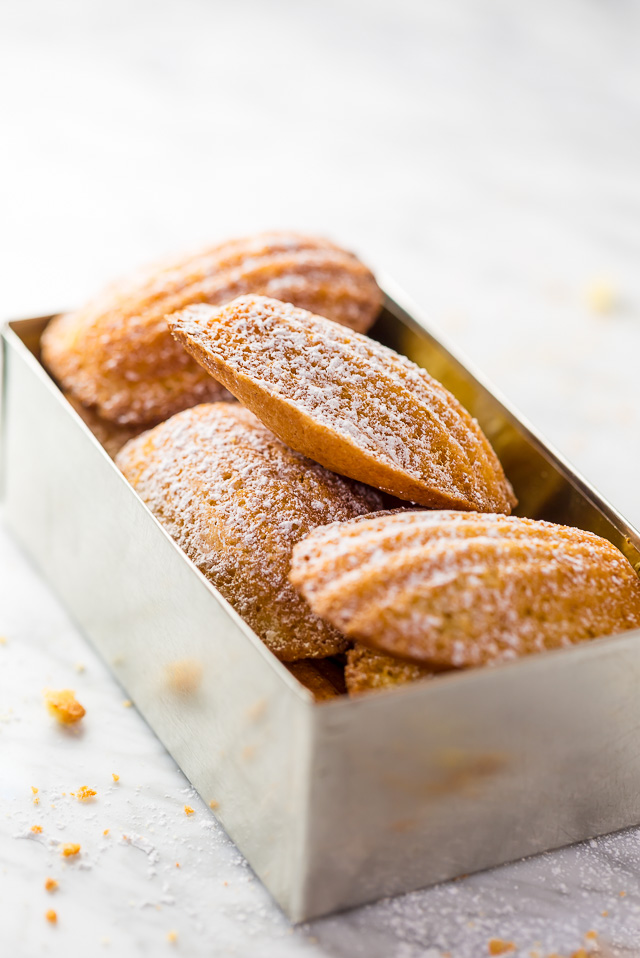 Now that I feel I've "mastered" Classic French Madeleines, I'm eager to start experimenting with new flavors! So I was hoping you'd help me pick out the next flavor I should post? I'm between mint chocolate or lemon poppy seed?! Both sound so good to me!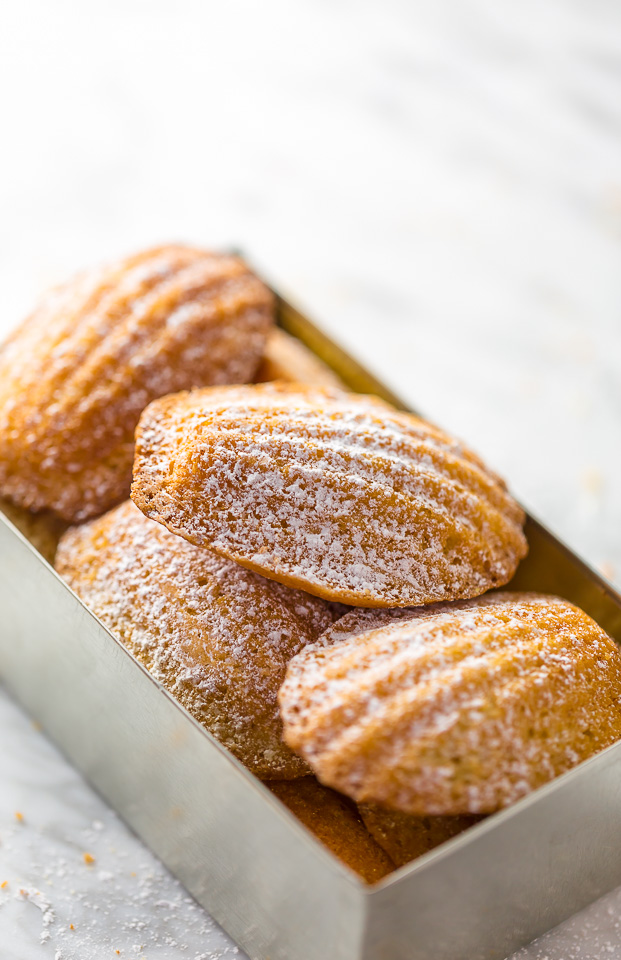 This is the best Madeleine recipe! So perfect, in fact, I think Proust might even be proud…♥ (key word *might!)
More Madeleine Recipes:
More French Recipes:
If you try this French Madeleine Recipe, let me know! Leave a comment below and don't forget to snap a pic and tag it #bakerbynature on instagram! Seeing your kitchen creations makes my day.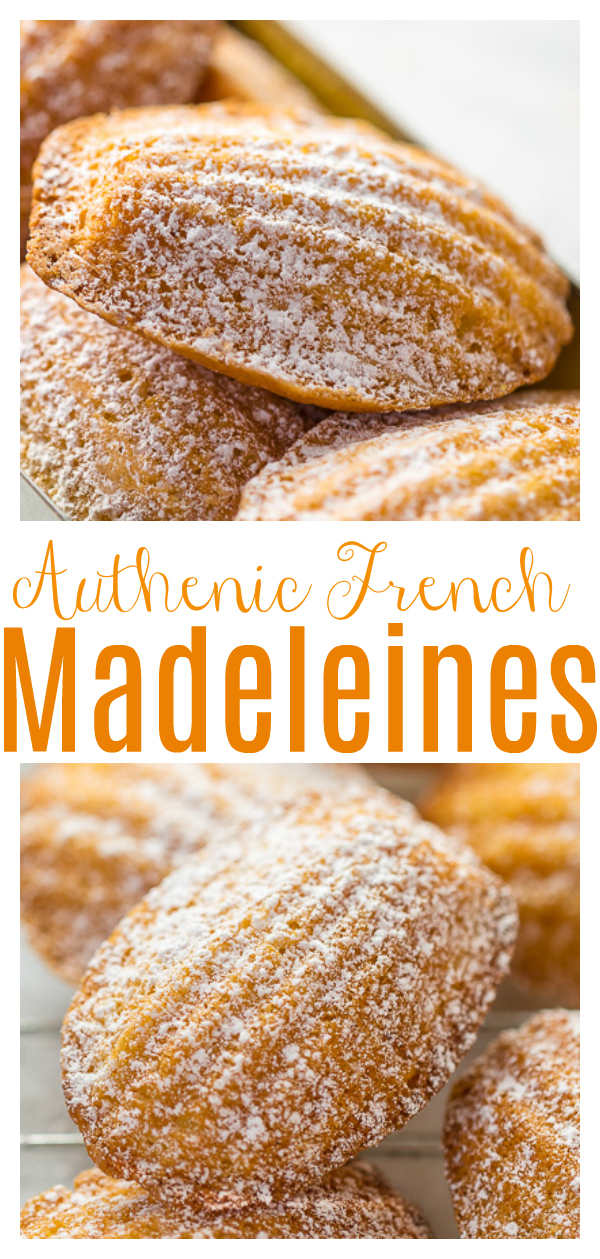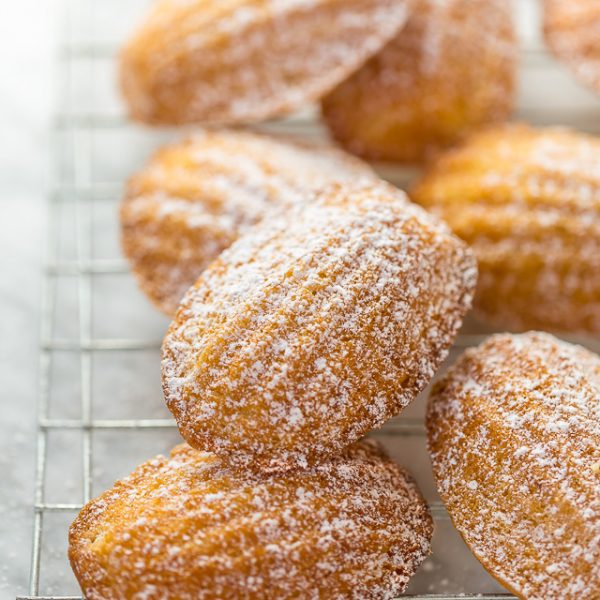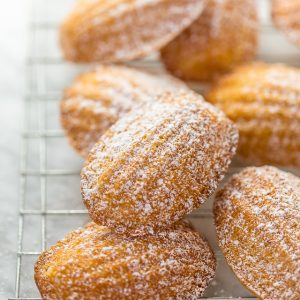 Classic French Madeleines
These Classic French Madeleines are light, fluffy, and so good with a cup of tea!
Ingredients
1 stick (4 ounces) unsalted butter, melted until browned
2 teaspoons vanilla extract
1 and 1/2 teaspoons lemon zest, finely grated
1 cup all-purpose flour
1 and 1/4 teaspoons baking powder
1/4 teaspoon salt
3 large eggs, at room temperature
3/4 cup granulated sugar
1/2 cup confectioners sugar, sifted, optional
Instructions
Cut the butter in tablespoons and place them in a heavy saucepan over medium heat. Once the butter has melted, reduce the heat to low and continue cooking, until the solids sink to the bottom of the pan and turn golden brown, about 10 minutes. Remove from heat and pour the browned butter into a small bowl. Stir the vanilla and lemon zest into the butter, then set aside to cool.

In a medium mixing bowl, whisk together the flour, baking powder, and salt. Set aside until needed.

In the bowl of a stand mixer fitted with the whisk attachment, beat the eggs at medium speed while gradually adding the sugar. Once all of the sugar has been added, increase the speed to medium-high and continue whipping the mixture until it's very thick and pale in color, about 3 to 4 minutes. Turn the mixer off and, using a silicon spatula, fold in the flour mixture in three additions, stirring just until combined. Fold in the butter mixture.

Cover the bowl and refrigerate for at least 4 hours, and up to 2 days.

30 minutes before you're ready to bake, preheat the oven to 375 degrees (F). Generously brush the molds of your madeleine pan with butter, then lightly dust with flour.

Using a medium cookie scoop, spoon level scoops of the batter into the center of each mold. You don't need to spread the batter.

Bake for 12 minutes, or until the "bellies" have risen and they're golden brown.

Cool madeleines in the pan placed on a cooling rack for a minute or two, then gently loosen them from the molds. If they stick, carefully run a small knife around the edge of the cakes until they release.

Dust with confectioners' sugar and serve warm, with coffee or tea.