If you love Quiche Lorraine you have to try this homemade version! So flavorful and perfect for brunch or dinner!
Quiche Lorraine Recipe
I spent part of the holiday season in Paris last year and one of the best things I ate during my trip was a humble slice of Quiche Lorraine. It was one of those rainy, romantic days where the only thing you want to do is curl up with a cup of coffee and a big plate of comfort food. So I strolled down to the nearest cafe and did just that! I don't know a lick of French, so I did my best to communicate with the gracious waitress, and after a lot of laughs and hand gestures, we came to an agreement she would bring me the "brunch plate". 20 minutes later she appeared with a spread fit for a king! There was coffee and fresh squeezed juice, croissants and jam, a bowl bursting with fresh berries, and a large plate scattered with salad and a triangle of Quiche Lorraine. Suffice it to say, I'm still dreaming of that meal!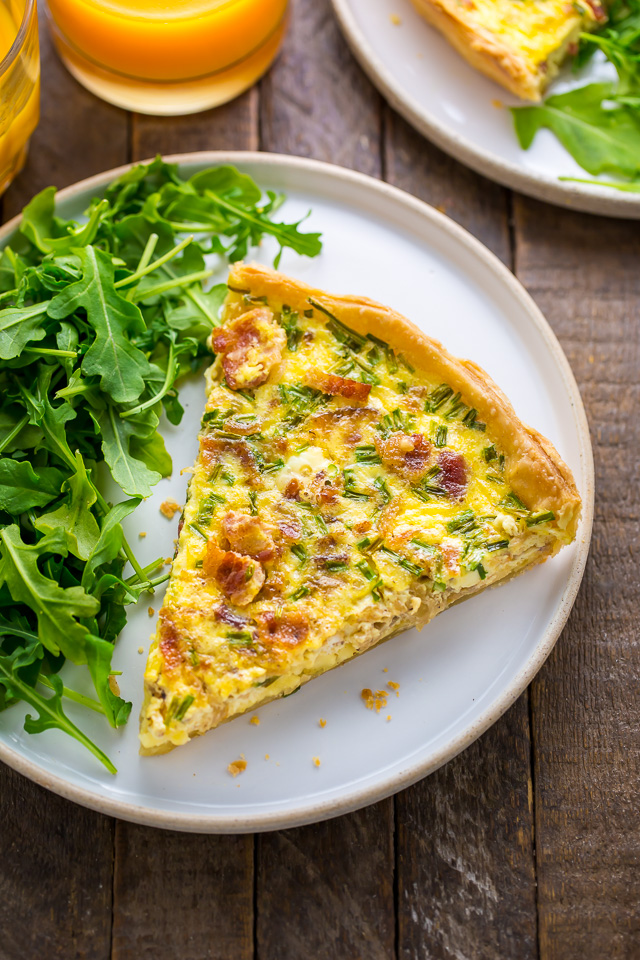 I went to work recreating the Quiche Lorraine I ate in Paris the minute I got home! ← No exaggeration, I actually cooked it for dinner my first night back in the states. It took me a few tries, but I finally nailed it! What I really love about Quiche Lorraine – aside from taste, of course – is its versatility. It's perfect for fancy holiday brunches, potlucks, or just a simple dinner on the couch. I love serving it with a simple arugula salad, but you can really pair it with almost anything!
How to make Quiche Lorraine
To make this Quiche Lorraine as quickly as possible, I suggest using a food processor to grate both the onion and the cheese. Not only does this save you time, it makes sure your ingredients are uniform in size. KitchenAid was kind enough to send me their 7-cup Food Processor with ExactSlice™ System which perfectly grated my ingredients in just seconds! Not to mention saved me from having to grate onions by hand… my eyes always tear up like crazy when I have to do that.
Cook your bacon and onions right after you prepare the crust. You'll want to have everything ready before you begin assembling your quiche. KitchenAid sent me their incredible Tri-Ply Stainless Steel 10-Piece Set which I used for this step. If you're in the market for a new set, or trying to find the perfect holiday gift for your favorite foodie, I highly recommend checking it out.
I used my foolproof all butter pie crust for this recipe and it worked wonderfully! That said, feel free to use your favorite pie dough recipe.
Don't over bake your quiche! It should be set at the edges but still slightly jiggly in the center – it will continue cook after it's removed from the oven.
Quiche Lorraine may be served warm or cold – it's delicious both ways!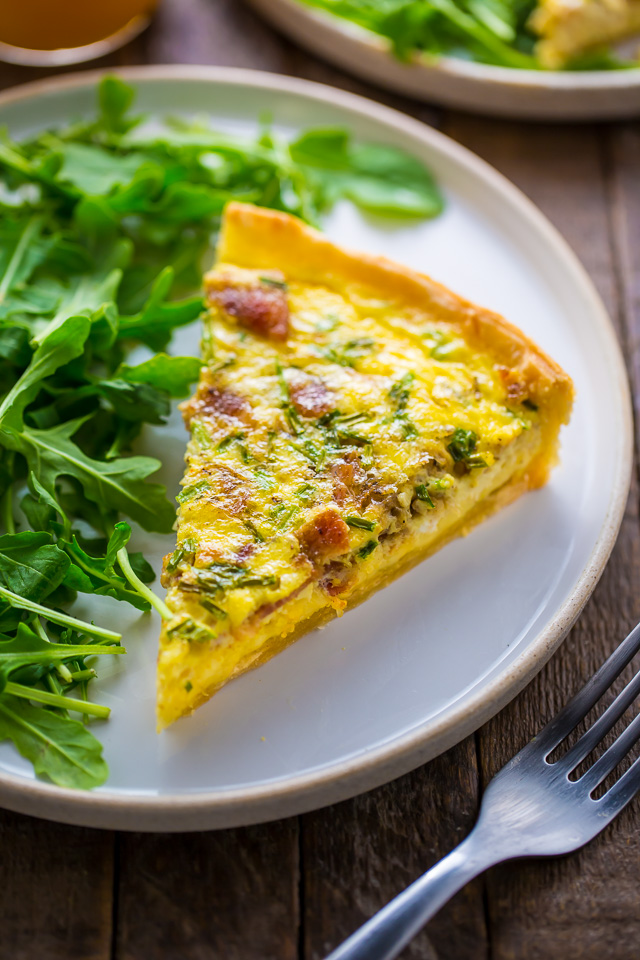 More Quiche Recipes:
If you try this Quiche Lorraine Recipe, let me know! Leave a comment below and don't forget to snap a pic and tag it #bakerbynature on instagram!
Quiche Lorraine
Quiche Lorraine is the pure comfort food! Perfect for brunch, lunch, or dinner.
Ingredients
1 recipe pie crust (see post for link or use your favorite recipe)
12 ounces bacon
1 and 1/2 teaspoons olive oil
1 large yellow onion, coarsely grated
2 large eggs plus 3 egg yolks
1 cup whole milk
1/2 cup heavy cream
1/8 teaspoon salt
1/8 teaspoon cayenne pepper
1/8 teaspoon freshly ground nutmeg
2 tablespoons fresh chives
3/4 cup grated Swiss cheese (gruyere works nicely too), coarsely grated
Instructions
Lightly spray a 10" tart pan with non-stick spray; set aside. On a lightly floured surface, roll the pie crust dough out into a 12-inch round. Place the dough into the prepared pan, pressing it down in the center and up the edges. Using kitchen sheers, trim excess dough around the edges. Place the pan in the freezer for at least 30 minutes.

In the meantime, preheat oven to 350 degrees (F). Line two plates with paper towels. Place a large frying pan over medium-heat. Fry bacon in batches, transferring cooked bacon onto the paper towel lined plates. Transfer bacon to a cutting board and chop into small pieces; set aside.

Heat the olive oil in a small saucepan over medium-heat. Add the onion and cook, stirring occasionally, for 6 to 8 minutes, or until the onions are lightly golden. Remove from heat and set aside.

Remove crust from the freezer. Line the crust with two layers of heavy duty aluminum foil or parchment paper, allowing a few inches of overhang on the sides of the tart pan. Fill with pie weights or dry beans. Bake for 25 minutes. Carefully remove the pie weights and foil. Using the tines of a fork, poke several sets of holes around the bottom of the crust. Return the crust back to the oven and bake for another 15 minutes. Remove partially baked crust from the oven and set aside.

In a large bowl combine the eggs and egg yolks; whisk well to combine. Add in the milk, heavy cream, salt, pepper, nutmeg, and chives and whisk vigorously for about 2 minutes. Don't skimp on time here! The vigorous whisking allows air to enter the mixture which gives the quiche its light and fluffy texture.

Sprinkle the bottom of the partially baked crust with the cheese, onions, and bacon. Pour the filling into the pie crust. Bake the quiche for 35 to 40 minutes, or until the edges are set and the center is still a little jiggly. Cool on a wire rack for at least 15 minutes before serving.