If you like key lime pie, you're going to LOVE frozen key lime pie  on a stick! It's your classic key lime pie, but frozen and dipped in chocolate! A perfectly refreshing and fun Summertime treat!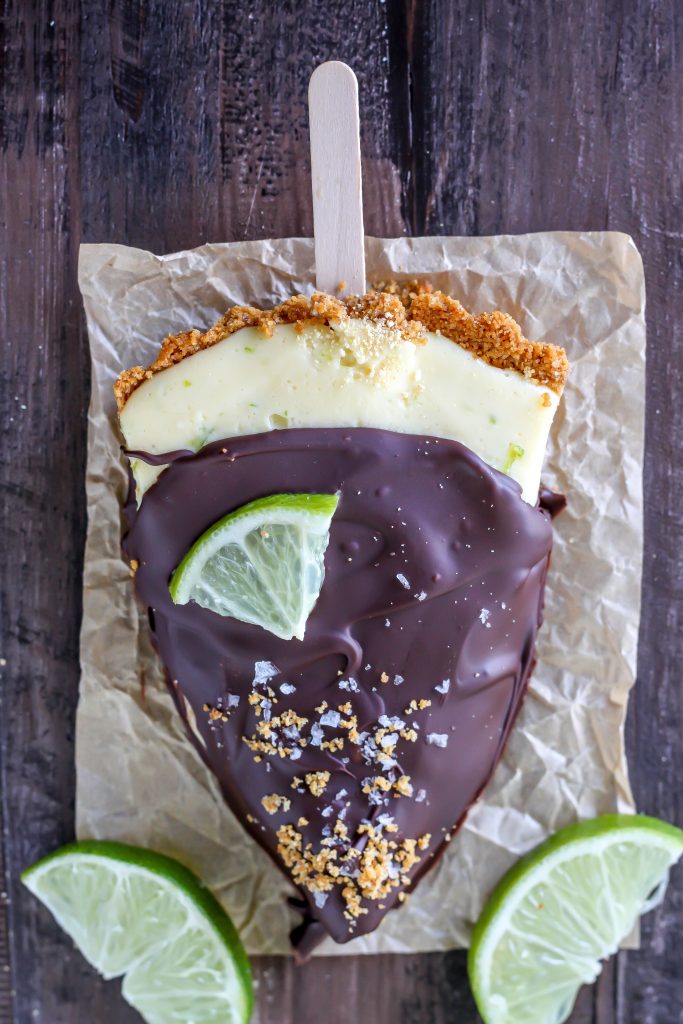 Frozen Key Lime Pie
Hello hello hello! Happy Thursday, my lovelies. I am SO excited to share with you today's recipe, so I'm going to keep the chit-chat short and get right on into it.
Frozen Key Lime Pie ON A STICK. Oh, and it's covered in chocolate. Because you know —> chocolate on ALL of the things, please. Throwing a dash of flaky sea salt on the wet chocolate is highly encouraged. Extra graham cracker crumbs too!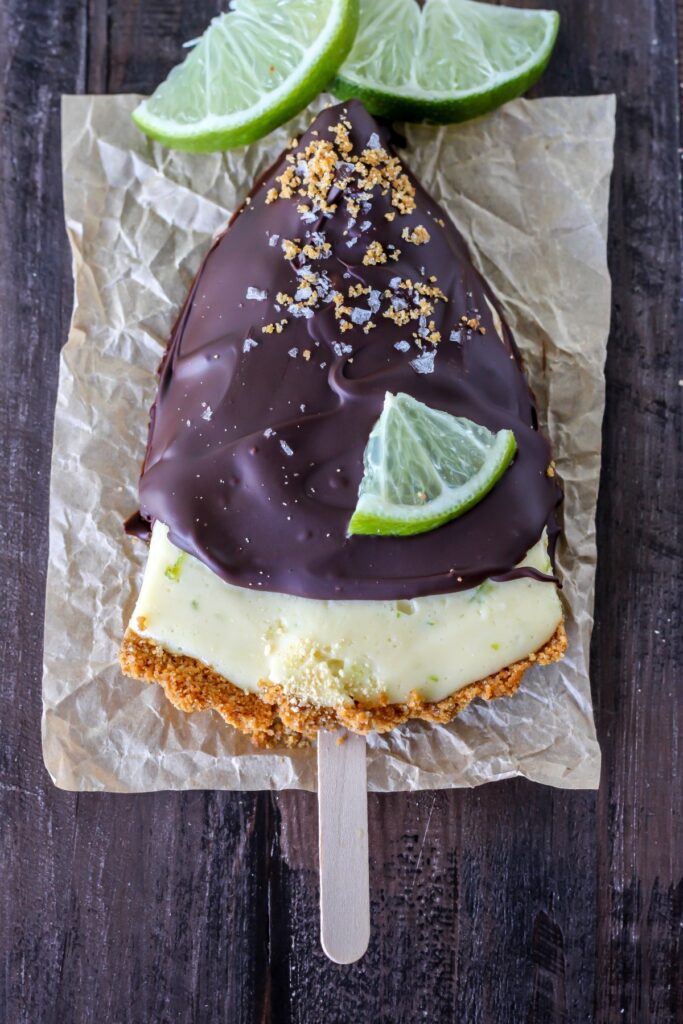 This recipe is from Christina Lane's new cookbook: Dessert For Two: Small Batch Cookies, Brownies, Pies, and Cakes
. This beautiful book is a true gem. As I flipped through the gorgeous glossy pages I mentally bookmarked recipe after recipe… then I saw this —> a recipe for frozen key lime pie on a stick. I ran to the grocery store (no really, I ran there… it's like 6 blocks away and this girl has been inhaling sugar like it's mah job… oh wait, it is!), swiped up all of the limes they had in stock, and busted a move baking the crust and whipping the filling. What can I say? I was born in Key West and I take my Key lime desserts very seriously.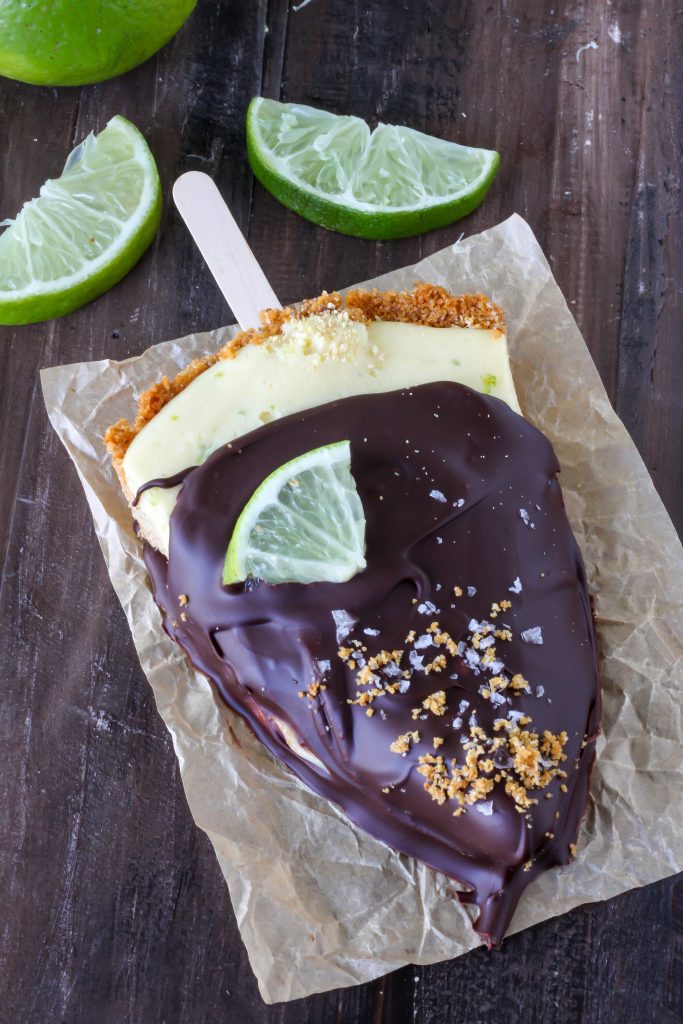 This recipe is refreshingly simple in ingredients and steps, BUT! The pie has to freeze, so you need to plan ahead when making this. My dreamy pops took about 24 hours to firm up, and after I cut them, I let them freeze for another hour before dipping them in the chocolate. You can feel these steps out on your own since your freezer may run a little colder than mine. Just be sure the pie is really set before you try dipping it in the chocolate, ok?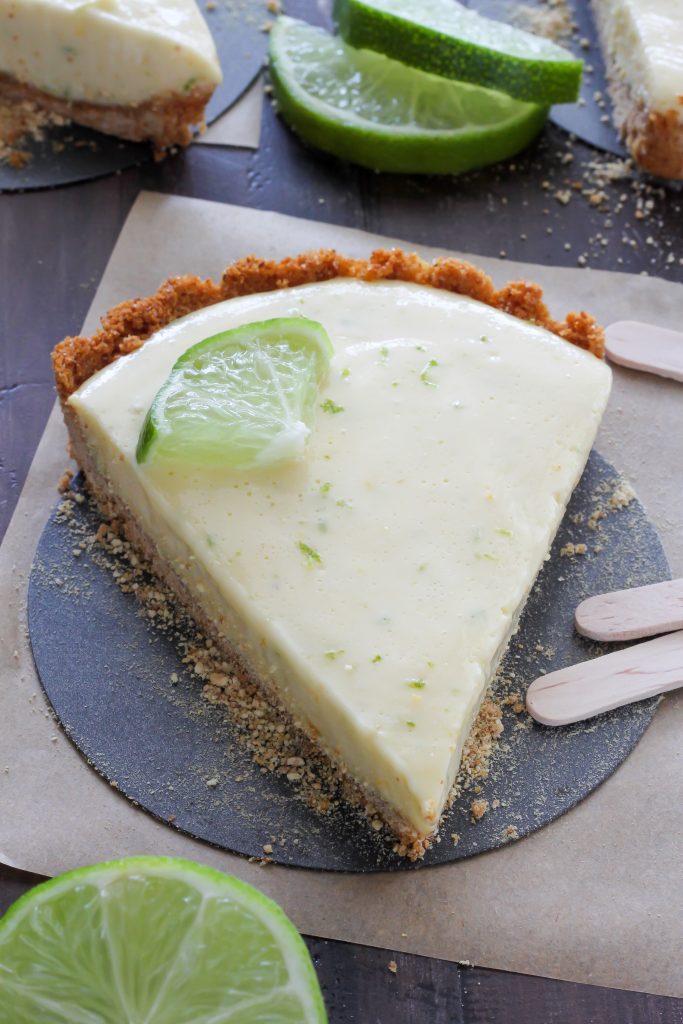 Alright, time for the giveaway details! Today I am giving you the chance to win a copy of Dessert for Two as well as a 6″ Mini Pie Pan
, which you'll need so you can make this recipe at home! This contest is open to US residents only (sorry my international loves!). To enter, pop on over to Christina's blog Dessert for Two, check it out, then come back here and let me know what dessert for two you'd make first! Leave your comment below, and be SURE to include you email. Contest is open until 5pm on April 1st, a winner will be chosen at random and contacted via email. Good luck! xo
4/2/2015 Update: Giveaway has ended and the winner has been contacted via email.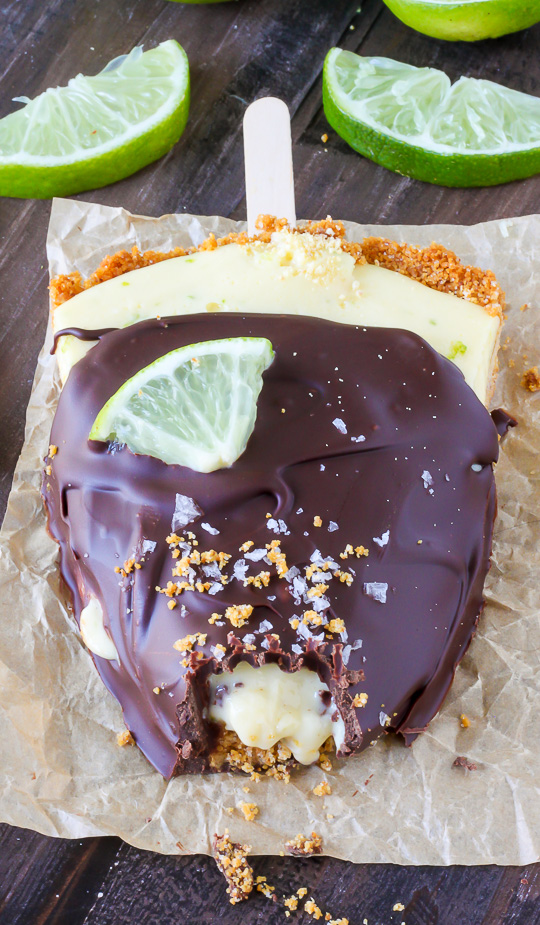 More Key Lime Recipes: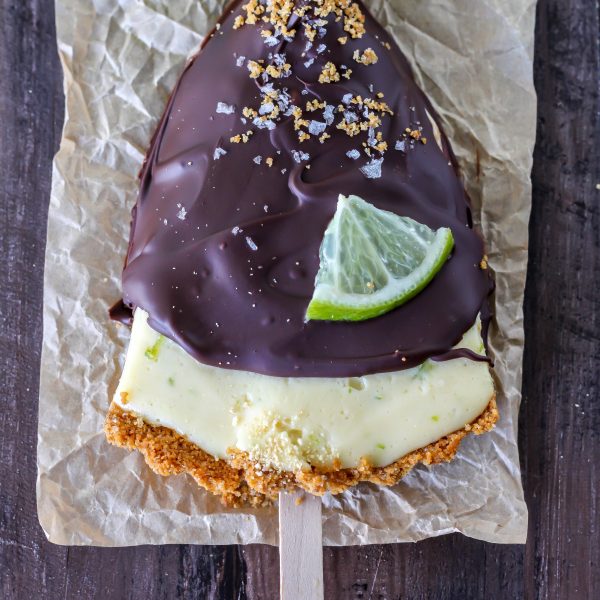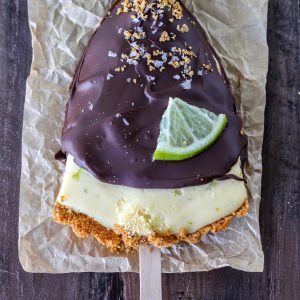 Frozen Key Lime Pie on a Stick plus a Giveaway
Creamy Key Lime Pie Covered in Chocolate - and on a stick! This is such a fun and refreshing treat!
Ingredients
For the Pie Crust:
3/4 cup graham cracker crumbs (4 whole graham crackers crushed!)
1 tablespoon granulated sugar
2 1/2 tablespoons unsalted butter, melted
For the Lime Curd Filling:
2 large egg yolks
7 ounces sweetened condensed milk
Zest of 1 lime
1/3 cup key lime juice (fresh or bottled)
For the Chocolate Topping:
12 ounces semi-sweet chocolate, chopped
2 tablespoons neutral oil (or coconut oil, which I used with great results!)
Instructions
To make the Crust:
Preheat the oven to 350 degrees (F). Lightly grease (just a spritz of non-stick spray!) a 6" pie pan; set aside.

In a small bowl combine the cracker crumbs, sugar, and melted butter; stir until evenly combined. Press the crumb mixture into the prepared pie pan, taking care to pack it in tightly and press it up the sides of the pan. Place the pie pan on a baking sheet and bake for 9-10 minutes, or until golden brown. Set aside and allow crust to cool.
To make the Lime Curd Filling:
In the body of a standmixer or in a medium-sized bowl using an electric handheld mixer, beat the egg yolks and condensed milk until light and creamy; about 3 minutes. Next add in the lime zest and key lime juice; beat until completely combined. Pour the filling into the cooled pie crust and place in the freezer for 24 hours.

When ready to serve, dip a very sharp knife into hot water, then slice the pie into 4 pieces. Use a small sharp knife to make a slit in the back of the pie crust, then slide a wooden popsicle stick in the end of each crust. Don't worry if a little bit of the crust crumbles here; it only natural! Place the pops back in the freezer for 1 hour.
For the Chocolate Ganache:
Melt the chocolate and oil in the top of a double boiler over medium-high speed. Do not let the water boil. Stir the chocolate constantly. Remove from heat when almost all of the chocolate has melted. Continue to whisk mixture off the heat until completely smooth. Let cool for 5 minutes.

To cover the pie in chocolate, hold the stick by the end and place the pie pop upside down in the chocolate (dipping the creamy part first). Flip it quickly and use a spoon to cover the crust in chocolate. Place the pie pops back in the freezer for a few minutes, just until the chocolate sets, then serve!

Alternately, you can skip dipping the pops into the chocolate and use a spoon to pour the chocolate over top and around.
Notes
This recipe is from the Dessert for Two Cookbook, written by Christina Lane. I have only slightly adapted the recipe, and have rewritten it in my own words. This giveaway is in no way sponsored, and all words, opinions, and actions are my own. I'm hosting this week of giveaways simply because I love ya! xo