What could be better than cute and creamy Mini Key Lime Cheesecakes?!? Loaded with real key lime flavor, these cheesecakes are sweet, slightly tart, and super creamy! Baked in a muffin tin, these key lime cheesecake cupcakes are always a crowd-pleaser!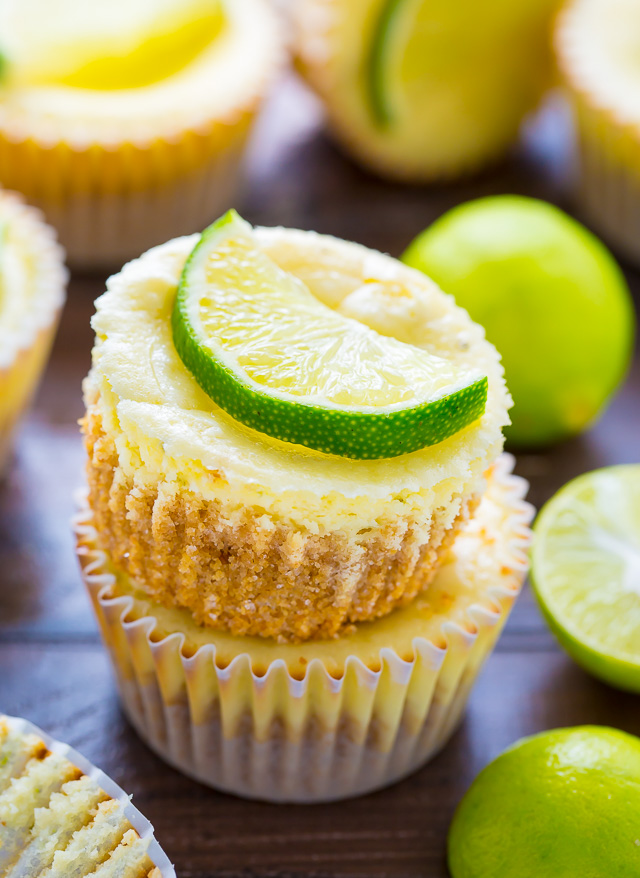 Mini Key Lime Cheesecake Recipe
I've been fantasizing about these mini key lime cheesecakes for months now. So when I finally  found myself with a surplus of key limes, I wasted ZERO time getting to work.
I envisioned them having a thick and buttery graham cracker crust, a creamy key lime filing, and – of course – a generous dollop of fresh whipped cream.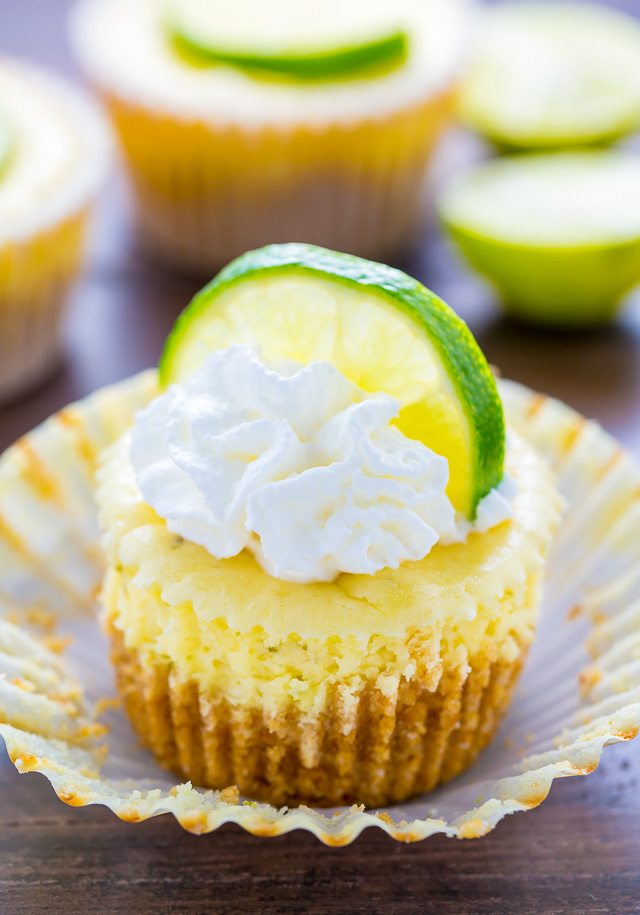 When I took this bite ↓ fantasy became reality! Love it when that happens.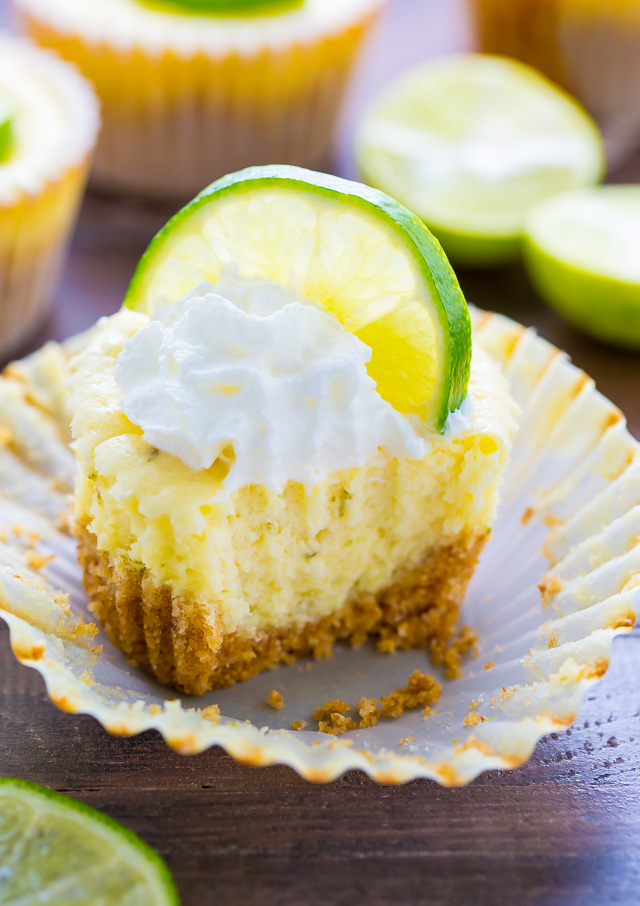 These mini key lime cheesecakes are melt-in-your-mouth creamy, exploding with real key lime flavor, and make-ahead friendly! You can even freeze the mini key lime cheesecakes (minus the whipped cream) for up to 2 months.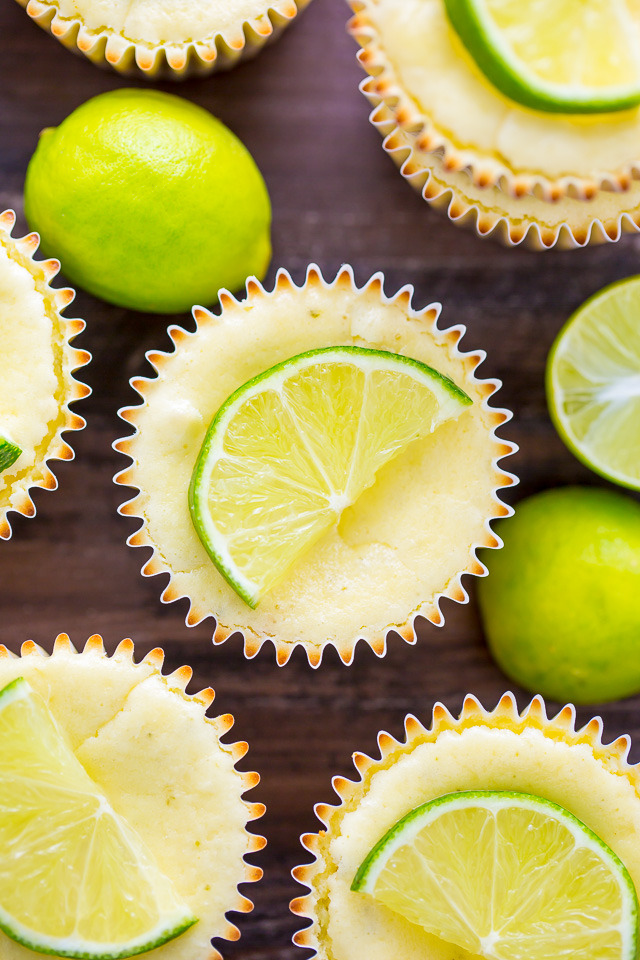 Individual Key Lime Cheesecakes
Tips and Tricks for Recipe Success:
Your blocks of cream cheese MUST be very soft before you make the batter. I suggest placing them out on the counter for at least two hours before you plan on baking. If you attempt to blend cold cream cheese it will clump up and won't develop into a smooth batter. It also may harm your blender or food processor…
You should also bring your eggs, egg yolk, and sour cream to room temperature, as batters made with cold ingredients don't come together smoothly.
I recommend using fresh key lime juice and zest when possible! If you cannot find key limes, I recommend ordering real key lime juice online. You can also use regular limes, but there will be a slight difference in taste if you do this.
Key lime extract is a must for these mini key lime cheesecake! I love this pure key lime extract, but feel free to use your favorite brand! If you skip the extract, the key lime flavor will be very subtle.
Be sure not to over bake your cheesecake cupcakes. While I've included a bake time in the recipe box below, all ovens run a little different. You'll know they're done when the centers have puffed up and the center has just a slight wiggle. Also, don't fret if a few crack. They deflate quite a bit after they cool, and any remaining cracks will be covered with whipped cream.
Be sure to cool the cheesecake cupcakes completely before adding the whipped. If the cheesecake cupcake are even a little hot the whipped cream will melt and make a mess.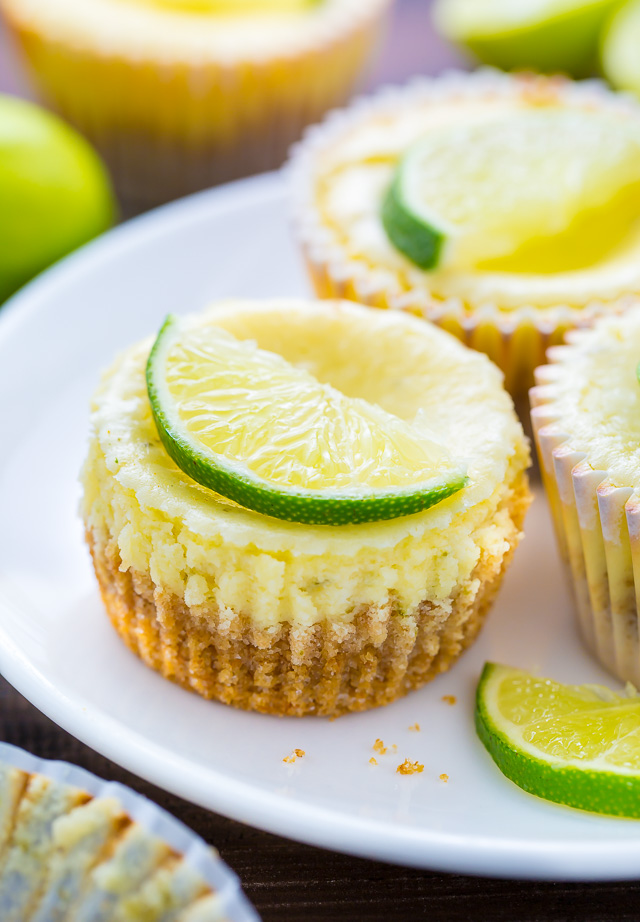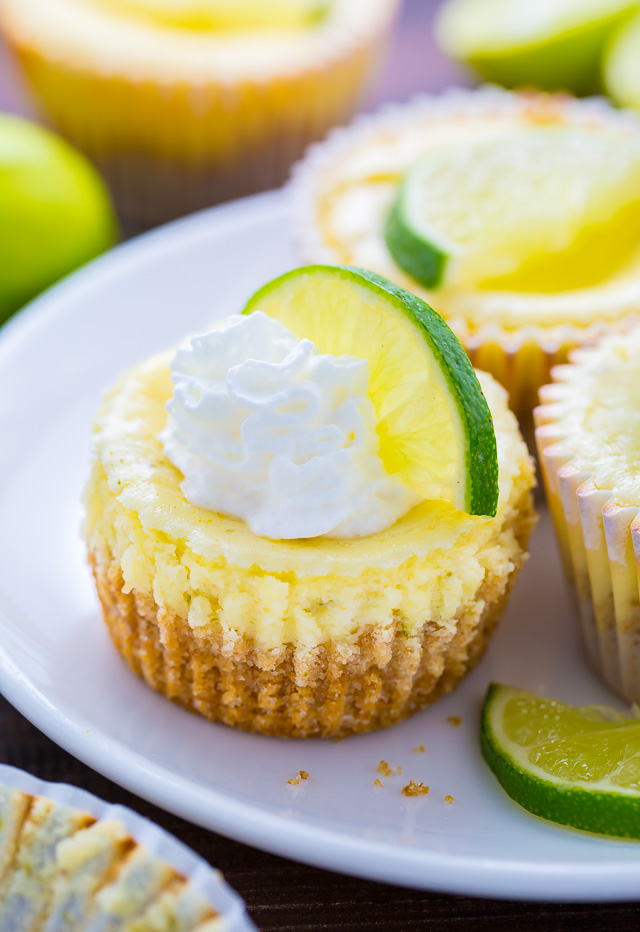 More Key Lime Recipes:
Dessert is served, my friends. Whip up these mini key lime cheesecakes SOON and share them with the lime lovers in your life 😉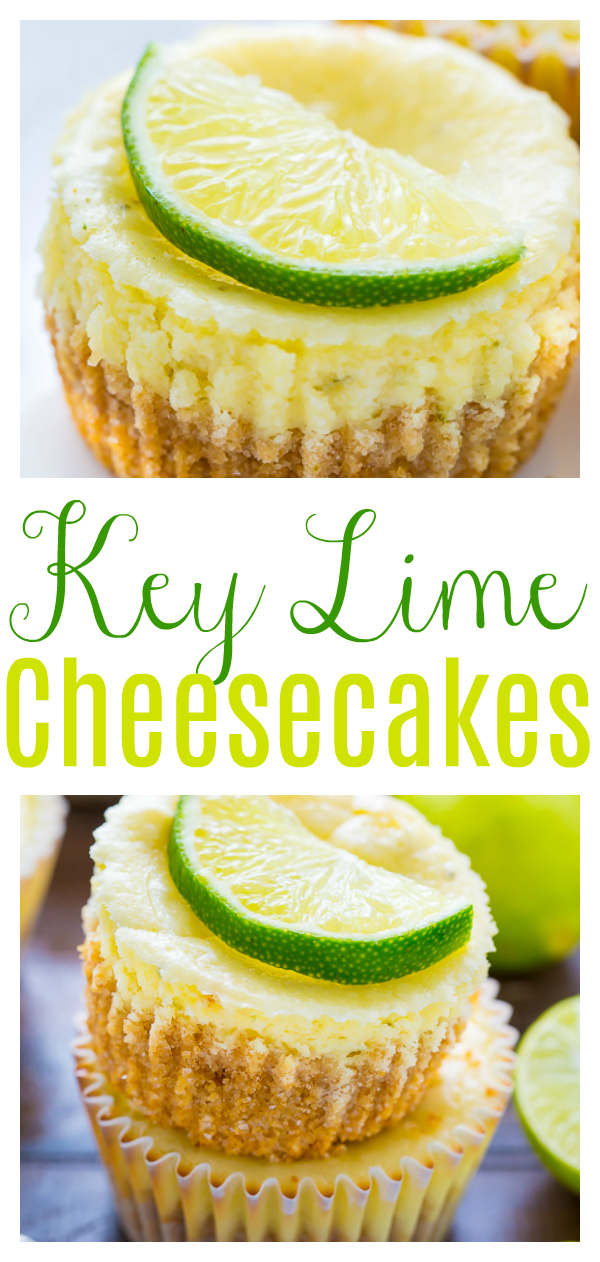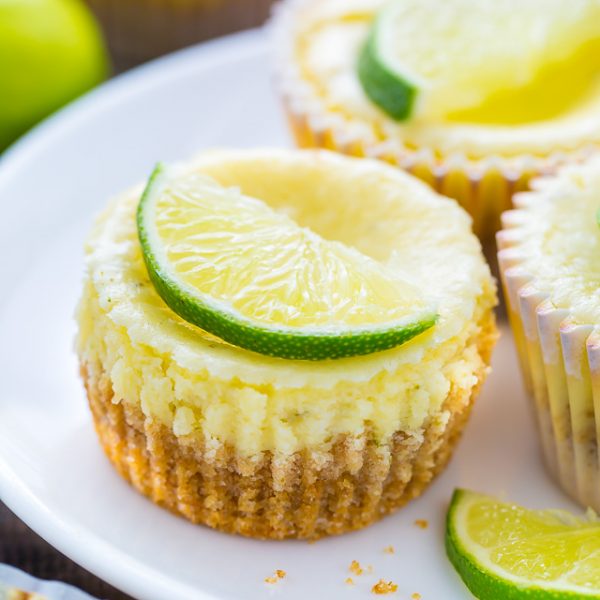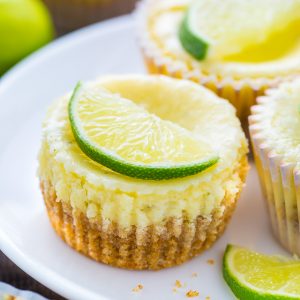 Mini Key Lime Cheesecakes
Cute and creamy Mini Key Lime Cheesecakes!
Ingredients
For the Crust:
1 cup Graham Crackers, pulsed into crumbs
3 tablespoons Granulated Sugar
1/4 teaspoon Kosher Salt
3 and 1/2 tablespoons Unsalted Butter, melted
For the Key Lime Cheesecake Filling:
12 ounces Full-Fat Cream Cheese, very soft (use brick-style cream cheese for best results)
1/2 cup sour cream, at room temperature
3/4 cup Granulated Sugar
1 teaspoons Pure Vanilla Extract
1/2 teaspoon key lime extract
2 large Eggs plus 1 Egg Yolk, at room temperature
1 and 1/2 tablespoons All-purpose Flour
1/3 cup key lime juice
1 teaspoon key lime zest
For the whipped cream:
1/2 cup heavy cream
1 tablespoon confectioners' sugar
Instructions
Preheat oven to 325 degrees (F). Line a 12-cup muffin tin with paper liners, lightly spray liners with non-stick spray and set aside.
For the Crust:
In the body of a blender or food processor, combine graham crackers, sugar, and salt; pulse until the crackers have been completely transformed into fine crumbs.

Add melted butter; stir well to combine. Add 1 heaping tablespoonful to each lined muffin cup.

Press the crust firmly into an even layer. Bake in preheated oven 5 minutes then remove from oven and set aside to cool. In the meantime, make your filling.
For the Key Lime Cheesecake Filling:
In the body of a high power blender, food processor, stand mixer fitted with the whisk attachment, or in a large bowl using a hand held mixer, beat the softened cream cheese and sour cream until smooth.

Add sugar, vanilla, and key lime extract and beat smooth, scraping down the sides and bottom of bowl as needed. Add in the eggs and yolk and beat until combined.

Turn the mixer off and, using a rubber spatula, gently stir in the flour, mixing just until combined. Stir in the lime juice and zest, mixing just until it's incorporated in the batter.

Divide the filling evenly among cups - pouring it on top of the prepared crust layer - adding about 1/3 cup to each mold. The molds will be very full. Gently wiggle the pan back and forth to level the cheesecake filling.

Bake in preheated oven for 18 to 20 minutes, or until cupcakes are puffed, set at the edges, and just a little jiggly in the center. Turn oven OFF and cool cheesecakes inside the oven, with the door cracked, for 5 minutes, before removing. Do not worry if the cheesecakes look cracked at this point!

Cool cheesecake cupcakes in the pan, placed on top of a cooling rack, completely, before transferring them to the refrigerator to chill for at least 4 hours.

Top each cheesecake cupcake with a dollop of whipped cream and a slice of lime right before serving.

Store in the refrigerator, in an airtight container, until needed. Cheesecakes will keep, without the whipped cream on top, for 5 days.
For the whipped cream:
In the bowl of a stand mixer fitted with the paddle attachment, or in a large bowl using a handheld mixer, beat the cream until it begins to thicken and hold soft peaks. Add in the confectioners' sugar and continue to beat for another minute.

Dollop onto the cheesecakes right before serving.