Is there anything better than warm, bubbling pie fresh from the oven? Maybe not. But this super easy blueberry peach tart is sure to give any pie a run for their money.
Sweet, fruity, and topped with vanilla glaze – this dessert just screams SUMMER!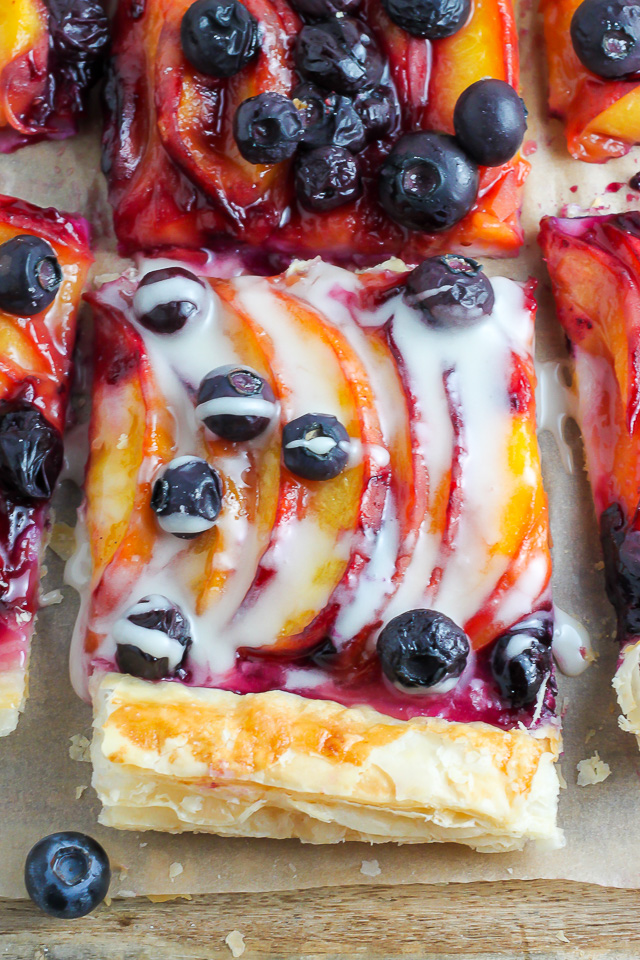 Blueberry Peach Tart
Hello my friends, Happy Saturday! Do you have anything fun on the books for this weekend? After last weeks very fun but c-r-a-z-y weekend in Princeton I am looking forward to some rest and relaxation. I'm hoping to finish a book, spend some time at the farmers market, and maybe even squeeze in a light hike on Sunday afternoon. Fingers crossed it's the mellow few days my heart and mind are after.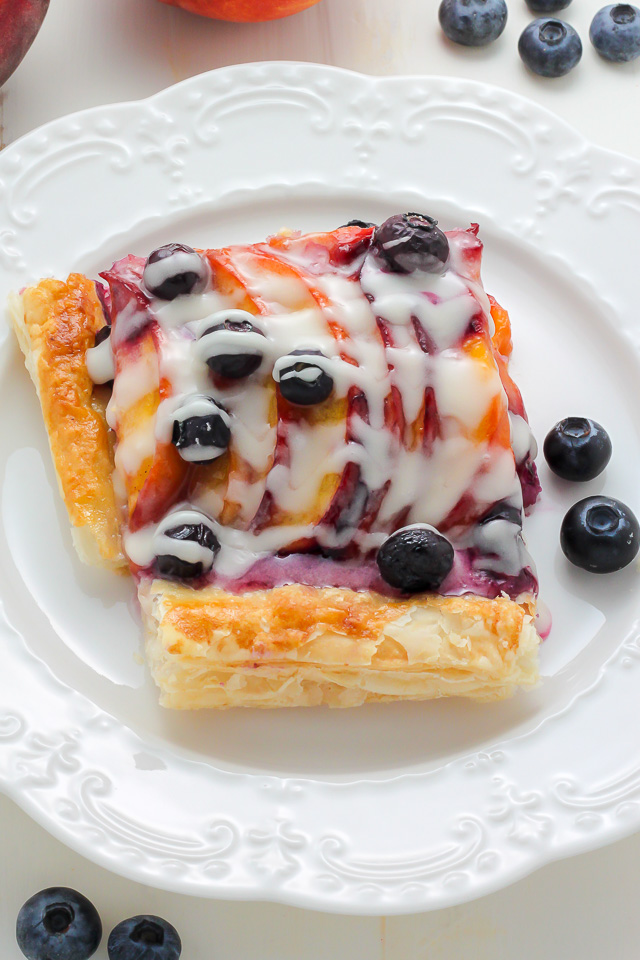 Now, down to business: let's talk about this Easy Blueberry Peach Tart with Vanilla Glaze.
Juicy peaches + plump blueberries + flaky crust + vanilla… sounds pretty amazing, right?!
Spoiler Alert: IT IS AMAZING!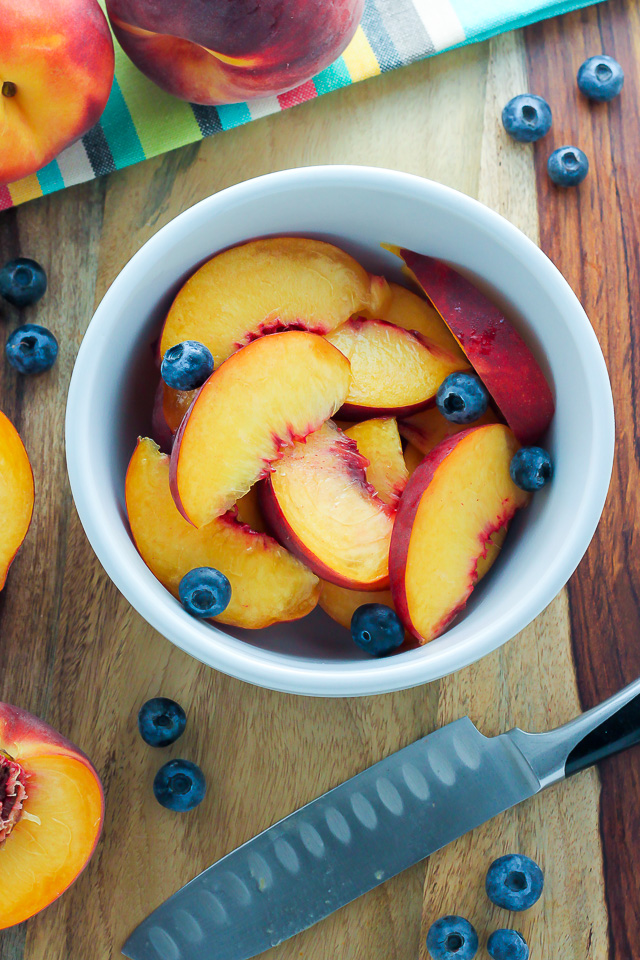 The number one thing I love about this recipe? It's so forgiving and easy. <—- I guess that's actually two things, but you know what I mean?!? With this recipe you can take a deep breath, let the panic go, and really enjoy the whole process of making this dessert because the crust is already made for you; pastry puff, my friends, is such a wonderful thing! You will need to let the pastry puff thaw for 15-20 minutes before folding it out, so keep that in mind when planning to bake this. After that you'll just fold it out, fill it with fruit, and bake it to sweet golden perfection.
This Blueberry Peach Tart will get you all the ooohs and aaaahs without any of the labor called for in traditional pie making. It's a beautiful thing. Especially when you're not in the mood to pump that elbow grease 😉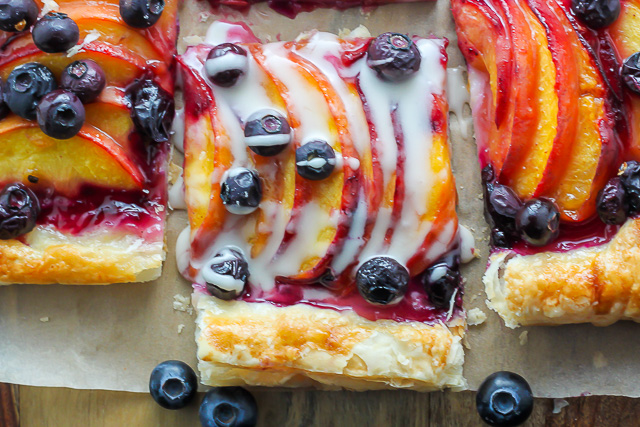 The humble tart before baking…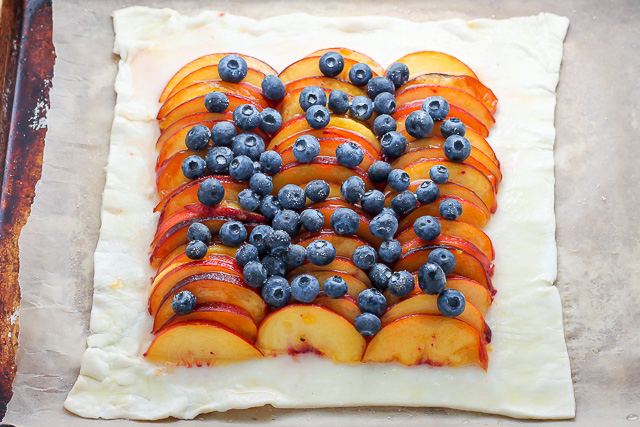 The hypnotizing tart after baking…
As a avid lover of Summer fruits, I knew I wanted to load this baby up with the finest of the season. With peaches at their prime and blueberries just beaming with beauty, they were an easy choice for this Summer tart. In terms of flavor these fruits compliment each other perfectly, resulting in a tart that's plenty fruity and not-too-sweet.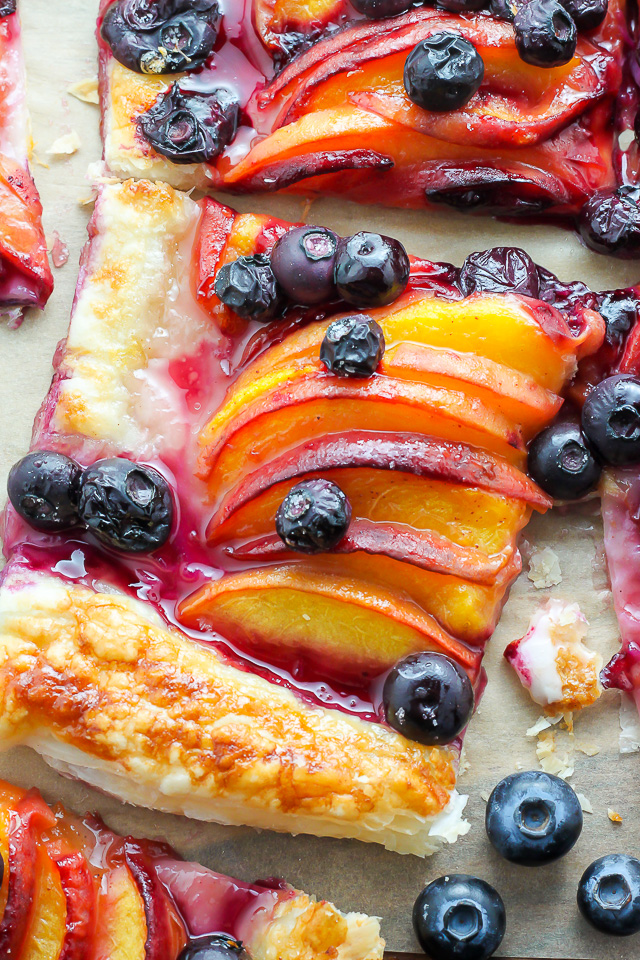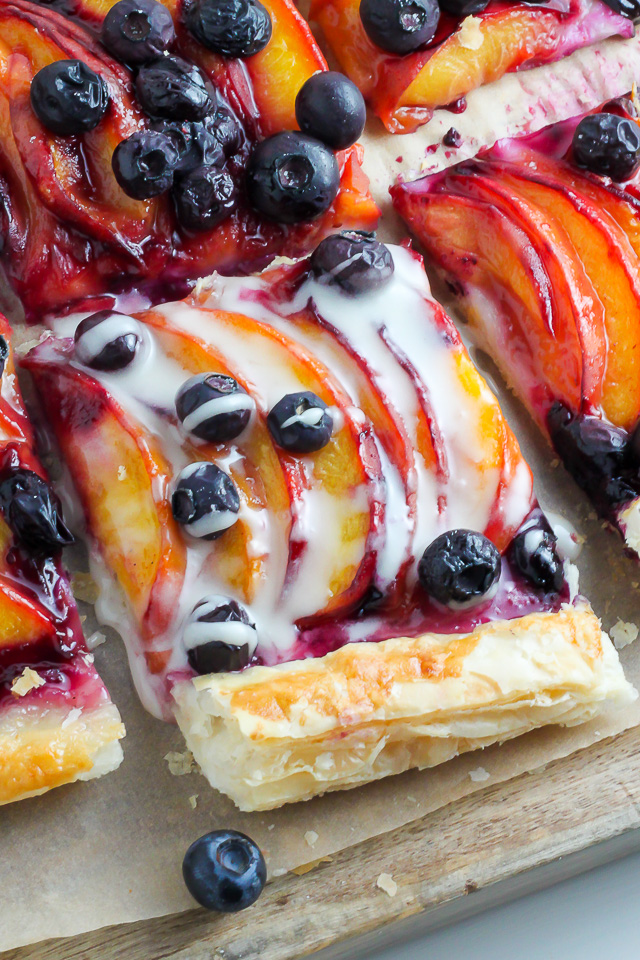 You'll be thrilled to know the ingredient list for this recipe is short and basic. For the crust you'll need pastry puff and an egg (you'll make an egg wash); for the filling you'll need blueberries, peaches, cinnamon, cornstarch, sugar, and vanilla; and for the vanilla glaze you'll need confectioners' sugar, vanilla, and a few tablespoons of heavy cream (or milk). No fancy or hard to find ingredients in this one.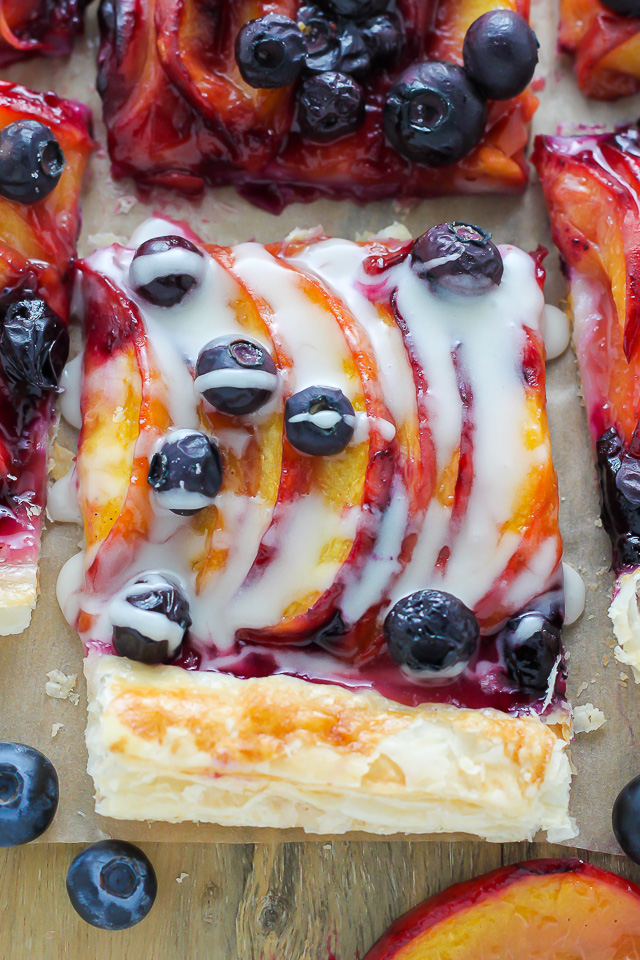 See that? That's my heart right there. Sticky sweet vanilla glaze drizzled generously over the peaches and blueberries that are baked beautifully into a flaky, buttery crust.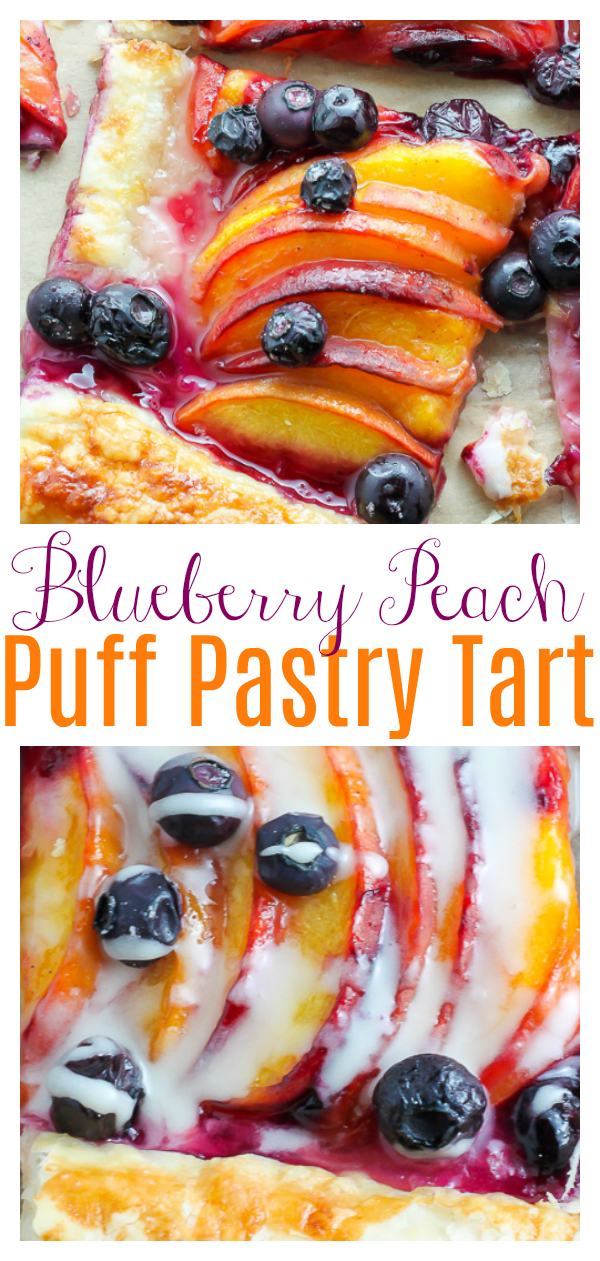 I hope your heart, eyes, and mind have convinced you to make this beauty asap! If you're feeling extra indulgent try adding a few teaspoons of bourbon to the vanilla glaze. <— so naughty; so niiiiiice.
More Summer Fruit Recipes: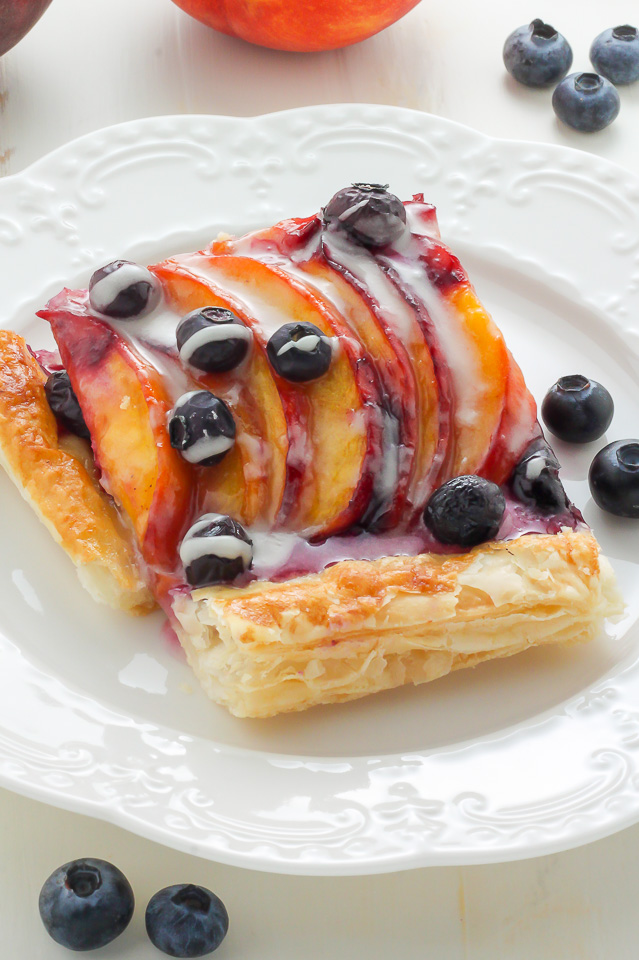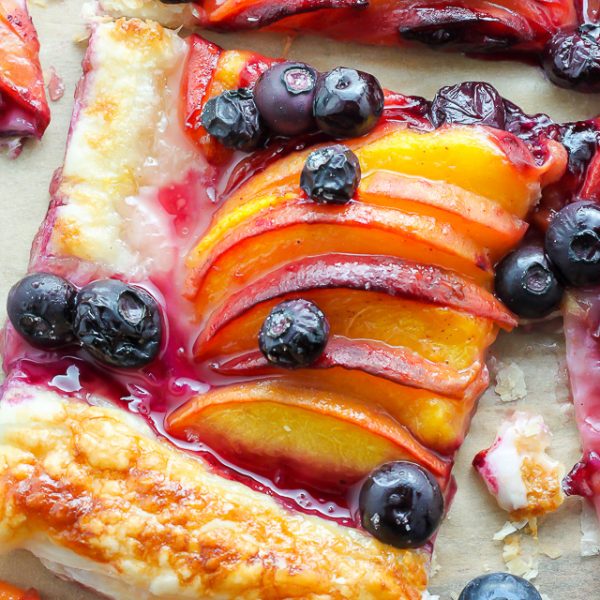 Easy Blueberry Peach Tart with Vanilla Glaze
A fresh and fruity tart loaded with peaches and blueberries. Topped with a vanilla glaze, this tart is perfection!
Ingredients
1 sheet of puffed pastry, thawed for 20 minutes
1 large egg
1 tablespoon water
3 large peaches, peeled, pitted, and thinly sliced
1 1/2 cups fresh blueberries
1/4 cup granulated sugar
1/4 teaspoon salt
1/4 teaspoon cinnamon
1 teaspoon cornstarch
For the Vanilla Glaze:
1 cup of confectioners' sugar
1 teaspoon vanilla extract
2 tablespoons of milk OR heavy cream, more if needed to achieve desired consistency
Instructions
Remove 1 sheet of puffed pastry from the freeze; thaw for 15-20 minutes at room temperature, or until it can easily be unfolded without cracking.

Preheat oven to 400°(F). Line a large baking sheet with parchment paper; set aside.

In a small bowl combine the egg and water; beat until well combined; set aside.

Thinly slice peaches and place them in a large mixing bowl. Add in the sugar, salt, cinnamon, and cornstarch; toss well ensuring all peaches and are coated in the cinnamon sugar mix; set aside.

Gently unfold the puffed pastry. If it does crack, gently press the tears back together and mend with slightly wet fingers.

Place puffed pastry on prepared baking sheet.

Layer the peaches evenly (and very tightly) on the puffed pastry, making 3 tidy rows, leaving a 1" border around the pastry. Sprinkle the blueberries on top.

Lightly brush exposed pastry crust with egg wash.

Bake for 16-18 minutes, rotating once during baking, or until the crust is puffed up and golden brown and the peaches are tender.

While the tart bakes, make the vanilla glaze!

In a small bowl combine the confectioners' sugar, vanilla, and cream; whisk until smooth, adding more cream as needed to reach desired consistency. Drizzle over the tart right before serving.

Serve warm with vanilla glaze and maybe even a scoop of ice cream!?
Notes
Be sure to leave a one inch boarder around the tart, this helps ensure the edges don't get soggy.