When blueberries go on sale, stock up so you can make this quick and easy blueberry cobbler recipe! Featuring the juiciest blueberry filling and a buttery biscuit topping, this Summer dessert is so good with a scoop of vanilla ice cream on top! While I always prefer to use fresh fruit, this recipe will work with fresh or frozen blueberries!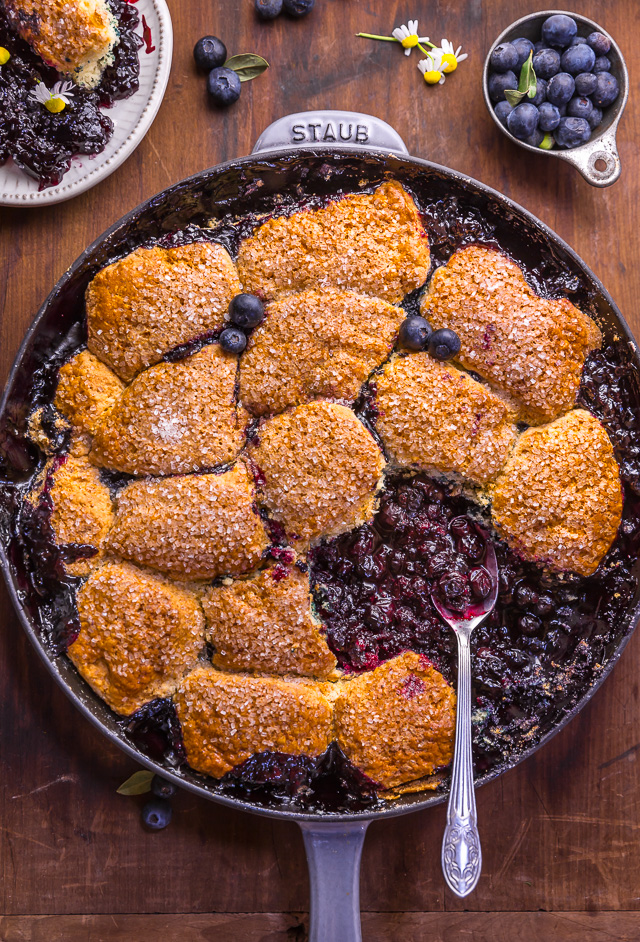 Blueberry Cobbler
Lately, the best recipes I've made have been the ones I've whipped up on a whim!
When I bought 10 pints of blueberries from the grocery store on Sunday, I had no intention of baking them into a cobbler. I planned on baking blueberry coffee cake, blueberry banana bread, and blueberry cheesecake. And I did… but all 3 recipes were EPIC disasters. The cake only baked halfway through, the banana bread literally exploded all over my oven (what a mess), and the cheesecake was fine, but nowhere close to "blog worthy".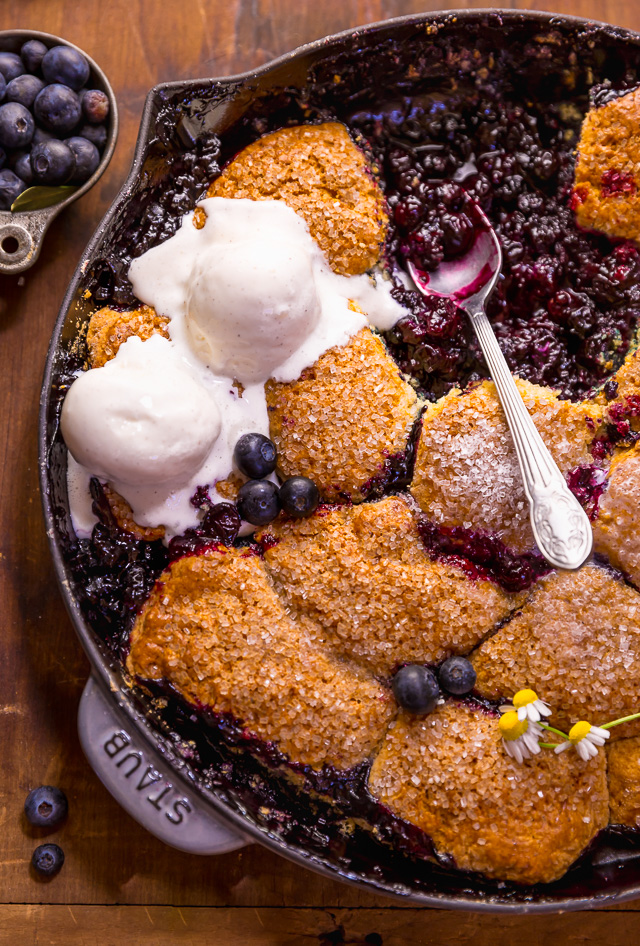 So to say I felt defeated is an understatement! But I still had 5 pints of blueberries left and I was also feeling desperate to break my blueberry curse! I was going to make my famous blueberry crisp because it's so darn good and I was 100% sure it would turn out. But we were out of oats! So I decided to try my hand at a humble blueberry cobbler.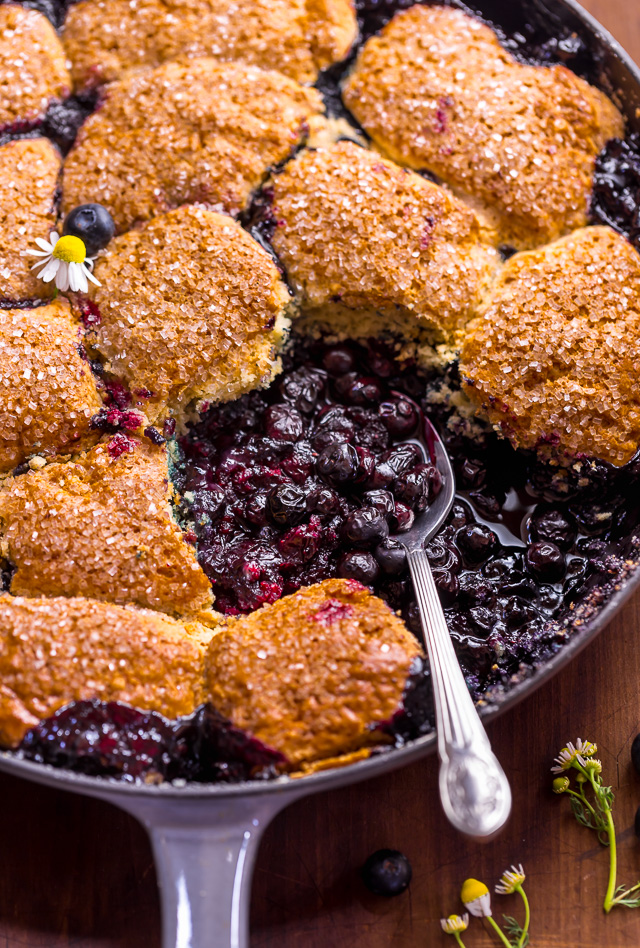 And just like that… the "curse" was broken! Because this cobbler was everything I had hoped it would be and more! The blueberry layer was perfectly sweet and juicy. The consistency not too jammy but also not so full of liquid you feel as if you're eating blueberry soup. And it's made with just a handful of ingredients: blueberries, lemon juice, lemon zest, flour, and sugar. That's it! And don't worry, the lemon flavor isn't overwhelming. Instead, it really highlights the blueberries and gives the overall dish some oomph! Orange juice and orange zest will work as a fine sub! And in a real pinch… I think you could even do lime! If you skip the zest and juice all together, the recipe will definitely be more flat.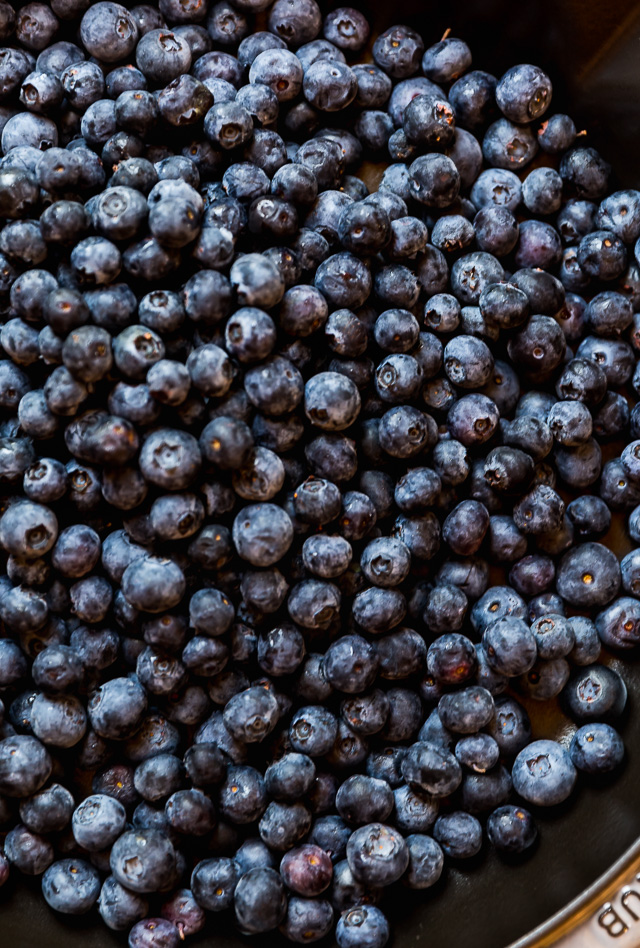 And the biscuits? Well, they're the real star of the show! They're made with basic ingredients like flour, sugar, baking powder, salt, baking soda, milk, cream, salt, and an egg! Oh, and butter! But make sure your butter is VERY cold. If you have soft (or even room temperature) butter, it will quickly become melted butter in the oven, which will result in greasy biscuits. Cold butter = tall and flaky biscuits!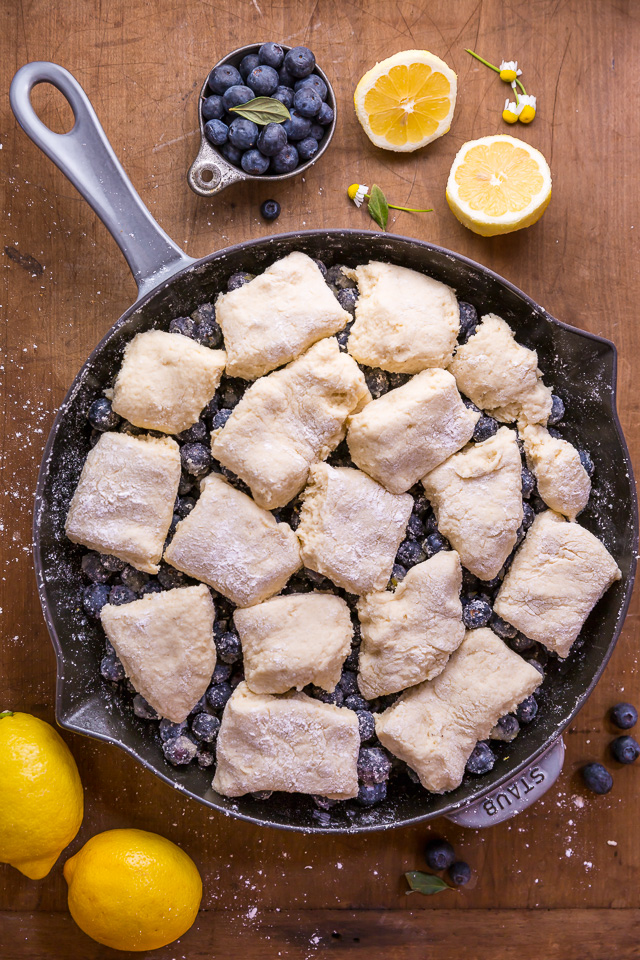 Tips and Tricks for Recipe Success:
Be sure to preheat your oven to 400 degrees! Unlike many recipe that call for you to preheat your oven to 350 degrees, this recipes uses a slightly higher temperature. Why? It helps the blueberry layer burst quickly and the biscuits bake to a deep golden brown color, all in about 30 minutes!
I'm ALL about saving dishes when I can. So instead of using a small bowl to combine the blueberries and other filling ingredients, I just toss them together in the skillet or baking dish!
I prefer a less sweet cobbler, so I only use 1/2 cup of sugar, but you can use 3/4 cup if you prefer a sweet treat. Just remember, adding whipped cream or ice cream on top will definitely increase the sweetness. And the blueberries are already naturally sweet!
And of course, if you're looking to eliminate extra saturated fat, you can totally serve this without ice cream or whipped cream! Sometimes we serve it with a light dusting of confectioners' sugar and extra blueberries on the side!
This recipe is truly best served warm, fresh from the oven! So I don't recommend making this one ahead of time.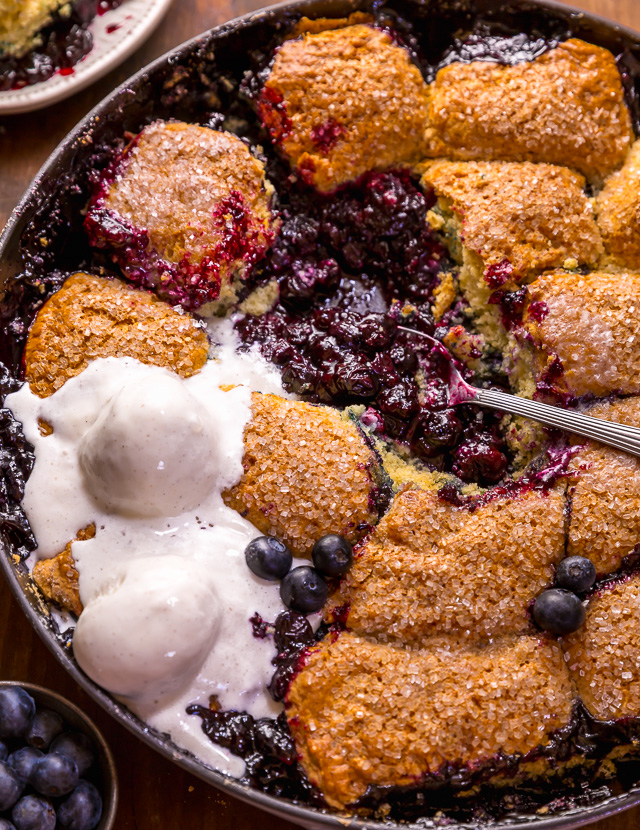 This crowd-pleasing blueberry cobbler is sure to be a hit at all of your Summer celebrations!
AND IF YOU TRY THIS RECIPE, PLEASE LET ME KNOW! LEAVE A COMMENT BELOW AND DON'T FORGET TO SNAP A PIC AND TAG IT #BAKERBYNATURE ON INSTAGRAM! SEEING YOUR KITCHEN CREATIONS MAKES OUR DAY.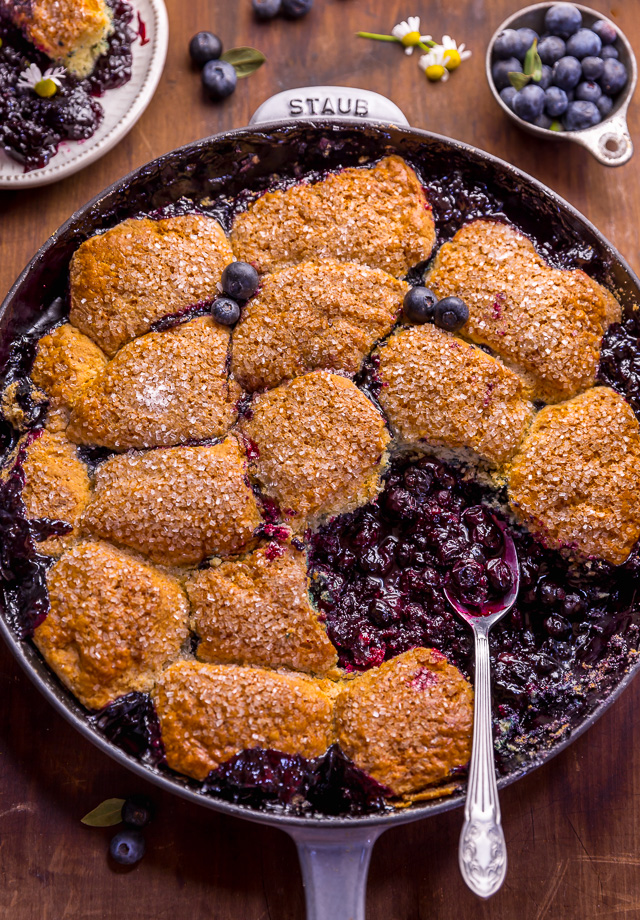 More Cobbler Recipes: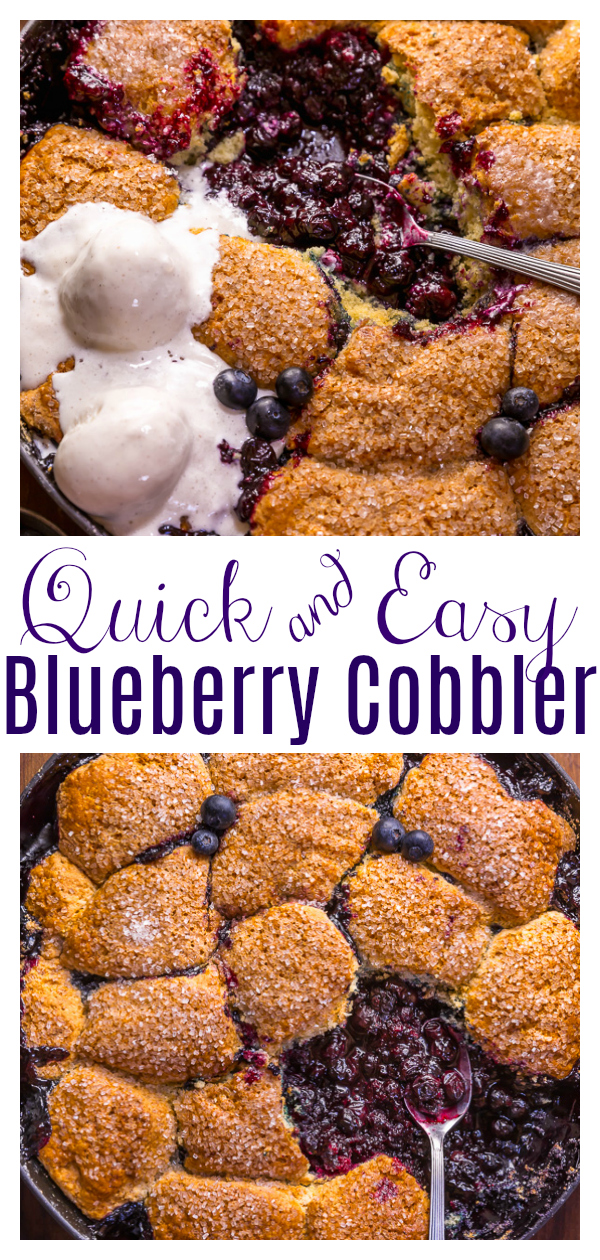 Quick and Easy Blueberry Cobbler
Yield 8 to 10 servings
Quick and Easy Blueberry Cobbler recipe! Featuring the juiciest blueberry filling and a buttery biscuit topping, this Summer dessert is so good with a scoop of vanilla ice cream! This recipe will work with fresh or frozen blueberries!
Ingredients
For the Blueberry Filling:
8 cups (907 grams) blueberries, fresh or frozen 
2 Tablespoons (28 grams) fresh lemon juice
1 teaspoon lemon zest
2 teaspoons vanilla extract 
1/2 cup (99 grams) granulated sugar 
1/4 cup (28 grams) all-purpose flour 
1/4 teaspoon finely ground nutmeg
For the Cobbler Topping:
2 and 1/2 cups (298 grams) all-purpose flour 
1/2 teaspoon salt
3 teaspoons baking powder
1/2 teaspoon baking soda
1/3 cup (67 grams) granulated sugar
1/2 cup (113 grams) unsalted butter, VERY cold and cut into tiny pieces
1 large egg
1/2 cup (113 grams) whole milk
2 tablespoons (28 grams) heavy cream
2 Tablespoons sparkling sugar (or coarse white sugar), for sprinkling 
For the Egg Wash:
1 large egg
1 teaspoon water 
Instructions
For the Blueberry Filling:
Preheat oven to 400 degrees (F). In a 12-inch skillet or a 9x13-inch baking dish, combine the blueberries, lemon juice, lemon zest, vanilla, and sugar. Toss well, making sure the berries are well coated. Add in the flour and nutmeg and toss well to combine. Set aside while you make the cobbler topping. 
For the Cobbler Topping:
In a large bowl combine flour, salt, baking powder, baking soda, and sugar, and mix well to combine.
Cut the butter into small cubes, then, using a pastry cuter, work it into the mixture until lit resembles a coarse meal. Set aside. 
In a small bowl whisk together the egg, milk, and cream. Pour this liquid mixture into the flour mixture and use a fork to stir everything together until just moistened.
Empty the loose dough out onto a lightly floured work surface and knead gently until it's a workable texture, lightly flouring as needed. Press the dough into a rectangle 1/2" thick. Cut into 12 small squares. 
For the Egg Wash:
In a small bowl, combine the egg and water. Whisk until well combined. 
Assembly:
Place the squares of dough on top of the blueberry mixture. Lightly brush each square with the egg wash, then sprinkle with the sparkling sugar. 
Place pan in the oven and bake for 28 to 30 minutes, or until the cobbler topping is deeply golden brown and cooked through. 
Serve warm, with ice cream or whipped cream. 
Notes
For a sweeter cobbler, feel free to increase the sugar to 2/3 cups (131 grams).
If the topping starts getting too brown, place a piece of aluminum foil on top for the duration of the baking time. 
Courses Dessert
Cuisine American