If you like candied nuts, you have to try this delicious and easy candied almonds recipe! These cinnamon roasted nuts are delicious by the handful. But also make a great addition to charcuterie boards, snack trays, and homemade holiday gift baskets. One batch will fill 5 or 6 mason jars, so you'll have plenty to enjoy and share.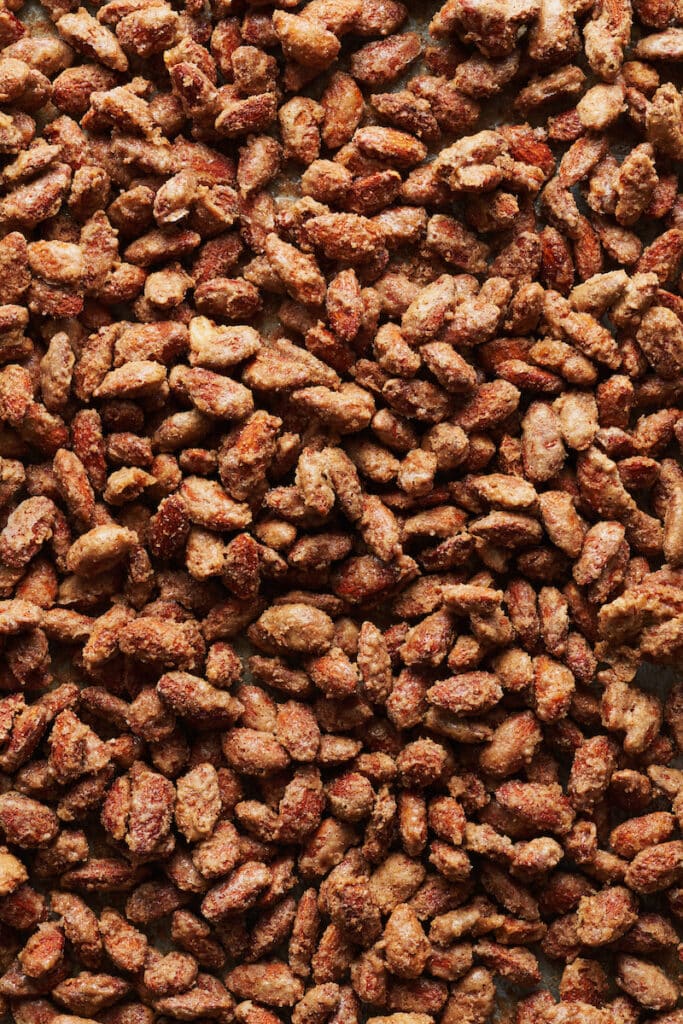 Candied Almonds Recipe
Who can resist crunchy candied nuts covered in a delicious cinnamon sugar mixture? And with only 7 basic ingredients, this recipe is almost too easy! So don't be surprised if you find yourself making these cinnamon roasted almonds all the time! My family and I make a batch the day after Thanksgiving in preparation for the busy holiday season ahead.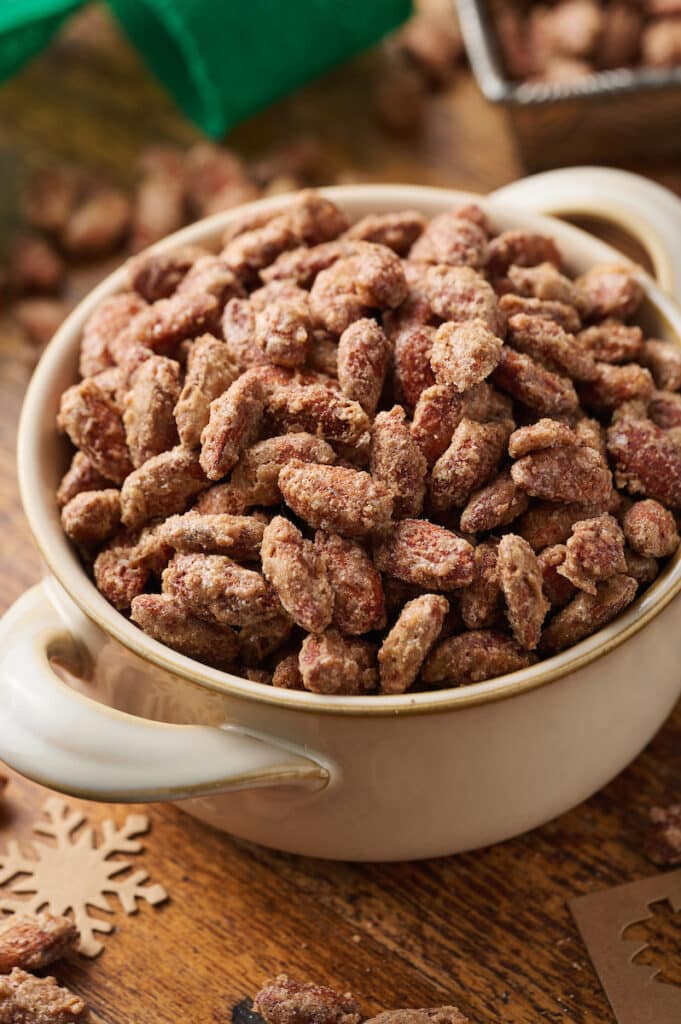 They're very similar to my candied pecans, and make a wonderful homemade holiday gift idea! Add them to a mason jar, tie a ribbon around the top, and viola! You'll have a gorgeous Christmas gift or hostess gift ready to go! You can also add them to my Christmas tree charcuterie board, which is the ultimate holiday appetizer.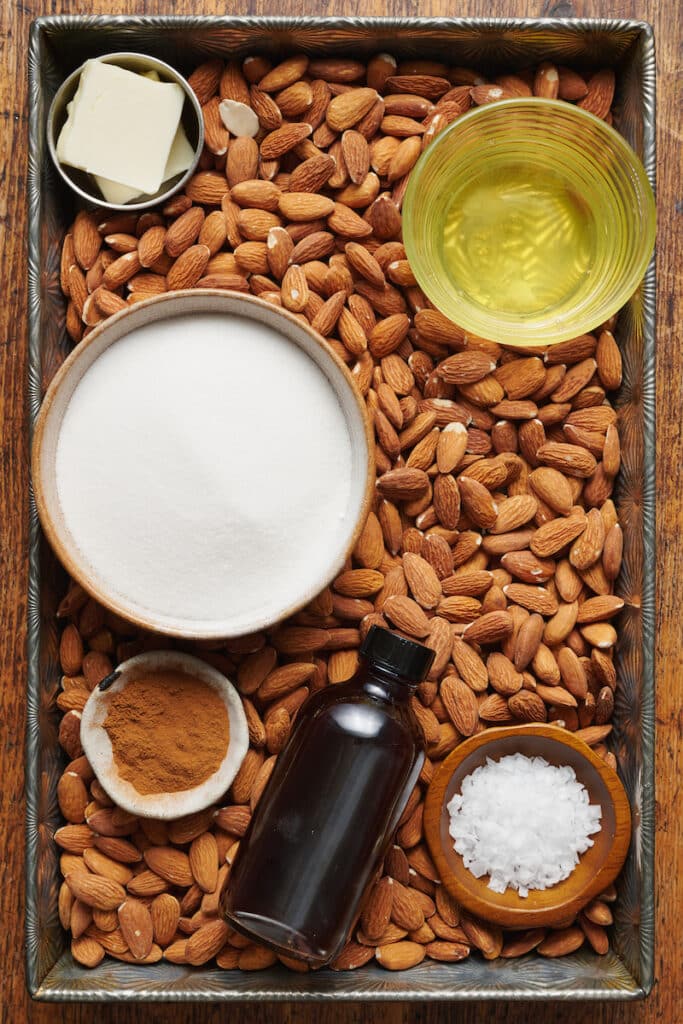 Ingredients for Candied Almonds
Butter: Unsalted high-quality butter works best for these candied nuts. But salted butter will technically work. If you use salted butter, leave out the sea salt called for in the recipe.
Almonds: Use whole raw almonds, and do not change the amount called for. I don't suggest using a different nut in this recipe.
Egg Whites: There is no substitution for egg whites. The egg white mixture is essential for binding the ground cinnamon and sugar to coat the almonds.
Vanilla Extract: A fun spin on this is to use a bourbon vanilla extract, which has even more flavor. But regular PURE vanilla works great. Just don't use imitation vanilla or artificial vanilla.
Sugar: Do not sub brown sugar for granulated sugar. Brown sugar contains molasses, which will means it has more moisture than granulated sugar. More moisture will result in less crunchy candied nuts.
Ground Cinnamon: High-quality FRESH ground cinnamon will give your cinnamon roasted almonds the best flavor! Don't use expired spices or increase the amount, which can cause a bitter aftertaste.
And Sea Salt: A little flaky sea salt or fine sea salt will enhance all the flavors in these candied nuts. And help balance the sweetness!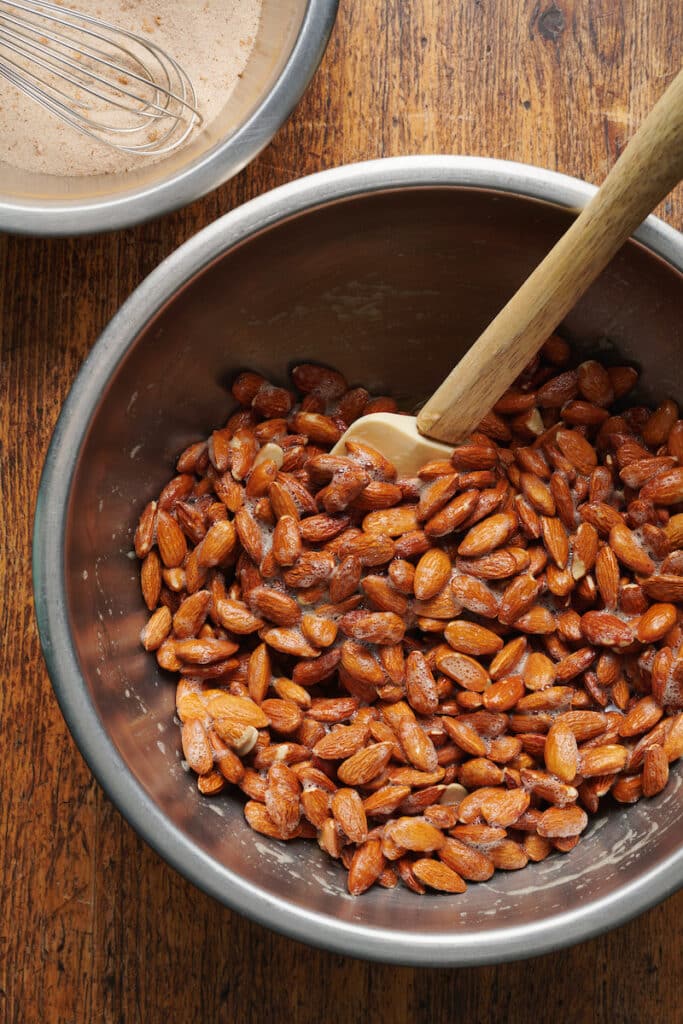 Tips for Making Candied Nuts!
Use a large metal baking sheet! Do not line the baking pan with parchment paper and set it aside. You want to bake the almond DIRECTLY on the pan.
Melt the butter BEFORE you add the almonds on to the baking pan.
Beat the the egg white mixture until the mixture is SUPER frothy. Then toss the almonds into the egg white mixture and toss well to ensure the almonds are super wet and well coated.
Don't under bake the candied almonds, and be sure to turn them every 20 minutes.
And perhaps the most important tip: let the cool before digging in! As they cool, they'll firm up and get crunchier. So if you taste one fresh from the oven, don't be alarmed if it's still a bit soft.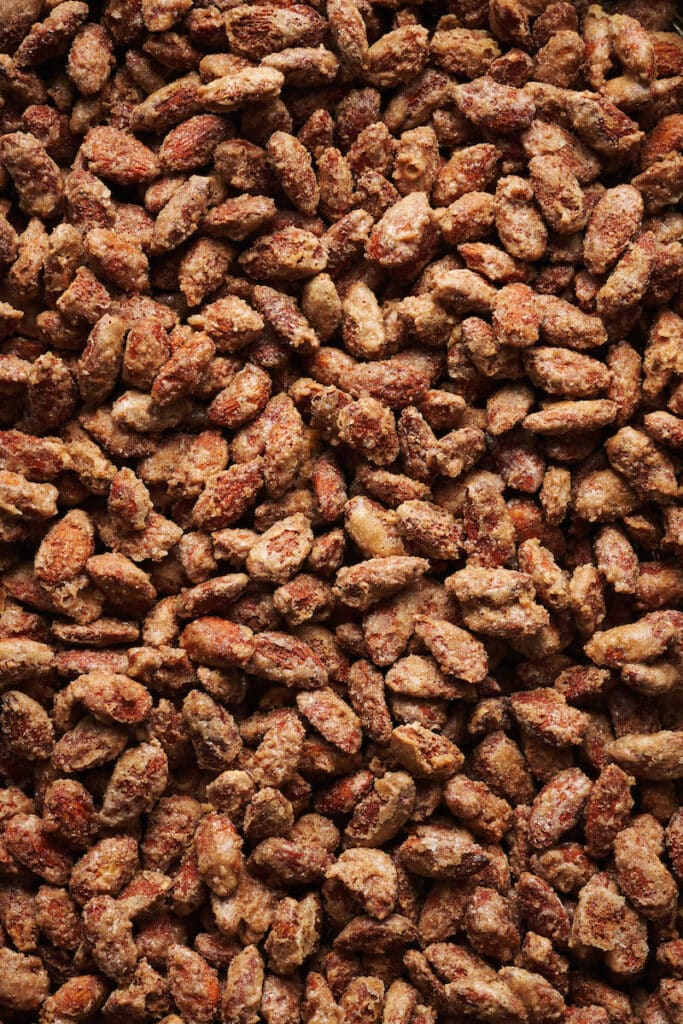 How to Store Candied Almonds?
This recipe yields a TON of delicious cinnamon roasted almonds! Yu'll definitely have leftovers. The best way to store them is in an airtight container, for up 2 weeks at room temperature. If want to keep them really long, do candied almonds and use my instructions for freezing below!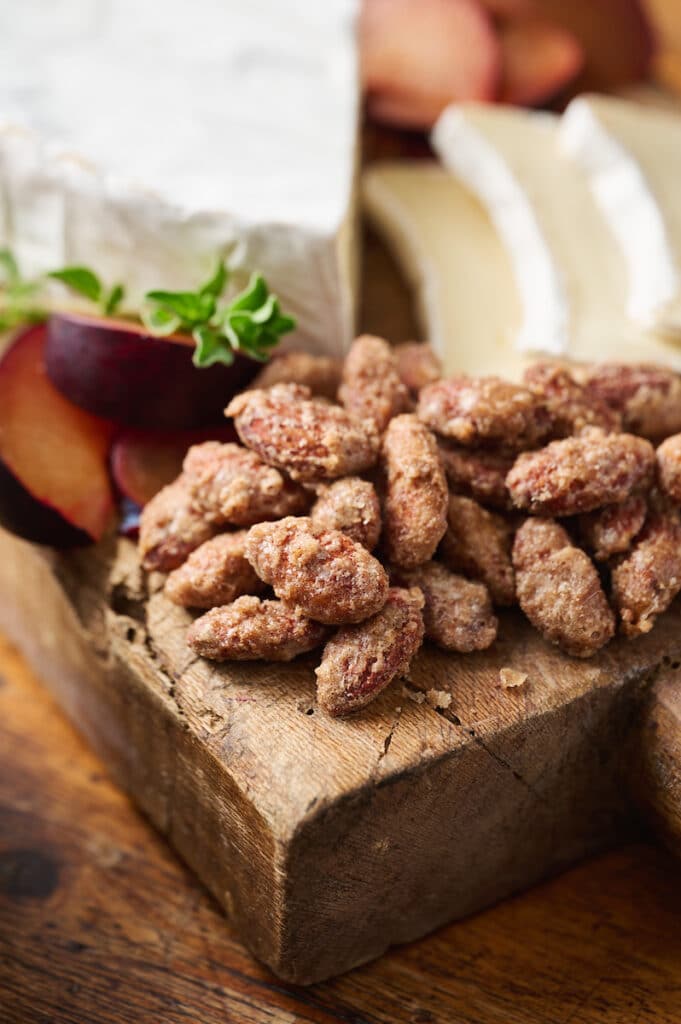 How to Freeze this Candied Almonds Recipe?
Allow the roasted almonds cool completely at room temperature. Do not try to freeze warm candied almonds.
Transfer the cinnamon roasted nuts to a freezer-friendly, airtight container or ziplock bag. Be sure to squeeze any air out of the bag or container!
Store in the freezer for up to 2 months. Remove from the freezer before serving, thaw at room temperature and enjoy! These candied nuts thaw very fast… and if you really can't wait, they even taste great frozen! I actually prefer how extra crunchy they are straight out of the dresser.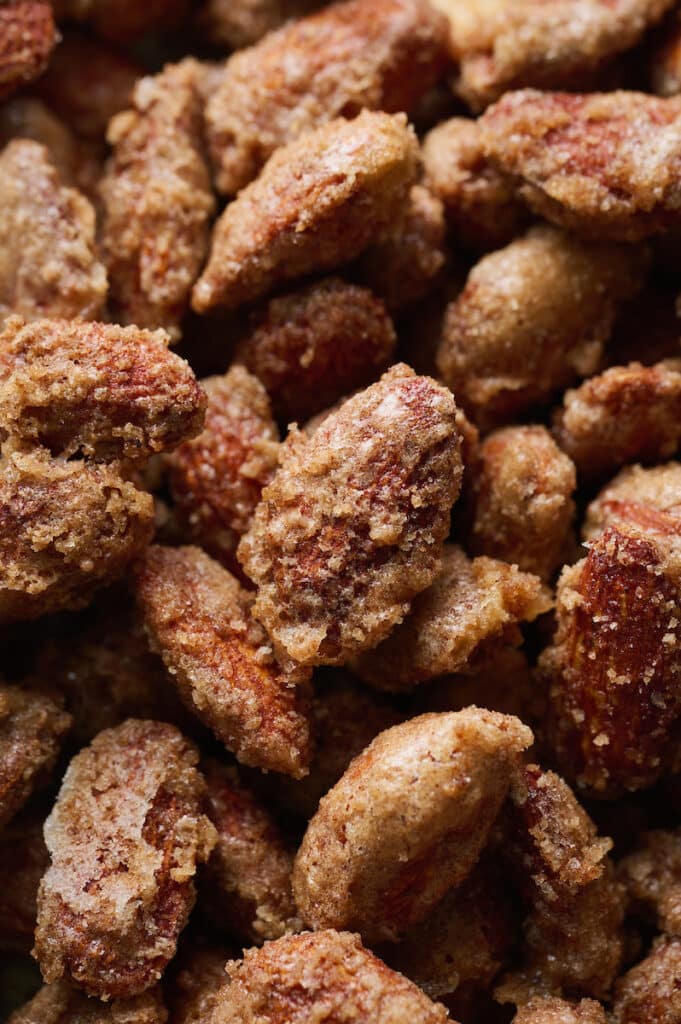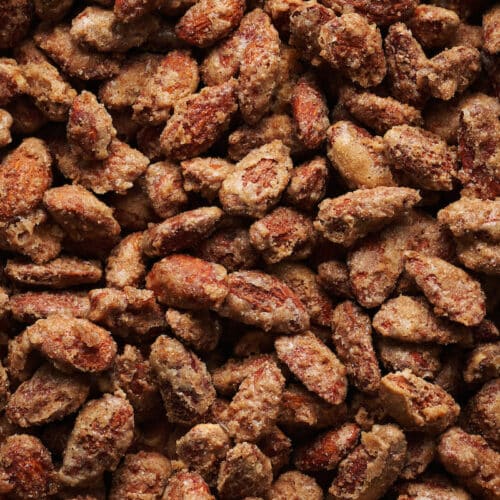 Easy Candied Almonds
These easy candied almonds are crunchy and covered in a delicious cinnamon sugar mixture! Make-ahead friendly, you can store the candied nuts in an airtight container for up to two weeks at room temperature.
Ingredients
2 Tablespoons (28g) unsalted butter
24 ounces (1 and 1/2 pounds) raw almonds
2 large egg whites
1 Tablespoon (14ml) vanilla extract
1 and 1/4 cups (249g) granulated sugar
2 teaspoons ground cinnamon
1 teaspoon sea salt crushed with your fingertips into tiny flecks
Instructions
Preheat the oven to 250 degrees (F). Place butter on a large baking sheet, and place in the oven to melt. Once butter has melted, remove the baking sheet from the oven and set aside until needed. 

In a small bowl, combine the sugars, spices, and salt. Set aside until needed.

In a separate large bowl, whisk the egg whites with the vanilla until the mixture is very frothy.

Toss the almonds into the egg white mixture and toss to coat. Then add in the cinnamon sugar mixture and stir again, mixing until the almonds are evenly coated in the sugar mixture.

Spread coated almonds onto the buttered baking sheet. Bake in the preheated oven, stirring every 20 minutes, for 1 hour and 20 minutes.

Cool on the baking sheet for at least 15 minutes before serving. Store in an airtight container, for up to two weeks.