Moist and fluffy Key Lime Cupcakes! Just one bite will transport you to the Florida Keys…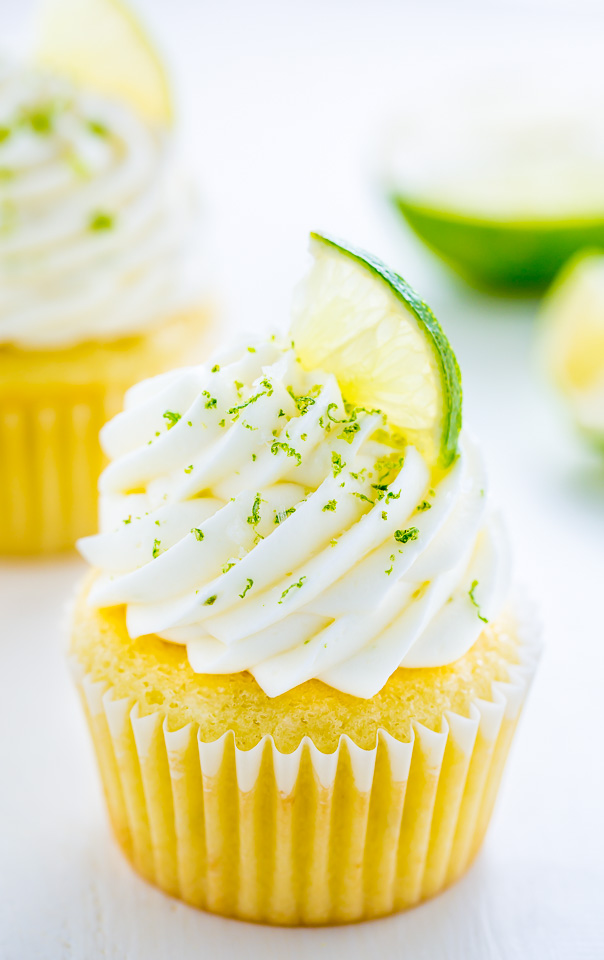 Key Lime Cupcake Recipe
Here in the Hudson Valley, finding a good bag of fresh key limes is like winning the lottery. So when the stars align and our local market has them in stock, I tend to go a little bonkers. And by bonkers, I mean I literally buy every bag I can get my hands on, haul them home, and bake key lime EVERYTHING.
This month I'll be sharing with you 3 new key lime recipes (including my Aunt Lee's key lime pie!!!) but first: Key Lime Pie Cupcakes!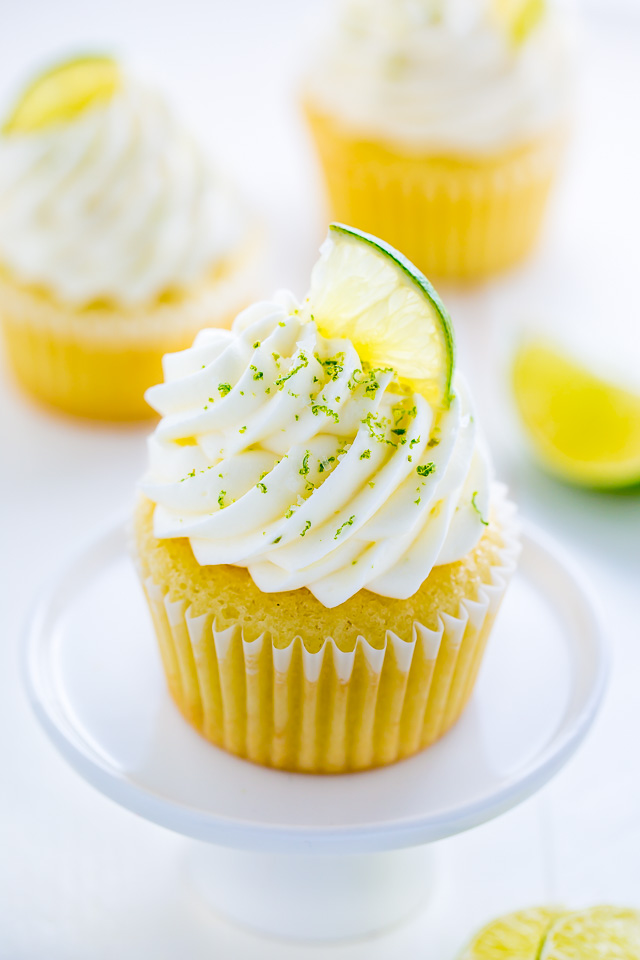 These lime cupcakes have been on heavy rotation in my house this Summer! I'm a sucker for key lime anything… but cupcakes definitely hold a special place in my heart. I've made them 4 times already this month, and plan to bake another batch this weekend. They're really the perfect party/picnic/BBQ dessert. My mom bought me this pink cupcake carrier for my birthday so I've been toting these pretty little cupcakes all over town!
Oh! And if you really wanna kick things up a level, try adding a teaspoon of tequila and a pinch of sea salt to the frosting. Hello, key lime margarita cupcakes!
↑ Yes, I've tried it. Yes, it's amazing.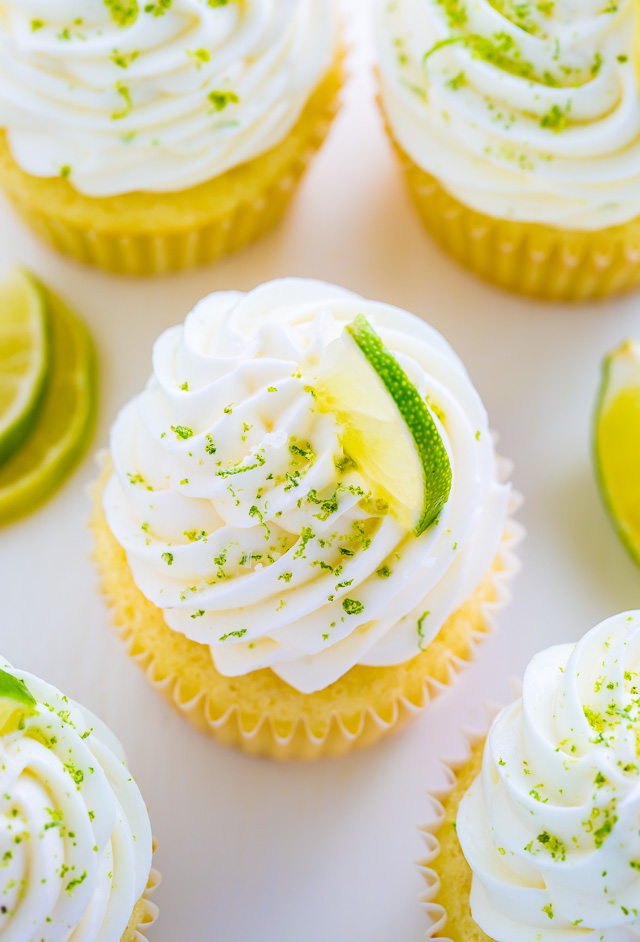 Tips and Tricks for Recipe Success:
I recommend using fresh key lime juice and zest when possible! If you cannot find key limes, you can order real key lime juice online, or just use regular limes. There will be a slight difference in taste if you use regular limes, but key lime cupcakes and regular lime cupcakes are both very delicious.
Key lime extract is a must for these key lime cupcakes! I love this pure key lime extract, but feel free to use your favorite brand! If you skip the extract, the key lime flavor will be very subtle.
For this recipe I use full-fat sour cream and strongly suggest you do the same. The cupcakes get a lot of their moisture from the fat in this ingredient; using a fat-free or reduced fat variety will result in denser, less fluffy cupcakes.
Make sure your butter is at the right temperature before you begin beating it. It needs to be at room temperature, meaning it should be soft enough that, when lightly pressed with your finger, it leaves an indentation in the stick of butter. I typically leave my butter on the counter for an hour or so, but if you're short on time, you can cut the cold stick of butter into into small pieces, which will help speed along the thawing process. Just leave them out at room temperature until they're soft to the touch.
Your egg, egg yolk and sour cream should also be at room temperature. Cold ingredients don't bond evenly, resulting in dense cupcakes.
To ensure you reach the proper frosting consistency you'll want to make sure your cream cheese AND butter are both very soft before beginning. I suggest setting them out on the counter for at least an hour before unwrapping them and getting busy, but they may soften faster or slower depending on the temperature of your house. You'll know your ingredients are soft enough when you can press your finger into the top and a deep indentation is effortlessly made. Cold ingredients, as well as melted ingredients, should never be used when making this frosting; it will not work.
Once all of the confectioners' sugar has been added to the frosting, be sure to beat it on medium-high speed for a FULL 2 minutes. Beating the frosting on high makes it SUPER luscious and fluffy. You will need to use a stand mixer or handheld electric mixer for this step.
If your frosting appears too thin, add a little more confectioners' sugar, one tablespoon at a time, until desired consistency is reached; if your frosting appears too thick, add a touch of cream.
Don't skip the salt! Many readers have have informed me they don't add in the salt called for in dessert recipes because "they don't like salty sweets". However the salt is called for to help balance out the sweetness, and in this case, is quite important for achieving a balanced taste.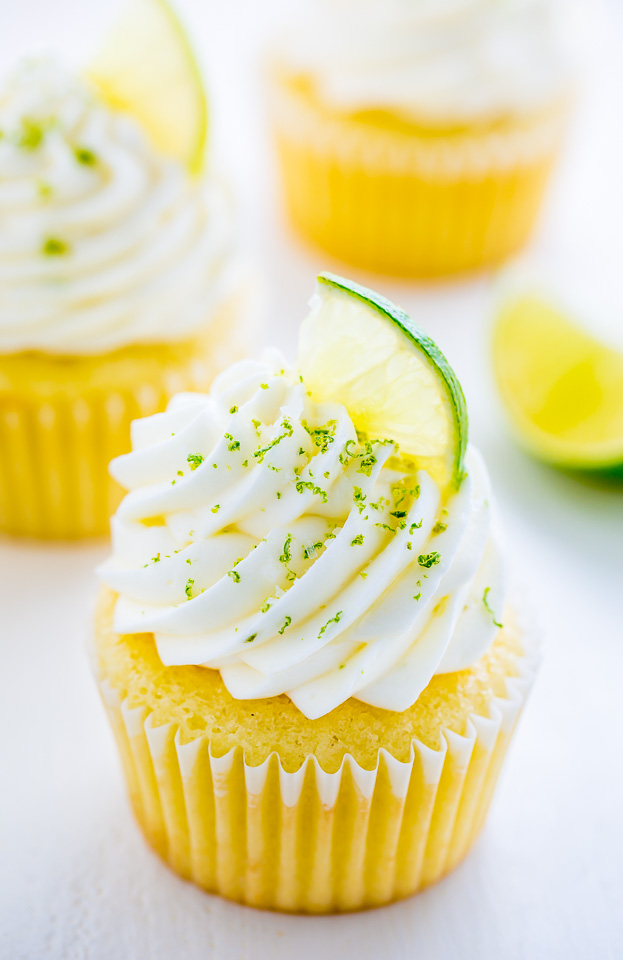 Wow! That was a lot of reading. Allow me to reward you with this bite ↓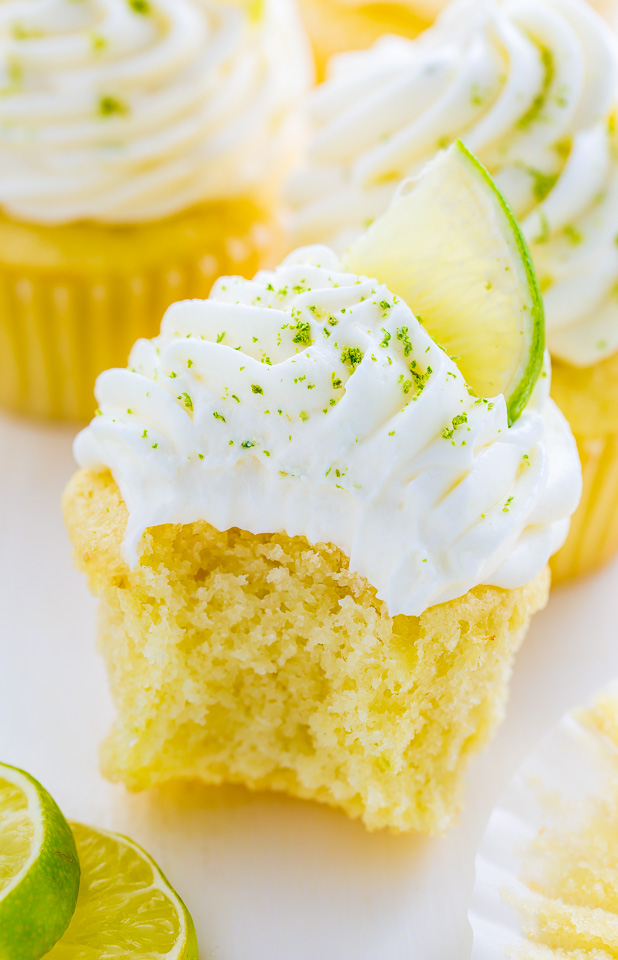 Vacation in a cupcake? Yes, please! Treat yo self to a batch of my Key Lime Cupcakes TODAY.
More Key Lime Recipes:
If you try this recipe, let me know what you think! Leave a comment below, and don't forget to snap a pic and tag it #bakerbynature on instagram! Seeing your creations makes my day.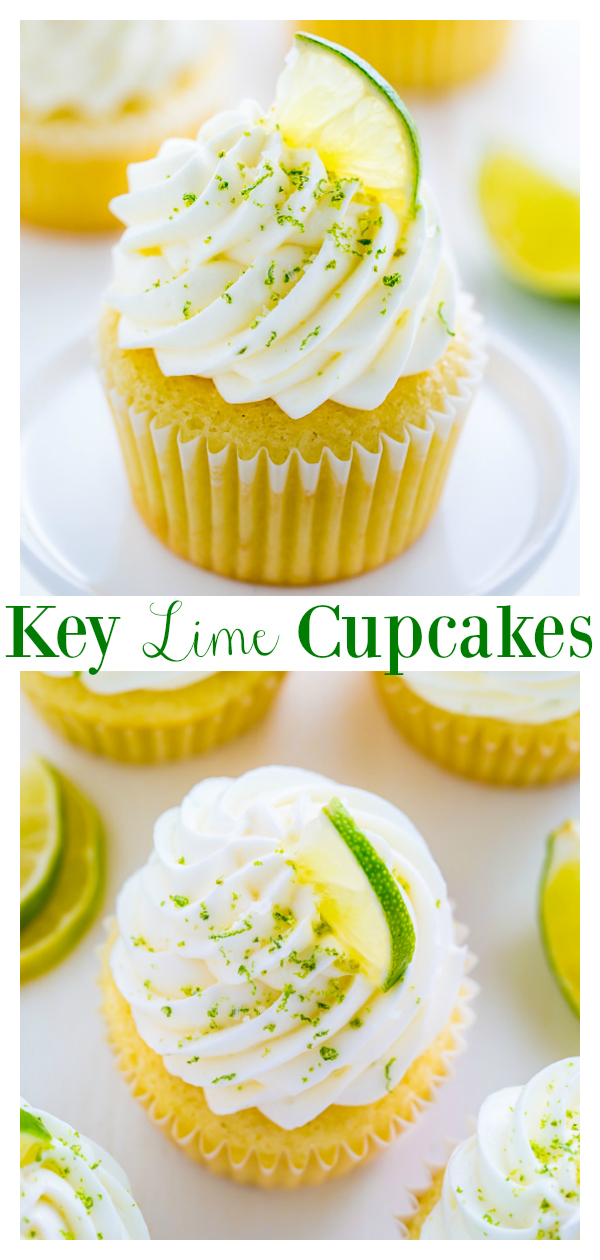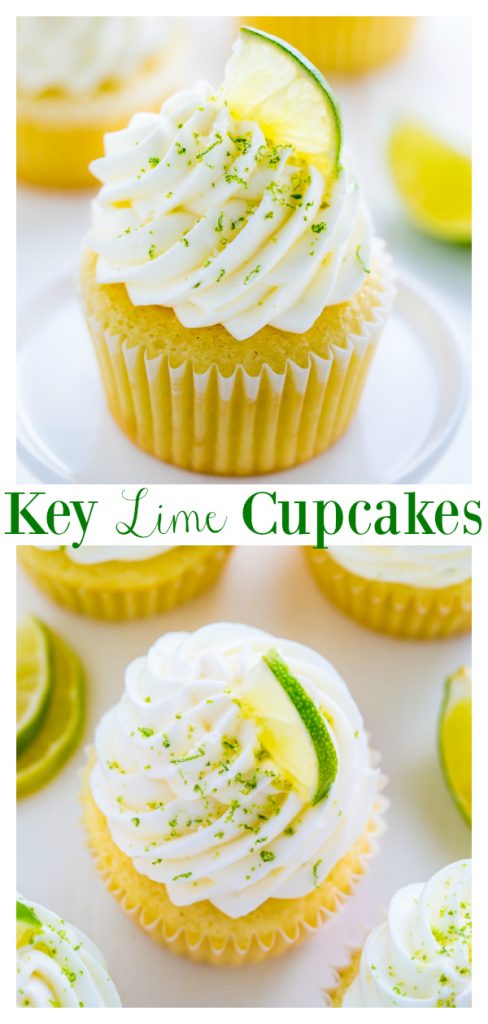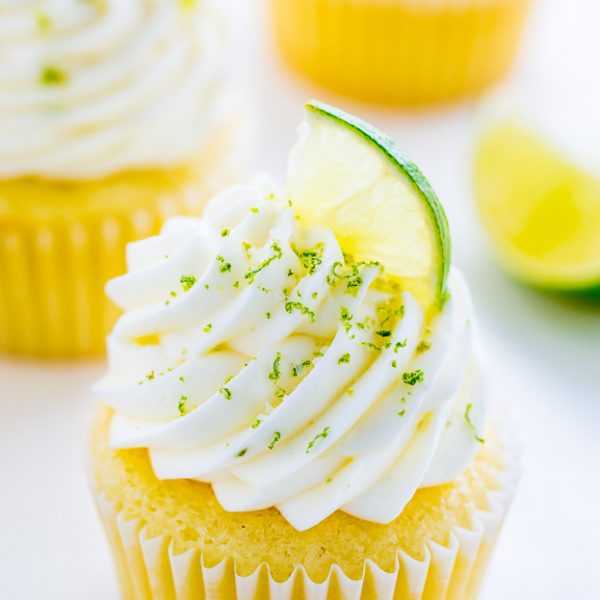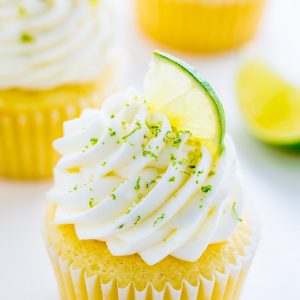 Key Lime Cupcakes
Supremely moist Key Lime Cupcakes are perfect for any occasion!
Ingredients
For the Key Lime Cupcakes:
1 and 3/4 cups all-purpose flour
1 teaspoon baking powder
1/2 teaspoon baking soda
1/2 teaspoon salt
1 cup full-fat sour cream
1/2 cup (1 stick) unsalted butter, at room temperature
1/2 cup granulated sugar
1/4 cup light brown sugar
1/2 teaspoon key lime extract (see post for more on this)
2 teaspoons finely grated key lime zest
1 large egg plus one egg yolk, at room temperature
1 and 1/2 tablespoons fresh key lime juice
For the Key Lime Cream Cheese Frosting:
1/2 cup (1 stick) unsalted butter, very soft
(1) 8 ounce block full-fat cream cheese, very soft
4 and 1/2 cups confectioners' sugar
1/4 teaspoon salt (table salt, kosher salt, or finely ground sea salt will all work)
1 and 1/2 tablespoons fresh key lime juice
1/4 teaspoon key lime extract (see post for more on this)
1 teaspoon finely grated key lime zest
To Decorate:
1 teaspoon freshly grated key lime zest
Instructions
For the Key Lime Cupcakes:
Preheat oven to 350 degrees (F). Line a 12 mold cupcake tin with paper liners and set aside.

In a medium bowl combine the flour, baking powder, baking soda, and salt; whisk well and set aside.

In a large bowl using a handheld electric mixer, or in the bowl of a stand mixer fitted with the paddle attachment, beat the butter on medium speed until smooth and creamy, about 30 seconds. Add in both sugars, lime extract and lime zest and beat until well combined. Add in the egg and egg yolk and mix well, scraping down the sides of the bowl as needed. Reduce the mixer speed to low. Add in 1/2 of the flour mixture and mix until just combined (this should take about 5 seconds). Add 1/2 of the sour cream and mix until just combined. Repeat with remaining flour and sour cream, being sure to mix on low until just combined. Turn mixer off. Using a rubber spatula, quickly fold in the lime juice.

Divide the batter evenly among the prepared muffin cups, filling them 3/4 of the way full. Bake for 16 to 18 minutes, or until a toothpick inserted in the center comes out clean. Allow cupcakes to cool in the pan for 5 minutes before transferring them to a wire rack to cool completely. Once cupcakes are cool, frost and decorate. The cupcakes may also be frozen, unfrosted, and stored in a freezer safe bag, for up to 2 months.
For the Key Lime Cream Cheese Frosting:
In a medium bowl using a handheld electric mixer, or in the bowl of a stand mixer fitted with the paddle attachment, beat the butter and cream cheese on medium-speed until smooth and creamy. Reduce the speed to low and gradually add in the powdered sugar and lime juice, beating until light and fluffy, about 2 minutes. Add in the salt, key lime juice, extract and zest; beat smooth. If the consistency appears too thick, add a teaspoon of milk or heavy cream, but only if necessary. The frosting should be creamy and spreadable, but also thick enough to hold its shape. Pipe or spread the frosting on top of each cooled cupcake.
To Decorate:
Top each frosted cupcake with a pinch of lime zest.