Healthy Double Chocolate Banana Muffins are moist, fudgy, and so delicious! Devilishly decadent and only 181 calories per serving.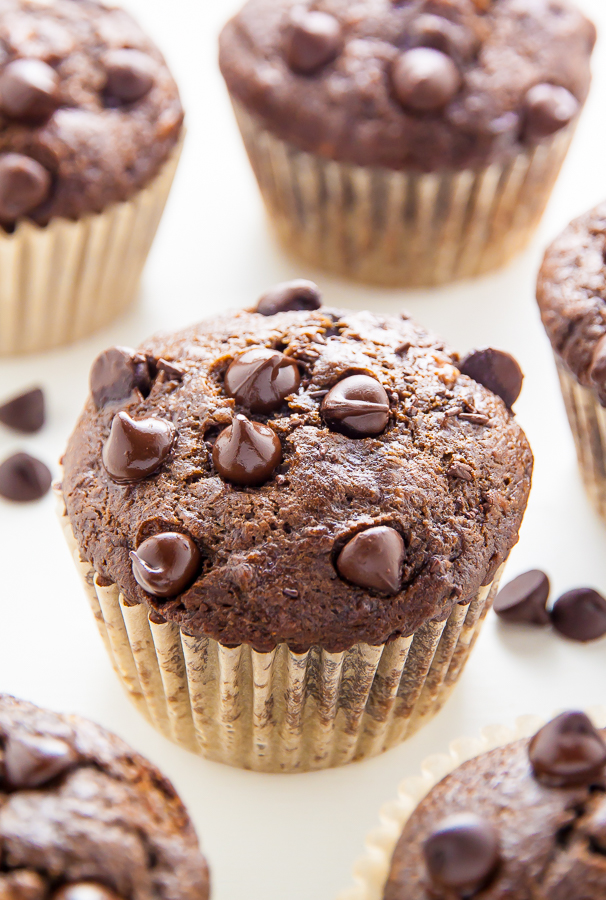 Chocolate Banana Muffins
Hi there! Totally have the perfect lazy weekend baking project for you: Double Chocolate BANANA Muffins! ← AKA the best flavor combination in the ENTIRE world. They're so simple. But more importantly, they're so moist and fluffy and chocolatey and delicious. Bonus: They take about 30 minutes start-to-finish and are made with healthy, everyday ingredients you probably already have hiding in your pantry.
I should warn you… the chocolate temptation is about to get real ↓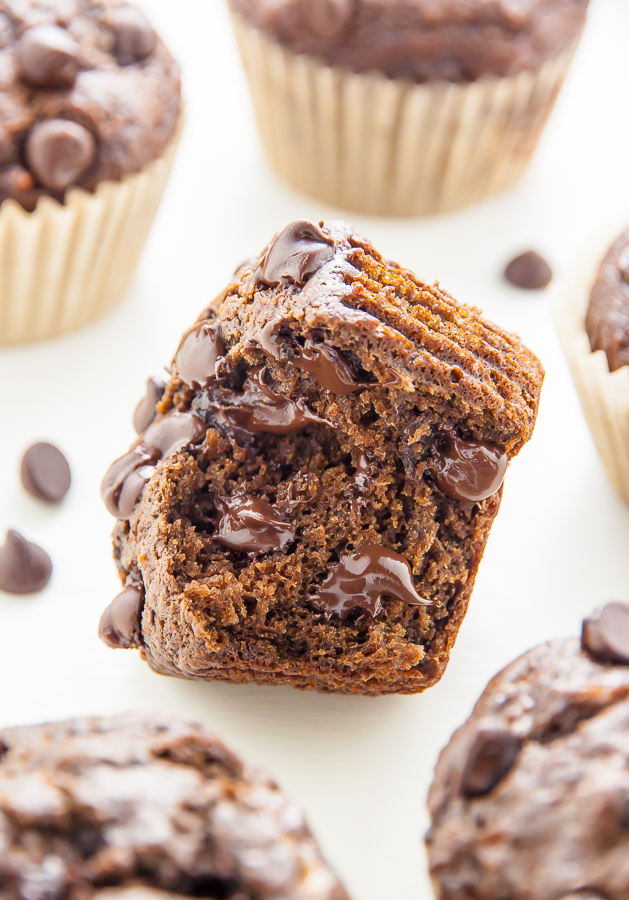 Let's Make Healthy Chocolate Banana Muffins
These double chocolate banana muffins are pure MAGIC. The kind of magic that anyone with an oven, a partially stocked pantry, and 30 minutes can create. I'm completely addicted to making them because they taste like bakery quality, FULL-FAT, extra decadent dessert muffins… but in reality are made with awesome ingredients like mashed bananas, applesauce, coconut sugar, whole wheat flour, dark chocolate, and coconut oil. They're also vegan, dairy-free, nut-free, and low in refined sugar, making them a great option for kiddos or folks with dietary restrictions. My niece can't have any dairy or nuts, so I love that she can enjoy these "chocolate cupcakes" as a special treat.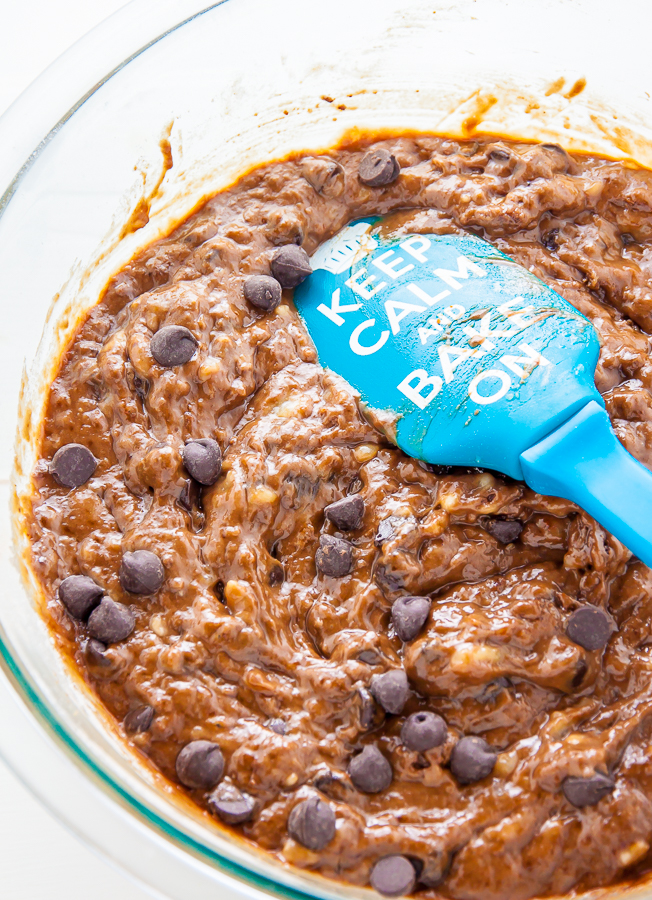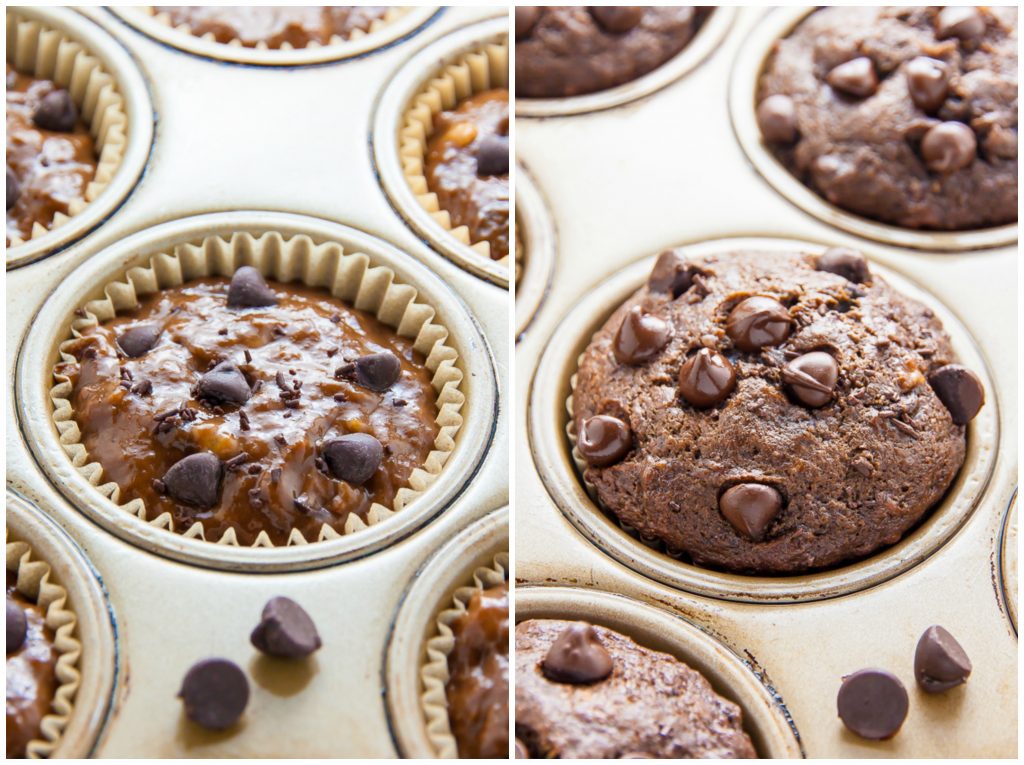 Tips and Tricks for Recipe Success:
To sweeten the muffins I use coconut sugar. You can find coconut sugar in most major grocery stores as well as Walmart and Target. You can click here to check out the exact coconut sugar I use for all my healthy baking.
Although this recipe calls for coconut oil and coconut sugar, the overall taste is not coconut-y. If you have an allergy to coconut and still want to make this recipe, you may use an equal amount of canola oil in place of the coconut oil and granulated sugar in place of the coconut sugar. However changing these ingredients will also change the nutritional value of the recipe.
I used full-sized chocolate chips, but an equal amount of mini-chocolate chips may be used instead.
If you're vegan, or serving these muffins to someone who lives a vegan lifestyle, please make sure the chocolate you're using is vegan. You can click here if you'd like to check out the chocolate chips I used in this recipe.
Be sure not to over mix the batter! This batter is very thick, so you want to stir just until everything is combined. Over mixed batter will produce dense muffins.
Stay close to the muffins while they're baking since you baking them at a higher temperature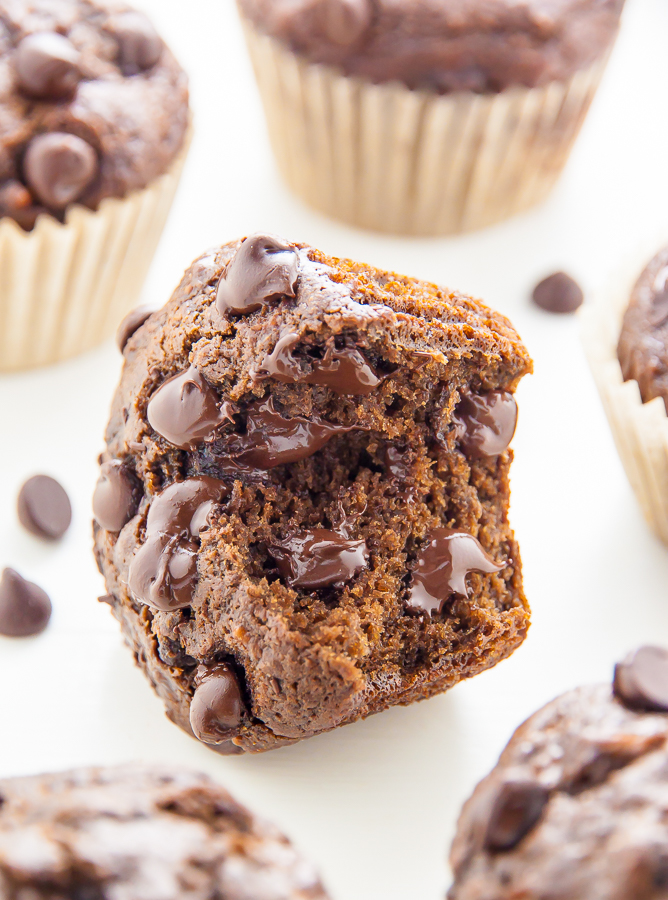 If you try this recipe, let me know what you think! Leave a comment below, and don't forget to snap a pic and tag it #bakerbynature on instagram! Seeing your creations makes my day ♥
More Chocolate Banana Recipes: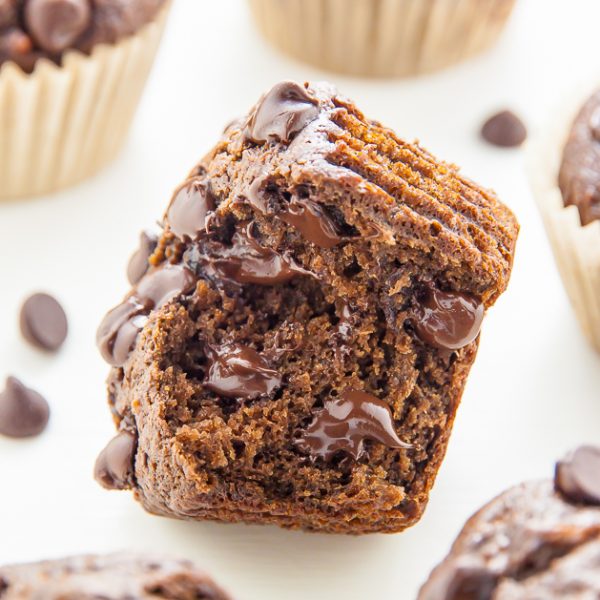 Healthy Double Chocolate Banana Muffins
Incredibly DECADENT but Healthy Double Chocolate Banana Muffins! This recipe is dairy-free, nut-free, and vegan.
Ingredients
1 and 3/4 cups whole wheat flour
1/4 cup unsweetened cocoa powder
1/2 cup coconut sugar
3 teaspoons baking powder
1/2 teaspoon baking soda
1/4 teaspoon salt
1 and 1/3 cups ripe mashed banana
1/3 cup applesauce
1/4 cup coconut oil, melted
1/3 cup dark chocolate chips (more if desired).
Instructions
Preheat oven to 400 degrees (F). Line a muffin pan with paper liners; spray liners lightly with non-stick spray and set aside.

In a large bowl whisk together the flour, cocoa powder, coconut sugar, baking soda, baking powder, and salt; set aside.

In a separate bowl combine smashed bananas, applesauce and coconut oil; whisk well to combine. Add wet mixture to flour mixture and stir just until moistened. Fold in chocolate chips.

Divide batter evenly among prepared muffin cups. Bake at 400 degrees for 10 minutes, then reduce the heat to 350 degrees and bake for another 10 minutes, or until a toothpick inserted in center comes out clean. Be sure not to over bake or muffins will become dense! Allow muffins to cool for 5 minutes in the pan before transferring them to a wire rack. Serve warm or at room temperature.