If you love cinnamon apple flavored fall cocktails, you'll love this fabulous Honeycrisp apple cider sangria! Garnish with a cinnamon sugar rim, cinnamon sticks, star anise, and fresh rosemary sprigs to make a perfectly festive fall sangria. Plus, extra apple slices, of course!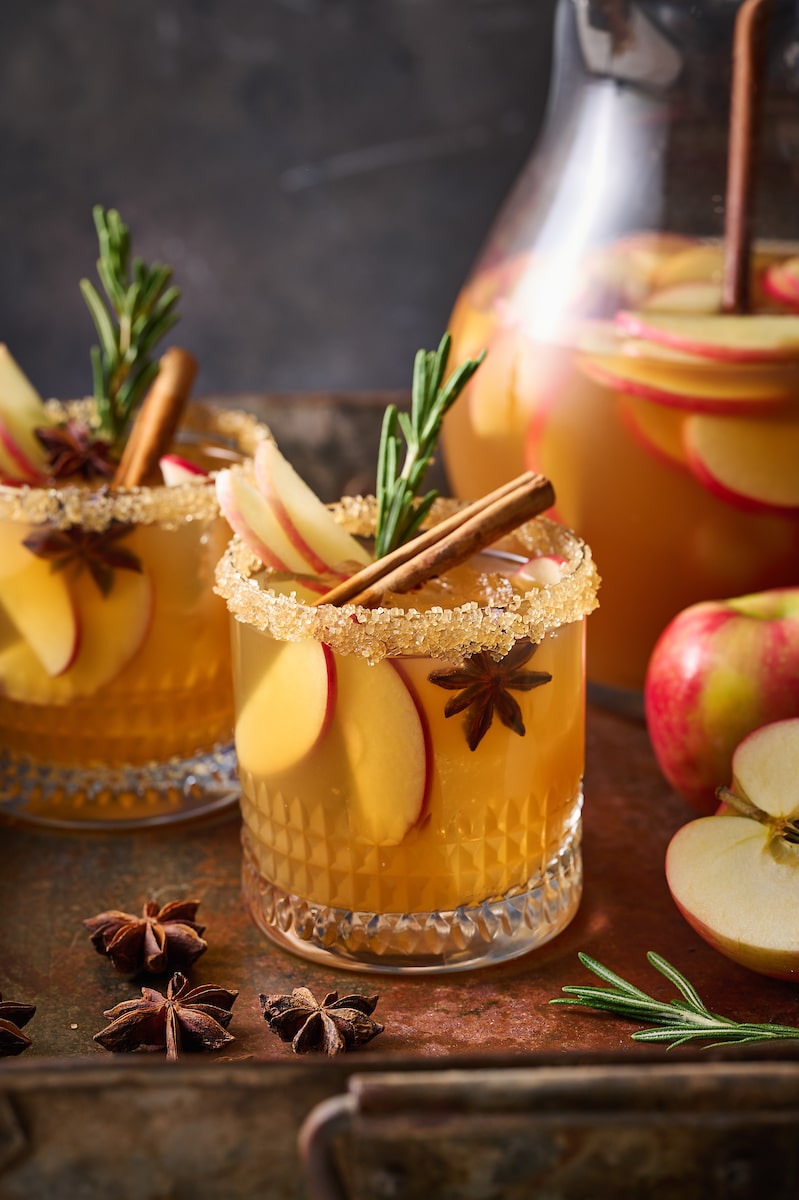 Apple Cider Sangria
I've said it before and I'll say it again" sangria is the perfect party starter! Which is why I have a special sangria recipe for every season. In the summer, we sip on refreshing rosé sangria, during the holiday season, it's mulled wine sangria, and during the fall…
You guessed it: we're drinking this crazy delicious apple cider sangria! It's so easy, super refreshing, and basically screams fall. What more could you ask for from a fall cocktail?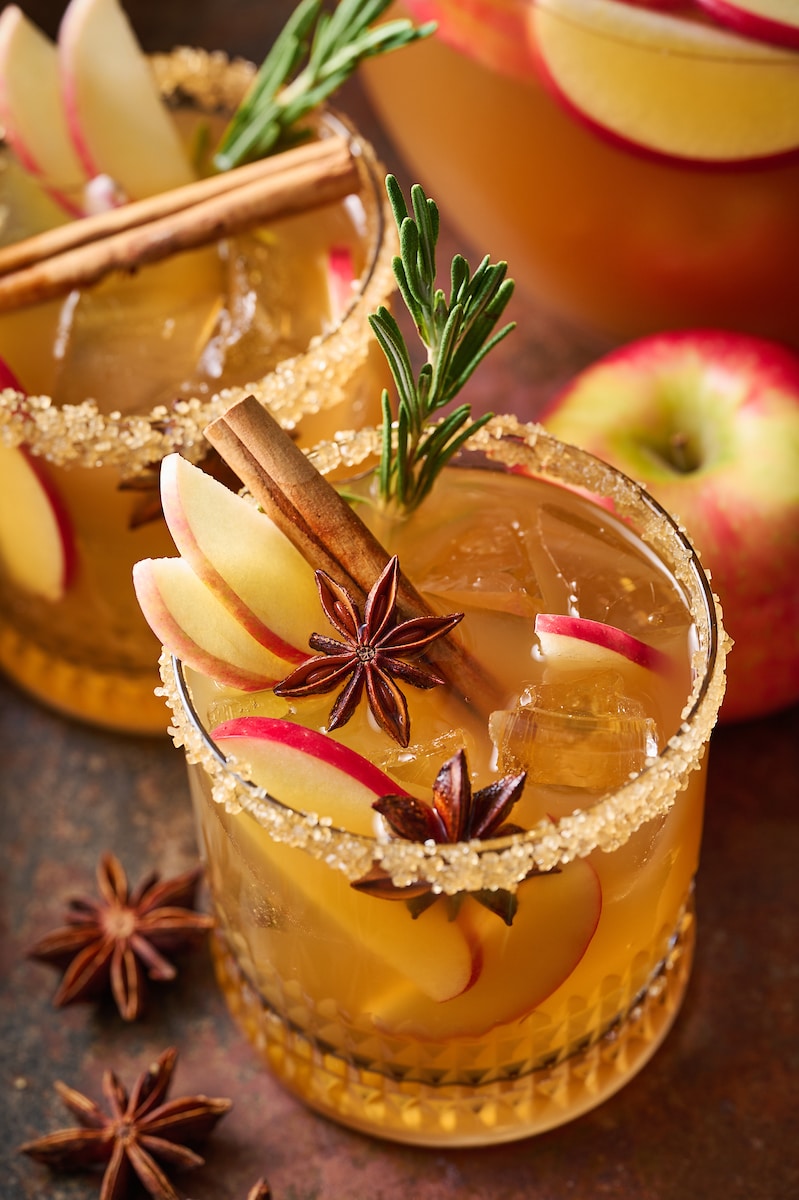 All you'll need is a large pitcher, some white wine (we love Sauvignon Blanc or Pinot Grigio for this recipe), apples (obviously, I recommend honey crisp apples but any variety of apple will technically work), apple brandy, and a couple of cups of apple cider. If you can't find apple brandy, feel free to use bourbon, rum, or whiskey instead. And be sure you use APPLE CIDER (cold-pressed apple juice) not apple cider vinegar or hard cider.
Plus, some spices, water, and sugar to make the yummy fall-inspired simple syrup.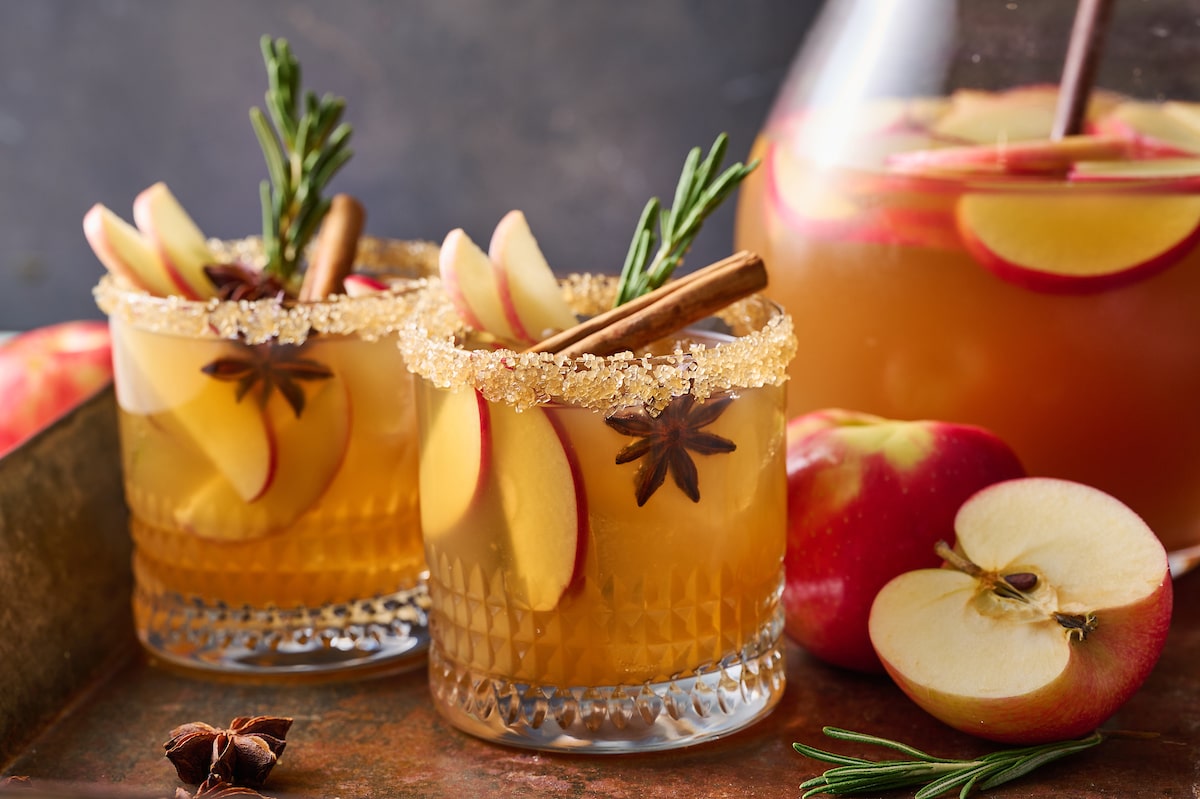 Optional ingredients are non-alcoholic ginger beer or club soda to add some fizz. And although I prefer this with just apples, oranges, cranberries, and/or pomegranate seeds can be added if you want some extra color. Heck, you can even add a splash of orange juice or cranberry juice if you want more flavor contrast. But personally I love the all apple flavor profile.
If you're in a rush to make this, feel free to jump to the recipe without reading my tips below. Just remember, the longer it sits, the better it's going to taste because time really allows the flavors to develop.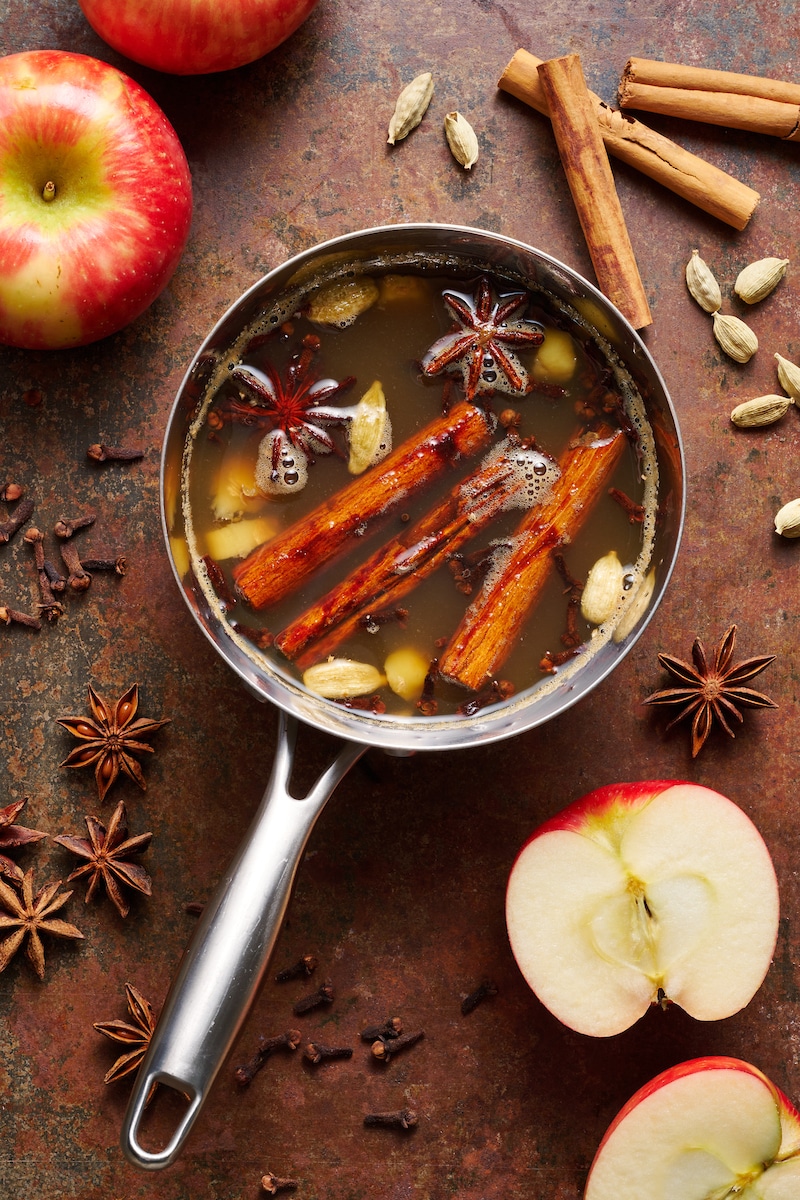 Apple Cider Sangria Simple Syrup
If you really detest sweetness, you may omit this simple syrup. But the recipe will be pretty one-note (boring-ish) in my opinion. And it doesn't make the cocktail overly sweet because it's sweetened with honey not sugar! To make it you'll need:
water
honey (or maple syrup)
fresh ginger (be sure to use fresh, not ground ginger here)
vanilla extract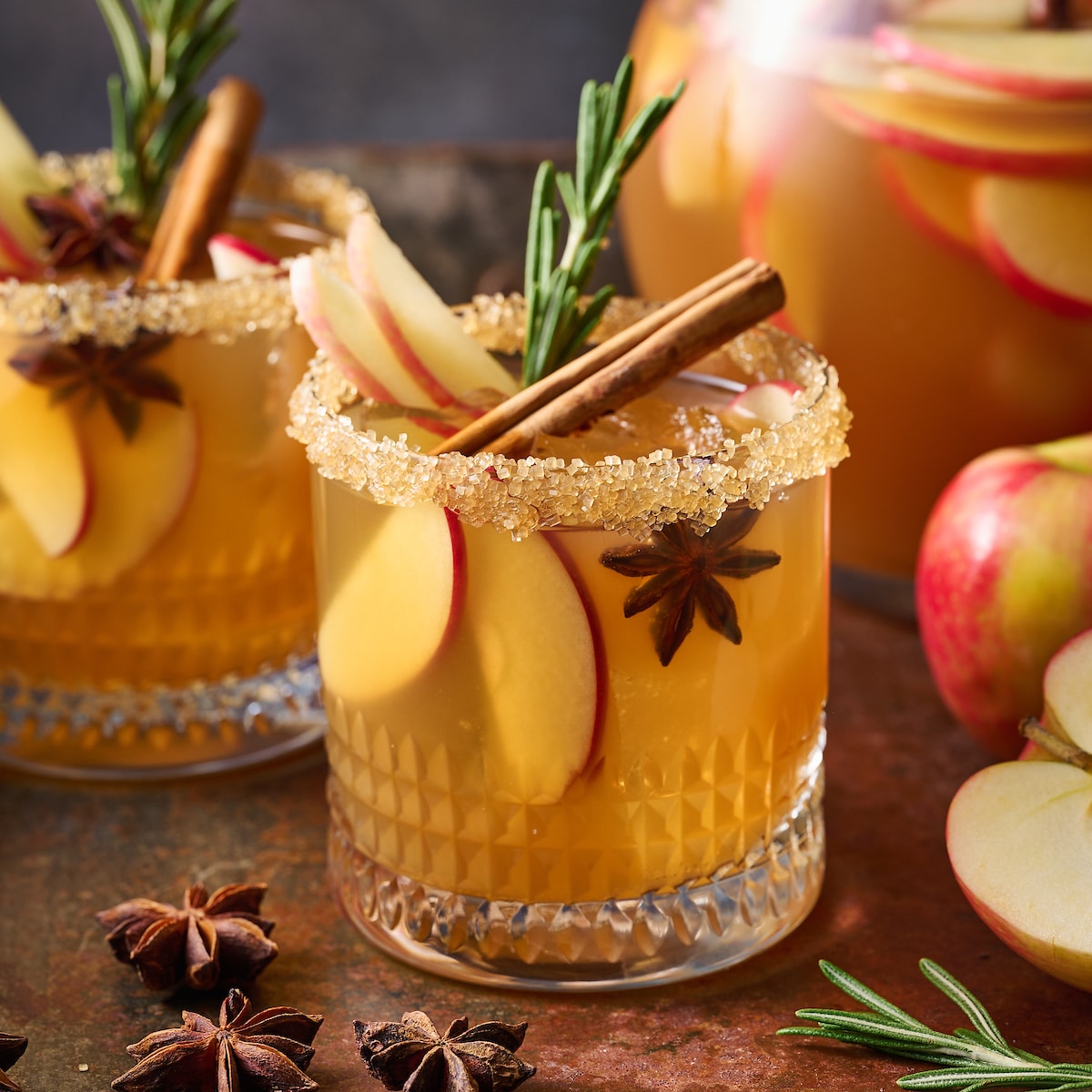 You can make this autumnal simple syrup up to 2 weeks in advance and store it in the fridge until needed! It's also delicious in other cocktails that call for simple syrup, or brushed on cakes, poured on pancakes, etc.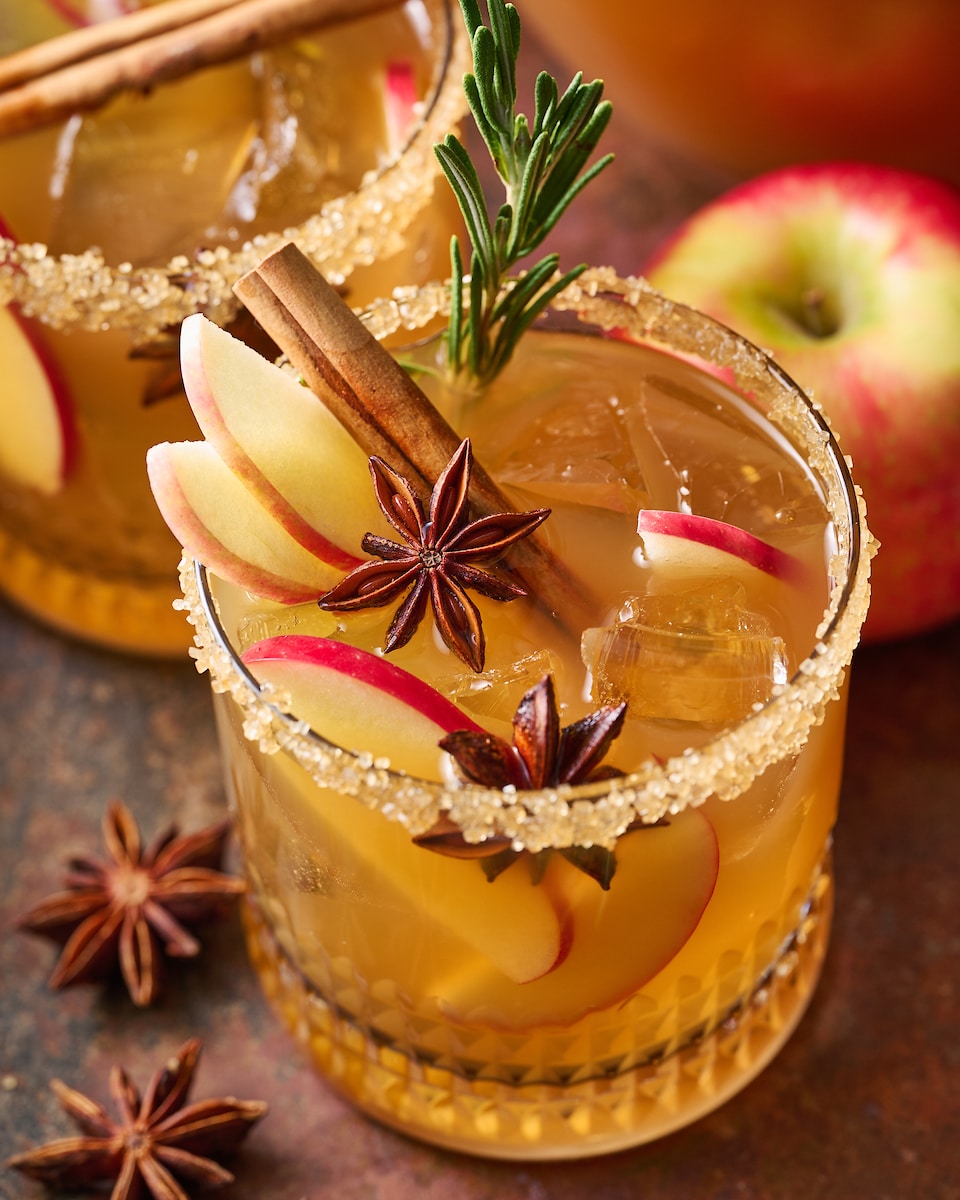 More Fall Cocktails: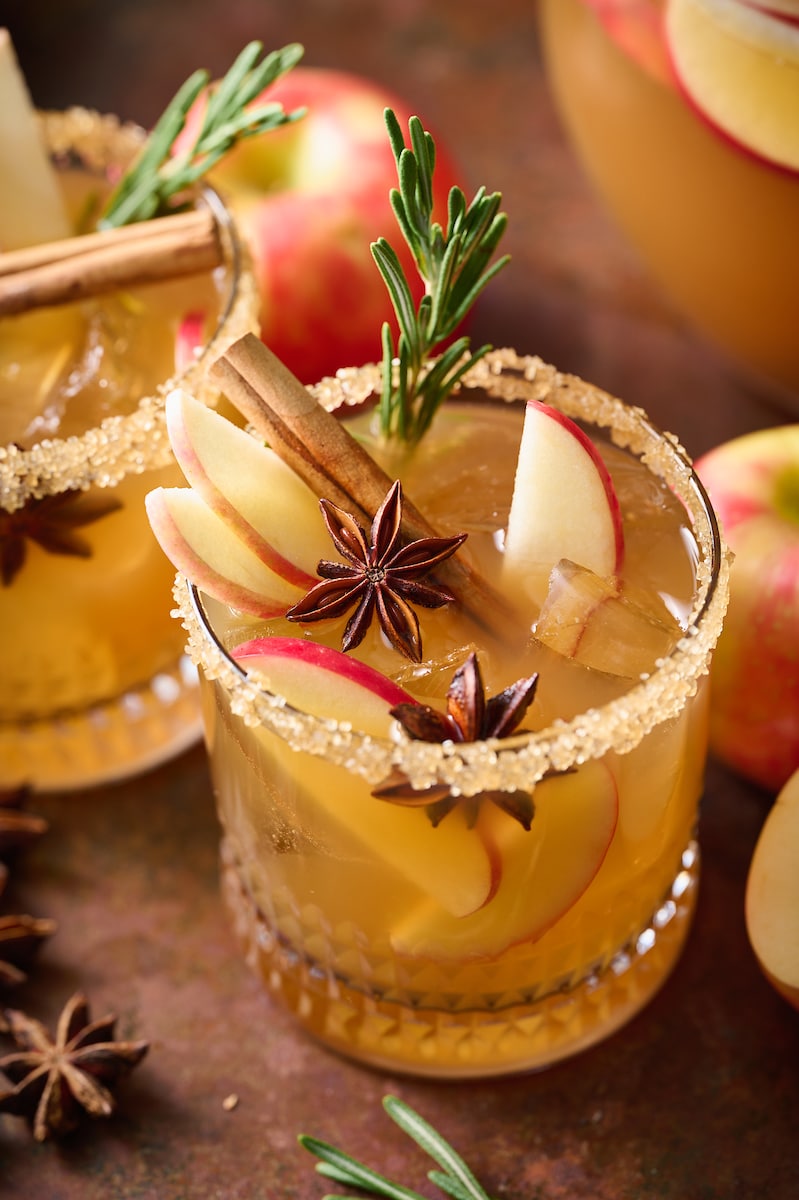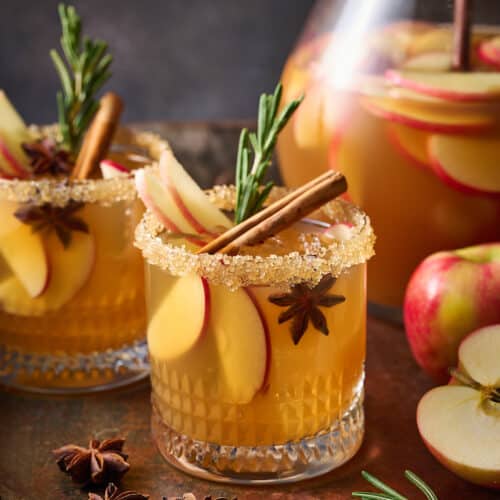 Honeycrisp Apple Cider Sangria
If you love cinnamon apple flavored fall cocktails, you'll love this fabulous Honeycrisp apple cider sangria! Garnish with a cinnamon sugar rim and cinnamon sticks to make a perfectly festive fall sangria.
Ingredients
For the Simple Syrup:
1 and 1/2 cups (340ml) water
1/2 cup (170ml) honey
6 green cardamom pods
3 cinnamon sticks
2 star anise pods
1 and 1/2 teaspoons whole cloves
1 3-inch piece fresh ginger peeled and sliced into 1/4-inch pieces
2 teaspoons vanilla extract
For the Sangria:
2 and 1/2 cups (568ml) cold-pressed apple cider
1 standard size bottle white wine such as Pinto Grigio or Sauvignon Blanc
1 cup (227ml) apple brandy more for a stronger drink (I usually add 1 and 1/2 cups)
5 large Honeycrisp apples cored and thinly sliced
1 cup (227ml) ginger beer or seltzer optional
For the Cinnamon Sugar Rim (Optional):
1 cup (199g) granulated sugar
2 teaspoons ground cinnamon
1 lemon wedge
Instructions
For the Simple Syrup:
Combine the water, honey, spices, and ginger in a small saucepan and bring to a boil over high heat. 

Cook, stirring occasionally, until the honey has dissolved, about 3 minutes. Reduce heat to low and continue cooking for another 5 minutes. 

Remove from the heat and stir in the vanilla. Set aside and cool for 30 minutes, then strain the simple syrup through a fine-mesh strainer and into a heatproof bowl.

Discard spices. Use ALL of the simple syrup in the sangria recipe below. 
For the Sangria:
Add the simple syrup and all of the sangria ingredients (except the ginger beer/seltzer, if using) into a large pitcher and gently stir to combine. 

Cover and refrigerate for at least 4 hours - or up to 12 hours. Stir well before serving. Note: If you do not plan on serving after 12 hours, strain the sangria through a fine mesh strainer, discard all fruit, and continue refrigerating for up to 12 more hours.

Pour into glasses filled with ice and garnish with apple slices (star anise, rosemary, and cinnamon sticks also make beautiful additions!).

Top with ginger beer or seltzer if using, then serve.
For the Cinnamon Sugar Rim (Optional):
In a small shallow bowl combine the sugar and cinnamon.

Rub the lemon wedge around the rim of as many glasses as desired (you'll have enough to coat at least 8 glasses).

Dip the rim of the glass into the cinnamon sugar mixture. Repeat with all glasses.

Fill glasses with ice and pour sangria over ice. Serve!