The only thing better than mulled wine… is mulled wine sangria! The simple syrup is made with mulling spices, giving this red wine sangria TONS of flavor. Garnish with orange slices, star anise, and raspberries for a gorgeous cocktail perfect for holiday parties and celebrations!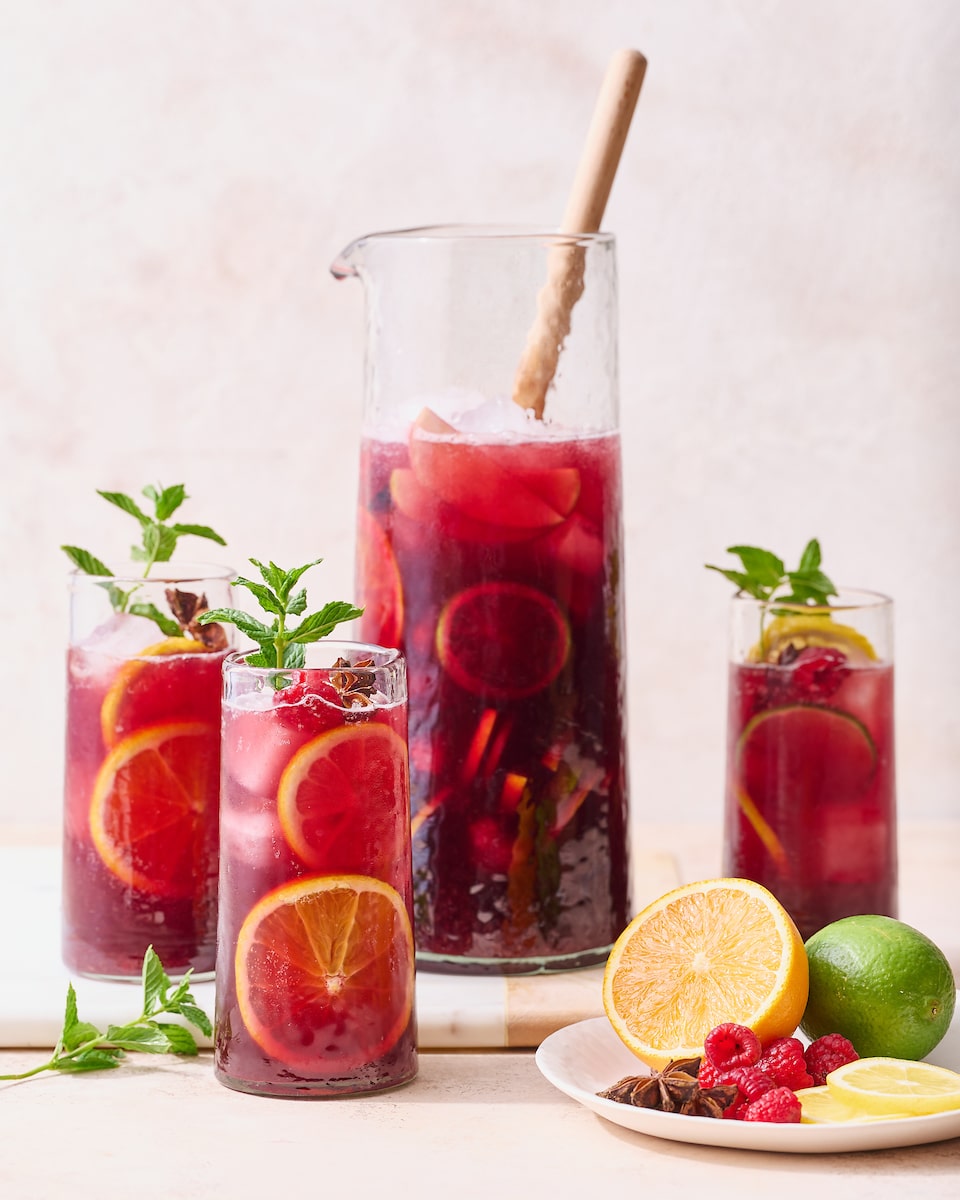 Mulled Wine Sangria Recipe
Bust out the Cabernet Sauvignon, because today, we're making sangria!
And not just any red wine sangria, but a super festive and refreshing sangria that mimics the flavors in mulled wine. Honestly, it's so delicious… I may never make another red sangria recipe. It's THAT good!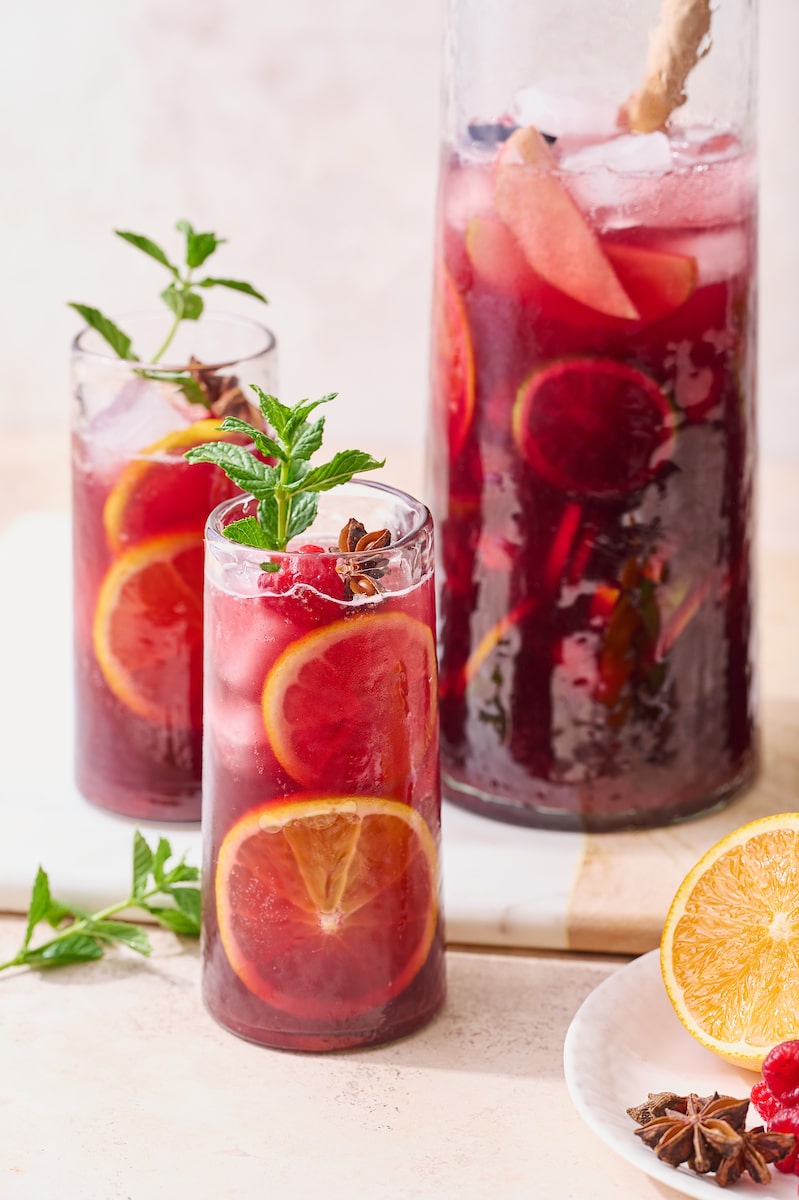 And did I mention it's super easy, too? And make-ahead friendly? Yes, this recipe gets major bonus points because it can be made ahead of time, stored in the fridge, and pulled out when your guests arrive. In fact, the flavor gets better and better the longer you let it sit. So it's a wonderful make-ahead big batch cocktail; perfect for summer picnics, holiday parties, and everything in between!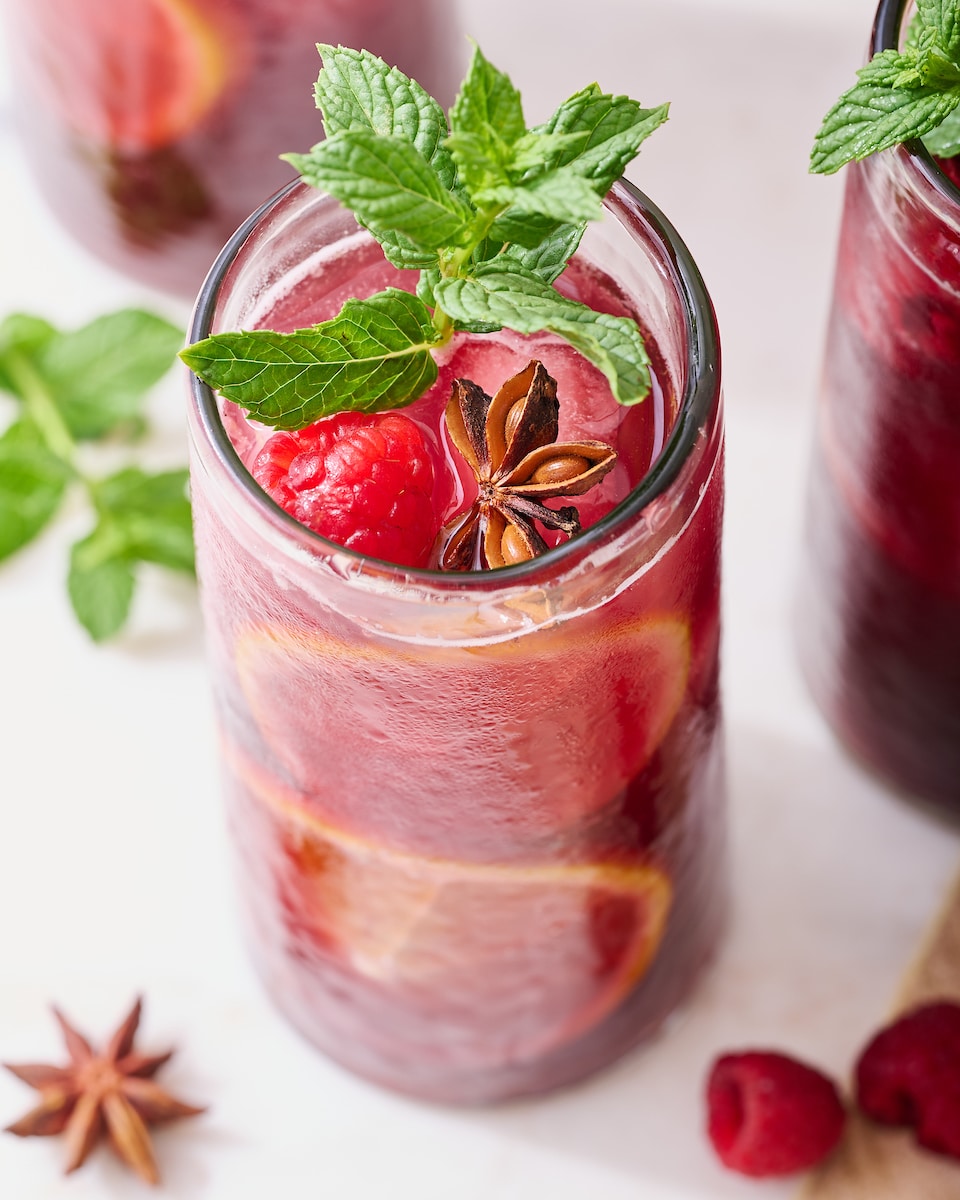 What you'll Need:
Water: The base of our simple syrup. Do not replace or substitute.
Honey: Our sweetener! Like traditional mulled wine, our mulled wine sangria is sweetened with honey instead of granulated sugar. I don't recommend replacing it with maple syrup, as this will dramatically change the flavor.
Cardamom Pods: Do not replace with ground cardamom! Trust me here.
Allspice berries: Use whole allspice berries, not ground allspice.
Star Anise Pods: These are so pretty and and a ton of flavor to our simple syrup.
Cinnamon Sticks: Again, do not sub ground cinnamon here. You may want to buy extra cinnamon sticks for garnish.
Whole Cloves: A little goes a long way here, so don't be tempted to increase the quantity.
Whole Peppercorns: I like black peppercorns for this recipe, but if you have another variety on hand and want to experiment, feel free!
Orange Peel: A long stip adds more orange flavor to our simple syrup.
Ginger: Fresh is best! You'll want to peel it and cut into ¼-inch slices.
Vanilla Extract: Adds a subtle sweetness and increases the depth of flavor. If you don't have it, you can simply omit.
Orange Juice: FRESH SQUEEZED ORANGE JUICE! Trust me.
Red Wine: I recommend something bold but dry, like cabernet sauvignon.
Grand Marnier: Or any orange liqueur you enjoy/have on hand.
Raspberries: Fresh raspberries add flavor but also make a gorgeous garnish.
Lemon: Buy a large heavy lemon and slice it thin!
Lime: Adds a complimentary flavor to the lemon.
Apples: I prefer honey-crisp apples, but if you can't find them, almost any apple variety will work.
Oranges: If they're loaded with seeds, I suggest removing them so your guests don't have to…
Raspberry Seltzer: Or club soda! Adds a nice flavor and fizzy pop.
Mint sprigs: Optional, but these make a gorgeous garnish!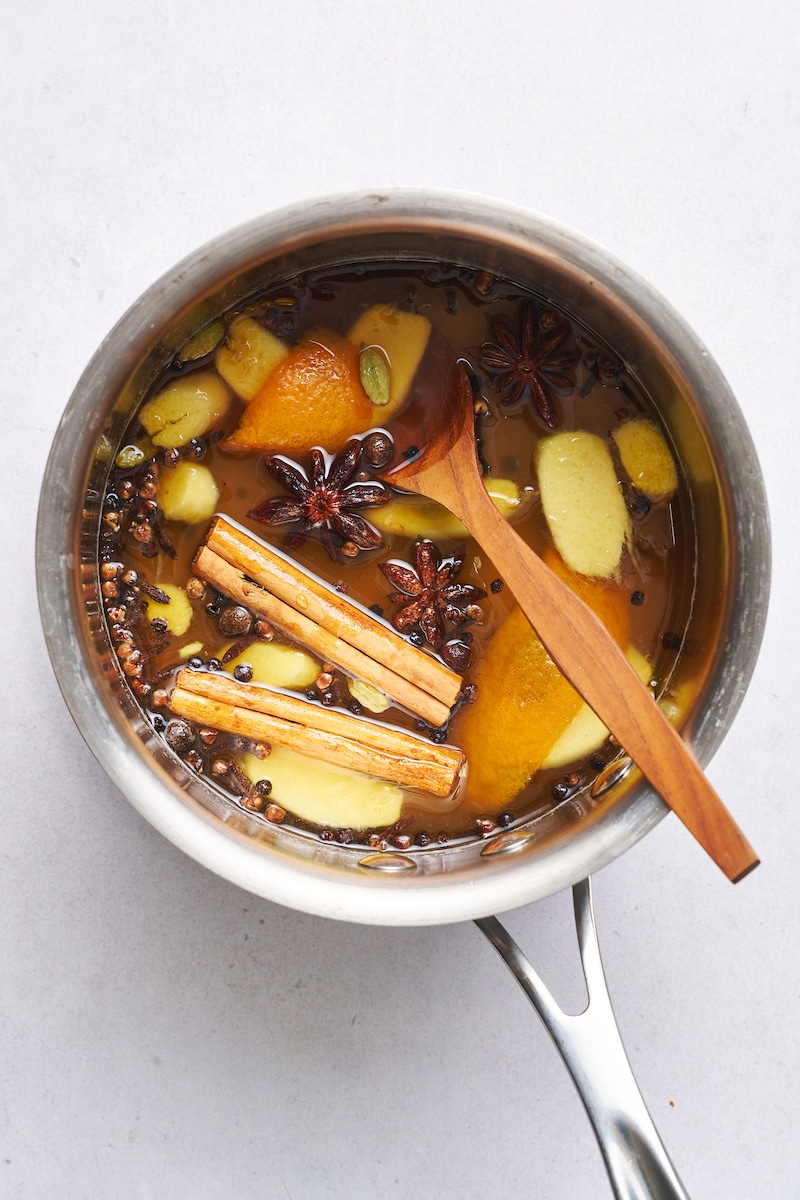 How to Make Red Wine Sangria:
Make your mulled wine simple syrup. You can make this up to two weeks in advance if you want to! It also makes a wonderful holiday gift.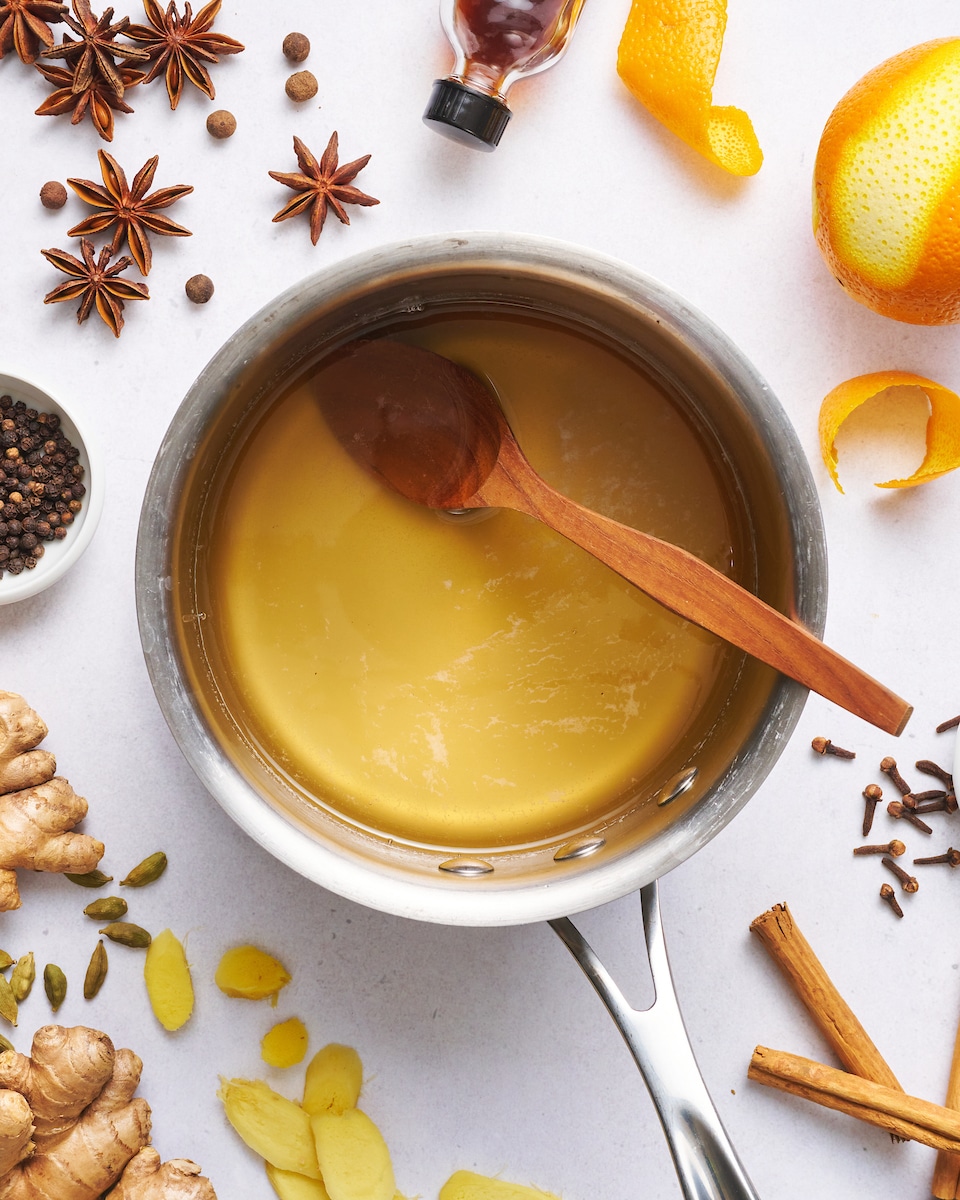 Making the actual sangria is as simple as combining all of the ingredients (minus the club soda) into a large pitcher and mixing everything together. Then pop it in the fridge and chill for at least 6 hours!
If you're not going to serve the sangria within 12 hours, you'll want to strain the sangria through a fine mesh strainer, discard all of the fruit, and place it back in the refrigerator. You can add fresh fruit right before serving!
To serve, pour into tall glasses filled with ice and garnish with fresh fruit and a mint sprigs.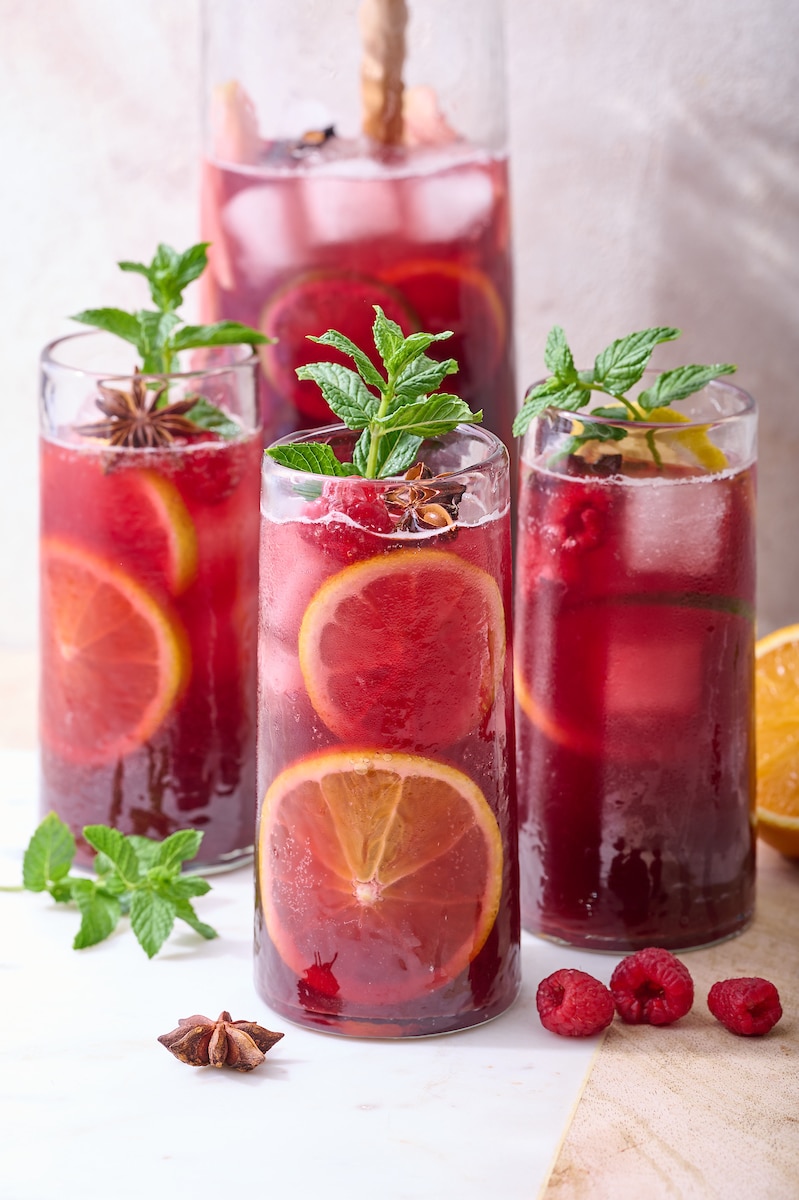 More Cocktails: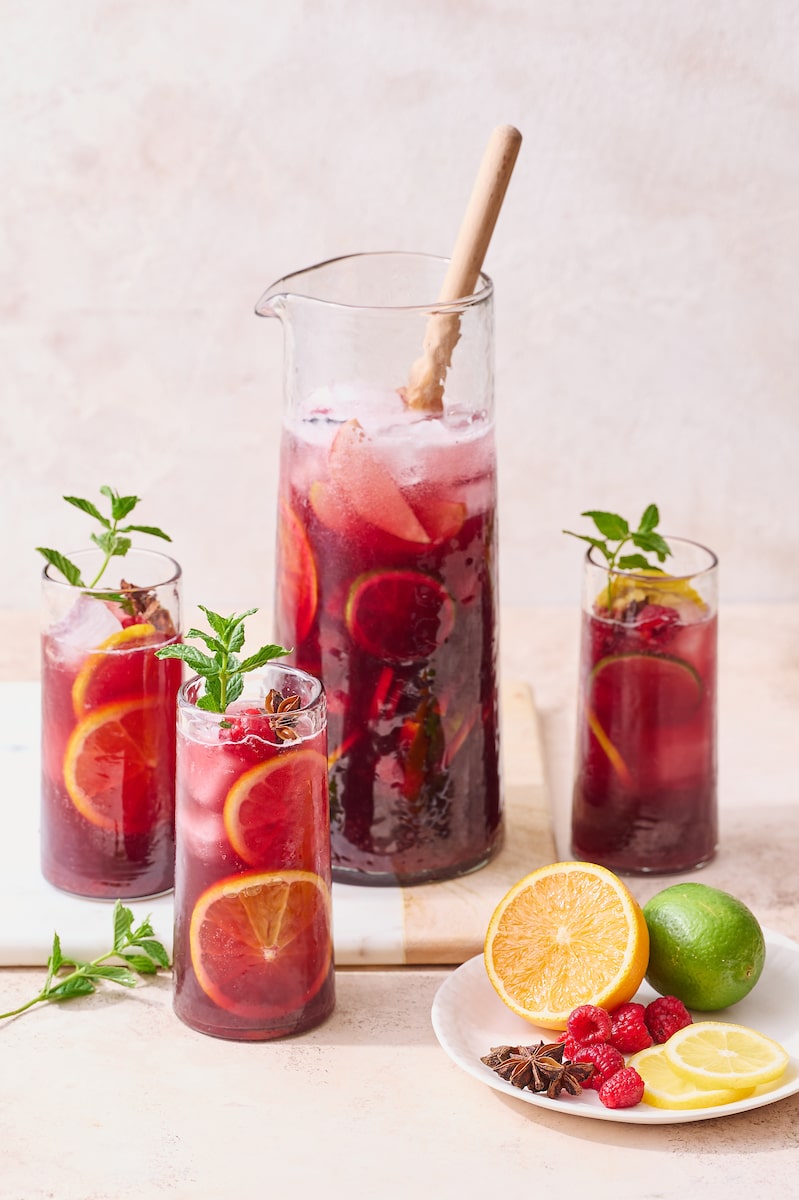 Mulled Wine Sangria
Ingredients
For the Simple Syrup:
1 cup (227ml) water
1/2 cup (170ml) honey
6 green cardamom pods
5 whole allspice berries
4 star anise pods
2 cinnamon sticks
2 teaspoons whole cloves
1 teaspoon whole black peppercorns
2 3-inch long strips orange peel
1 3-inch piece fresh ginger peeled and sliced into 1/4-inch pieces
1 teaspoon vanilla extract
For the Sangria:
1 and 1/4 cups (284ml) orange juice freshly squeezed
1 bottle dry red wine such as Cabernet Sauvignon
1 cup (227ml) Grand Marnier liqueur
1 cup fresh raspberries
1 lemon thinly sliced
1 lime thinly sliced
2 honey crisp apples cored and thinly sliced
2 oranges thinly sliced
2 cups (454ml) raspberry seltzer or raspberry club soda
Garnish Ideas:
fresh mint sprigs
raspberries
citrus slices
star anise pods
Instructions
For the Simple Syrup:
Combine the honey, water, spices, citrus peel, and ginger in a small saucepan and bring to a boil over high heat.

Cook, stirring occasionally, until the honey has dissolved, about 3 to 4 minutes. Reduce heat to low and continue cooking for another 5 minutes. 

Remove from the heat and stir in the vanilla. Set aside and cool for 30 minutes, then strain the simple syrup through a fine-mesh strainer and into a heatproof bowl.

Cover and chill for at least 30 minutes, or until cool to the touch. Use in the sangria recipe below. 
For the Sangria:
Add all of the ingredients (except the club soda) into a large pitcher and gently stir to combine. 

Cover and refrigerate for at least 6 hours - or up to 12 hours. Stir again and add the seltzer right before serving. Note: If you do not plan on serving after 12 hours, strain the sangria through a fine mesh strainer, discard all fruit, and continue refrigerating for up to 12 more hours. Add more fresh right before serving.

Pour into glasses filled with ice (if desired) and garnish with any of the garnish ideas listed above. Serve at once!