Supremely moist Irish coffee cupcakes topped with boozy buttercream! This one is for adults only 😉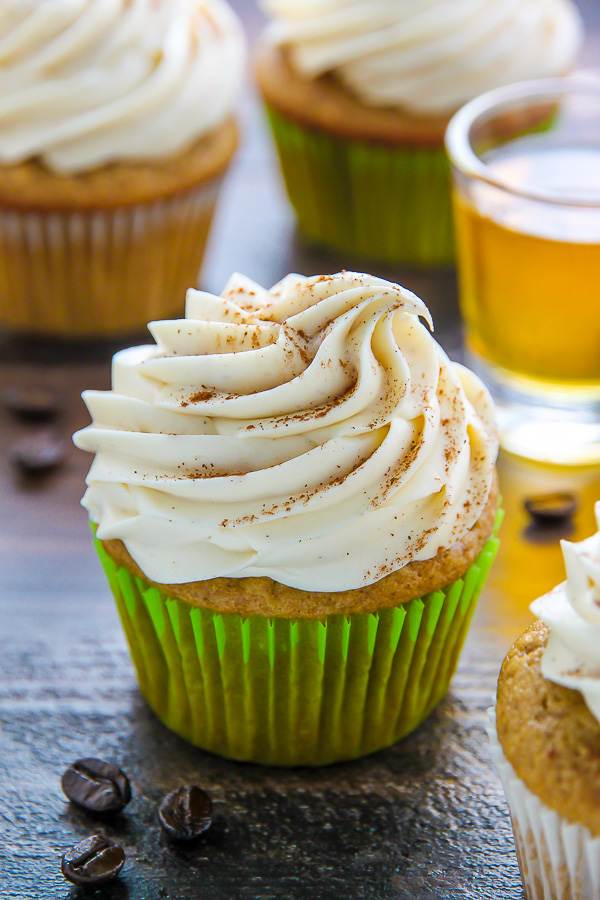 Happy Tuesday and happy March, my friends! Today I have a very fun post for you. So pull up a chair, brew some strong coffee, and bust open that bottle of whiskey. You're going to need it for these cupcakes!
The next holiday we have coming up is St. Paddy's Day and I have plenty of themed recipes to keep you company during your celebrations. Guinness Double Chocolate Ice Cream, Black and Tan Brownies, Brown Butter Irish Soda Bread (not to mention Irish soda bread scones!), and now, Irish whiskey cupcakes. This month is going to be super delicious. ♥♥♥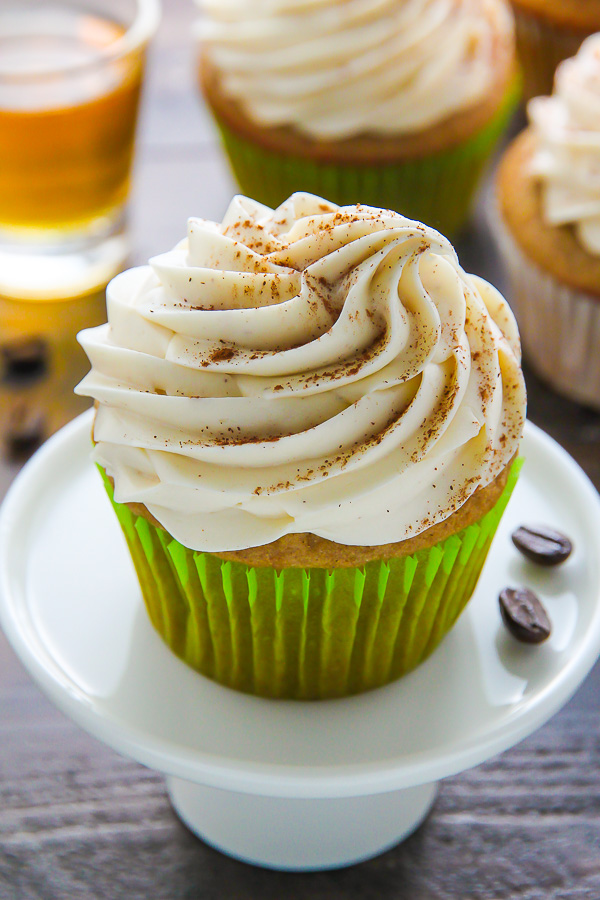 Alright, alright! Down to business. Today our business is Irish whiskey cupcakes. Not bad for a Tuesday, right? There are 2 simple parts to these cupcakes: the moist brown sugar coffee cupcakes, and the fluffy whiskey buttercream. The recipe begins by making the cupcakes. You will need all-purpose flour, baking powder, baking soda, salt, cinnamon, milk, sour cream, butter, granulated sugar, light-brown sugar, vanilla extract, eggs (and a yolk!), and a half cup of coffee. ← I know… a lot of stuff! But one bite of these cupcakes will make acquiring all of those ingredients worth it – PROMISE!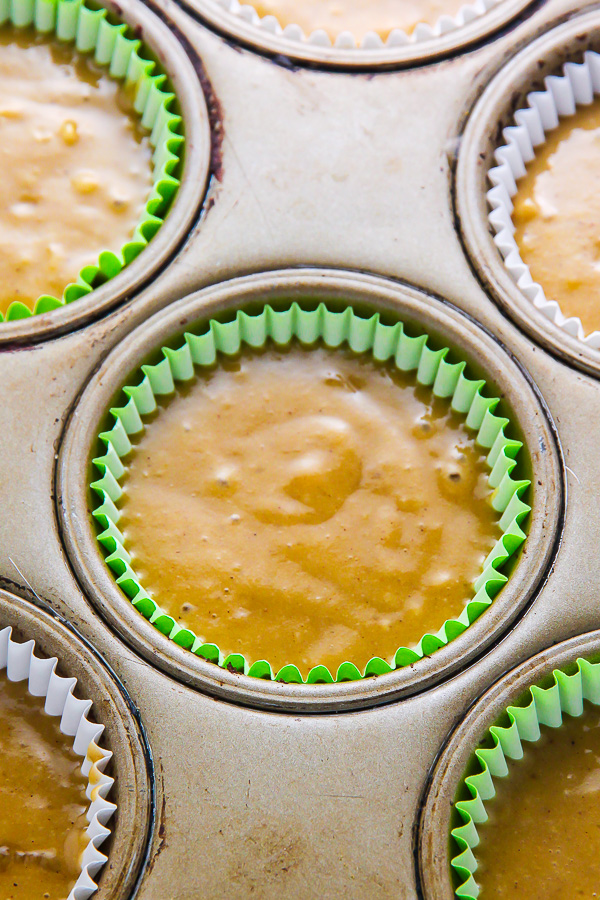 A few important notes on ingredients:
I used full-fat sour cream and whole milk in this recipe and I recommend you doing the same. These cupcakes get a lot of their moisture from the fat in these ingredients. Using fat-free or reduced fat replacements will result in a drier end result.
This recipe calls for granulated sugar AND brown sugar. I do not recommend substituting all one or the other. The brown sugar adds moisture and flavor, while the granulated sugar assists with the fluffy consistency.
Make sure your butter is the right temperature before you begin beating it. It needs to be at room temperature, meaning it should be soft enough that, when lightly pressed with your finger, it leaves an indentation in the stick of butter. I typically leave my butter on the counter for an hour or so to bring it to temperature, but if you're short on time, you can cut the cold stick of butter into into small cubes, which will help speed along the thawing process. Just leave them at room temperature until they're soft to the touch.
Your eggs, egg yolk, milk, and sour cream should also be at room temperature. Cold ingredients will not incorporate evenly or bond, resulting dense cupcakes. Batters made with cold ingredients don't come together smoothly, so be sure to take the extra step and bring them to room temperature.
Here's a trick for the eggs: to bring cold eggs to  room temperature, simply place them in a bowl of warm water for 15 minutes. Just be sure you don't use hot water!
I hope all of those little tips and tricks help!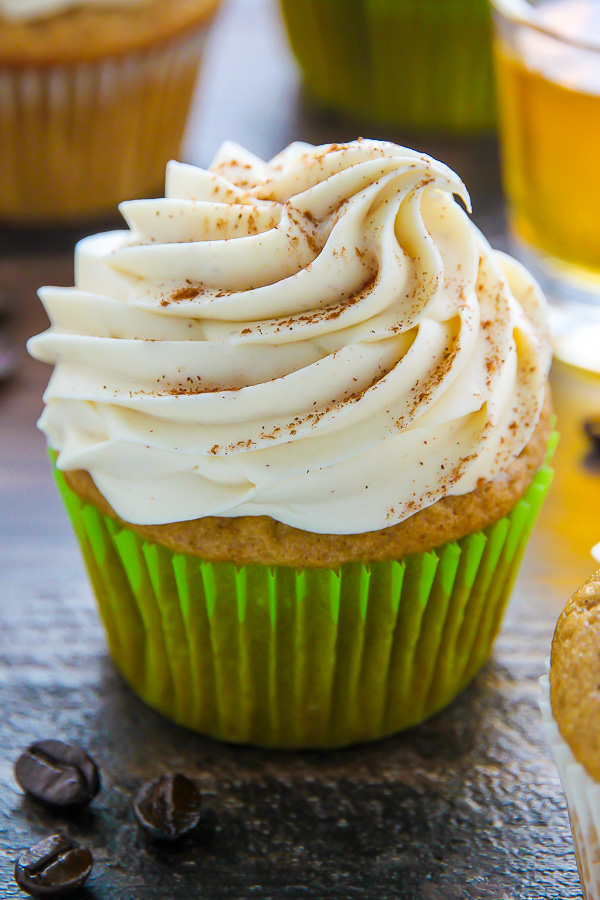 Now, for the frosting!!! I am dead serious when I say you'll want to eat this stuff by the spoonful. Butter, sugar, whiskey, and coffee… how could you not? Two important things:
Your butter should be verrrrrry soft! Softer than room temperature.
You will need to chill your coffee. You can do this ahead of time by keeping it in the fridge, or speed it up by popping it in the freezer. Just don't forget about it… we don't want coffee pops 😉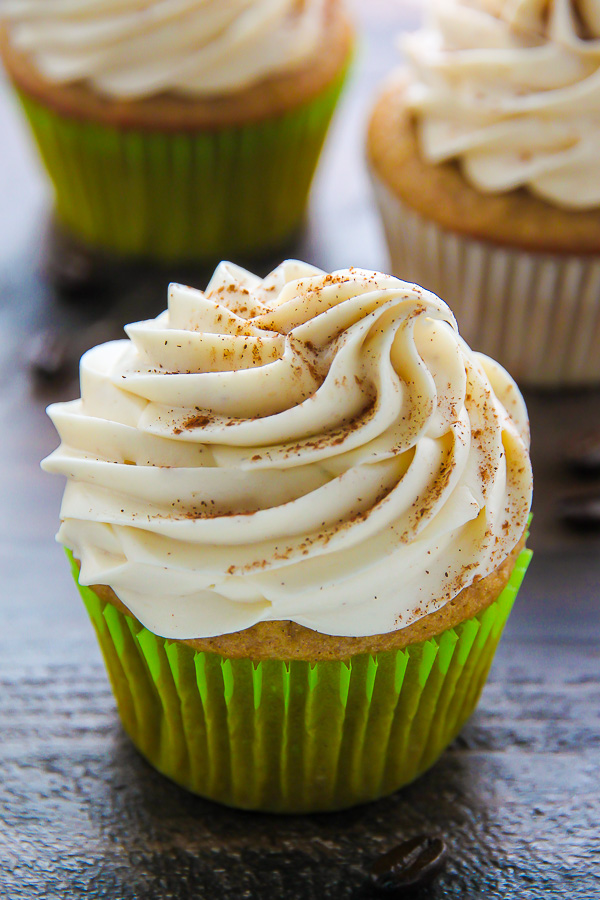 You haven't had an Irish coffee until you've had it in cupcake form! The end 😉
If you try this recipe, let me know! Leave a comment below and don't forget to snap a pic and tag it #bakerbynature on Instagram! Seeing your kitchen creations makes my day. ♥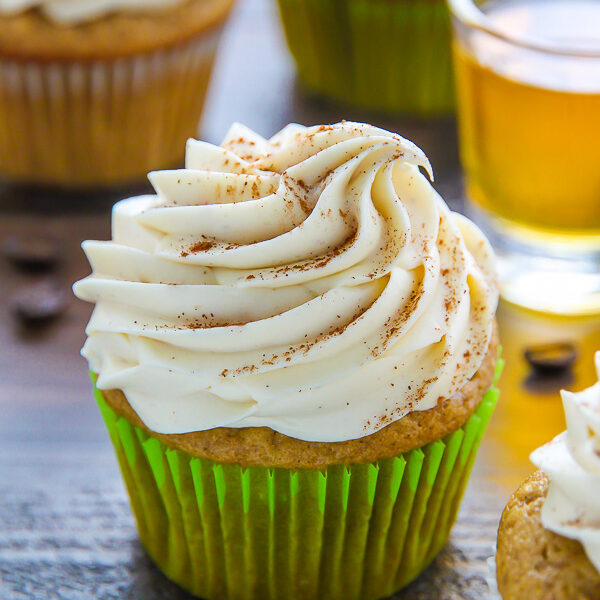 Irish Coffee Cupcakes
Irish coffee CUPCAKES! Moist brown sugar cupcakes topped with boozy buttercream. Perfect for parties or St. Paddy's Day!
Ingredients
For the cupcakes:
2 cups all-purpose flour (be sure NOT to pack your flour)
1 teaspoon baking powder
1/2 teaspoon baking soda
1/2 teaspoon salt
1/2 teaspoon ground cinnamon
1/4 cup whole milk
1/4 cup full-fat sour cream
1 stick unsalted butter, at room temperature
1/2 cup granulated sugar
1/2 cup packed light-brown sugar
1 teaspoon vanilla extract
2 large eggs plus one large egg yolk, at room temperature
1/2 cup hot and strong coffee
For the frosting:
2 sticks unsalted butter, VERY soft
4 cups confectioners' sugar, sifted
2 teaspoons vanilla extract
2 tablespoons Irish whiskey
2 tablespoons cold coffee or espresso
1/4 teaspoon salt
1/2 teaspoon ground cinnamon
Instructions
For the cupcakes:
Preheat oven to 350 degrees (F). Line a 12-mold cupcake tin with paper liners and lightly spray the liners with non-stick spray, set aside. In a large bowl combine the flour, baking powder, baking soda, salt, and cinnamon, set aside. In a small bowl combine the milk and sour cream, mix well to combine and set aside. In a large bowl using a handheld electric mixer (or a stand mixer fitted with the paddle attachment) beat the butter and both sugars until light and fluffy, about 3-4 minutes (don't skimp on time here!). Beat in the vanilla extract, then add in the eggs and egg yolk, one at a time, beating well after each addition. Reduce mixer speed to low and gradually add in flour mixture in 2 additions, alternating with sour cream/milk mixture, beginning and ending with flour. Finally stir in the hot coffee, beating until combined.

Fill the prepared cupcake tins 3/4 of the way full. Bake in preheated oven for 20 minutes, or until a toothpick inserted into the center of a cupcake comes out clean. Allow cupcakes to cool in the pan for 10 minutes before transferring them to a cooling rack to cool completely.
For the frosting:
Using an electric mixer fitted with the paddle attachment, or an electric handheld mixer, beat the butter in a large bowl until smooth. Reduce the mixer speed to low and gradually beat in the confectioners' sugar, one cup at a time, until it has all been added. The mixture will look thick and clumpy - don't fret! Add in the vanilla extract, Irish whiskey, cold coffee, and salt and

beat on low until incorporated, then increase the speed to medium-high and beat the frosting until light and fluffy. If the frosting appears to thick, add in an extra tablespoon or two of coffee; if the frosting appears too thin, add in an extra 1/4 cup or so of confectioners' sugar. Frost cupcakes as desired, and lightly sprinkle with cinnamon (optional). Cupcakes are best served the day they are made, but will keep, stored in the fridge and covered, for up to 2 days. Bring to room temperature before serving.
Notes
*Cupcakes may be frozen, unfrosted, for up to 2 months. *Cupcakes must cool completely before being frosted.