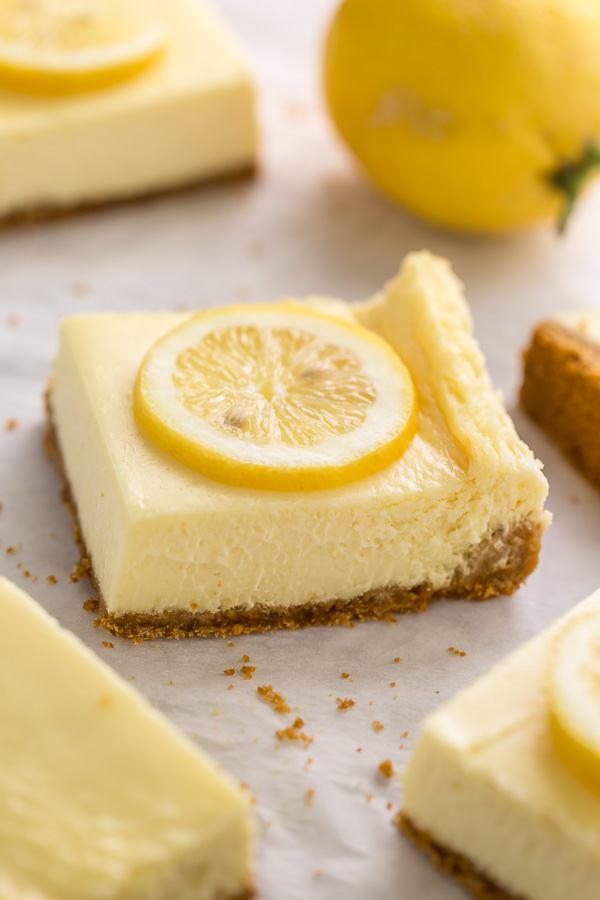 Lemon Cheesecake Bars
Yield 9x13 Pan
Easy Lemon Cheesecake Bars are perfect for almost any occasion! Made with fresh lemon juice, lemon zest, cream cheese, and sour cream, they're tangy, sweet, and so delicious. A must try for lemon lovers!
Ingredients
For the Graham Cracker Crust:
2 cups graham cracker crumbs 
1/3 cup granulated sugar
4 ounces unsalted butter, melted
For the Lemon Cheesecake Bars:
3 (8 ounce) packages full-fat cream cheese, softened 
1 cup full-fat sour cream, at room temperature 
1 and 1/3 cups granulated sugar
1 Tablespoon lemon zest
3 large eggs + 2 egg yolks, at room temperature
1/3 cup heavy cream
1/2 cup freshly squeezed lemon juice 
Instructions
For the Graham Cracker Crust:
Preheat oven to 350 degrees (F). Line a 9x13-inch baking pan with heavy-duty aluminum foil, allowing two of the sides to overlap (you want an overhang of at least 2-inches on two sides) and spray lightly with nonstick baking spray. Set aside.
In a large bowl combine the graham cracker crumbs, sugar, and butter and, using a rubber spatula, mix well to combine. Press the mixture into the bottom - and slightly up the sides - of the prepared pan.
Bake the crust in preheated oven for 10 minutes. Remove the crust from the oven and set aside on a cooling rack until needed.
Reduce the oven temperature to 325 degrees (F).
For the Lemon Cheesecake Bars:
In the body of a high power blender, food processor, stand mixer fitted with the whisk attachment, or in a large bowl using a hand held electric mixer, beat the cream cheese and sour cream until completely smooth. 
Add sugar and lemon zest and beat until smooth, scraping down the sides and bottom of bowl as needed. Add in the eggs and yolks and beat until combined.
Using a rubber spatula, fold in the heavy cream. Fold in the lemon juice, mixing just until combined. 
Pour filling on top of prepared crust, and spread evenly.
Check to ensure your oven has cooled to 325°F, then place the pan in the oven and bake for 30 to 38 minutes, or until the edges have set and the middle is still a little jiggly. The cheesecake will firm up a lot as they cool.
Remove the bars from the oven, and cool at room temperature for one hour. Then refrigerate for at least 4 hours, or overnight.
When you're ready to serve: use the foil overhang to lift the cheesecake bars from the pan and transfer them to a cutting board. Using a large, sharp knife, slice the slab into squares, wiping the knife clean with a damp cloth between slices. Serve at once. 
Notes
Lemon Cheesecake Bars will keep, stored in the refrigerator, for up to 4 days. You may also freeze them for up to 2 months.
To freeze: fully cool the cheesecake bars, then place the cooled cheesecake (whole or sliced) on a freezer-friendly platter and freeze, uncovered, until completely firm. Once firm, remove the cheesecake from the freezer and wrap it in heavy-duty aluminum foil. Then place it in a freezer bag; seal the bag and return it to freezer for up to 2 months. When ready to serve: remove the foil and defrost in the fridge overnight. 
Courses Dessert
Cuisine Cheesecake
Recipe by Baker by Nature at https://bakerbynature.com/lemon-cheesecake-bars/