Supremely moist Lemon Crumb Muffins topped with sticky Lemon Glaze! Lemon lovers will love these moist lemon muffins!!!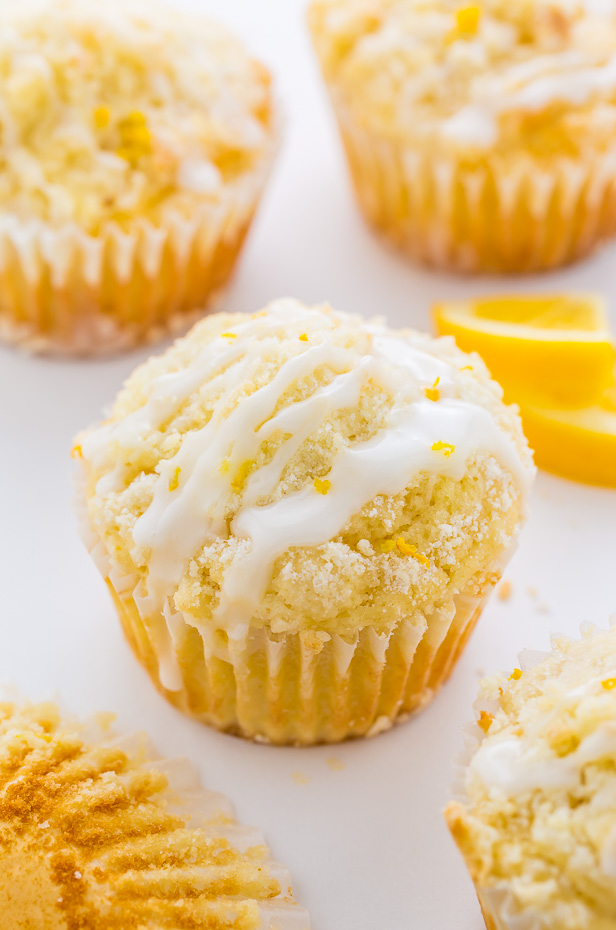 Lemon Crumb Muffins Recipes
Good morning, sweet friends! I kind of feel like this is bragging… but I have to tell you: it's absolutely gorgeous here right now. The sky is the most epic shade of blue, the sun is bright and beaming, and it's 70 degrees!!! Considering it's deep February and we live on the East Coast – in upstate New York, no less – this is a big deal.
I'm curious, have you experienced any signs of Spring yet? Or do you live somewhere with a wonderfully warm climate year round?
I've always dreamed of living in California – and having a lemon tree in my backyard (!!!) – but ultimately I'm an east coast girl through and through.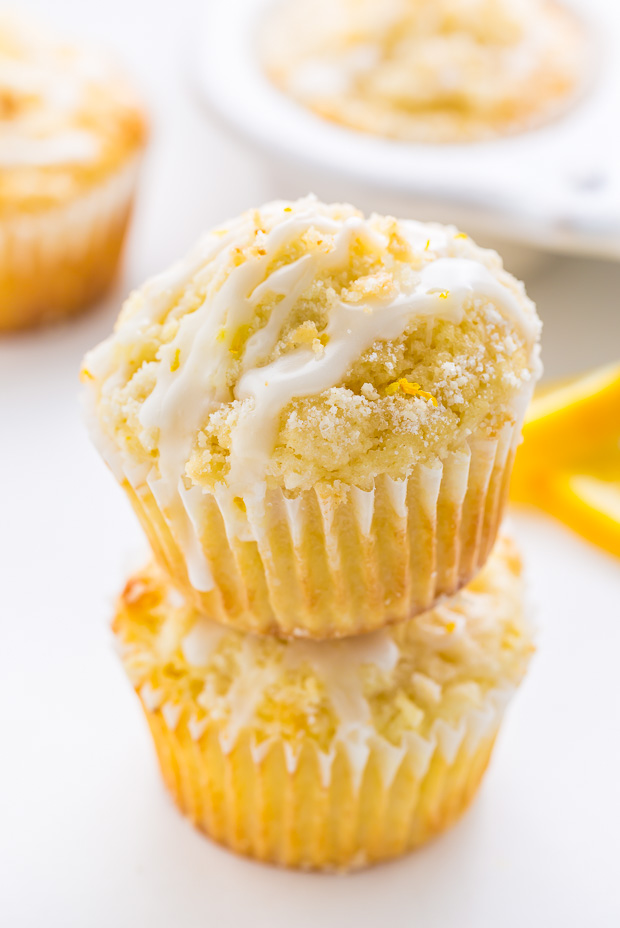 But I digress! In case it's been a little too long since you've seen the sun, I wanted to pop in and share this simple recipe for light and luscious lemon crumb muffins! Biting into one is almost as good as feeling the warm sunshine dance on your skin. ← A major recipe perk when you're in the dead of Winter and dying for a little pop of color in your life.
These muffins will also be perfect for Spring brunches, Easter celebrations, and Mother's Day tea. Can you tell I'm excited for Spring, or what?! #guiltyascharged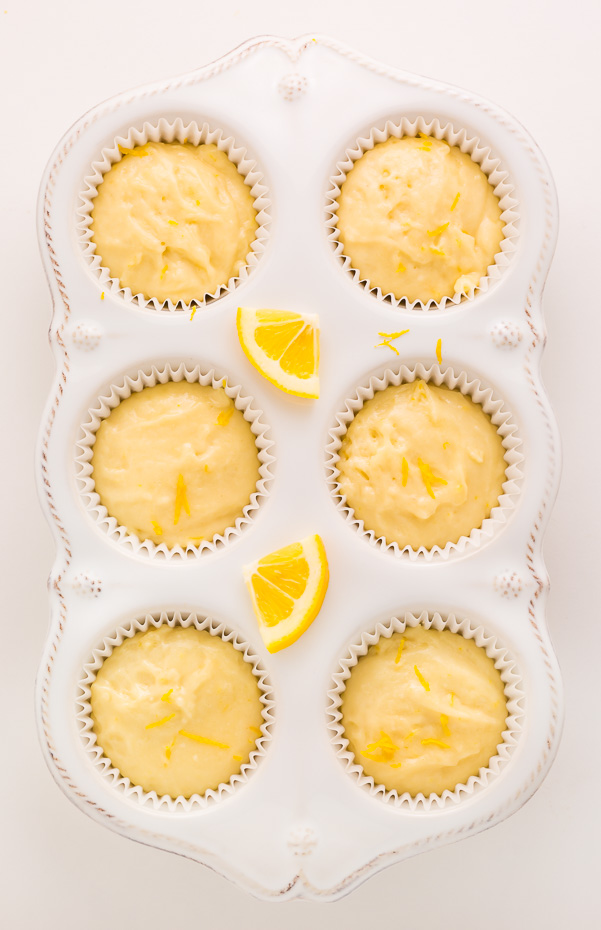 Best Lemon Muffins
Tips and Tricks for Recipe Success:
There are three parts to these muffins: the moist lemon base, the buttery crumb topping, and the sticky sweet lemon glaze. I suggest beginning with the crumb topping, that way it can chill in the fridge while you prepare the muffins. The colder the crumb the better!
Use fresh lemon juice and zest! You'll want to zest the lemons first, then cut them in half and juice them. I suggest buying 4 or 5 large, heavy lemons so you have enough on hand.
Feel free to use regular lemons or meyer lemons for this recipe.
You will need lemon extract for this recipe. The lemon extract really amps up the lemon flavor without making the muffins too tart. I love Watkins pure lemon extract because it's 100% natural, doesn't contain any artificial flavors, colors, or additives, and just tastes like pure lemon. I promise I'm not getting paid a cent to say any of that; I just really love their lemon extract!
The batter will be very thick, but don't fret, because the muffins bake up moist and delicious.
These muffins are truly best the day they're made, but will keep for 2 days when stored in an airtight container.
I suggest glazing the lemon crumb muffins right before you plan on serving them. This ensure the tops don't get too moist and soggy. This will also help prevent premature molding.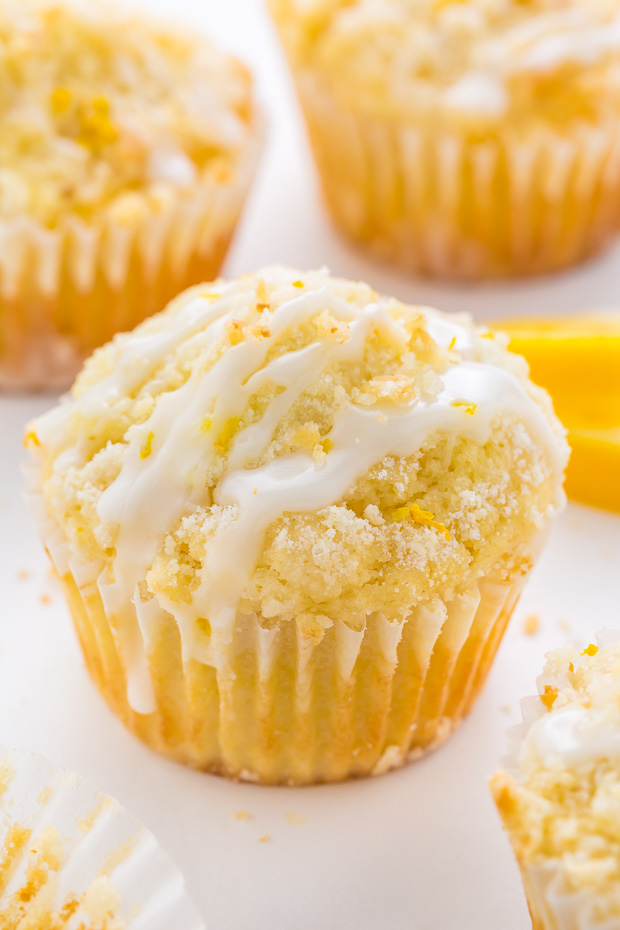 This humble lemon recipe is simply delicious. I sure hope you try it soon! I'm actually going to go gobble down the very last one with a cup of tea… in the sunshine, of course ♥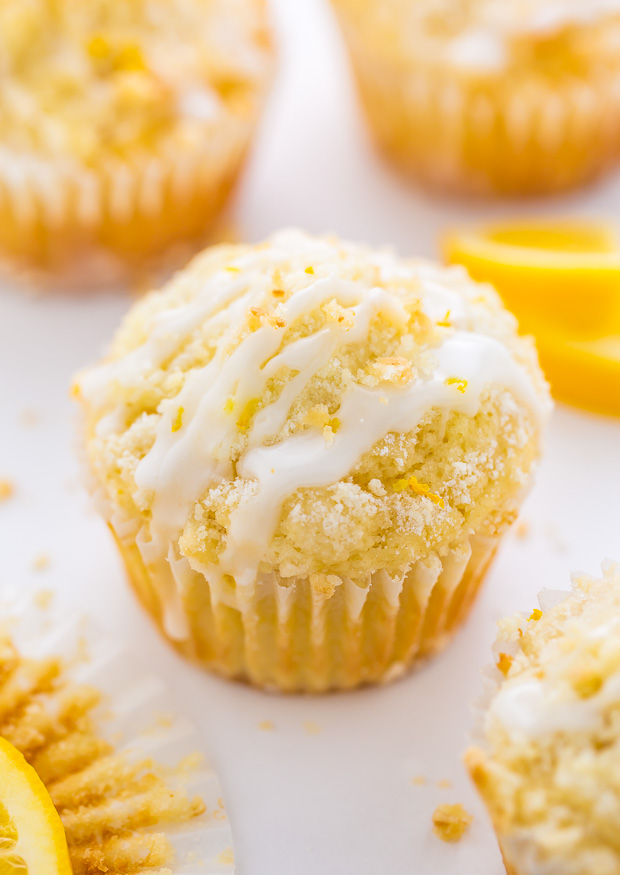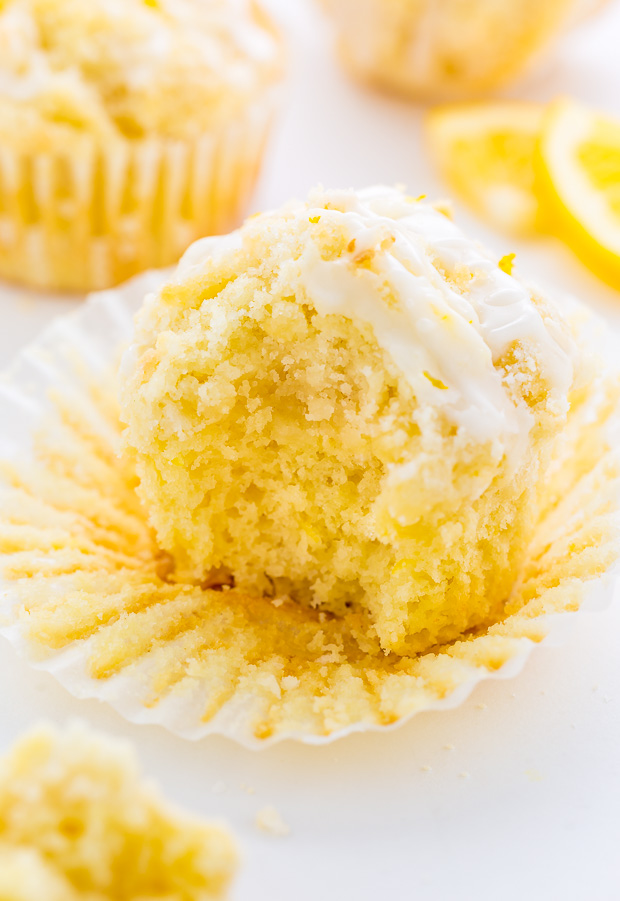 More Lemon Muffin Recipes:
If you try this recipe for Lemon Muffin Recipe, let me know what you think! Leave a comment below, and don't forget to snap a pic and tag it #bakerbynature on instagram! Seeing your creations makes my day.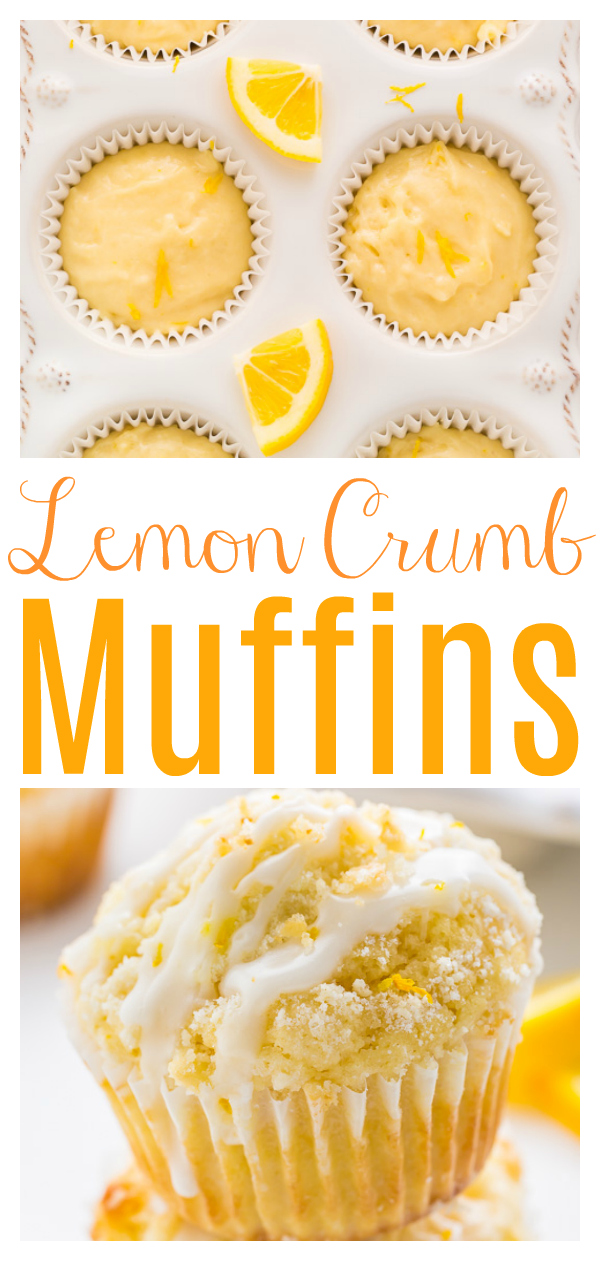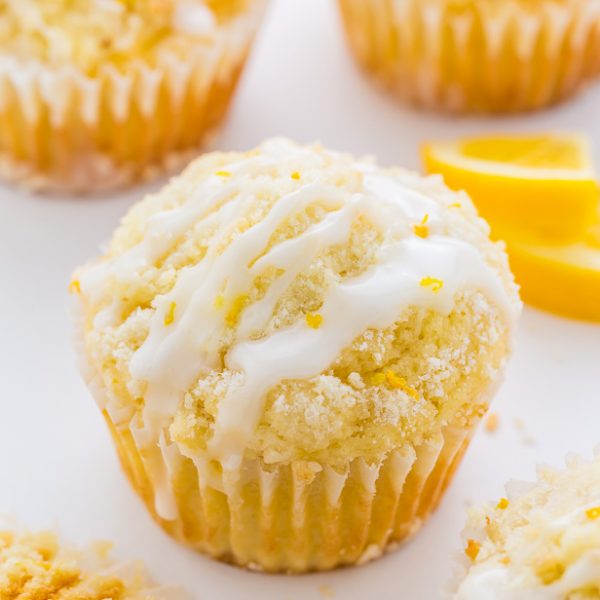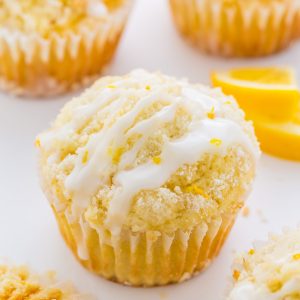 Lemon Crumb Muffins
Supremely moist Lemon Crumb Muffins topped with Sweet Lemon Glaze!
Ingredients
For the Crumb Topping:
1/2 cup granulated sugar
3/4 cup all-purpose flour (not packed)
6 tablespoons unsalted butter, chilled and cut into tiny pieces
For the Lemon Muffins:
2 and 3/4 cups all-purpose flour
3 teaspoons baking powder
3/4 teaspoon salt
6 tablespoons unsalted butter, at room temperature
1 and 1/4 cups granulated sugar
2 teaspoons lemon zest
1 and 1/2 teaspoons pure vanilla extract
1/2 teaspoon lemon extract
1 large egg plus 2 large egg yolks
3/4 cup whole milk
1/3 cup fresh lemon juice
For the Lemon Glaze:
1 cup of confectioners' sugar
1/2 teaspoon lemon extract
2 tablespoons fresh lemon juice
2 teaspoons whole milk, more if needed to achieve desired consistency
Instructions
For the Crumb Topping:
In a large bowl combine the granulated sugar, flour, and butter; using two forks or a pastry cutter, combine ingredients until the mixture is very crumbly and resembles a coarse meal. The crumbs should be pea-sized. Place mixture in the fridge or freezer until needed.
For the Lemon Muffins:
Preheat your oven to 400 degrees (F). Line a 12 cup muffin tin with paper liners; set aside.

In a large bowl, sift together the flour, baking powder, and salt; set aside.

In a large bowl using an electric mixer, or in the bowl of a stand mixer fitted with the paddle attachment, combine the butter, sugar, lemon zest, vanilla extract, and lemon extract; beat on medium speed until light and fluffy; about 3 minutes.

Add in the egg and egg yolks and continue beating until well combined. Reduce mixer speed to low; alternate adding the flour mixture and the milk, beginning and ending with flour. Fold in the lemon juice, stirring just until combined. Be sure not to over mix here.

Divide the batter evenly among prepared muffin tins. Top each muffin cup with 2 tablespoons of crumb topping.

Bake for 20 to 22 minutes, or until the tops are lightly golden brown and a toothpick inserted in the middle comes out clean, or with a just a few moist crumbs attached. Cool muffins 10 minutes in the pan before transferring to a cooling rack.
For the Lemon Glaze:
In a small bowl combine the confectioners' sugar, lemon extract, lemon juice, and milk; whisk until smooth, adding more milk as needed to reach desired consistency. Drizzle over the muffins right before serving.