Healthy, hearty, and loaded with flavor, this simple Lemon, Garlic, and Thyme Baked Salmon is lip smackin' good. An easy seafood recipe the whole family will love!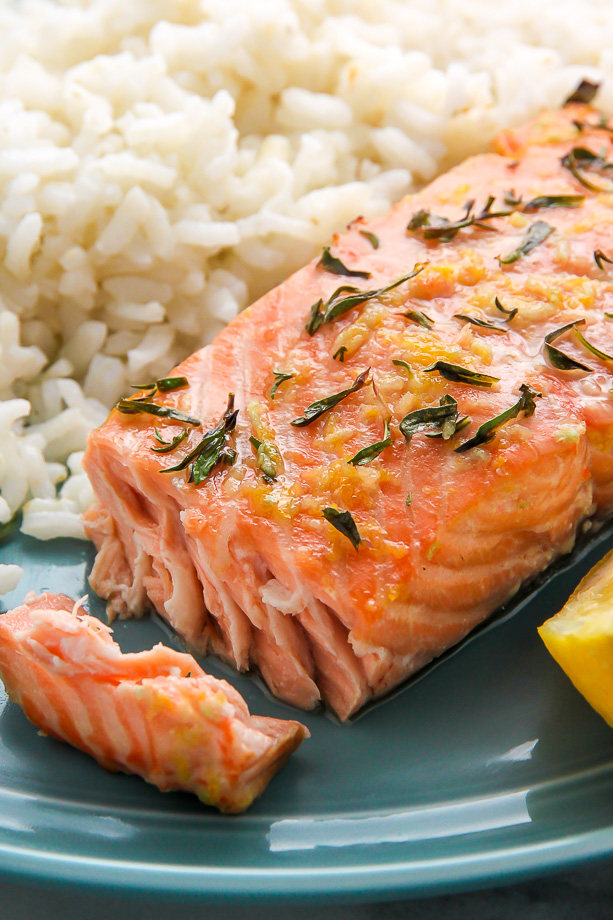 Lemon Garlic Baked Salmon
Happy Friday! Tell me – what are your weekend plans? Are you going anywhere fun? Staying home and nesting? Baking any of my recipes? The weather is going to be cold, miserable, and rainy here, so I'm wicked excited to cozy up with a good book, enjoy a few glasses of French wine, and just relax. What are weekends for… am I right?!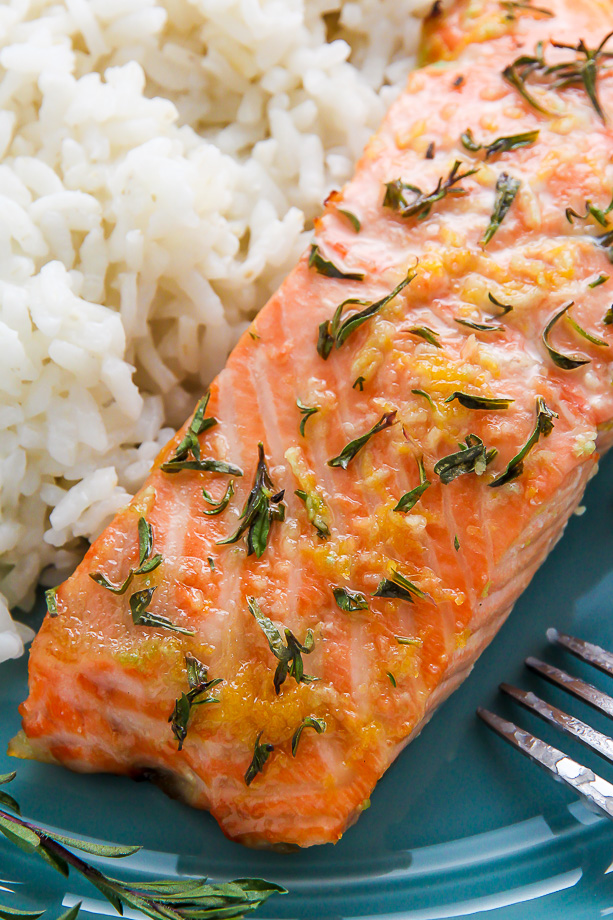 In other news, I made you dinner! A healthy and NOT boring dinner. I know this because last weekend we ate this flavorful lemon thyme baked salmon with rice, salad, and fresh peach margaritas and after one taste I blurted out mid-bite "I HAVE to make this for my blog". All of my friends agreed and a few of my guests even snagged the recipe that night. Always a good sign 😉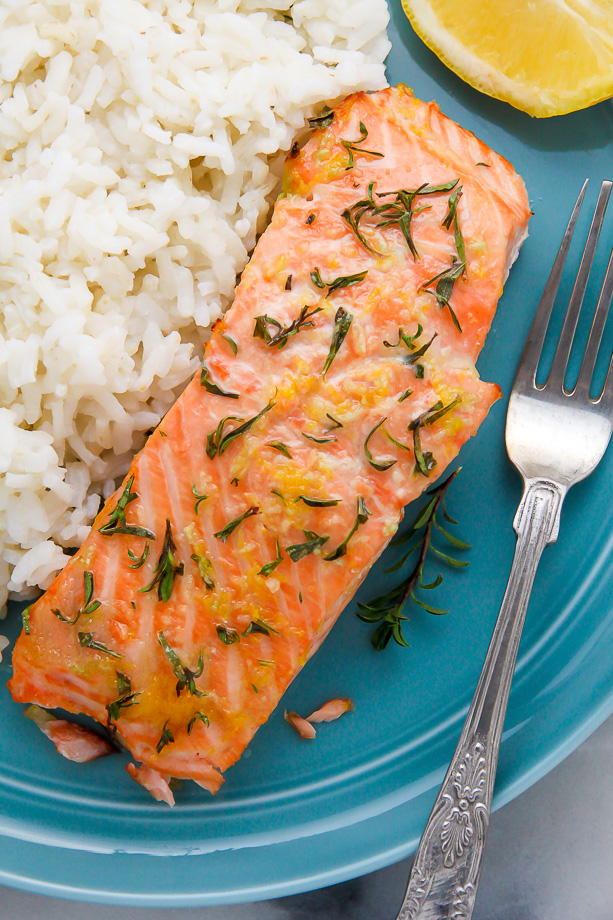 I ♥♥♥ this salmon recipe because it's:
Ready in just 20 minutes
Pairs perfectly with rice, salad, potatoes… or pretty much anything you can dream up
Full of flavor thanks to honey, garlic, lemon, and fresh thyme
Healthy and hearty
Super freakin' delicious
Can you believe in less than a half hour you can go from this ↓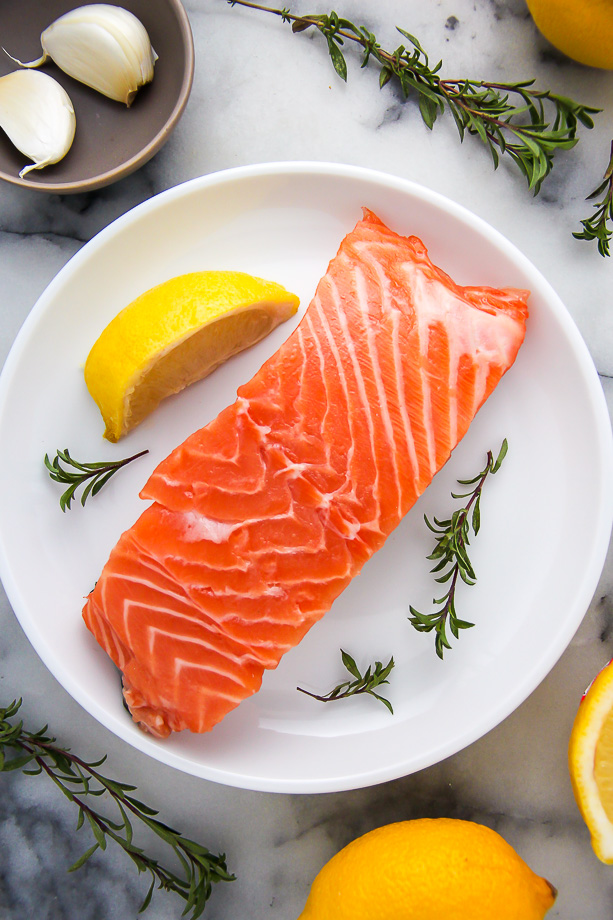 To THIS ↓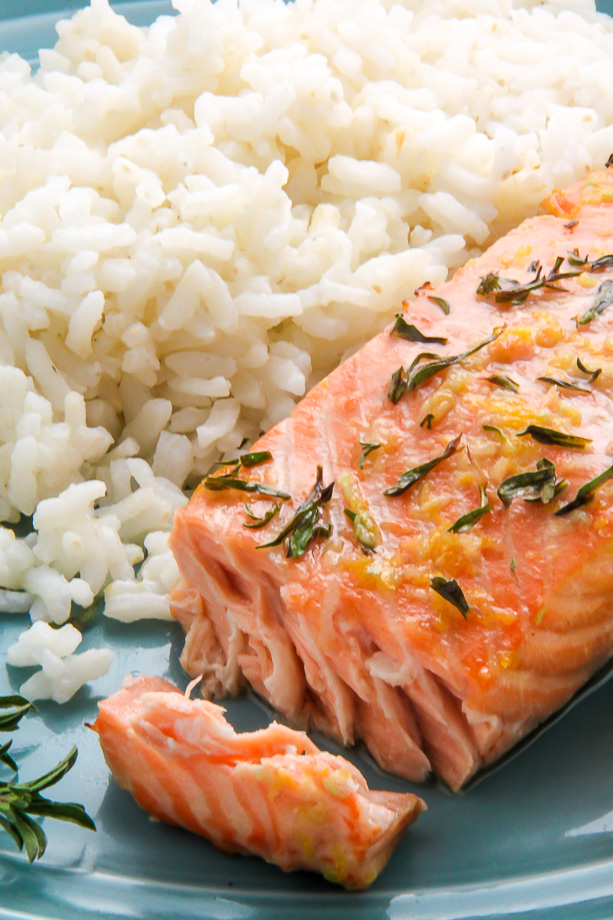 Fresh, fast, and absolutely fabulous, I really hope you make this!!!
More Salmon Recipes:
If you try this lemon and garlic baked salmon recipe, let me know! Leave a comment below and don't forget to snap a pic and tag it #bakerbynature on instagram! Seeing your kitchen creations makes my day. ♥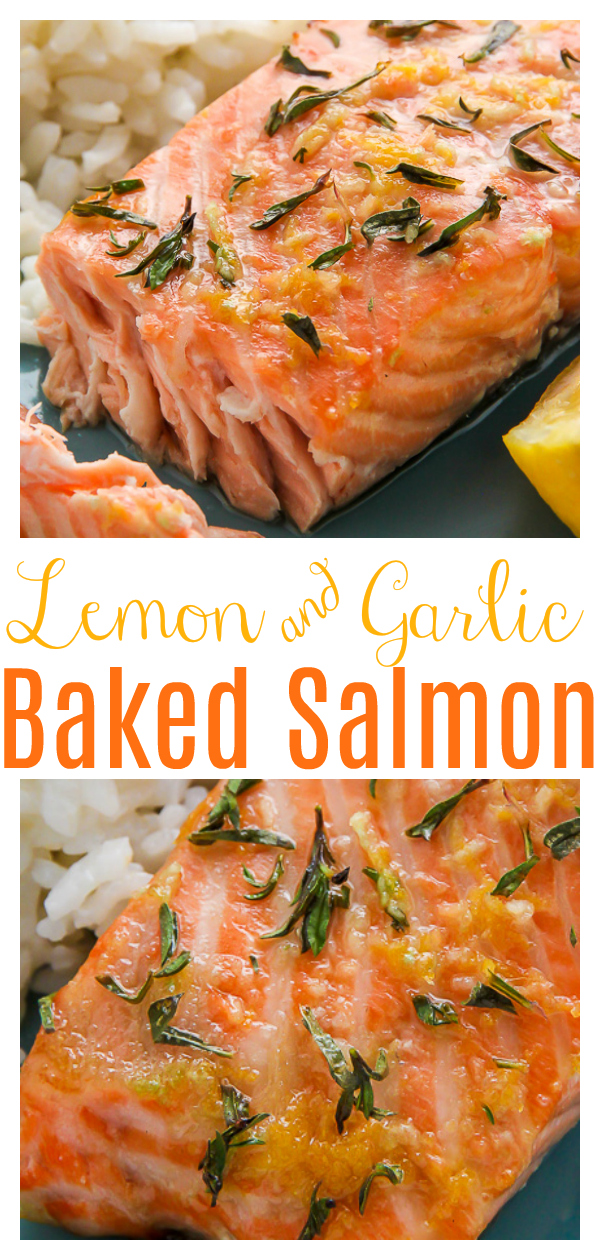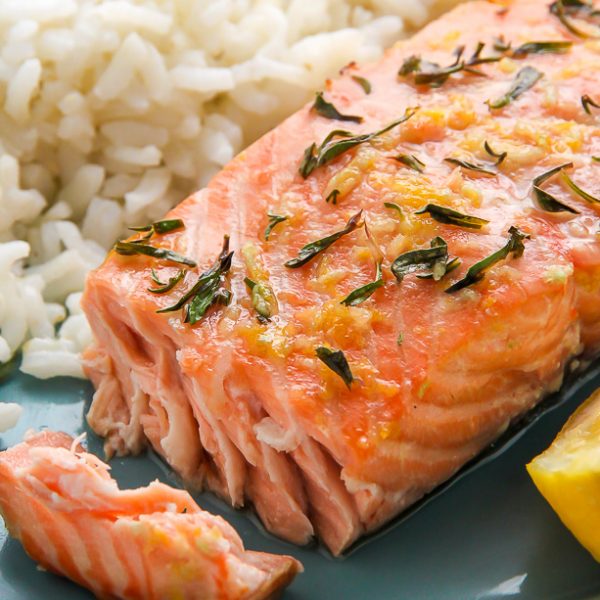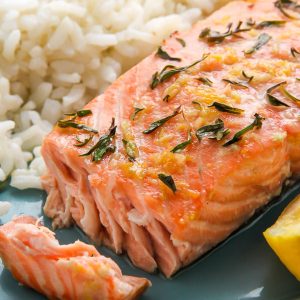 Lemon, Garlic, and Thyme Baked Salmon
Flavorful lemon, garlic, and thyme baked salmon ready in just 20 minutes!
Ingredients
2 pounds salmon, cut into 4 fillets
1/3 cup honey
1 teaspoon lemon zest (more to taste, if desired)
3 cloves garlic, grated or very finely minced
2 teaspoons fresh thyme
1/4 teaspoon black pepper
1/2 teaspoon salt
1/4 cup fresh lemon juice
Lemon wedges, for serving
Instructions
Preheat oven to 425 degrees (F). Line a large baking sheet with parchment paper; set aside.

Place the salmon fillets in a large bowl, set aside. In a separate bowl whisk together the honey, lemon zest, garlic, thyme, black pepper, and salt, mixing well to combine. Stir in the lemon juice.

Pour this sauce over the salmon fillets, using your hands (or a spoon) to evenly and generously coat them. Remove fillets from marinade and place on prepared baking sheet. Use a small spoon to top each fillet with one teaspoon of remaining marinade. Bake for 13-15 minutes, or until salmon is cooked to your liking. Remove salmon from the oven and serve at once, with extra lemon wedges.
Notes
To make this a well rounded meal try adding a side of rice, broccoli, salad, or potatoes. Salmon will keep, stored in the fridge, for 2 days.